This from-scratch Veggie Pizza recipe is destined to become one of the best pizzas you've ever had! With a flavorful, homemade pizza sauce, fail-proof pizza dough, and lots of fresh toppings, this pizza delivers on taste, texture, and nutrition. You may never be satisfied with carryout pizza again!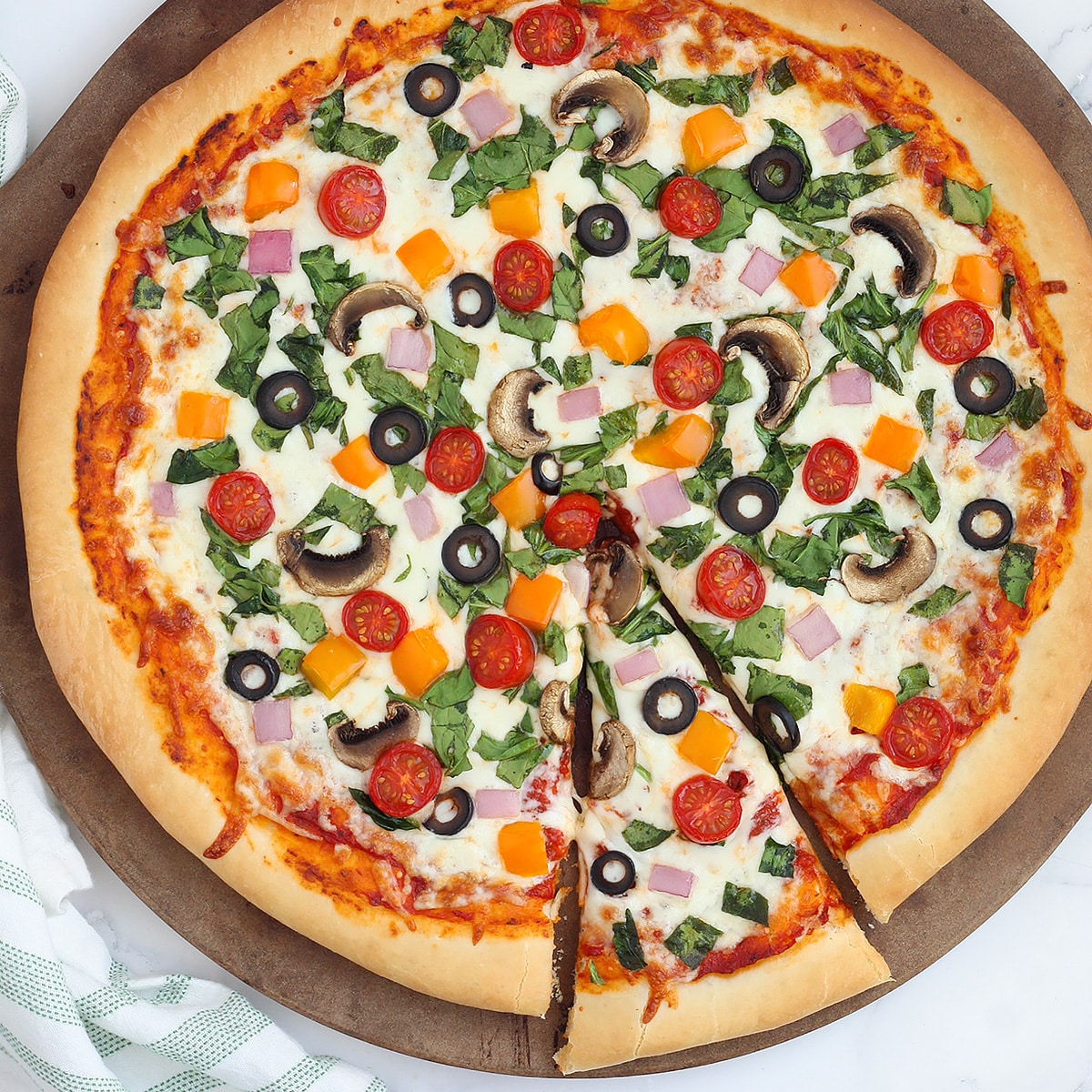 Why We've Declared this the Best Veggie Pizza Recipe. Ever.
Pizza is endlessly customizable, and universally popular. It's also a great recipe to get the kids involved in. And, despite its party-food reputation, pizza can provide a lot of good nutrition. That's especially true when you make it yourself at home. All together, homemade pizza is, believe it or not, a balanced meal! You're hitting all the food groups in a package that your kids will absolutely love.
So over the years, I have made it my mission to perfect homemade pizza. And it isn't quite as intimidating as it sounds! Once you nail the basics, you're well on your way to creating pizzeria-worthy masterpieces in your very own kitchen.
Now on to this magnificent Veggie Pizza recipe. Obviously, due to my undying love for vegetables, it was one of the very first pizzas I undertook. The crust is thin and chewy, the sauce is thick and flavorful, and the toppings are balanced and so delicious. The veggies get changed up here and there, depending on my mood and what's in the fridge (more suggestions below). But this is my go-to. So if you're looking for a fresh and delicious pizza recipe, you've come to the right place.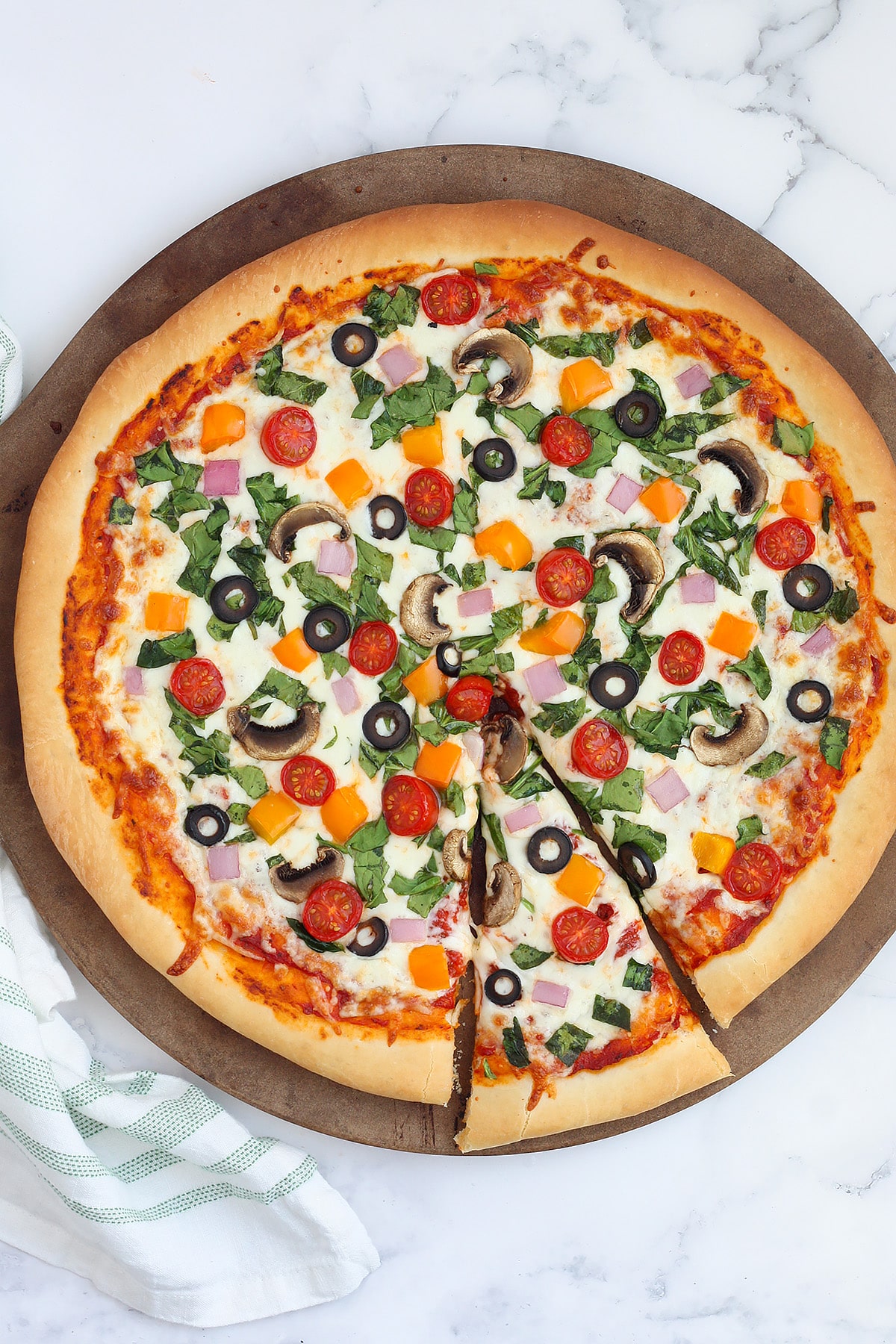 Ingredients you'll need for this Veggie Pizza Recipe:
Toppings:
Spinach
Tomatoes
Bell Peppers
Button Mushrooms
Olives
Onions
Mozzarella Cheese
Pizza Sauce:
Crushed Tomatoes
Tomato Paste
Olive Oil
Fresh Garlic
Sea Salt & Black Pepper
Italian Seasoning
Onion Powder
Sugar
Crust:
Flour
Yeast
Olive Oil
Salt
Water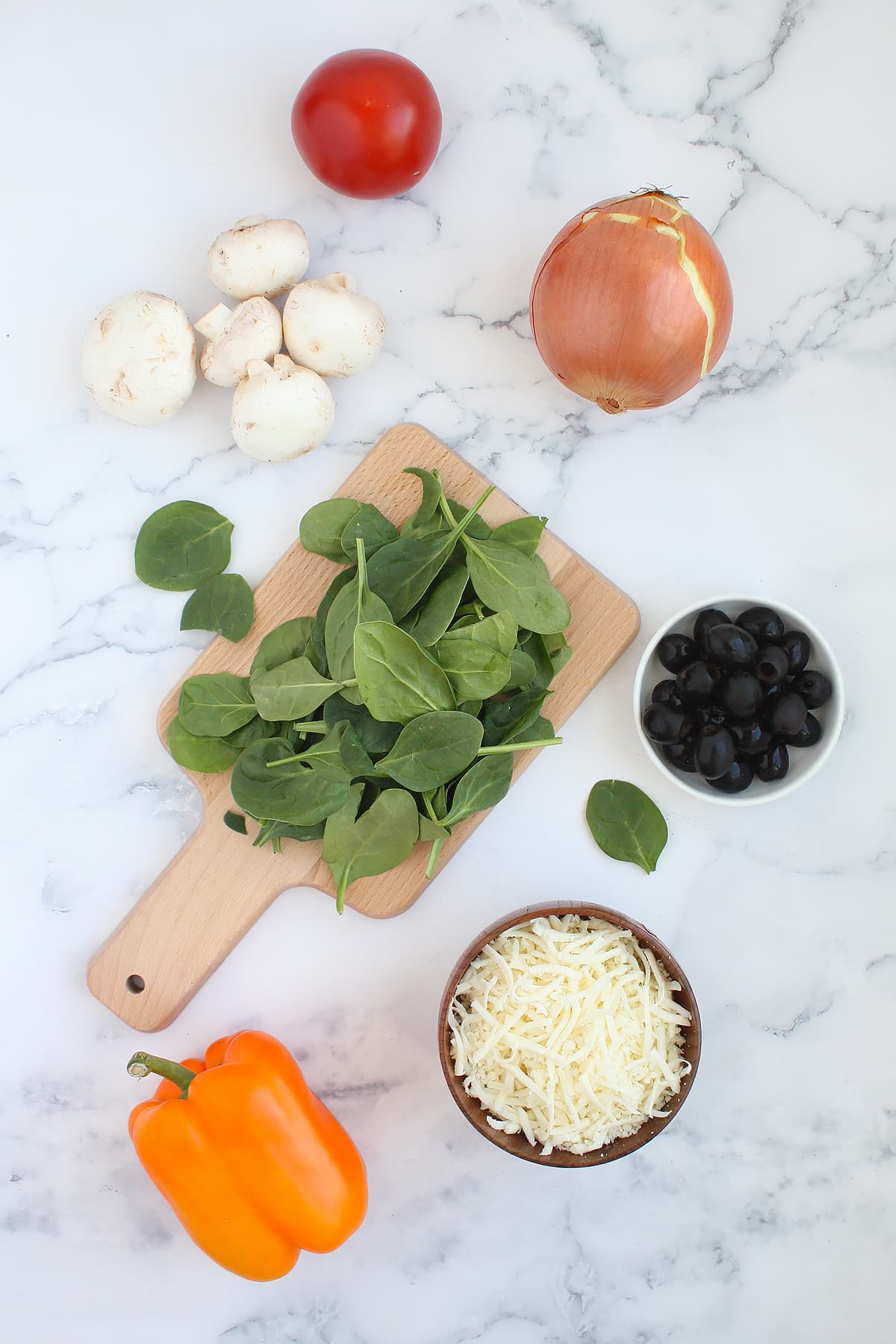 How to Make the Best Veggie Pizza recipe:
Mix up the pizza dough. After proofing the yeast and mixing the dough, you'll need to let it rest for about 30 minutes. This is just enough time to make the sauce and prep the topping ingredients.
Make the pizza sauce. Start by softening the garlic in some olive oil in a small saucepan. Add the rest of the ingredients and simmer for 10-15 minutes to allow the flavors to meld. Set aside to cool slightly.
Prep your topping ingredients. Grate the cheese and chop the veggies into bite-sized pieces.
Stretch the dough. Divide the dough into fourths. Use lightly oiled hands to pull and stretch the dough into a thin, uniform circle. Place the dough on a pizza pan, stone, or baking sheet. Spread a thin layer of pizza sauce over the dough, then top with cheese and veggies.
Bake. Bake in a 475 degree oven for 12-15 minutes or until the crust is golden brown and the cheese is melted.
Dig in!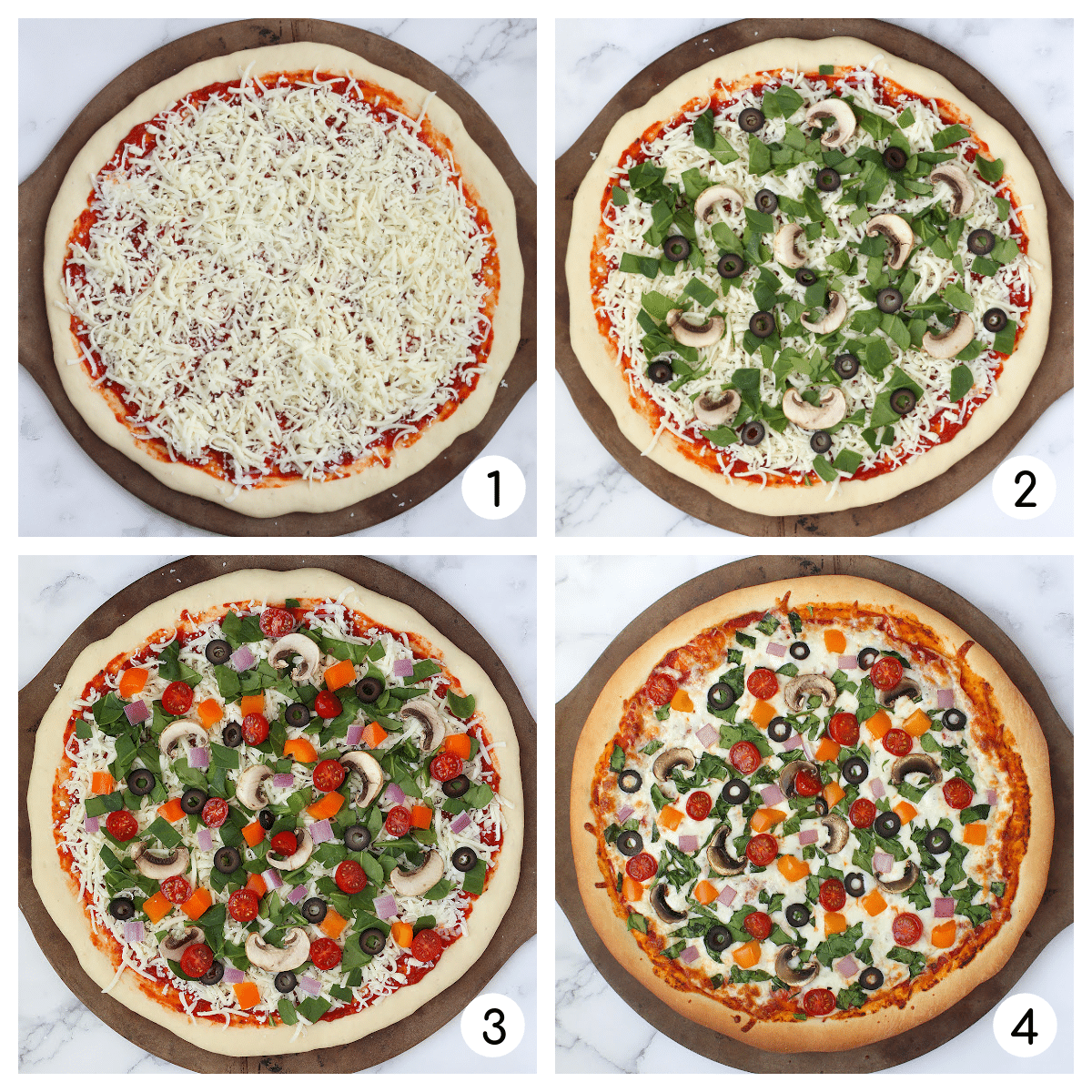 Tips & Suggestions
For the very best homemade pizza, keep these tips in mind.:
Bake in a very hot oven. The hotter the better! If using a pizza stone, you can put the stone in the oven while it is preheating. CAREFULLY transfer your pizza dough to the hot stone with a pizza peel or flat baking sheet. This will give you a nice, crispy crust.
Don't add too many toppings. It can be tempting to thing 'more is better'. And while normally I would agree (where veggies are concerned) too many veggies will let off too much moisture and you'll end up with a soggy crust.
Bake on the lowest rack. This will also help the crust get nice and brown and allow the pizza to cook evenly.
Delicious Veggie Pizza Topping Ideas:
When it comes to toppings, the sky's the limit! Here are some of our favorite pizza toppings:
broccoli
mushrooms
bell peppers
sliced jalapeños
fresh tomatoes
red onion slices
marinated artichokes
fresh tomatoes
pineapple
fresh basil leaves (scatter them on as soon as the pizza comes out of the oven)
fresh mozzarella
pesto
balsamic glaze
What should I cook homemade pizza on?
You don't need any specialty bake ware to make homemade pizza. An ordinary baking sheet will work!
If you have one, you can of course use a round pizza pan or pizza stone (go ahead and preheat the stone along with your oven before baking.)
What is the best cheese for homemade pizza?
The magic duo is whole milk mozzarella, and grated parmesan. You can use pre-shredded cheeses if you like, but please do get freshly-grated parmesan from the refrigerator section, not the powdery kind that comes in a can. You can substitute Asiago for the Parmesan. Keep in mind that freshly grated cheese will melt better than pre-shredded.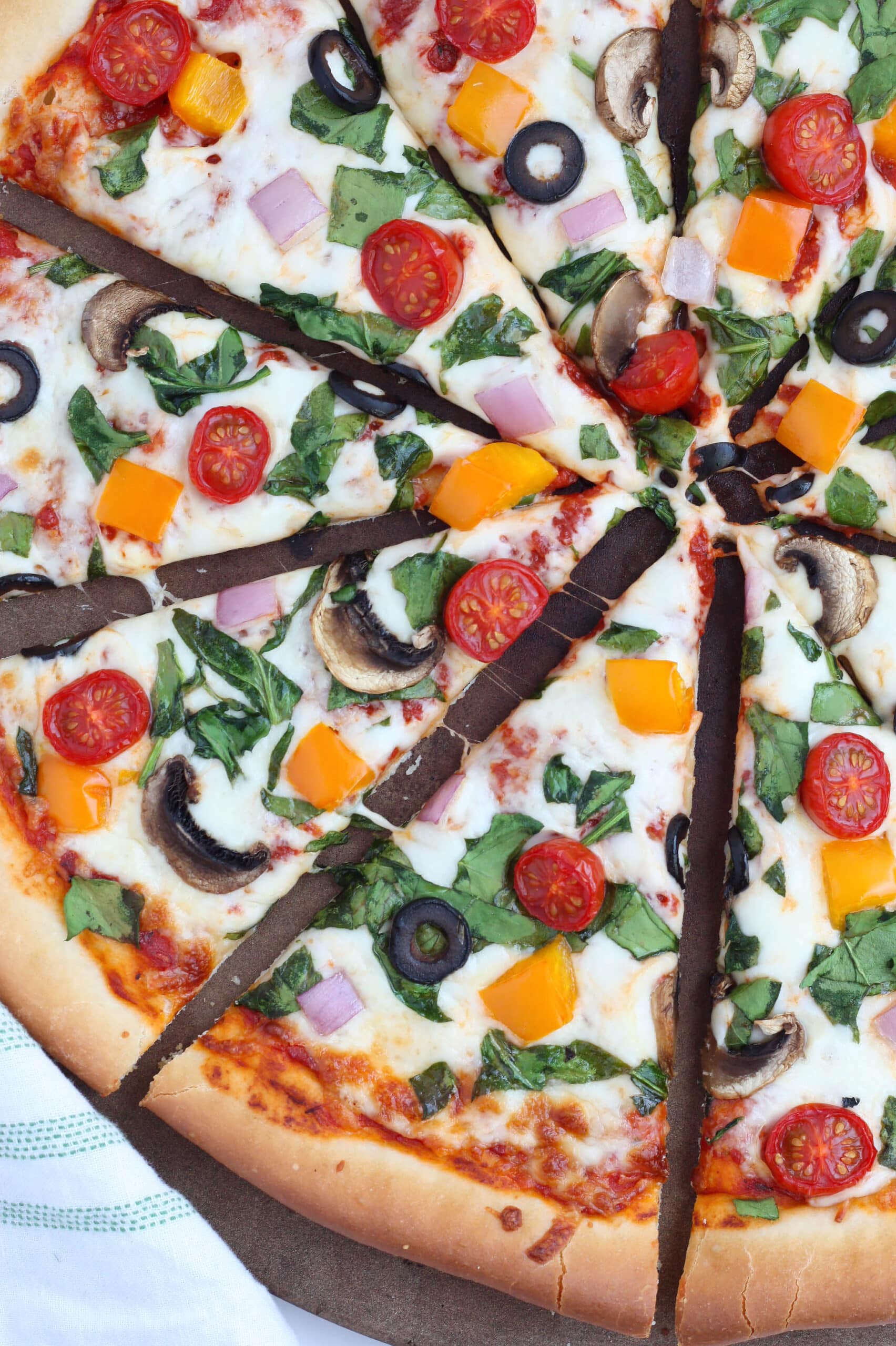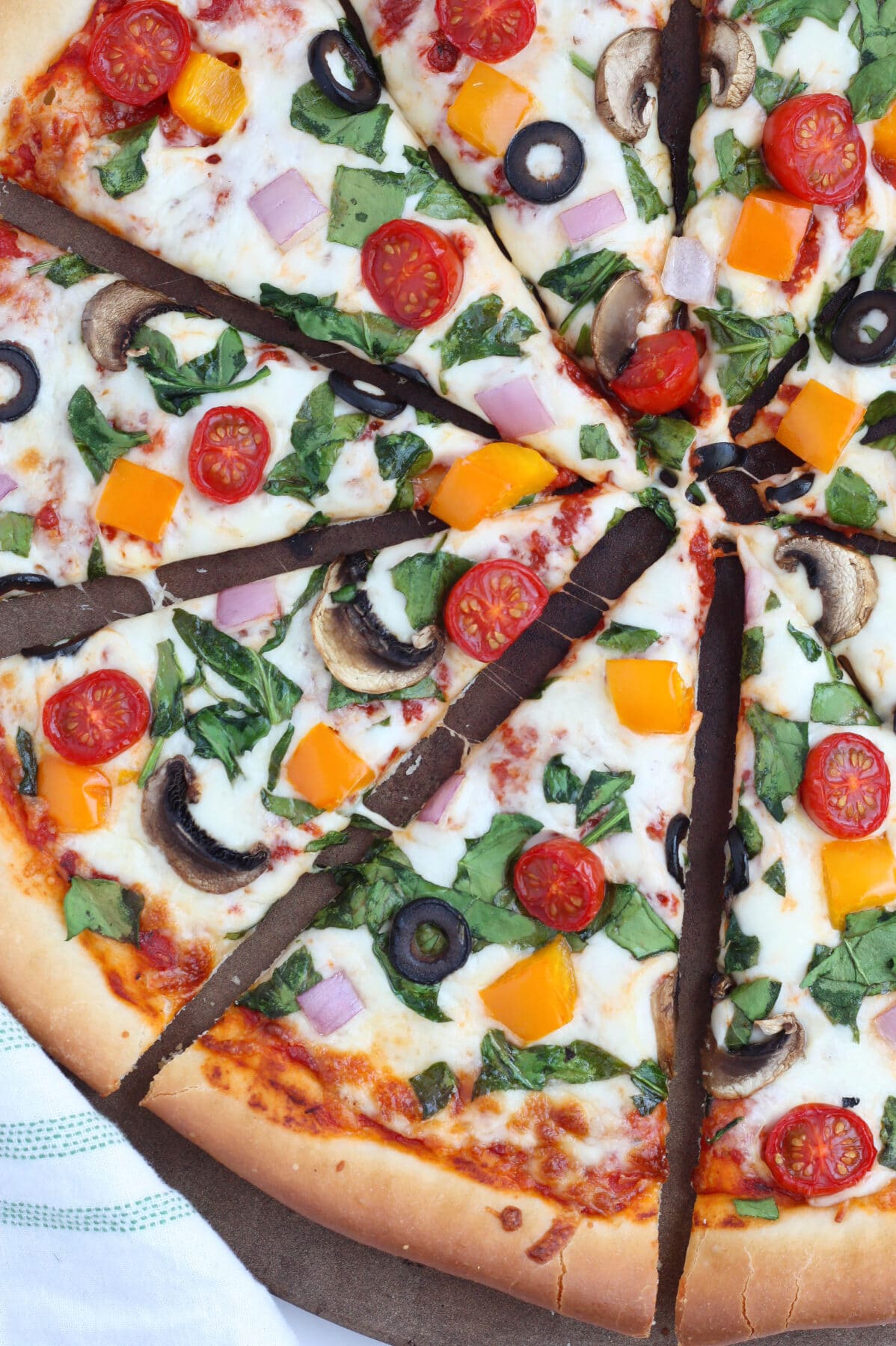 Other Variations:
Greek: Artichoke hearts, roasted red peppers, spinach, and feta cheese with a garlic & olive oil base.
Caprese: Tomatoes, fresh mozzarella, and basil leaves with a garlic & olive oil base.
Italiano: Grilled or roasted bell peppers, zucchini, red onion, and eggplant.
Zucchini: Thinly sliced fresh zucchini, shaved parmesan, and Italian seasoning.
Kale & Pesto: Chopped fresh kale and cheese with a pesto base.
Chopped Salad Pizza: Bake your pizza with the base sauce and cheese. After removing the pizza from the oven, top with fresh chopped lettuce and veggies.
Summer Veggie: Grilled corn, sliced jalapeños, cherry tomatoes and fresh basil.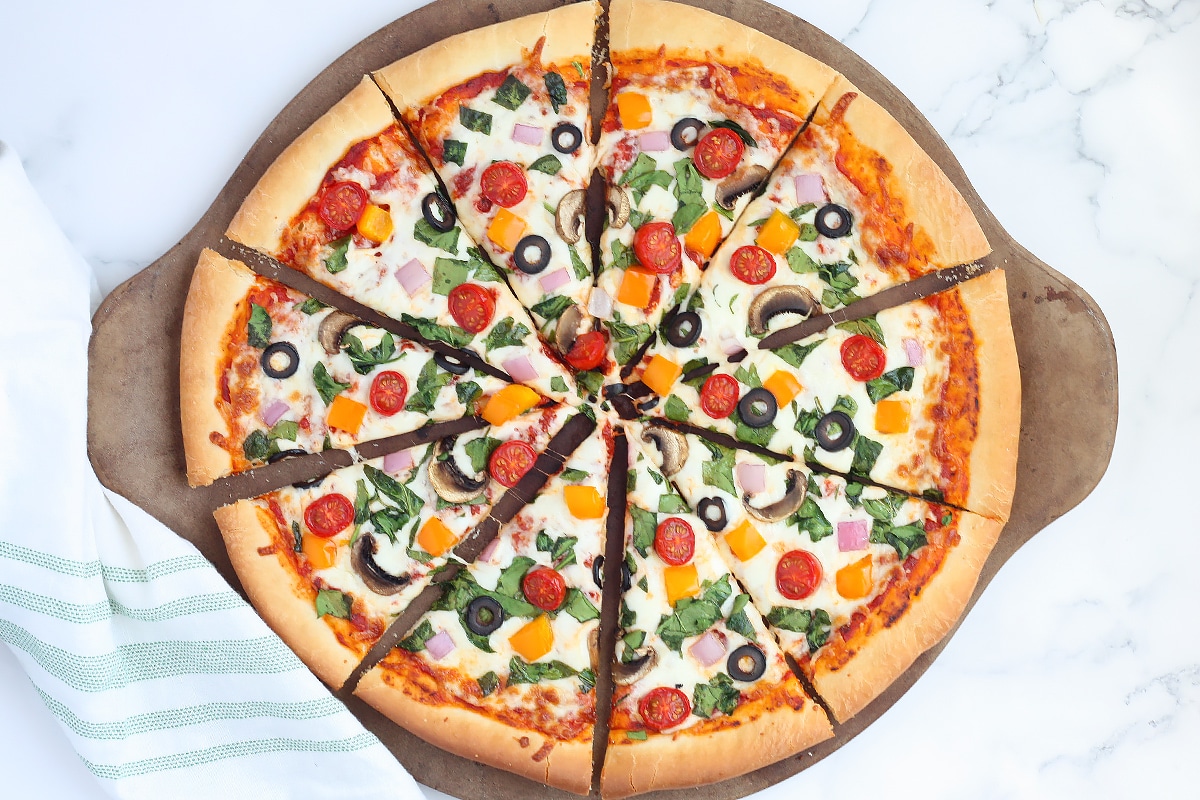 More Healthy Pizza Recipes to Try:
Best Veggie Pizza Recipe
This from-scratch Veggie Pizza recipe is destined to become one of the best pizzas you've ever had! With a flavorful, homemade pizza sauce, fail-proof pizza dough, and lots of fresh toppings, this pizza delivers on taste, texture, and nutrition. You may never be satisfied with carryout pizza again!
Servings:
4
medium pizzas
Instructions
Dough
In a stand mixer with a dough hook attached, combine yeast and water and let it sit for a few minutes until it gets bubbly.

Add oil, salt and 4 cups of flour. Mix until combined. Add the remaining 1 cup of flour in 1/4 cup increments until the dough pulls away from the sides of the mixing bowl. The dough should be soft and not overly sticky. Let the mixer knead the dough for 5 minutes.

Remove the dough hook, cover the bowl and let it rise for 30 minutes.

Remove dough from the mixing bowl, and separate into 4 even pieces. You are going to stretch the dough out instead of rolling it. This is where you can make your pizza shine!

On a clean work surface, pour a small amount of oil (1-2 tablespoons) and rub it around with your hands so that you also get some on your hands. This will keep the dough from sticking to the counter and give you a golden crust.

Flatten the dough into a disc using the palm of your hand. Next, use your fingers to press the dough out from the center to widen it into a circle. It should be about 6 inches across at this point. If you feel like your dough shrinks back quickly and won't hold its shape, let it rest for 10 minutes covered with a clean kitchen towel and then try flattening it out again.

This step is stretching your dough. Carefully pick up the dough with both hands on one edge and let the rest of the dough hang down. Rotate the dough like you are turning a steering wheel, moving your hands in one direction pulling the dough from hand to hand. You should end up with a circle that is about 11 inches in diameter. If it isn't perfectly round, no worries!

It is ok if there are holes or thin spots – this is where you can fix them. Carefully lay your dough onto a prepared pizza peel, stone or baking pan. If there are holes or thin spots, carefully pinch the dough together in those spots and then gently flatten with your palm. If there are spots that are much thicker than others, press them out with your palm.

If you are using a pizza peel and are going to transfer your pizza to a pizza oven or pizza stone, give the peel a shake to make sure that the dough isn't sticking to the peel and so it will easily slide off.
Sauce
In a deep skillet or sauce pot, add the olive oil and garlic cook over medium heat for 1-2 minutes, or just until the garlic is soft and fragrant.

Add the rest of the ingredients and stir to combine everything. Turn the heat to medium high until it begins to simmer, and then reduce heat to low and cover. Let it simmer for 10-15 minutes (you can simmer it for up to an hour).

Remove from heat and spread on pizza dough.
Toppings
Chop your veggies into small uniform pieces. If you cut them too thick or big, they won't cook evenly when you bake your pizza.

Top sauce with shredded mozzarella cheese, and then evenly spread your chopped veggies on the cheese.

If you are baking in the oven, preheat to 475℉. If you have a pizza stone, place the stone in your oven now to get hot.

Once your toppings are on your pizza, bake for 13-15 minutes or until the crust is golden brown and the cheese is melted and bubbly in the middle of your pizza. If you are using a pizza oven, cook according to your oven's directions.Remove the pizza from the oven, slice and enjoy!
www.superhealthykids.com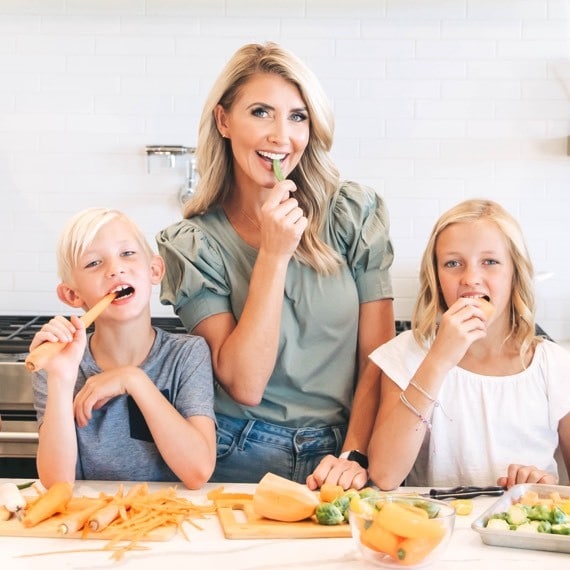 Natalie Monson
I'm a registered dietitian, mom of 4, avid lover of food and strong promoter of healthy habits. Here you will find lots of delicious recipes full of fruits and veggies, tips for getting your kids to eat better and become intuitive eaters and lots of resources for feeding your family.
Learn More about Natalie