Healthy Balanced Breakfast with MyPlate
What you decide to include with breakfast can really give your kids a good start to their day! There is no argument that breakfast is super important for kids. Breakfast can just be cereal with milk, but it has the potential to be so much more. Think of MyPlate as a guide to what breakfast could be- a nourishing plate containing protein, grains, fruits, vegetables and dairy used as the fuel to start your child's day.
You've probably heard this over and over but it's important enough to state it again-breakfast is essential to getting the day started off right! Why? After a night filled with sleeping and growing, kids need to refuel their bodies for the day ahead. The foods from the breakfast meal provide energy for the morning and can lead to increased classroom concentration. Can you imagine trying to participate in a classroom debate or focus on the concept of multiplication with a hungry belly? Since most classrooms don't allow for snacks, breakfast may be your child's only chance of eating prior to lunch. So providing a breakfast meal, ideally made with MyPlate in mind, is akin to filling a gas tank before a trip-if you want to successfully arrive at your destination without running out of fuel, you fuel up on what you need for optimum performance before you go.
One component of MyPlate that is less frequently on the breakfast menu is the vegetable group. Is it strange to include vegetables at breakfast? Not at all. There are definitely ways to incorporate vegetables into a kid friendly breakfast. Some ways may take more time than others, so some preparation the night before (maybe even when you are prepping dinner) may be helpful. Also, don't forget about leftovers. A frittata with asparagus and tomatoes served for dinner can easily do double duty as a breakfast dish.
Listed below, you'll find some wonderful ideas on how to incorporate vegetables into a MyPlate inspired breakfast.
The frittata has so much vegetable packing potential. And even better, my kids don't seem to mind the vegetables in their eggs and cheese, even if it's a vegetable they wouldn't normally eat on its own. This Italian frittata is packed with zucchini, and one of our family favorites, Frittata with asparagus, tomato, and fontina (though we use provolone), puts asparagus into the breakfast time zone. Frittatas make delicious, quick, and hearty meals that can be served for dinner and reheated for breakfast (or lunch).
Scrambled eggs and omelets. These two ways to cook eggs are fantastic vegetable vehicles. Have some leftover vegetables? Add them to your eggs while cooking. This baked omelet timesaver has green and red bell peppers and mushrooms and bakes in the oven so that you don't have to slave away at the stove cooking one omelet at a time.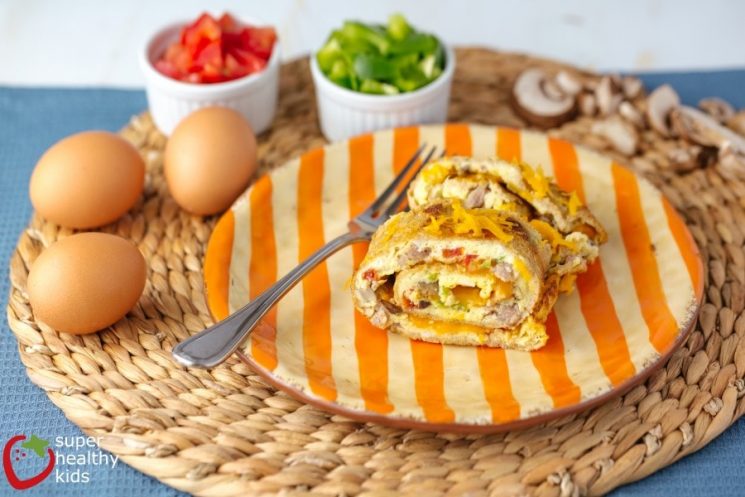 Breakfast egg cups. These breakfast egg cups combine breakfast favorites, eggs and cheese, with spinach and bell pepper in a kid friendly shape.  This muffin tin breakfast is easy to whip up and freezes well so that you can make a batch anytime to defrost when needed.  In our home, these make excellent school lunches too.
Hash browns. Sweet and salty hash browns add the beautiful color of sweet potatoes and russet potatoes to the breakfast plate.
Toast.  There is so much that you can do with a slice of whole wheat toast.  One way we enjoy it is with a bit of butter, a layer of spinach, then a sliced hard cooked egg (or your favorite type of cooked egg) on top.  Another terrific toast idea is topping it with pureed pinto beans and grated reduced fat cheese.
Breakfast burrito. Add eggs, salsa, and some favorite veggies to a whole wheat tortilla and wrap it up.  This breakfast burrito bites recipe has sautéed peppers added.  Not wanting eggs this morning?  Try beans (we like this bean recipe, but you could use mashed, canned pinto beans or your favorite canned bean), diced tomatoes, spinach, and cheese wrapped in a tortilla.
Pancakes and waffles. Zucchini marries so well with breakfast bread products.  These zucchini pancakes taste delicious just out of the skillet, but they also freeze well and can be defrosted in the toaster for a convenient weekday breakfast.  Some other vegetable pancake combos include cauliflower pancakes and veggie pancakes loaded with zucchini, carrots and corn.  And you can welcome in the fall with the scent of pumpkin waffles wafting through your home.
When using the ideas above, you can do a mental checklist. You could also use a sectioned plate to see what other groups need to be complete for your MyPlate driven breakfast. No fruit on the plate yet?  Add a fresh fruit that you have on hand.  No dairy?  Add some milk, yogurt or cheese.  Not every breakfast will have all of these groups represented, and that's okay.  The food groups that are missing or underrepresented at breakfast give you a great starting point for snack time.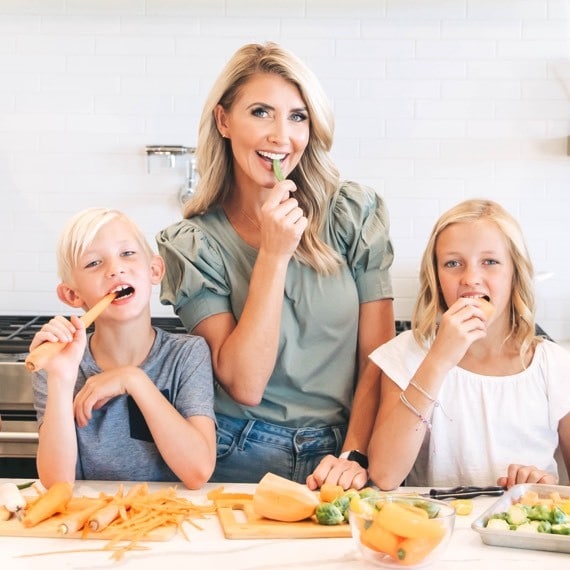 Natalie Monson
I'm a registered dietitian, mom of 4, avid lover of food and strong promoter of healthy habits. Here you will find lots of delicious recipes full of fruits and veggies, tips for getting your kids to eat better and become intuitive eaters and lots of resources for feeding your family.
Learn More about Natalie