Fruit and Veggie Smoothie Muffin Recipe
If you have been following us for a while now, you will know that there are 2 things that I really love. The first is homemade popsicles, and the second is the combination of banana, spinach and frozen mango. I pretty much drink that smoothie every.single.day. And so do my kids! Either in smoothie or popsicle form – and they haven't complained yet!
I love making a big batch of muffins and then freezing them for a super quick breakfast or snack. I thought I would align the worlds of my favorite smoothie, and a great muffin to make the ultimate breakfast! We have parents asking us all of the time to come up with recipes that 'hide' fruits and veggies. This little muffin has them packed in it! You may be thinking to yourself that these look questionable, or 'will my kids eat this?' or 'would I even eat this?'. The answer is yes!! They are moist, sweet, and absolutely delicious!
Fruit and Veggie Smoothie Muffin Recipe
There are literally 4 steps to this muffin.
Blend
Mix
Pour
Bake
I have never made a muffin this easy. There is no liquid needed for blending, but it really helps to have a high powered blender. Make sure you blend until smooth, leaving no chunks! And don't be deceived by the slightly strange color – they are incredible! I believe that there is a key to a great muffin – and that is the muffin paper you use. I don't like the regular thin ones you can buy from the grocery store. I like the thick, parchment paper muffins. I feel like they make the muffin have a better texture, especially if you are going to freeze them. I also love using my muffin scoop. (At least that is what I call it) I have one that is 1/4 cup and it is the perfect size to make muffins, or cupcakes. Never too full, but just enough!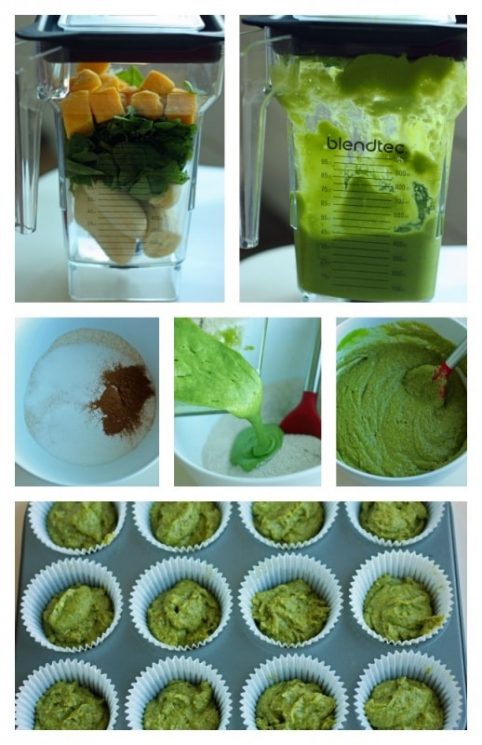 To freeze, just place the cooled muffins in a freezer safe container, and freeze up to 3 months. When you want to eat you can let them thaw for a couple of hours, or heat each muffin the microwave for 30 seconds. I ate 2 right out of the oven, and could have eaten 3 more. Definitely my new favorite and hopefully it will be yours too!
Ingredients
2

medium

banana

2

cup

spinach

1

cup

mango cubes, frozen

1/4

cup

coconut oil

1

large

egg

1 1/2

cup

flour, whole wheat

1/2

cup

sugar

1

teaspoon

baking soda

1

teaspoon

cinnamon

1/8

teaspoon

salt
Instructions
Preheat oven to 350 degrees.

Blend the bananas, spinach, and mango in a blender until very smooth. Once blended, add the oil and egg.

In a medium-size bowl, combine the flour, sugar, baking soda, cinnamon, and salt.

Pour the smoothie mixture into the bowl and mix just until combined.

Put paper or silicone muffin cups in a muffin pan.

Spoon the batter with a 1/4 cup scoop, filling each cup about three quarters full.

Bake for 20 to 25 minutes or until a toothpick inserted comes out clean.
Nutrition
Calories:
105
kcal
|
Carbohydrates:
17
g
|
Protein:
2
g
|
Fat:
4
g
|
Saturated Fat:
3
g
|
Cholesterol:
10
mg
|
Sodium:
93
mg
|
Fiber:
2
g
|
Sugar:
9
g