Comfort food for fall, Veggie-Packed Chicken Teriyaki Noodle Bowls the kids and you will be obsessed with.  They're stuffed with broccoli, carrots, cabbage, bell peppers and snow peas! 
Fall is right around the corner and I'm getting all sorts of cozy feelings!  So bring on the bowls full of soup, pasta and this amazing Veggie-Packed Chicken Teriyaki Noodle Bowl! I was shocked at how easy and fast it was to make and it reheats perfectly too!  This is a winner meal for kids and adults.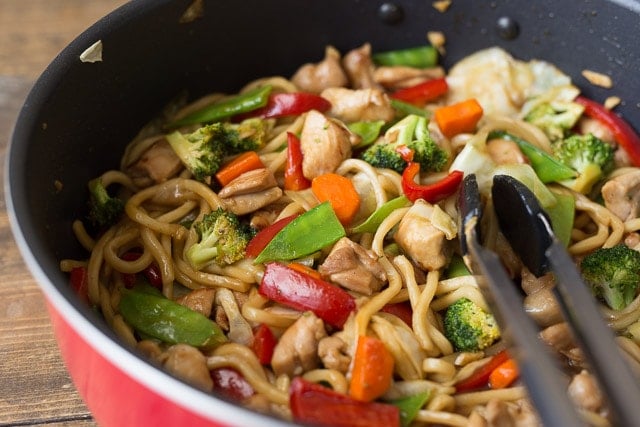 How to Get my Kids to Eat This:
Make it with them in mind!  All these veggies can be swapped in and out, so don't include cabbage or broccoli if you know they won't touch it.  Use extra snow peas or red orange and green peppers!  The honey in the teriyaki sauce keeps it fairly sweet, so dinner with this on the table shouldn't be a fight at all!  Plus, these pillowly soft udon noodles are perfect for kids! They soak up the sweet sauce and they're easy to eat with a fork.  If you chop up the veggies even smaller it will be easier for them to eat, instead of finding a huge piece of broccoli in their bowl that they might just avoid.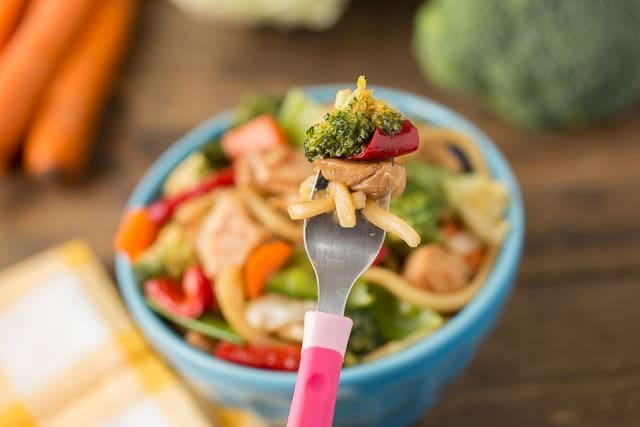 I made this for my husband and he's in love!  We packed up the leftovers for him to take to campus and we've already talked about making it with beef or shrimp next time! I love making dinner and hearing how he can't wait to eat the leftovers the next day! That's how you know you found a winner recipe.
Picking Noodles:
I made these noodle bowls with udon noodles but you can use Yaki Soba noodles or even ramen if you're in a pinch.  Use whatever you have at your grocery store!  But you might be surprised, my local WinCo had these amazing udon noodles in their refrigerated section and they were super inexpensive too–score!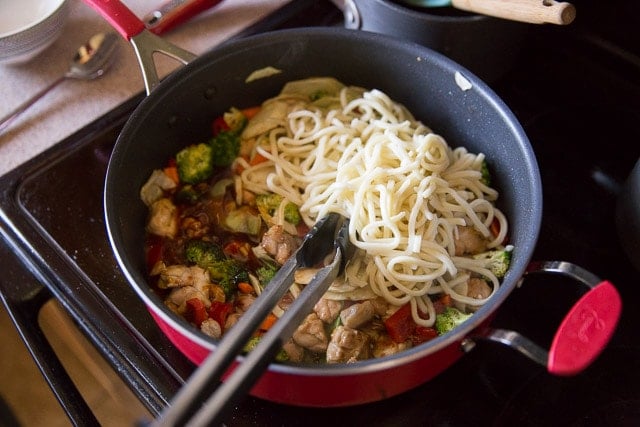 Why is it Healthy?
This teriyaki bowl is packed with vegetables!  The sauce uses honey to sweeten it and a little sauce goes a long way.  If you're looking for a way to get your kids to eat more veggies, this is it!  Most noodle bowls are more than half noodles, but because of all the amazing veggies in this version your kids will be filling up their tummies on mostly broccoli, peppers, cabbage, carrots and snow peas!
If you're looking for another fun teriyaki bowl, try our Tiny Teriyaki Meatball Bowls!  They're adorable and if your kids loved this recipe for Veggie-Packed Chicken Teriyaki Noodle Bowls they'll love the meatball bowl!