Healthy Morning Glory Muffins
Our healthy remake of these classic cafe Morning Glory Muffins is bursting with flavor! Not to mention 100% whole grains and a cornucopia of fruits and vegetables.
My family loves muffins… pretty much all muffins! So I'm always looking for something beyond the usual blueberry or bran. I was excited to discover and cook a muffin I'd never tried before, called a Morning Glory Muffin. As soon as I took my first batch out of the oven, I was hooked.
So, what IS a Morning Glory Muffin? The story of its origins is kind of fun: it was created in the Morning Glory Cafe in Nantucket in the 1970s, and became known as a kind of hippie muffin, because it's full of so many earthy-crunchy bits and pieces.
The flavor is fantastic: sweet and surprising in every bite, and spiced with cinnamon and ginger, almost like a carrot cake (for breakfast! YES.)
Nutritionally, we love these muffins because they're packed with fruits, vegetables, nuts, and seeds. Look at all SEVEN of these plant-powered add-ins:
Carrots
Raisins
Orange juice
Sunflower seeds
Coconut
Walnuts
Apples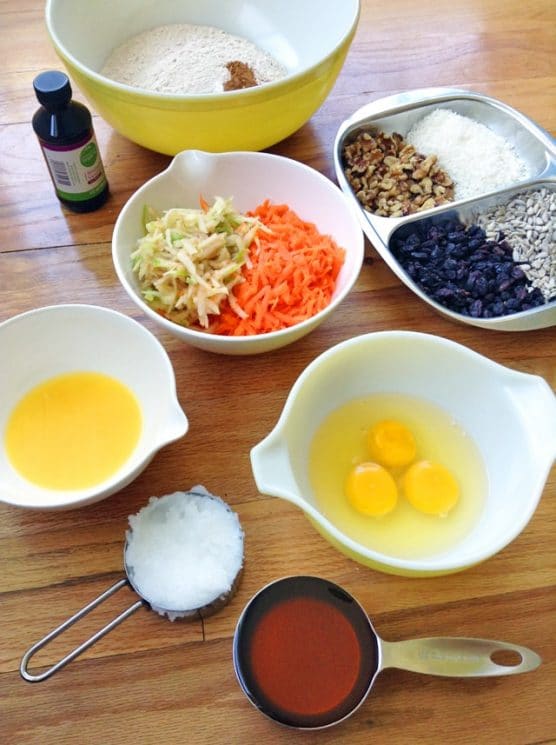 Healthy Makeover
When I was tailoring these classic muffins for my kids, I knew I wanted to make some healthy changes.
First, I cut the amount of sweetener down by more than half. The muffins were still delightfully sweet! (I don't know why it still surprises me that I can get away with this in baked good recipes, because it almost always works!)
I also used honey in place of the sugar, and whole wheat flour instead of white flour, for extra fiber and vitamins. Finally, I cut back on the oil, and used virgin coconut oil, to complement the flavor of the dried coconut.
The end result was a sweet, moist, gently spiced muffin chock full of chewy-crunchy textures. Such a comforting, healthy breakfast for my kiddos and me!
Don't be intimidated by the long list of ingredients in the recipe. These muffins are easy to make, and you'll get a good 17 muffins per batch. so you can throw a few in the freezer for school lunches or snacks.
First, stir together the dry ingredients in a large bowl. Then mix in the carrots, apples, nuts, and seeds, until they're all coated with the dry ingredients. You'll get a funny-looking mixture like this: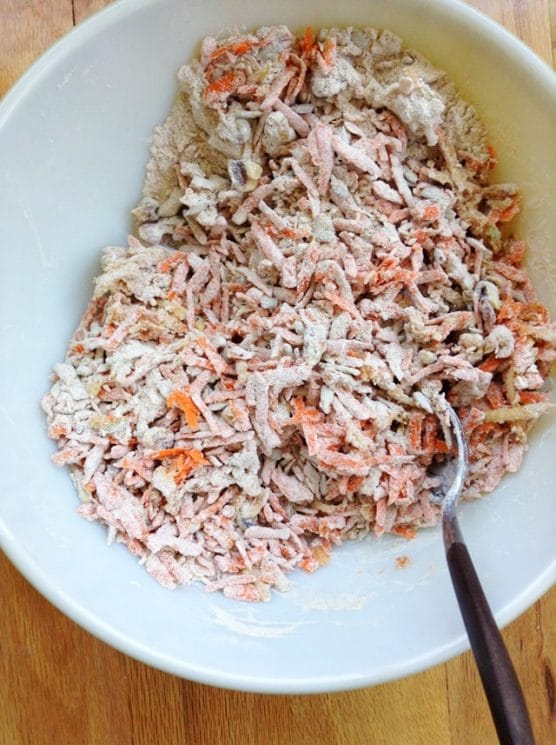 Whisk the wet ingredients together in a separate bowl, then pour them into the mixing bowl with the dry ingredients: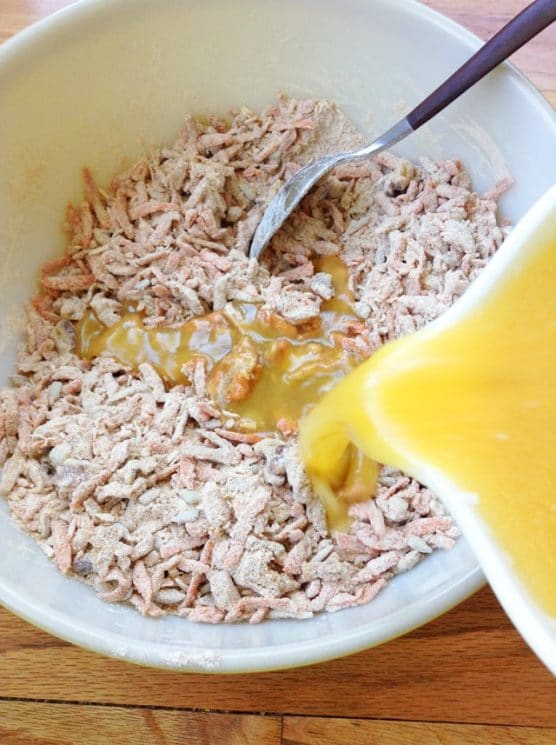 Then fold in the raisins, and spoon the batter into your muffin pan. This is my hack for fitting all the muffins into the oven in one round: squeeze a few extra muffin liners in beside my main muffin pan.
Then bake for 20 minutes, until firm to the touch. Enjoy!
P.S. My five-year old loves these muffins, with no qualifiers. But my two-year old can be wary of textures (or foods with "things in them") If you've got one like this at home, do give these muffins a try. The sweetly-appealing flavor is a great enticement to bite right in! Here's my 2-year-old, taking the plunge:
Ingredients
2

cup

flour, whole wheat

2

teaspoon

baking soda

2

teaspoon

cinnamon

1/2

teaspoon

ginger, ground

1/4

teaspoon

salt

2

cup grated

carrot

1

cup, grated

apple

1/2

cup

coconut flakes

1/2

cup

walnuts, chopped

1/3

cup

sunflower seeds

3

large

egg

2

teaspoon

vanilla extract

1/4

cup

orange juice

1/2

cup

honey

1/2

cup

coconut oil

1/2

cup

raisins, seedless
Instructions
Preheat oven to 375.

In a large mixing bowl, combine all dry ingredients.

Stir in carrots, apple, coconut, walnuts, and seeds, until they are coated with the flour mixture.

Beat together eggs, vanilla, OJ, honey, and coconut oil (make sure coconut oil is a liquid. If not, warm just to melt.)

Pour the wet ingredients into the large mixing bowl full of the dry ingredients and add-ins.

Fold in the raisins.

Portion the batter into a muffin pan (we like silicone). Fill each cup right to the top with batter. (You'll have enough batter for 17 muffins)

Bake for 20 minutes, until the tops are firm to the touch.

Store leftovers at room temperature for one day, then refrigerate for up to five days, or freeze for up to three months.