Light and fluffy German Pancakes make a delicious family breakfast that are quick enough for a weekday breakfast or can be fancied up for a special occasion! 
German Pancake Breakfast Recipe
We started making German Pancakes for our kids on their birthdays.   They are fluffy, buttery and so delicious that our kids looked forward to eating them for their special birthday breakfast.  Once we made them enough, we started realizing that they were so quick to make that we could make them pretty much anytime with little effort.
We love that these pancakes include a lot of eggs because the extra protein makes them a lot more substantial than a regular pancake.  If we make these on a school morning, our kids definitely stay full until lunch!  And because they feel more substantial, German pancakes are a great breakfast recipe that you can make for those 'breakfast for dinner' nights!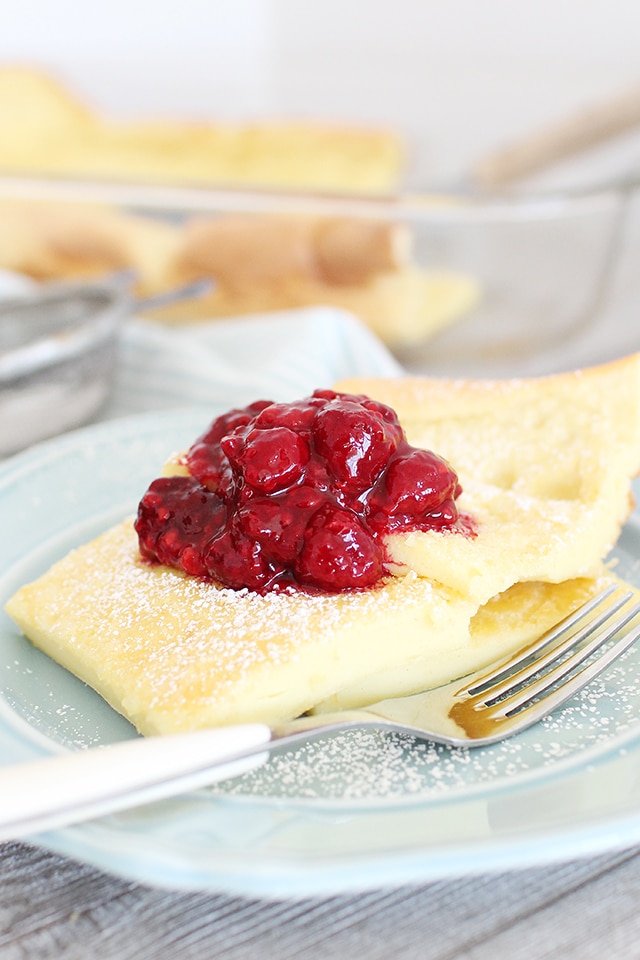 How to Make German Pancakes
German pancakes are also known as a 'Dutch Baby Pancake' or vice versa.  German pancakes are typically made with just 5 ingredients: eggs, flour, butter, milk and salt.  If you want to be a little more fancy, you can season them with vanilla and cinnamon.   It is like the perfect mix of an omelet and a pancake but with way less work involved than either of those breakfast recipes.  Here are some tips we have discovered from making German Pancakes over and over:
Mix your batter in a blender because it makes a perfectly smooth and easy to pour batter, with less dishes to clean later.
Make sure the milk, eggs and butter are at room temperature.
Make your batter ahead of time for the puffiest, tallest pancake. Place batter in an airtight container and refrigerate overnight.  Let it sit out while your oven preheats and your pan heats up.
Once the butter has melted in your pan, pour your batter in and bake until it because puffy and golden.  Kids love to watch this happen!   While your pancake bakes, get your toppings ready.  Some of our favorite pancakes for German pancakes are:
Fresh berries
Maple Syrup
Squeeze of lemon
Dusting of powdered sugar
Apple Slices sauteed in cinnamon and butter
More of Our Favorite Pancake Recipes