5 Tips to Getting a Home-Cooked Meal on the Table Every Single Night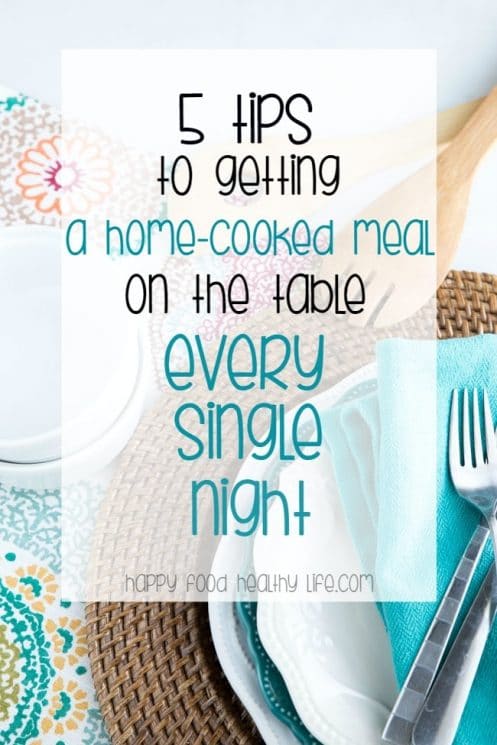 Ok, so we know the drill to living a healthy lifestyle for both yourself and your family. Along with a healthy amount of exercise and physical activity, there's a lot of focus on what foods we should be eating.
Less take-out and drive-thru windows. More homemade meals.
Even if I'm making a meal at home that's covered in cheese and heavy cream, I still feel a million times better about feeding it to my family than I would picking up a burger and fries from a fast food joint. There's just a peace of mind knowing what ingredients are going into mine and my kids' bodies.
But, as you know, getting dinner on the table every single night can take a lot of effort. Between all the other responsibilities we have, there never seems to be enough time in the day, and ordering for pizza seems a whole lot easier.
There are errands to run. Practices to take kids to. Homework to help with. A house to clean. Dishes to do (which pile up even more if you're cooking at home). It's never-ending. Despite the busy-ness of life, I still manage to get dinner on the table every single night, and I thought I'd share my tips and tricks with you.
5 Tips to Getting a Home-Cooked Meal on the Table Every Single Night
Meal Plan
This is where the habit of getting dinner made every night begins. You may have the intentions of making dinner every night, but without an actual physical plan, it just won't happen as smoothly as you hope for. Whether it's in your calendar, a board in your kitchen, or a scrap piece of paper, it's important to write it down.
Decide what you'll be making for every single night. You can plan for a week or a month at a time, but you definitely want to have a full week planned out so you're not stuck mid-week when life starts to get crazy.
For ideas on what to make, either go by what your family likes to eat or browse Pinterest for some ideas. This is my Dinner board on Pinterest, and it has a ton of great ideas to inspire you.
Weekly Grocery Store Trips
Once you've made your meal plan for the week, it's time to make a grocery list based off of those recipes and get to the store. I'm not talking every day before dinner or whenever you get a chance to get to the store. Once a week. Pick a day you'll go grocery shopping every week and put it on your calendar.
How many times have you gotten off work, gone to the store, fought rush-hour traffic, finally got home, and the last thing you want to do is cook a meal for your family? Wouldn't it be so much nicer if you were able to start cooking right away knowing that you already have all the ingredients on hand? It's definitely a relief for me!
Get Your Spouse on Board
This is a big one. How hard is it to cook dinner when you've got one kiddo that is hanging on your leg, another one crying in the other room because her sibling won't share, and your baby is screaming because he's hungry right now?
Yikes I'm exhausted just thinking about it.
Which is why it's super important to talk to your spouse. Let them know that you would love to get dinner on the table every single night at a reasonable time, but in order to do that you need a little bit of help. That means your honey's home from work on time and is willing to help out with the kids and their needs while you get dinner ready.
Either that, or they're in charge of dinner, right?
Having a supportive spouse is important for this lifestyle to stick as a habit. Talking to them about the benefits to getting their help will be a game-changer.
Back-up Meals
Ok, not every day can be a perfect fairy tale where a chicken is pulled out of the oven at the same time as fresh homemade rolls and steamed veggies. Ha! Busy moms ain't got time for that. Some days are definitely worse than others, to say the least. Sometimes I do have time to make homemade rolls. Other times, the kids are lucky if they get a slice of sandwich bread to dip in their soup. Just sayin'.
Those days when everything seems to be going crazy and you are really tempted to order take out, having back-up meals will be a game-saver. Yes, it takes a little bit of prep time, but it'll be worth it. I promise.
Ideas for back-up meals:
freezer meals that you prepared ahead of time and can just pull out of the freezer and pop in the oven
easy "throw-together" dinners. I always have a can of black beans, tortillas, and cheese on hand. Serve with quinoa or brown rice, and you're set. Always have easy items on hand that you know will make a meal in no-time.
leftover night – we have leftover night at least once a week. Pull everything out of the fridge from the week, and tell the family it's buffet style. Home-cooked and your fridge is cleaned out. Double win!
Get the Kids Involved
Remember how I talked about those kids going crazy while you're cooking dinner? How about you get them in the kitchen with you and have them help! Not only will they be focused on helping you instead of picking on their sibling, but they will be able to hold you accountable. If you make a habit out of them helping you every night with dinner, they'll get used to it and will probably be pretty disappointed if you tell them you don't need their help because you're ordering Chinese.
Kids love to help mommy in the kitchen, and it'll teach them life-long skills to pass on to their own kids. Plus they'll learn and understand the importance of cooking dinner at home.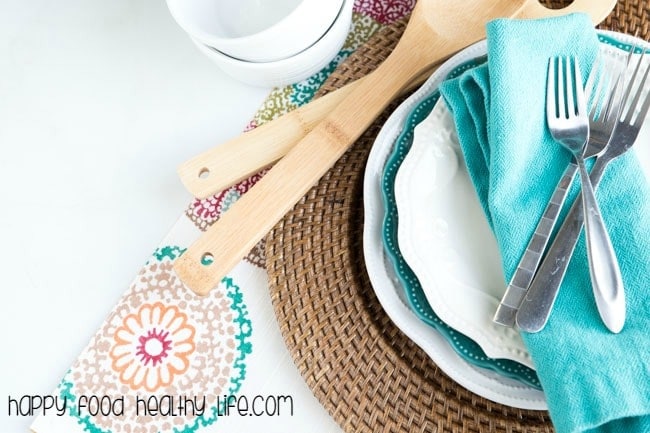 I really hope these tips gave you some ideas and motivation to work toward getting dinner on the table every single night. I know it can be a daunting task, but I know you can do it.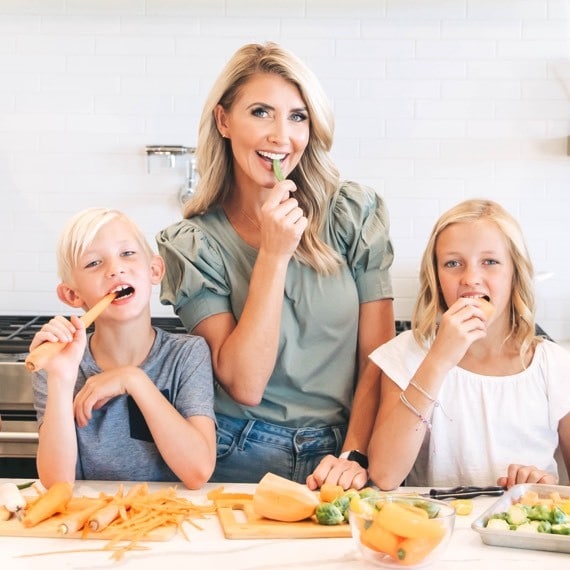 Natalie Monson
I'm a registered dietitian, mom of 4, avid lover of food and strong promoter of healthy habits. Here you will find lots of delicious recipes full of fruits and veggies, tips for getting your kids to eat better and become intuitive eaters and lots of resources for feeding your family.
Learn More about Natalie