11 Ways to Use Roasted Veggies
Today's post is written by our guest teen author: Hadassah!
Hi! I'm Hadassah! I am a rising high school senior and I live in Maryland with my parents and three siblings. In school, my favorite subjects are American Sign Language and math. In my spare time, I enjoy running, basketball, tennis and cooking. My love of cooking began when I was 8 years old; my favorite recipe to make is gnocchi from scratch with an Alfredo sauce. I am so excited to be a part of the team and to be blogging about cooking and nutrition for Super Healthy Kids!
---
What could be better than making one easy recipe that can be used in 10 different dishes?
This recipe for grilled veggies is a great staple – you can make them on Sunday and then use them for a few days. I make these a lot during the school year because they are healthy, quick to make and super versatile. Have fun with the recipe – switch up the veggies or try a new spice or herb. I like to sometimes add asparagus or mushrooms to the mix or use fresh herbs if I have some on hand.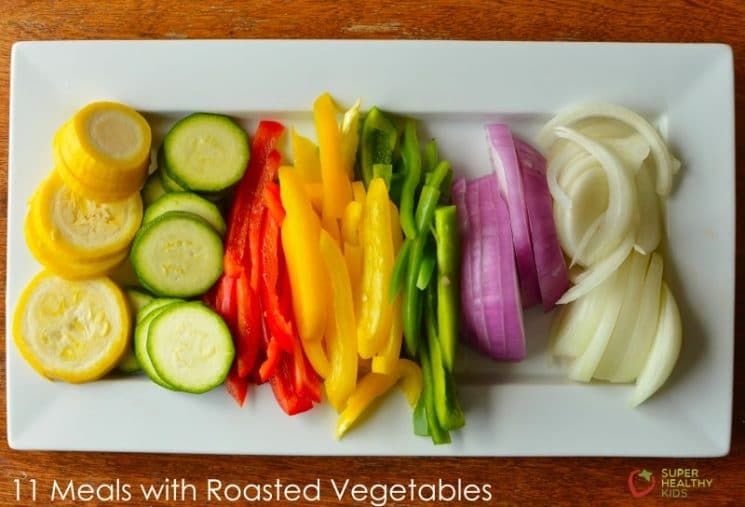 Ingredients:
1 red pepper
1 yellow pepper
1 green pepper
1 orange pepper
3 zucchinis
2 yellow squash
1 red onion
1 onion
Olive oil
Dried rosemary, basil and oregano
Garlic powder
Instructions:
Preheat the oven to 450 degrees
Cover a few pans or baking sheets with aluminum foil (for easy clean up) and spray with Pam
Slice the peppers and onions into strips and the zucchinis and yellow squashes into rounds
Put the sliced peppers into a bowl or plastic resealable bag; add a little bit of oil. Stir the veggies to coat them with oil, or close the bag and shake to allow the oil to spread among the vegetables. Re-open the bag, add herbs, garlic powder, salt and pepper to taste.
Lay the peppers flat in a single layer (keeping them in a single layer makes them cook faster) on a pan/baking sheet
Repeat steps 4-5 with the onions and zucchinis/yellow squash
Bake for about 25-30 minutes, flipping the veggies once in the middle. Depending on how well roasted you want your veggies, you can put them on the convection setting for about 10 minutes at the end.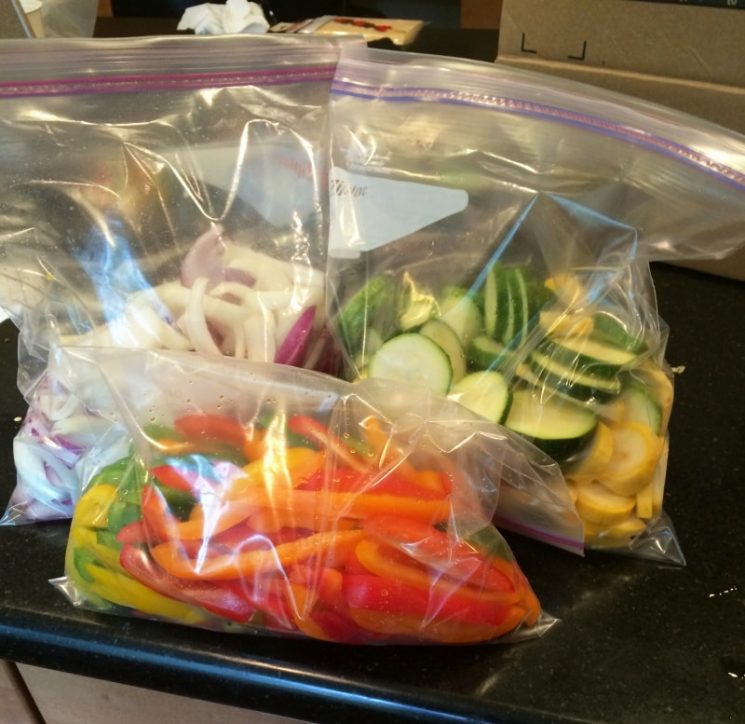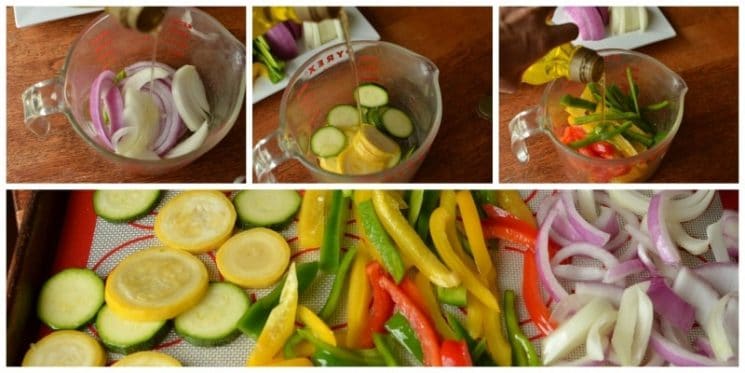 **Bake time varies depending on your oven, so keep an eye on them the first time you make them to make sure nothing is burning. **
I like to keep all the different vegetables separate while roasting so that people can choose which they want to eat later, but if you prefer, you can put them all in one pan in the oven. Remember that vegetables shrink when you bake them so plan accordingly!
In my house, the vegetables (particularly the zucchini) seem to disappear just minutes after they come out of the oven – but when we do get lucky enough to save some vegetables for later, here are some of my favorite dishes to serve them in:
BREAKFAST:
1) Quesadilla:
Optional: if you want to serve this for lunch or dinner, serve with guacamole for dipping
Tip: If you want to make this, but don't have the time to make the roasted vegetables first, you can dice fresh vegetables, stir fry them quickly and just use those – it will taste just as good.
This is a favorite of mine because I normally have a bowl of cereal or fruit in the car on the way to school because I don't have time for much else in the morning – but this I can make in less than 5 minutes
2) Omelette: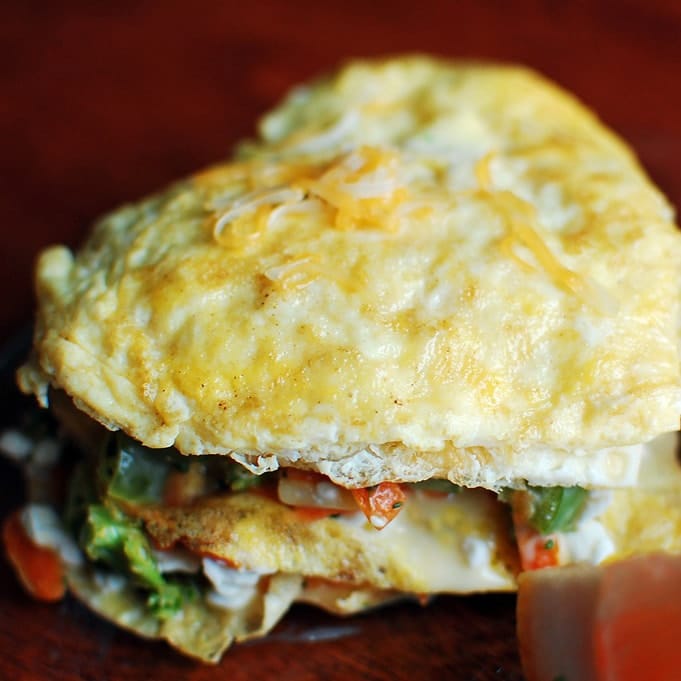 LUNCH:
3) Quinoa:
4) Hummus and roasted vegetable wrap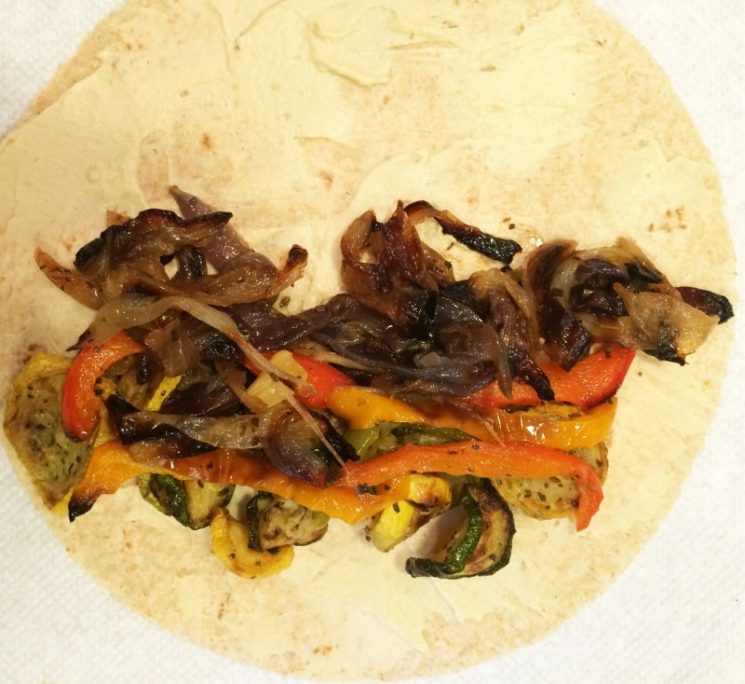 Tip: The smaller your tortilla, the more difficult wrapping it will be. To make it easier, warm the tortilla in the microwave for 10 seconds before adding fillings and rolling. For more tips, check out this website: http://www.noobcook.com/how-to-wrap-a-tortilla/
DINNER:
5) Whole wheat pasta
6) Gnocchi
7) Whole wheat pasta
8) Veggie Pizza: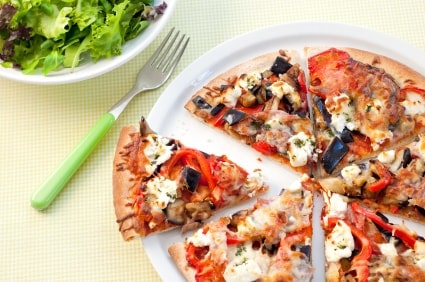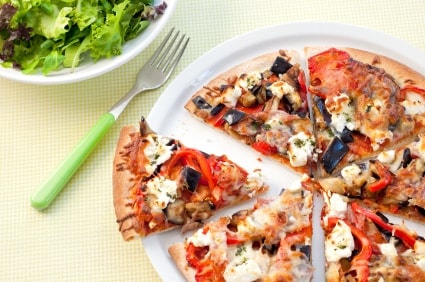 Speed Tip: If you're in a rush, use frozen pizza dough (the whole wheat ones are actually pretty good!). If you take the dough out and let it defrost for about two hours before you want to make the pizza, the whole thing should take 15-20 minutes (baking time included).
9) Top a baked potato
10) Broil or stir fry chicken
Optional: serve in a taco or tortilla with guacamole
Speed Tip: If you already have leftover grilled or broiled chicken or meat feel free to use that instead.
Add them to a grilled cheese sandwich. I like to spread mayonnaise with some minced garlic mixed in onto focaccia bread, top with the roasted veggies and mozzarella cheese and then put it in my sandwich maker (I have adapted this "recipe")
SNACK:
11) My personal favorite: eat them hot, right out of the oven!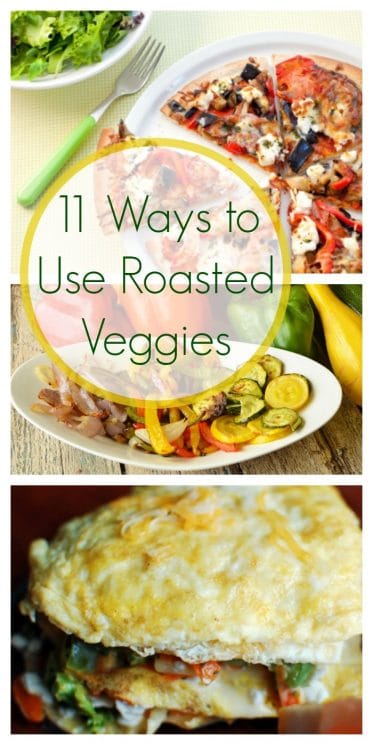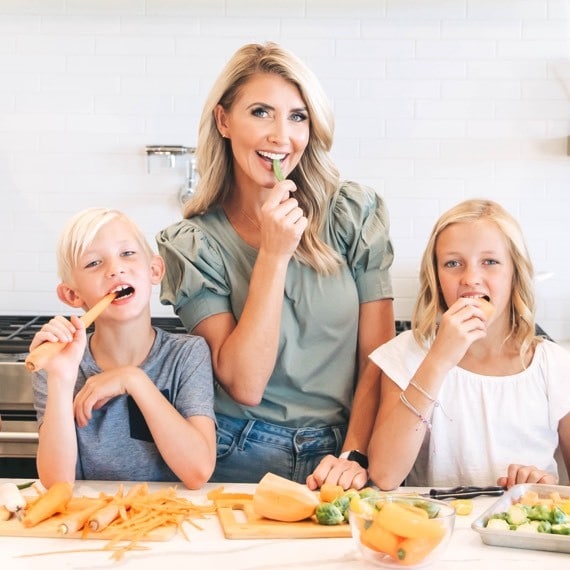 Natalie Monson
I'm a registered dietitian, mom of 4, avid lover of food and strong promoter of healthy habits. Here you will find lots of delicious recipes full of fruits and veggies, tips for getting your kids to eat better and become intuitive eaters and lots of resources for feeding your family.
Learn More about Natalie