Top Ten Healthy Snacks for the Road
Last week we spent 10 hours in the car from Lehi, Utah to Newport Beach, CA! I knew I didn't want to not stop along the way for food, so I planned accordingly. It's not that I think we couldn't get healthy food ON the road (a post for tomorrow), but my husband and I really don't like to stop once we get going. You know, we'd rather get there! So we plow through, full steam ahead and bring our food instead. Here is what we brought to eat, that I felt worked for us.
The plan was:
Breakfast: Hard boiled eggs, homemade muffins, yogurt, apple slices.
Lunch: Bagel sandwiches, string cheese, pretzels, carrots.
Snacks: Trail mix, oranges, dried fruit
So, here is our new "Top Ten Healthy Food for a Road Trip"
Hard Boiled eggs– I don't know when my kids started loving these things, but they can't get enough of them!  They were perfect for the road.  The protein and the good fat in them make them a filling way to start the day.
Pre-sliced bagged apples!  Lucky for us, Chiquita had just sent us some vouchers for their bags of fruits or vegetables. I redeemed them for this trip, and they were perfect.  As with bringing whole apples, the bagged variety never got bumped around and bruised, they were easy to eat, and left no core behind!  
Frozen water bottles–  My husbands idea really, but it worked great!  If my kids are holding a water bottle, they will literally drink it all in one gulp, and then have to pee every 20 minutes.  And since we don't like stopping every 20 minutes on the road, freezing the water and letting it slowly melt, self regulated the drinking! They could hold their bottle, and take sips as it melted.  Genius!
Baby carrots-  My kids have slowly been weaned off the NEED for dipping their carrots. Don't get me wrong, they love to dip, but they will also eat them plain.  And with long car drives, the boredom and mindless eating sets in, and baby carrots are the perfect cure.
Trail Mix- (single serving sizes).  You can make these yourselves, or buy trail mix in 1 oz bags.  I bought them this time, but we've done both.  I prefer the single serving because in the car, with everyone dipping their hands in a big bag, it tends to get messy.  And I love portion control!

Bagel Sandwiches

– I finally figured out the problem with bringing sandwiches on road trips.. THE BREAD!! On the road, bread gets squashed, limp, stale, whatever.  So I bought some pretty hardy whole wheat bagels, some deli meat, lettuce and provolone cheese.  The bagels held up well. I put the fillings on (we didn't even need spread the bagels were super moist), and we ate!  I will never bring bread for sandwiches again on a road trip, only a hearty bagel!
String cheese- Nice little source of protein, a little calcium.. and kind of a treat to my kids.
Pretzels- While pretzels aren't that special, and completely devoid of nutrients, they do make a clean snack, and after all.. we like clean snacks when it comes to road trips.

Dried fruit

(in little boxes). Remember when you only used to be able to buy raisins in little boxes?  Now you can buy anything.. dried apricots, dried craisins, dried apples, dried raspberries.  And if you really feel like forking out the money, you can get these boxes of dried fruit with Sesame Street Characters on them
And our tenth best , healthy, road trip food,  Cuties!  While oranges get pretty drippy and messy, we've had good luck with the cuties.  And if you are my kids and are thirsty because your parents froze your water bottle… cuties are thirst quenching!
What not to bring:
The muffins! Complete mess! They got squished, the bag tipped over, and then the kids stepped on them! Never again!!
Candy– just makes the kids cranky and more thirsty!!
So, now you share… What works on your vacations or road trips?
Related post: Tired of snacking- check out our REAL MEALS ON THE ROAD!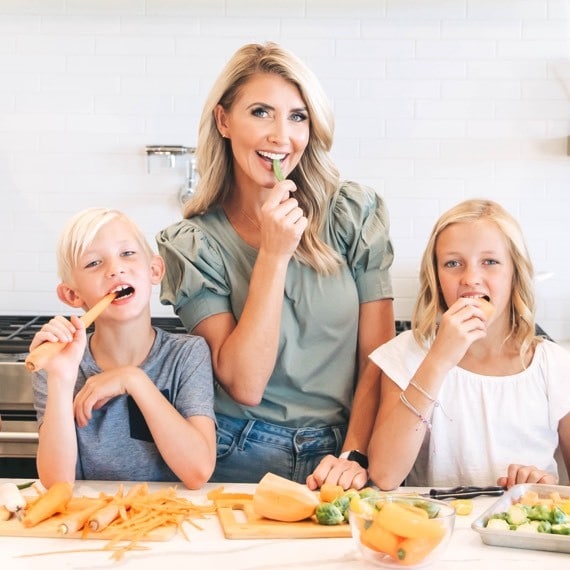 Natalie Monson
I'm a registered dietitian, mom of 4, avid lover of food and strong promoter of healthy habits. Here you will find lots of delicious recipes full of fruits and veggies, tips for getting your kids to eat better and become intuitive eaters and lots of resources for feeding your family.
Learn More about Natalie