Top 5 Favorite Ways To Eat Peanuts
On Sunday at church, I had a bag of peanuts in the shell (it was really for an object lesson, but we snacked on them too). Anyway, after church, some of the children were waiting for their mom and asked me if they could have some of my peanuts. I handed them each one out of the bowl. The kids took a bite out of the peanut, shell and all! They didn't think they were doing anything wrong at first, until I frantically tried to save them from their mistake! Now I like to tease their mom about buying her poor kids some peanuts-IN the shell, so they can learn how to eat them.
So, start purchasing peanuts again. Here is how we like to eat them:
Get Up and Go Peanut Crunch Bar (Courtesy of the National Peanut Board)
Serves 12

INGREDIENTS

2 cup GoLean Cereal (or other high fiber cereal)
4 oz Peanut, Dry roasted, w/salt
1/4 cup dried cranberries
1/4 cup dried blueberries
1/3 cup honey, strained or extracted
1/4 cup Peanut butter, smooth
1 tbsp brown sugar, packed
2 tbsp peanut flour, defatted (optional)

DIRECTIONS

Prepare a 8″ square dish by lightly spraying with non-stick spray or lining with parchment paper. In a medium bowl, mix cereal with peanuts, cranberries and blueberries and set aside. Stir together honey, peanut butter, brown sugar and peanut flour (if using) in a microwave safe bowl. Heat in 30 second increments, stirring in between, until the mixture is combined and pourable. All at once, add honey & peanut butter mixture to dry ingredients, stirring quickly to combine. Pour this mixture into the prepared pan, pressing into the pan with a silicone or lightly oiled spatula, and let cool completely. Once bars are completely cool and set up, turn out on a cutting board and cut into 12 equal sized bars.
Peanuts are a great food to include in your kids diet! There are 7 grams of protein per serving. They are a great source of Vitamin E and B, and has over 30 essential nutrients and phytonutrients! Check out the Peanut Board for more peanut recipes and their fun site for kids.
Were you on Facebook the day I found this? I still can't get over how funny it is to me!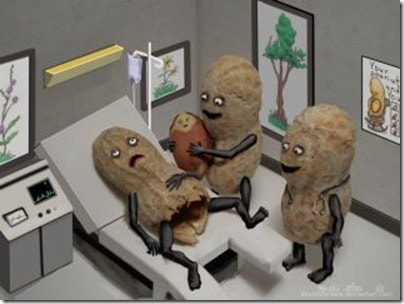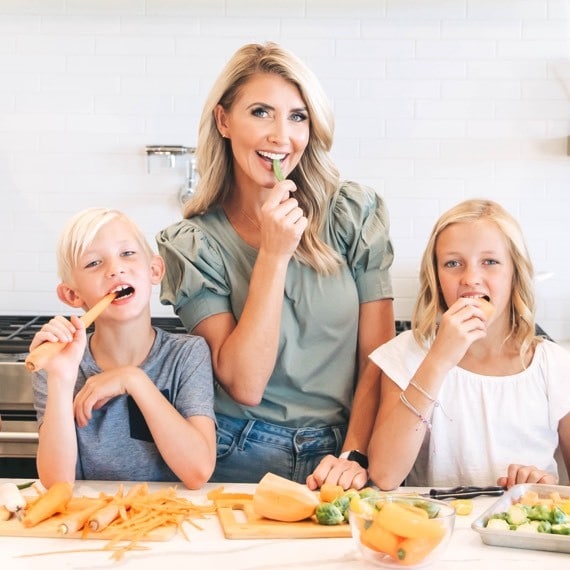 Natalie Monson
I'm a registered dietitian, mom of 4, avid lover of food and strong promoter of healthy habits. Here you will find lots of delicious recipes full of fruits and veggies, tips for getting your kids to eat better and become intuitive eaters and lots of resources for feeding your family.
Learn More about Natalie