How to Set Healthy Resolutions With Your Kids
Start the new year with healthy goals you and your kids can achieve together! Learn strategies for making strong resolutions and following through with a positive mindset.
This January only, get ALL my meal plans and connected cookbooks 40% off in the Prepear app!
New Year's Resolutions often feel personal — a goal you set for yourself and achieve independently.
But studies show resolutions have more potential for success when you share your goals with others. And who better to embark on a fresh start with than your kids?
Sharing a new year's resolution with your kids shows them how they can make step-by-step positive change, including setting, attaining, and sustaining your goals. Read on to learn tips for setting and sharing resolutions with your kids, and some examples of healthy goals you can adopt as your own.
5 Steps to Successful Family Goal-Setting
Set the resolution together. Brainstorm ideas and work together to decide on the details. When everybody has a say in the resolution, you'll all feel more excited to work on your goal.

Keep it simple. When kids are involved, it's important to keep resolutions simple and attainable. That way, they'll feel capable to keep up with the new healthy habit. Make it your goal to add just one short and fun daily activity that will lead to a healthier lifestyle in some way.

Decide on a way to measure your success. This one is all about making sure that you can TELL whether or not you're meeting the goal you set for yourselves. If you and your kids want to read more, set a concrete goal of reading a chapter of a book each day, or at least one picture book per day.

Be a role model. Let your kids see you participating willingly in your family goal… even if some of the activities feel childlike to you. Eat those veggies alongside your kids. Drink If your family goal is to be more physically active every day, don't be afraid to jump in that hopscotch game with your kids!

Enjoy the journey. Making positive change can be fun! Find ways to make your resolution playful. Explore all sorts of fun, silly, and creative exercises. Choose your veggies by the colors of the rainbow. Make visiting the library weekly to pick out a new set of books part of the resolution excitement.
Example Family New Year's Resolutions
Eat a veggie with lunch and dinner every day
Play outside or do active indoor play for 15 minutes every day
Drink 6-8 cups of water a day
Have a "family game night" after dinner once a week
Have a piece of fruit with breakfast every morning
Switch to whole grain bread and pasta
Read books together as a family for 20 minutes a day
Have a "sunny and stormy" conversation before bed, where you and your kids each share something happy/exciting AND something sad/disappointing from your day.
Eat one family meal together at your table each day.
Include a handful of nuts with your snacks each day.
Making New Year's resolutions can be part of a cherished family tradition leading to bonding time and fun. We wish you a happy New Year filled with family fun, togetherness, and good health!
Make 2020 Your Family's Best Year Yet!
Get 40% off ALL family-friendly Super Healthy Kids meal plans and connected cookbooks in the Prepear app!
Our meal plans are fresh, colorful, kid-friendly, and designed by registered dietitians and real moms! The Prepear app creates a totally interactive experience for your recipes, so you can plan, shop, and cook more simply than ever before. Learn more and sign up here.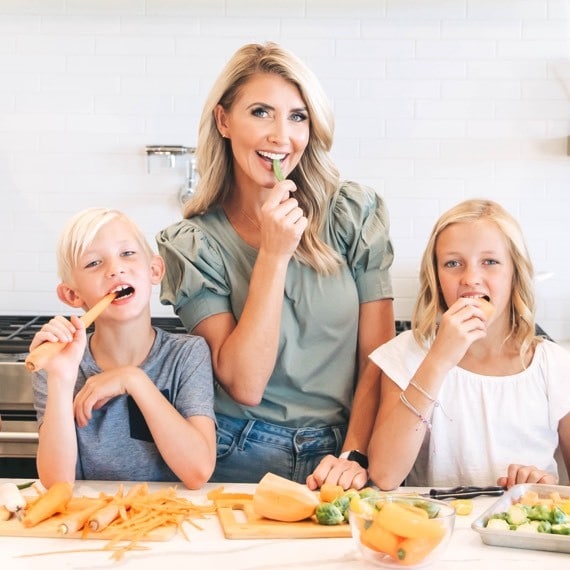 Natalie Monson
I'm a registered dietitian, mom of 4, avid lover of food and strong promoter of healthy habits. Here you will find lots of delicious recipes full of fruits and veggies, tips for getting your kids to eat better and become intuitive eaters and lots of resources for feeding your family.
Learn More about Natalie