Winter Squash Corn Chowder Recipe
Winter squash corn chowder is a healthy and heartwarming family meal. It's creamy and lightly sweet, so it's perfect for cold winter days! With kabocha squash, sweet potatoes, garbanzo beans, carrots, and corn – you're packing in the vitamins and minerals!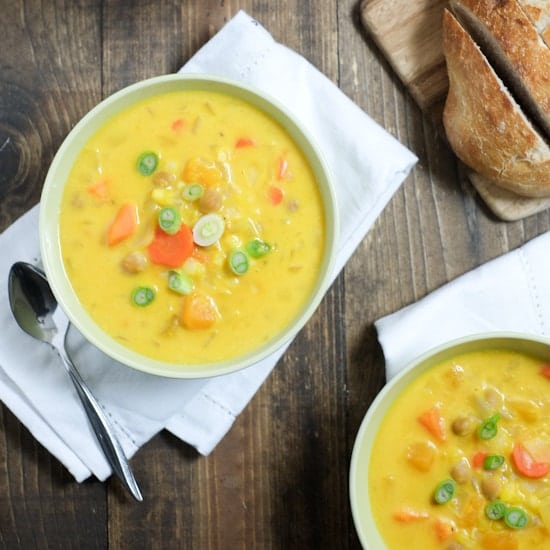 This heartwarming chowder is just the perfect cozy meal. It's creamy and flavorful, just lightly sweet. With a warm crusty bread, it's just amazing.
I was inspired to create this chowder when my grandfather-in-law gave us a big winter squash from his garden. On that same trip we also came home with several bags of frozen sweet corn (also from said garden). Driving home I was just dreaming of a sweet, creamy corn chowder. And it turned out just as dreamy as I hoped!
What is winter squash?
You might be wondering exactly what I mean by winter squash. Well, grandpa gave us a squash and just called it "winter squash" so I had to look it up and see what the technical name is: kabocha squash.
Kabocha squash is also referred to as Japanese pumpkin, though it reminds me more of butternut squash in taste. It's round, squat, and green on the outside with orange flesh. It tastes wonderful when cooked – soft and sweet.
Kabocha is nutritionally dense! One cup imparts about 60% of your vitamin A and 25% of your vitamin C for the day. It also packs in about 20% of your fiber, vitamin B6, manganese, and copper. Plus, significant amounts of potassium, folate, vitamin K, and omega 3's. All this AND low calorie.
So not only does kabocha tasted amazing, it's also incredible for you! I'm a little head over heels for this super squash.
I had no trouble finding kabocha in a few local grocery stores, but if you have issues it's easy to substitute. Butternut squash or acorn squash also work well in this recipe.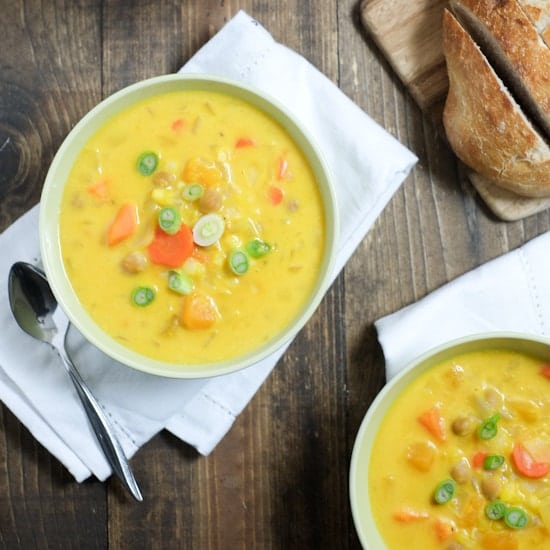 How to cut a kabocha squash
The process for this soup is really easy once you figure out how to peel and chop your squash. I've done it three ways, so you can choose your preference.
Being very careful and using all your muscles, cut your squash in half. Scoop seeds out, chop into wedges, cut off skin, and chop into bite-sized chunks.
Poke with a fork every few inches and then heat in a microwave safe dish in the microwave for about 5-6 minutes. This softens the squash enough to make it a little easier to cut and peel. It will be hot so be careful while handling. If you can, soften the squash ahead of time – morning of or day before.
Bake your squash a bit to soften it. Heat your oven to 400* F, poke your squash, and then bake for 15-20 minutes. Again, allow to cool a bit, then chop in half, scoop out the center, then scoop out flesh or cut into wedges to cut from the skin. Chop into bite-sized pieces.
Making squash and corn chowder
Now chop up your other ingredients: carrots, sweet potatoes, and onions. I recommend dicing onions finely so you don't notice them in the soup as much. I also recommend small-ish cubes for sweet potatoes because those took the longest to cook.
In a large pot, saute onions in oil for 5 minutes. Add carrots, sweet potatoes, kabocha squash, and 4 cups chicken broth. Simmer for about 15 minutes, lowering the heat when you can.
Add in 4 ounces of cream cheese (about half a regular block). I used Greek cream cheese because it's higher in protein and has less fat than regular. You can also use low-fat or regular, whatever your preference is.
At the same time, add 2 cups frozen corn. Rinse and drain a can of garbanzo beans (chickpeas) and add these as well. Bring to a boil and continue boiling for 5-10 minutes, until all veggies are cooked and tender.
Serve with green onions or parmesan if desired, and of course some crusty bread!
I hope you love this slightly sweet, absolutely comforting, healthy chowder as much as my family and I did!
Winter Squash Corn Chowder
Winter squash corn chowder is a healthful and heartwarming family meal. It's creamy and lightly sweet, so it's perfect for cold winter days! With kabocha squash, sweet potatoes, garbanzo beans, carrots, and corn – you're packing in the vitamins and minerals!
Ingredients
1

medium

onion

3

medium

carrot

1

medium

sweet potato

3

pound

kabocha squash

1

tablespoon

oil, vegetable

4

ounce

cream cheese

1

can drained

chickpeas (garbanzo beans), canned

2

cup

corn, frozen

1

teaspoon

salt
Instructions
Dice onion very small. Chop carrots and sweet potatoes into bite-sized pieces. Peel and chop squash into bite sized pieces. It may be helpful to soften squash first by heating in the oven or microwave (poke with fork and place in a safe dish for 8 minutes in the microwave or at 400* F for 20 minutes in the oven).

Heat large pot on medium-high heat, pour in oil, saute onions for 5 minutes. Add carrots, potatoes, squash, and broth. Bring to a boil and then reduce heat to medium-low to simmer for 15 minutes. Cover if you want a thin soup or leave uncovered for a thicker consistency.

Add cream cheese, beans, corn, and salt (to taste). Increase heat to high and boil for 5-10 minutes, until vegetables are tender.
Nutrition
Calories:
325
kcal
|
Carbohydrates:
57
g
|
Protein:
13
g
|
Fat:
8
g
|
Saturated Fat:
3
g
|
Cholesterol:
11
mg
|
Sodium:
745
mg
|
Fiber:
10
g
|
Sugar:
10
g
www.superhealthykids.com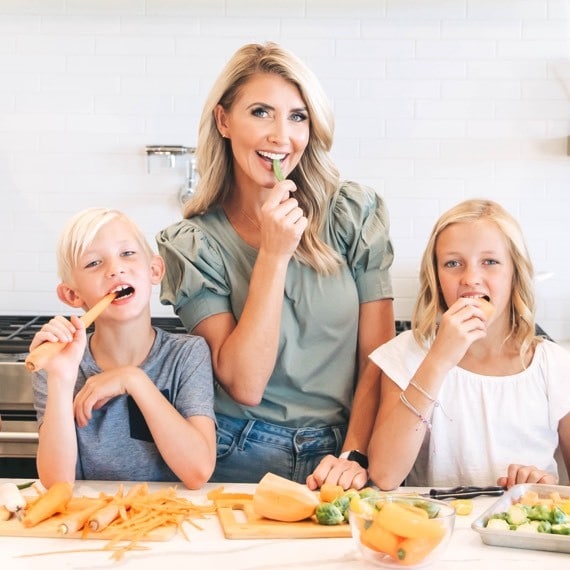 Natalie Monson
I'm a registered dietitian, mom of 4, avid lover of food and strong promoter of healthy habits. Here you will find lots of delicious recipes full of fruits and veggies, tips for getting your kids to eat better and become intuitive eaters and lots of resources for feeding your family.
Learn More about Natalie