Rainbow Chicken Salad: Adults and kids will love this colorful, healthy salad! Made with fresh veggies and a delicious homemade peanut dressing.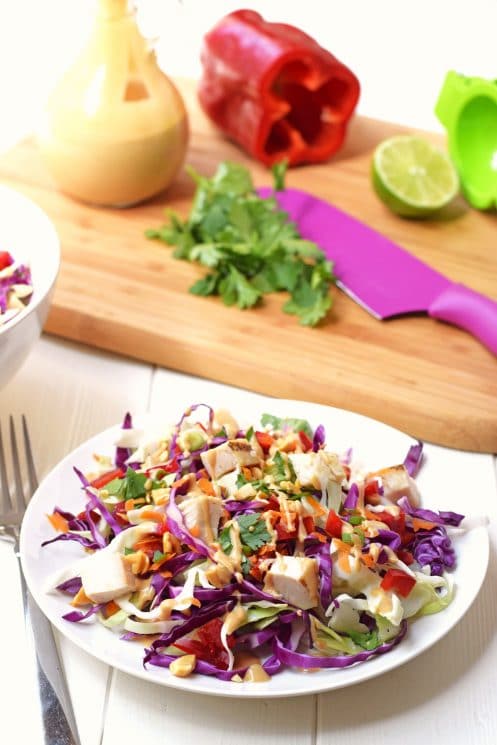 Hello! Tiffany from Feel Great in 8 here! I don't know about you, but where I live January is cold and snowy and has me wishing for all things bright, colorful and fresh! This rainbow chicken salad is the perfect fix and your kids will love helping you put together all the colors of the rainbow. Serve them in a wooden bowl to make the colors stand out!
The last time I made this one for my family, I chopped all the ingredients and set them out in individual bowls. Then I let each of my kids choose his/her favorite color to toss and serve into the bowl. We went through the entire rainbow…
Red: Red Bell Pepper
Orange: Shredded Carrot
Yellow: Yellow Bell Pepper
Green: Green Cabbage, Cilantro, Avocado, Green Onion, & Limes
Violet: Purple Cabbage
It is missing some blue/indigo veggies, but you could always serve a blueberry fruit salad for dessert.
This is also a great chance to talk to kids about the amazing healthy benefits of eating lots of naturally colorful foods! Red fruits and veggies act as powerful antioxidants and may help reduce cancer risk, red and yellow fruits and veggies are good for the eyes, heart and immune system, and purple fruits and veggies may help reduce the risk of stroke and heart disease. This rainbow chicken salad has them all!
And, having them help put this delicious salad together means they are more likely to eat it too! My family devoured this one – even my picky toddler ate every colorful piece! I hope you and your family loves this one as much as we do!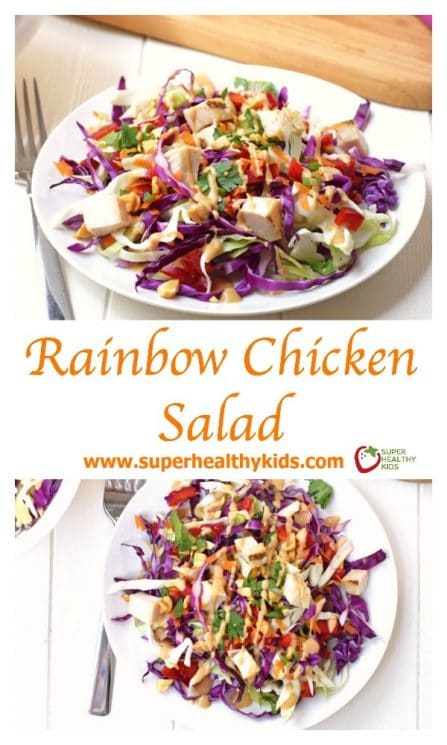 Looking for more healthy, fresh, delicious salads the whole family will love? Checkout these other yummy recipes from the Feel Great in 8 blog.
Strawberry Spinach Salad & Homemade Vinaigrette
Ingredients
Salad
1

pound

chicken breast

2

cup chopped

cabbage, red

1

cup

cabbage

1

medium

carrot

1

medium

bell pepper, red

1

medium

bell pepper, orange

1

medium

avocado

1

cup

cilantro

2

stalk

green onion

1/4

cup

peanuts
Dressing
1/2

cup

peanut butter, all-natural

2

tablespoon

water

2

tablespoon

vinegar, rice wine

2

tablespoon

soy sauce, low sodium

2

tablespoon

honey

1/4

teaspoon

sesame oil

1

medium

lime
Instructions
Cook and dice chicken (3 cups cooked).

Shred cabbage, grate carrot, core and chop bell peppers, dice avocado, and chop cilantro, green onions, and peanuts.

Have kids help add all of the prepared salad ingredients to a large bowl and toss well.

Whisk together all of the dressing ingredients. If too thick, add hot water one teaspoon full at a time until you reach your desired consistency.

Drizzle the dressing over the salad and toss. Serve immediately.