This nut-butter caramel dip has become a staple at all of our dinner parties, holiday parties, and any time my kids need a treat!
On Saturday night, Nate (my son) got invited to a Killer Bunnies party with some boys from his class. The mom bought pizza, and the boys played board games for 4 HOURS! He had this party for no reason, other than their family is awesome. I keep thinking I need to let my kids have more no-reason parties.
So we did it recently! My daughter invited some friends from school for a movie party, and we served this dip, plus popcorn & juice. I was warmed the dip up slightly to make it a little smoother, and "dippier" and had kids coming into the kitchen asking what smelled like cookies!
The dip is super simple! We combine
Natural peanut butter. The best and cheapest way I've found to buy this is a local grocery store (I have a Winco), who has a dispensing machine and sells peanut butter, freshly made, by the ounce. This way, you are sure nothing else (like sugar or extra oils) are added to your peanut butter.
Then, I used coconut sugar. We've been using this a lot lately. It has such a rich, almost molasses/ caramel flavor to it.
And milk to thin it out. You can use almond milk, coconut milk, or regular milk. The point is just to make it a little bit smoother to dip.
If you are using traditional commercial peanut butter, it may be too sweet. If you are using natural peanut butter, but your kids are accustomed to commercial, it may not be sweet enough! Play around with the measurements so you have the perfect sweetness for your family.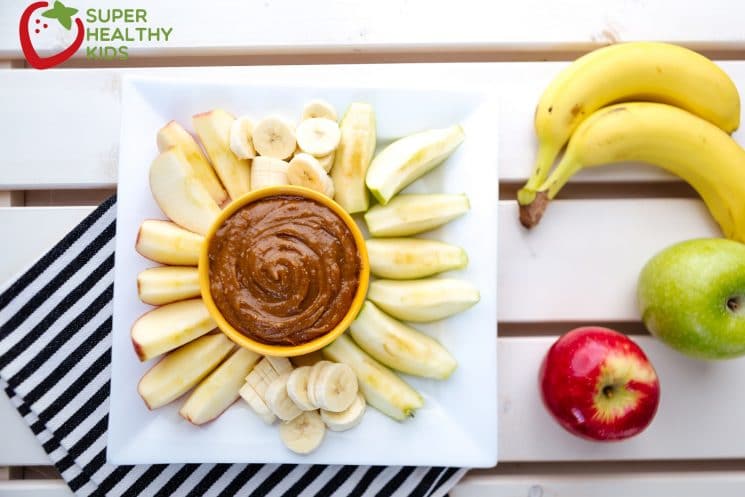 We dipped apples, bananas, and even celery! We can't get enough.
Ingredients
1/3

cup

all natural peanut butter

2

tbl

coconut sugar

2

tbl

milk
Instructions
Mix all ingredients and warm slightly (not too much).

Stir until blended and continue to add milk, 1 TBL at a time, until dip is consistency you like. I added about 3 more TBL.