Healthy Peanut Butter Chocolate Fudge
No heavy cream or corn syrup in this Healthy Peanut Butter Chocolate Fudge! It's dairy free, refined sugar free, and only 6 ingredients!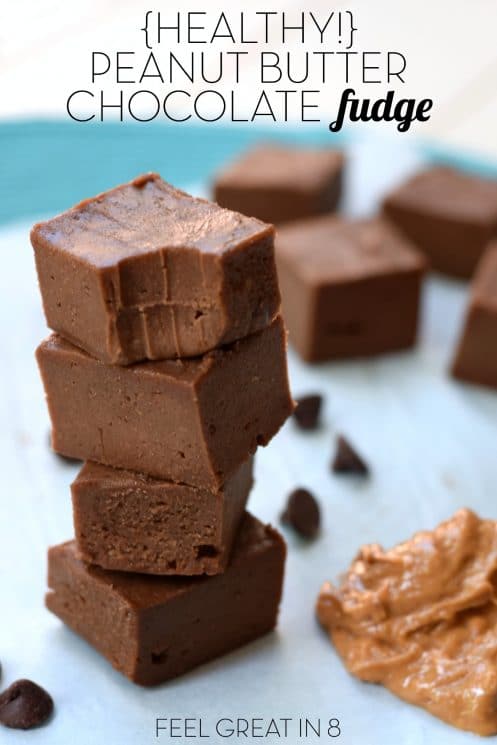 Hey guys! Tiffany from Feel Great in 8 here. I'm so excited to be back at Super Healthy Kids! I just know you are going to love this healthy, yummy dessert recipe! I absolutely love treats that I can enjoy and share with my kids without guilt! And I love chocolate. And I love peanut butter. I also love almond butter, which would work great in this recipe too. But, enough about me. Let's get on with the healthy goodness.
This Healthy Peanut Butter Chocolate Fudge is made without any heavy cream, corn syrup or any other refined sugar (it even has fruit hidden in there!), but the texture is perfectly fudgy and it tastes just as rich and indulgent as its unhealthy friends.
I love that you don't have to heat your house with the oven to make this delicious dessert, and it literally takes a few minutes to throw together. The only hard part is being patient enough to wait for it to get firm (you have my permission to sneak a few tastes :).
And, since you store it in the freezer, it also makes a cool and refreshing summer treat! This dessert is perfect for warm summer evenings or as an after bbq treat. Summer evenings + healthy peanut butter chocolate fudge = perfection!
I hope you'll give this one and try and that your family loves it as much as mine does! Oh, and if you need more chocolate fudgyness, I highly recommend these Dark Chocolate Fudge Tarts. Yay for chocolate fudge!
– Tiffany is a wife, mom of 4, foodie, dark chocolate lover, creator and host of the Feel Great in 8 Challenge, and blogger at www.feelgreatin8.com. She loves experimenting in the kitchen and creating healthy real food recipes.
Ingredients
1/2

cup

peanut butter, all-natural

1

large

banana

1

teaspoon

vanilla extract

2

tablespoon

coconut oil

2

tablespoon

maple syrup, pure

1

tbsp

cocoa powder, unsweetened
Instructions
Stir peanut butter till creamy and smooth. If you need to warm it up to make it softer, it might be easier.

Place all ingredients in a high-powered blender or food processor and mix until very smooth! You don't want any lumps at all.  Just smooth cream.

Spread into an 8×8 pan or a loaf pan. It doesn't need to come to the edge.

Place in fridge or freezer until firm.  Cut into squares.  Store in the fridge to maintain solid bars.