Parfait might sound like a decadent dessert, but with a few small tweaks you can serve this treat for a nutritious breakfast or an after-school snack. Scroll to learn all the tips and tricks, plus the best ingredients for the most delectable yogurt parfait.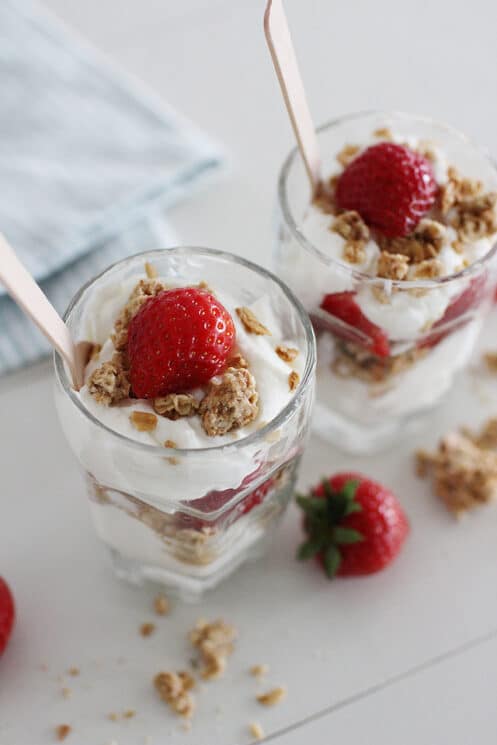 Parfait has a secret. No: two secrets. The first is that this special-looking French dessert takes all of five minutes to throw together. (You'll probably spend more time locating a clear glass than you will actually filling it.)
The second secret is that you can make decadent parfait super-healthy with nutritious, probiotic-rich yogurt, whole grain granola, and colorful fresh fruits. So you feel great about what's going into your kids' bodies. And your kids will think you're just the best when you serve it to them for breakfast on a random Tuesday morning. So who's in?
Before we get to our delectable recipe and the ways you can customize it, here's the (not all that obvious) answer to your burning question about yogurt parfait:
Is Yogurt Parfait Actually Healthy?
Each parfait is different. But what we can say is this: if nutrition is your goal, be wary of store-bought, pre-made parfaits.
A Macdonald's Yogurt Parfait, according to the company website, contains 28 grams of sugar, which is a whopping seven teaspoons. Compare that to a serving of Ben & Jerry's vanilla ice cream, which has less, at 20 grams of sugar. Yikes!
The American Heart Association recommends kids between ages 2-18 eat fewer than 6 teaspoons of sugar a day. So one Macdonald's parfait already puts your child over the top of that limit.
When you make a yogurt parfait at home, you have complete control over the ingredients you put inside this fruity treat. That leads to better nutrition all around (and no sacrifice in flavor.)
Our recipe features whole milk yogurt gently-sweetened with pure maple syrup, and a lower-sugar brand of granola (Bear Naked granola is a solid choice, and you can find it at most supermarkets.)
We also pack in the fresh fruits for vitamins, fiber, and flavor. Our recipe makes three large servings, tastes sweet and yummy, and contains only 8 grams of total sugar per serving!

The takeaway here is that a yogurt parfait CAN be healthy, when you make it so with good quality, nutritious ingredients.
What Do You Put in a Yogurt Parfait?
The basic architecture of a great parfait goes like this: yogurt, granola, fruit, repeat. You can use any flavor of yogurt you like. We prefer to use plain yogurt with a touch of maple syrup. But if you really feel like you have to use a flavored yogurt, vanilla pairs well with the fruit and granola.
Choose any granola, but read those labels to find one that won't load up your kids with added sugars. We actually like a simpler-flavored granola for this recipe, because the many layered ingredients in the parfait already bring the flavor party. (In other words, no need to buy some raspberry-almond-maple-choco-bomb flavor. Vanilla or maple does the job here.)
Our parfait features fresh strawberries, but PLEASE don't feel limited to this when you're selecting fruits for your own masterpiece. Here's a list of some of the fruits (fresh or frozen) you can mix and match in your parfait:
Blueberries
Mango
Grapes (sliced if you're concerned about choking)
Raspberries
Bananas
Kiwis
Cherries
Apricots
Blackberries
Cantaloupe
Peaches
Dishware You Can Use to Make a Parfait Look Fancy
One of the fun things about yogurt parfait is how darn pretty it looks. Kids feel so special to have a colorful, layered sweet treat, and they'll have no idea it took you just five minutes to make. (Bask in it, moms and dads. You don't have to say a thing.)
To create the special visual effect of a parfait, you will, of course, need a clear container. But if you don't have a classic glass ice cream dish like this one, don't sweat it. A sturdy clear drinking glass works nearly as well.
Find spoons that are long enough to reach down into the dish and you have everything you need. See? Easy.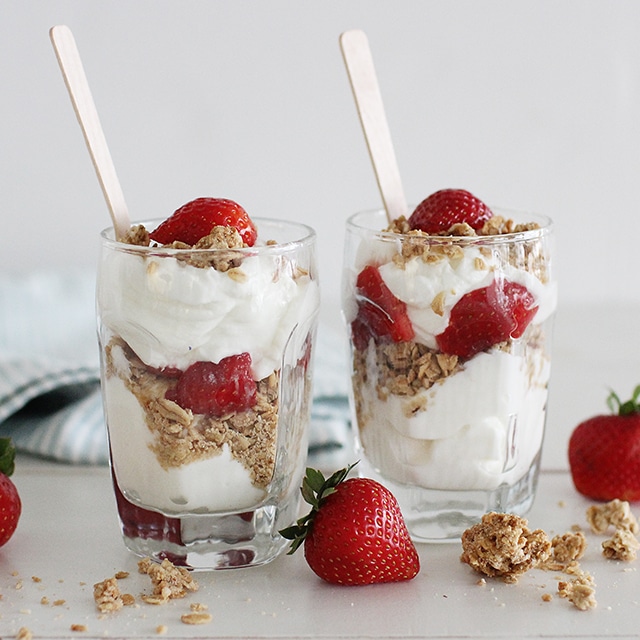 How to Make Yours 100% from Scratch
We're SO not judging the use of store-bought granola and yogurt in this recipe. (Or, you know, strawberries you didn't grow yourself, you lazy person you.)
Really, if you're buying supplies because you're just too time-crunched to make homemade granola, that's totally cool. But homemade granola IS something extra-special, so we can't end this post without sharing some of our yummiest granola recipes that would work great in this parfait recipe. Here you go:
Granola for Snacking
Basic Homemade Granola
Sugar Free Granola
Grandma's Granola
We even have a recipe for homemade yogurt in the Instant Pot, which is pretty darn cool science AND food. Enjoy!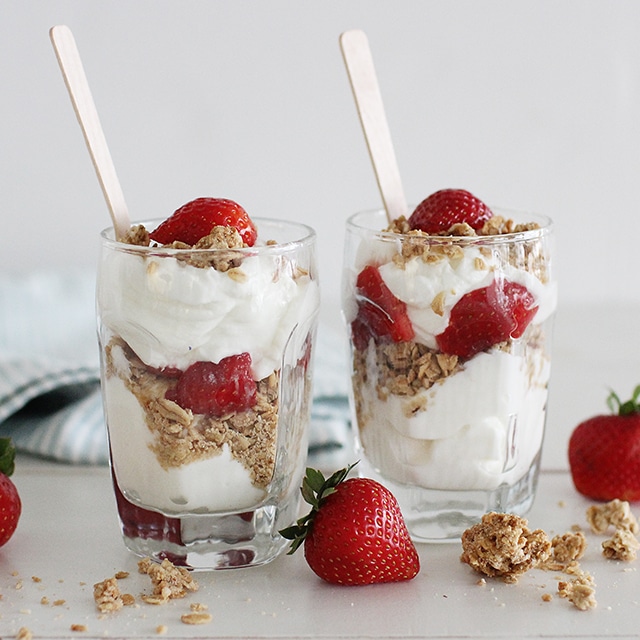 Yogurt Parfait
Parfait might sound like a decadent dessert, but with a few small tweaks you can serve this treat for a nutritious breakfast or an after-school snack. Scroll to learn all the tips and tricks, plus the best ingredients for the most delectable yogurt parfait.
Print
Pin
Rate
Ingredients
3

cup

yogurt, plain

3

cup

strawberries

1

cup

granola

1

tablespoon

maple syrup, pure
Instructions
Place the yogurt in a small mixing bowl, and add the maple syrup. Stir to combine.

Wash and slice the strawberries.

Set out 3 large glasses (or more, to make more smaller servings.)

Layer the yogurt, granola, and berries in each dish.

Serve immediately.
Nutrition
Calories:
300
kcal
|
Carbohydrates:
51
g
|
Protein:
15
g
|
Fat:
6
g
|
Sodium:
146
mg
|
Fiber:
6
g
|
Sugar:
26
g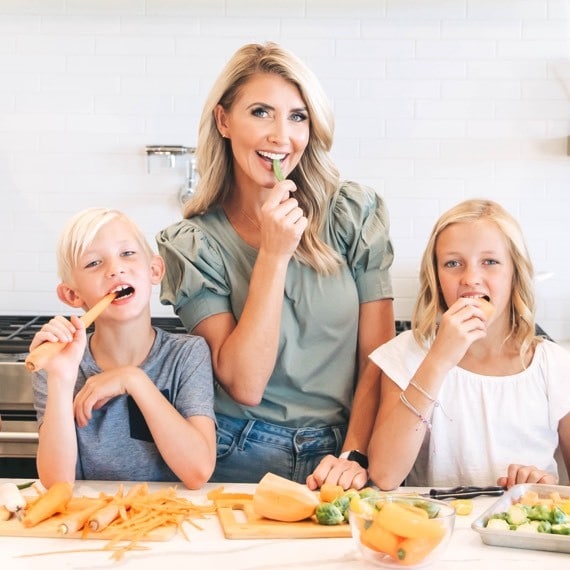 Natalie Monson
I'm a registered dietitian, mom of 4, avid lover of food and strong promoter of healthy habits. Here you will find lots of delicious recipes full of fruits and veggies, tips for getting your kids to eat better and become intuitive eaters and lots of resources for feeding your family.
Learn More about Natalie