Healthy Build-Your-Own-Pancake Bar
This Build-Your-Own-Pancake Bar is perfect for kids who all have different tastes. Everyone's healthy and happy, and there's no complaining!
Hey there! I'm Holly and I am so dang excited to be here to share some fun recipes with you each month. One of my favorite things is making healthy recipes for my kiddo, so I've been a follower of Super Healthy Kids for a long time and am ecstatic to actually be a part of the team! Let's get right into it.
Weekend breakfast. I don't know about you, but weekend breakfast is my favorite meal of the entire week. Specifically Sunday morning breakfast. For me, that day is the most relaxed. No errands. No rushing around. Nowhere to be except for with my family. And we love to start the day with a fun breakfast together.
One of my favorite breakfast foods is pancakes. Who doesn't love pancakes? I know it's been one of my 8 year old son's favorite foods since he could start chewing food. Heck, we even served pancakes at his first birthday party! So it's no surprise that pancakes happen often on Sunday mornings at our house.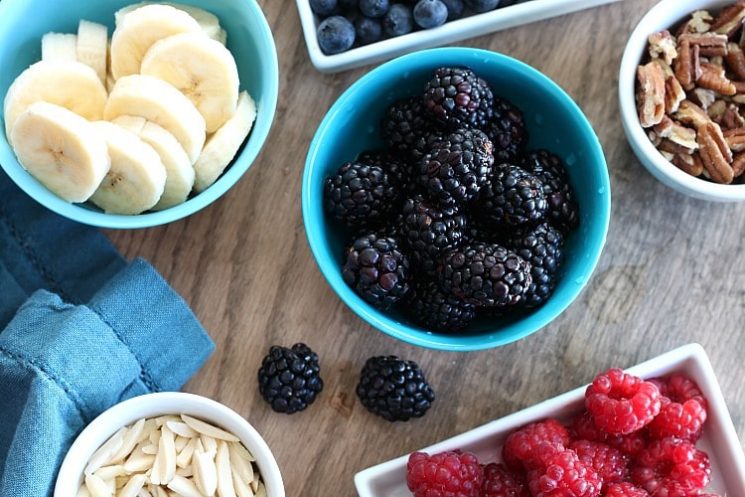 But here's the thing. As soon as people start trickling down to the kitchen to see that I'm making pancakes, the back and forth begins.
"Ooh! Can we have banana pancakes?"
"No, I don't want bananas. I want blueberries."
"I want mine plain."
And before I know it, I'm either going to become a short-order cook or pull my hair out. So I decided to solve the problem with a Build-Your-Own-Pancake Bar! That way everyone is happy!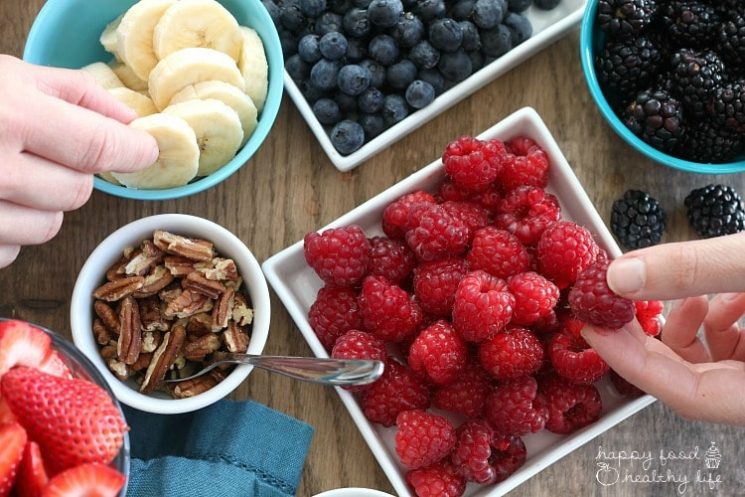 How fun for the little ones (and the big ones too!) to be able to top their healthy pancakes with whatever fruits, berries, nuts, and jams they want! For one, there's no complaining about the toppings. Everyone gets exactly what they want.
Secondly, kids take so much pride in creating their own masterpieces. I'm sure you know what I mean. Any time they draw something, build something, or do something, the next thing out of their mouth is, "Mommy, look!"
This is no different. They are going to build their pancake masterpieces with their own creativity and taste buds in mind, and they are going to enjoy each and every bite of it because they made it themselves. Sounds like a win to me!
Here are some ideas for what to include on your Pancake Bar:
Strawberries
Blueberries
Raspberries
Blackberries
Bananas
Diced Apples
Sliced Almonds
Walnuts
Homemade Jam (my favorite is my 5-Minute Strawberry Chia Seed Jam)
Homemade Syrup
Almond Butter
Get creative! You know what your family likes.
One other thought – Mother's Day is right around the corner. My suggestion: Slip this gem of a recipe to your hubby, tell him how much fun the kids would have making this pancake bar, and vow to sleep in that morning. Maybe you'll get lucky and wake up to a spread like this one!
And be sure to use this super healthy pancake recipe that I love. It uses Greek Yogurt for a boost in protein!
Holly shares healthy recipes, motivation, and fitness tips over at Happy Food Healthy Life.
Ingredients
1 3/4

cup

pastry flour, whole wheat

1

cup

oats, dry

2

teaspoon

sugar

1

tablespoon

baking powder

1/2

teaspoon

baking soda

1/2

teaspoon

salt

1/4

teaspoon

cinnamon

1 3/4

cup

almond milk, unsweetened

1/2

cup

Greek yogurt, vanilla

4

tablespoon

olive oil

1

teaspoon

vanilla extract
Instructions
Blend oats in blender until they are a powder/flour consistency.

Combine the whole wheat pastry flour, oat flour, sugar, baking powder, baking soda, salt, and cinnamon to a large mixing bowl and whisk together.

Pour the milk, yogurt, oil, and vanilla in a separate small bowl and whisk until completely combined. Pour liquid mixture into the dry mix and stir with a fork until just mixed and no more flour is seen.

Heat a cast-iron skillet or non stick griddle over medium heat. Place a small amount of butter on the pan and coat the cooking surface. Drop 1/4 cupfuls of batter 2 inches apart onto the skillet.

Cook until the edges are set and air bubbles form on top, about 2-3 minutes. Flip and cook 1-2 minutes more until the underside is golden.

Top with your favorite toppings!

Strawberries

Blueberries

Raspberries

Blackberries

Bananas

Diced Apples

Sliced Almonds

Walnuts

Homemade Syrup

Almond Butter
Nutrition
Calories:
220
kcal
|
Carbohydrates:
31
g
|
Protein:
7
g
|
Fat:
8
g
|
Saturated Fat:
1
g
|
Cholesterol:
1
mg
|
Sodium:
221
mg
|
Fiber:
2
g
|
Sugar:
2
g