Healthy Sugar Free Granola Recipe
If you've been looking for a healthy granola recipe with NO added sugar, this is the one! This Sugar Free Granola is crispy, crunchy and amazing while giving you healthy fats, protein, and energy-boosting whole grains without the added sweeteners.
For more sugar-free snacks, check out this post with 50 ideas!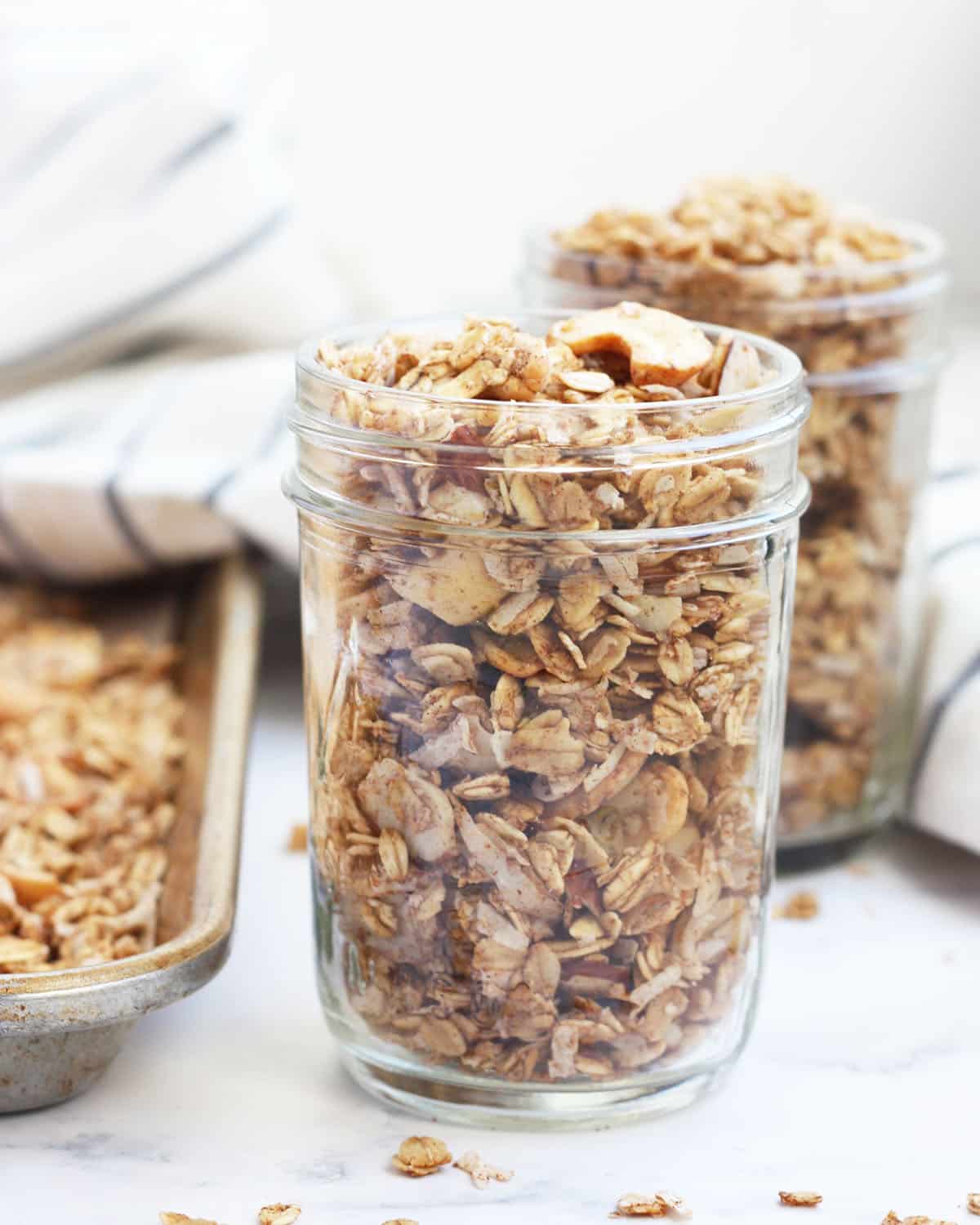 Why We Love This Granola
You'll love how crunchy and flavorful this granola is, without any sugar added! I've never loved an overly sweet granola – especially when I'm topping my yogurt with it. This granola gives you all the crunch and flavors of sweet oats, crunchy nuts and coconut without being overly sweet!
The best part about making granola sugar free is that you can add so many delicious fruits for natural sweetness! Whether you add dried fruit to take the granola on the go, or fresh fruit like blueberries to mix into your breakfast, that is 100% where we want to get the sugar we eat. Fruit sugar that comes in the form of whole foods is the best way to eat sugar because it doesn't spike your blood sugars like added sugars do.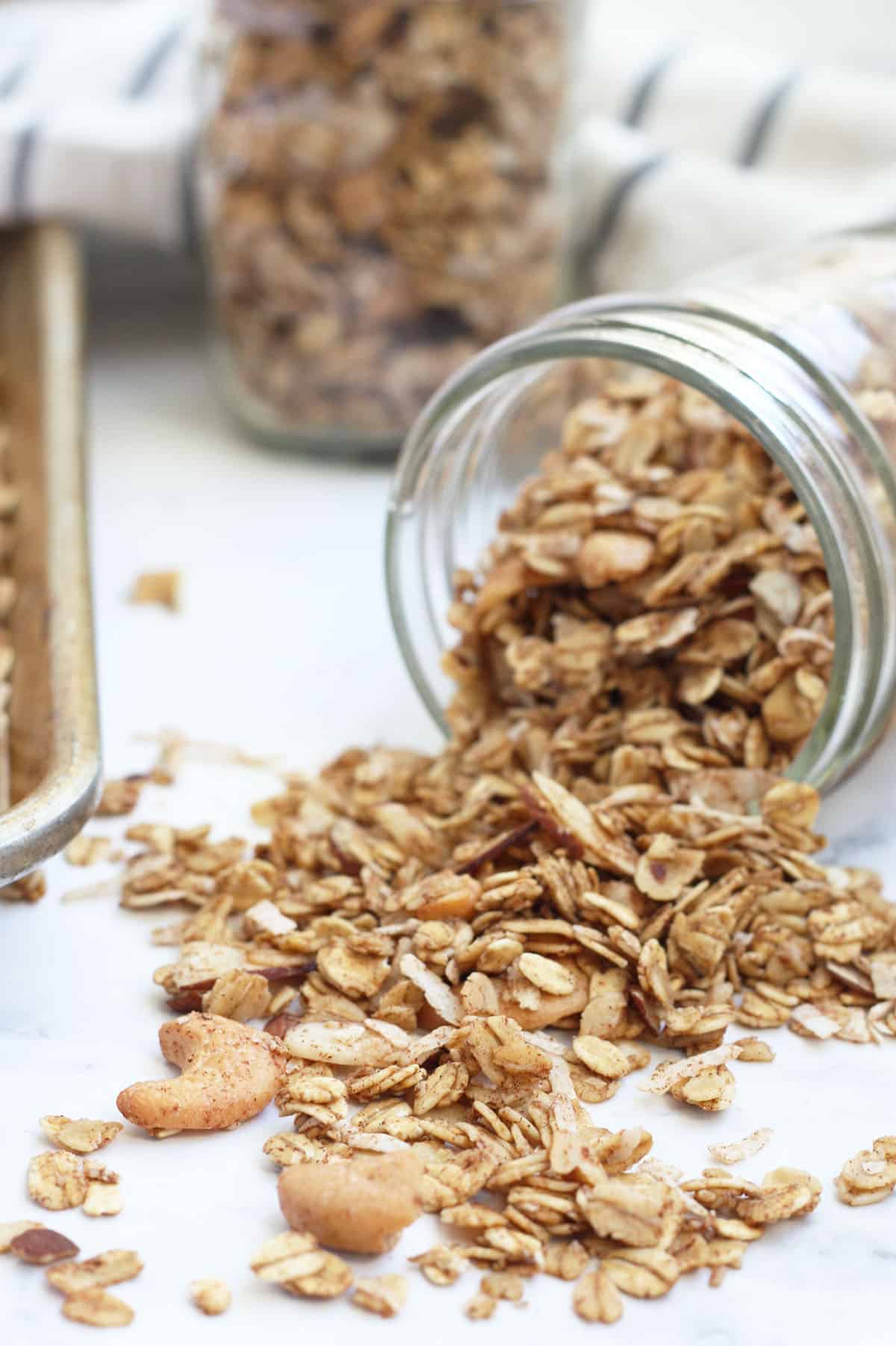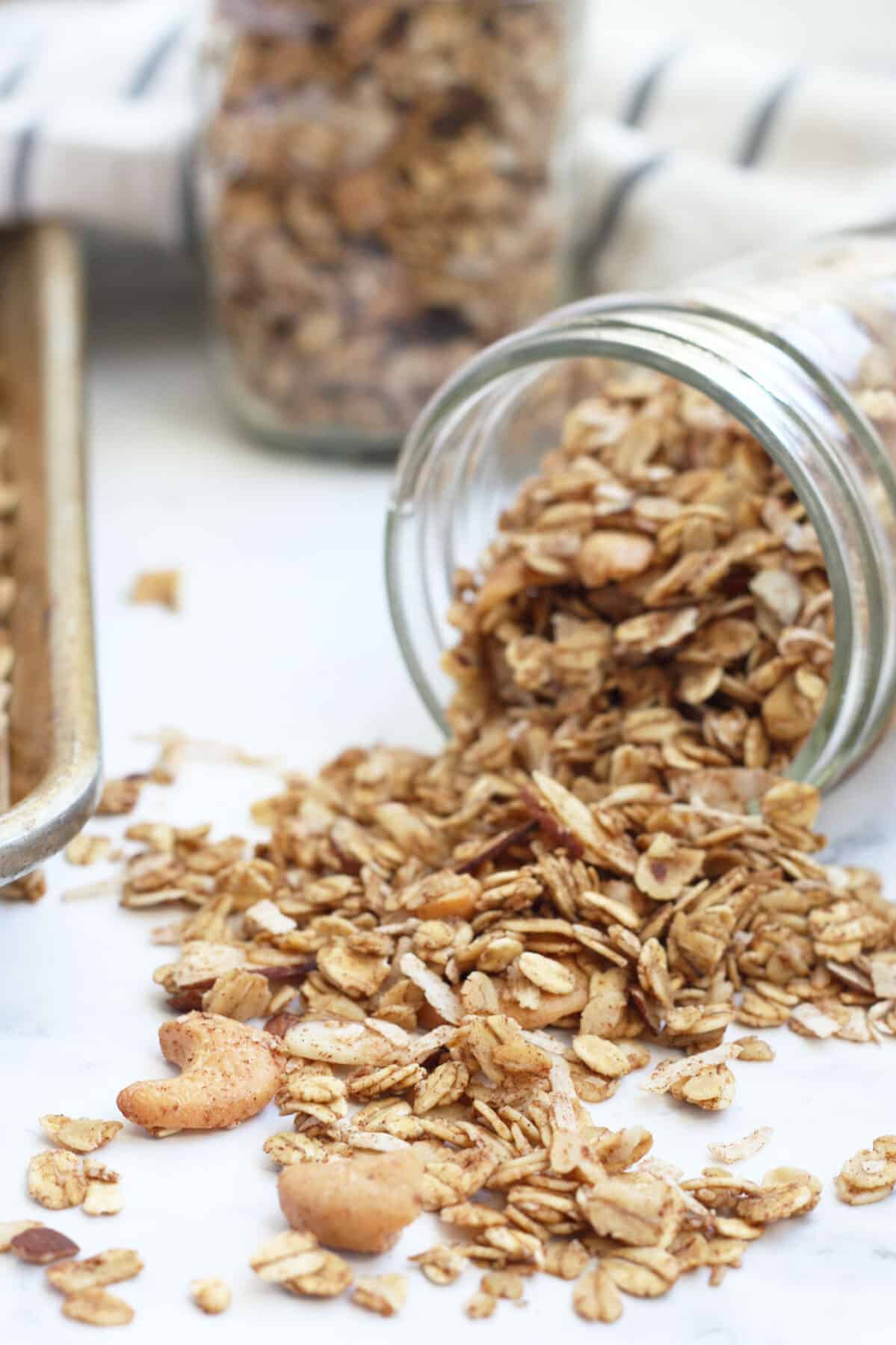 Ingredients for Sugar Free Granola
Old Fashioned Oats: Granola is always best with old fashioned or rolled oats to give that sweet nutty flavor and texture.
Cashews: I used salted cashews for this recipe to add a bit more flavor – you can use unsalted if you like.
Sliced almonds – Pre-sliced almonds make it super quick to add to this recipe – you can chop your own from whole if that is all you have.
Coconut flakes – To truly make this granola sugar free, use unsweetened coconut flakes. Sweetened are yummy too, if you don't mind the teeny bit of added sugar.
Cinnamon – adds warmth to the flavor profile of this granola.
Egg whites – these are the key ingredient to getting a crunchy granola without sugar.
Coconut oil – adds a nice flavor and helps to crunch up the oats
Vanilla extract – makes everything taste better!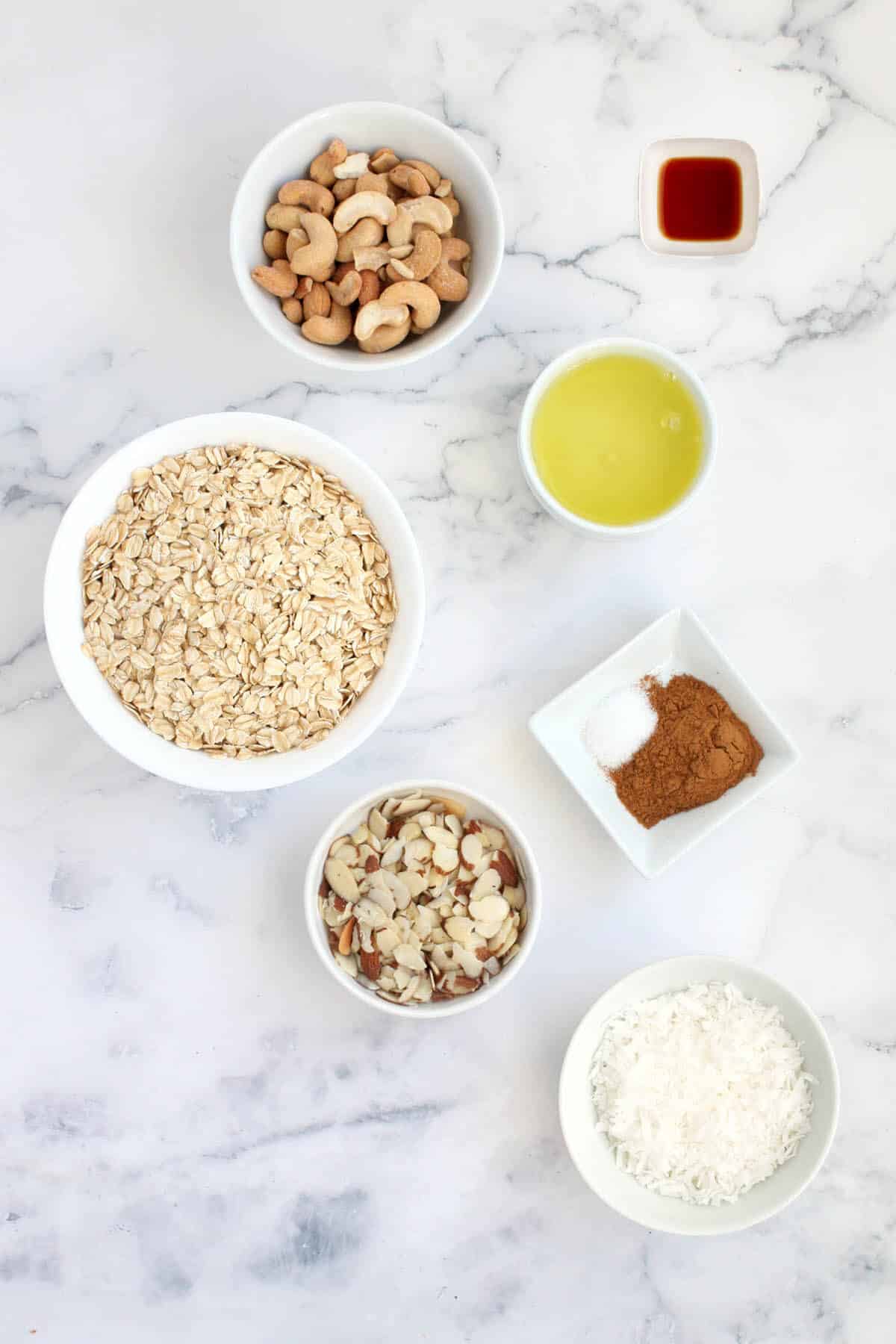 How to Make Crunchy Sugar Free Granola
Making sugar-free granola can be tricky. That's because granola's crunch usually comes from heating sugar. The longer sugar is heated, the crunchier your food gets (think hard candy, brittle stage.) The lower the heat of your sugar, the chewier something is (thing granola bars, vs. granola.) So, the question on my mind was, how do we get crunchy granola with NO SUGAR at all? The answer is: egg whites!
Mix. First mix together all the dry ingredients, Feel free to experiment with a variety of nuts and seeds. (you can try almonds, pecans, sunflower seeds, and cashews.)
Whip. In a separate mixing bowl, whip the egg whites until soft peaks formed. This will take about 5 minutes.
Fold. Fold the egg whites into the dry mixture, then stir in the melted coconut oil and vanilla.
Bake. Spread the oat mixture onto a baking sheet and bake stirring about every 20 minutes to avoid the top layer from getting too brown and to make it crunchy throughout.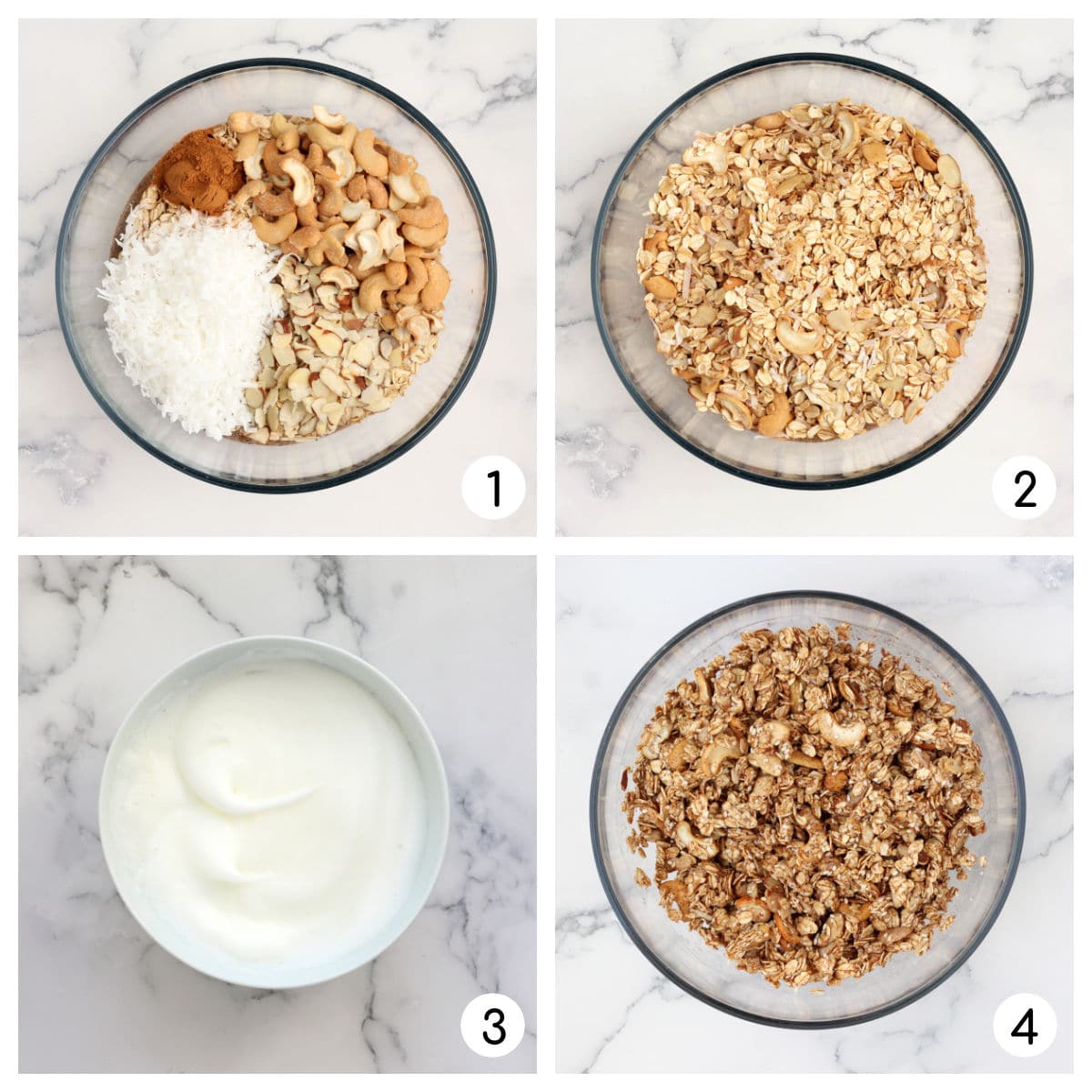 Is Unsweetened Granola Healthy?
Granola itself is nutritious and filling. The problem is, a lot of commercial varieties and even homemade recipes add lots of sugar in different forms, making it a less healthy choice than you might think. My sugar free granola recipe gives you:
complex carbohydrates for energy
fiber for gut health
protein for staying full, building muscle
healthy fats to support cell function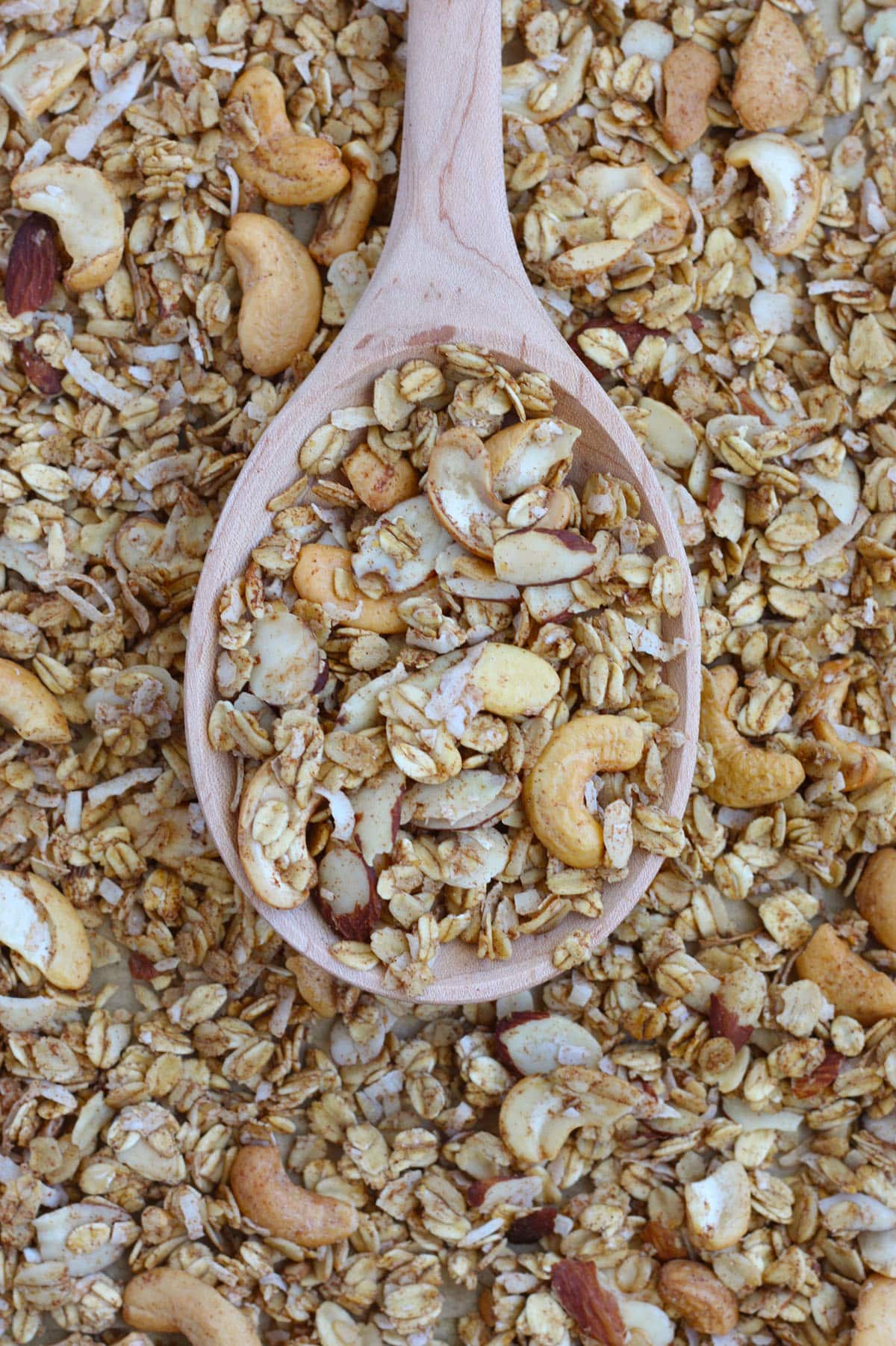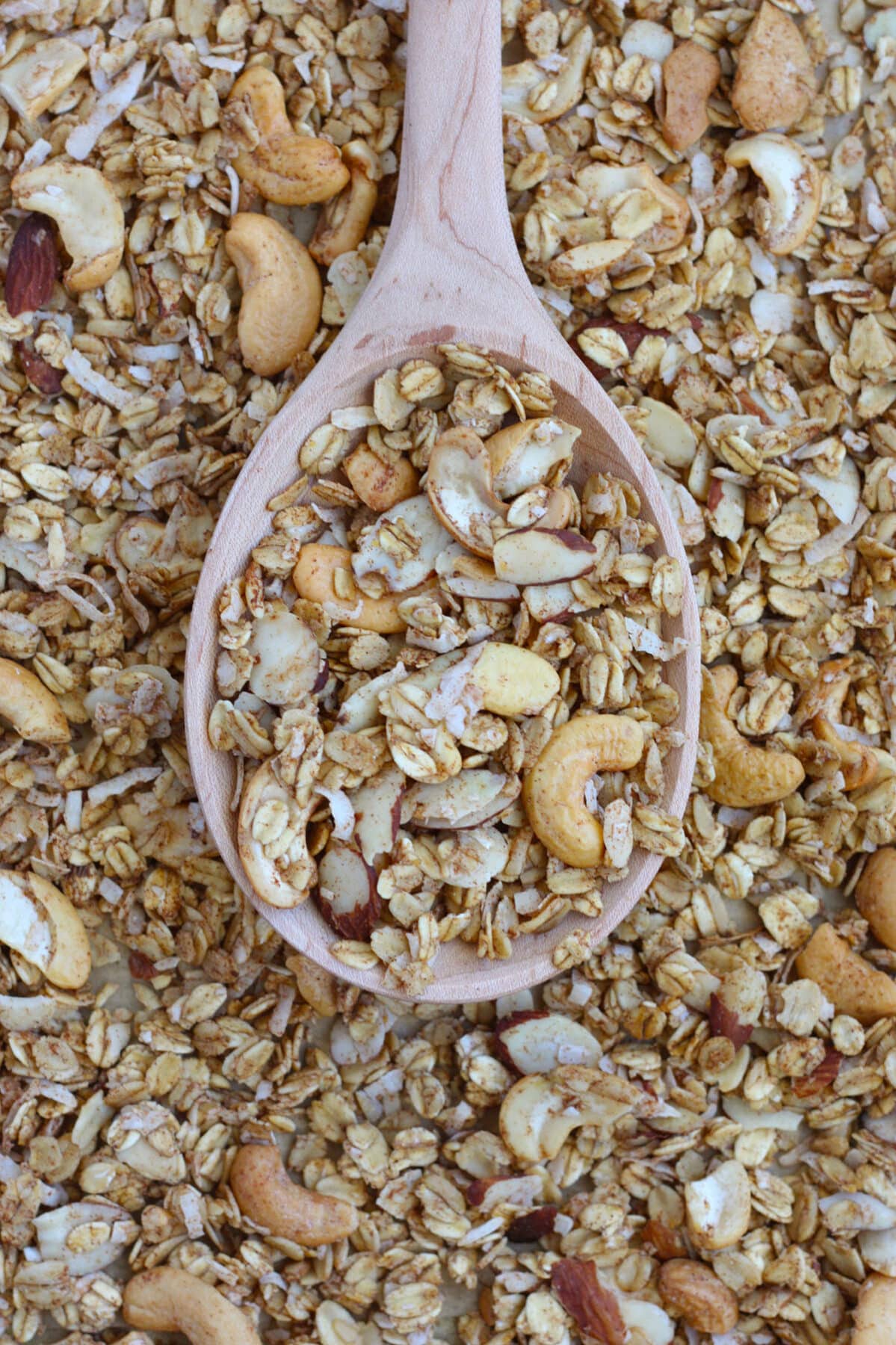 Does Granola Spike Your Blood Sugar?
Oats are a lower glycemic index food which means that they don't naturally spike blood sugar compared to a lot of other foods. They also have a high fiber content which helps to regulate blood sugars.
This recipe in particular does a great job with regulating blood sugars because there is no added sugar, and the other ingredients add protein and healthy fats which help to further stabilize your blood sugar.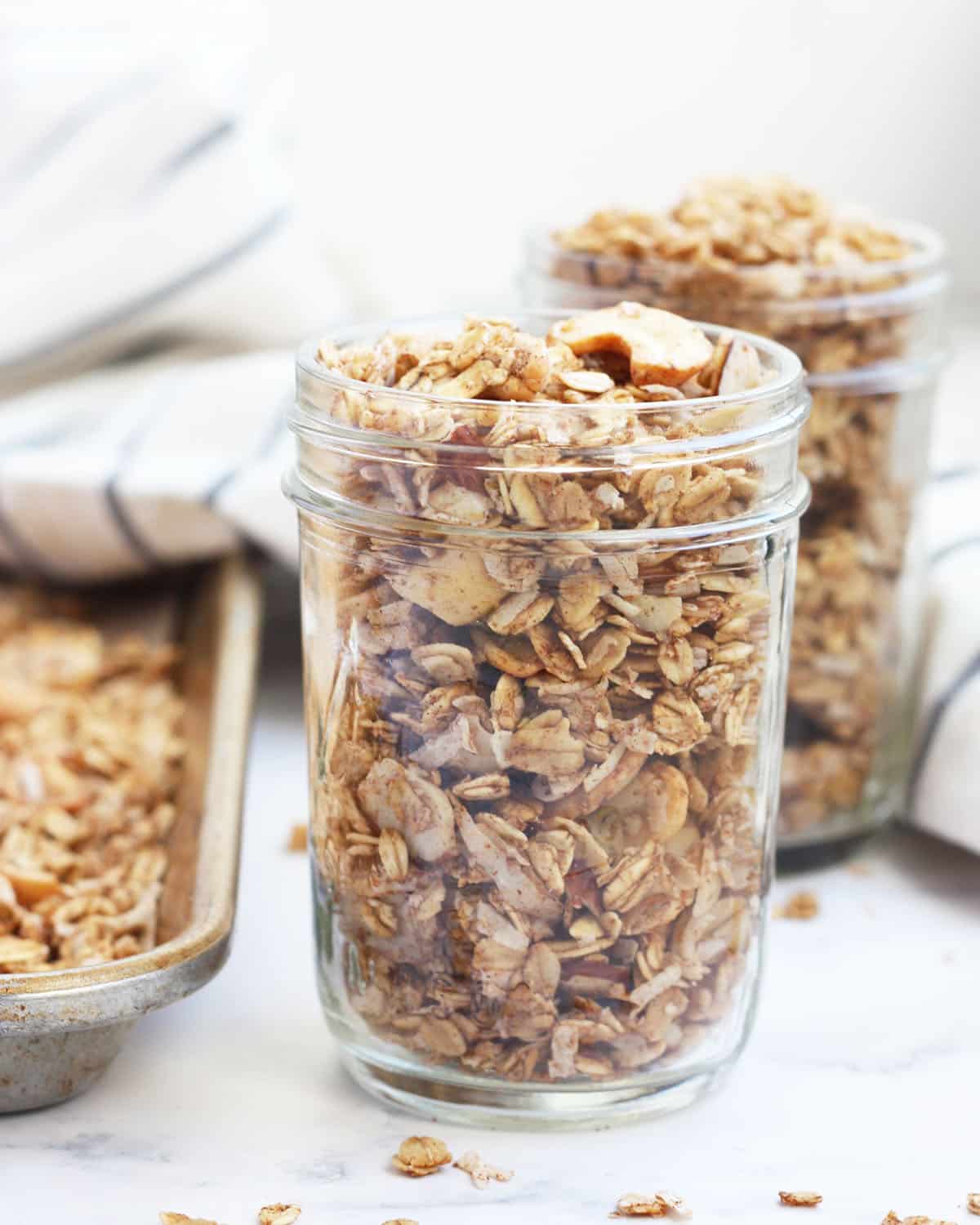 Is Granola or Oatmeal Better for You?
Both granola and oatmeal are a healthy breakfast option – depending on how they are made and what other things are added to them. The biggest downfall of both granola and oatmeal are added sweeteners! Making your own granola or oatmeal at home allows you to control all of the ingredients and add your own healthy options.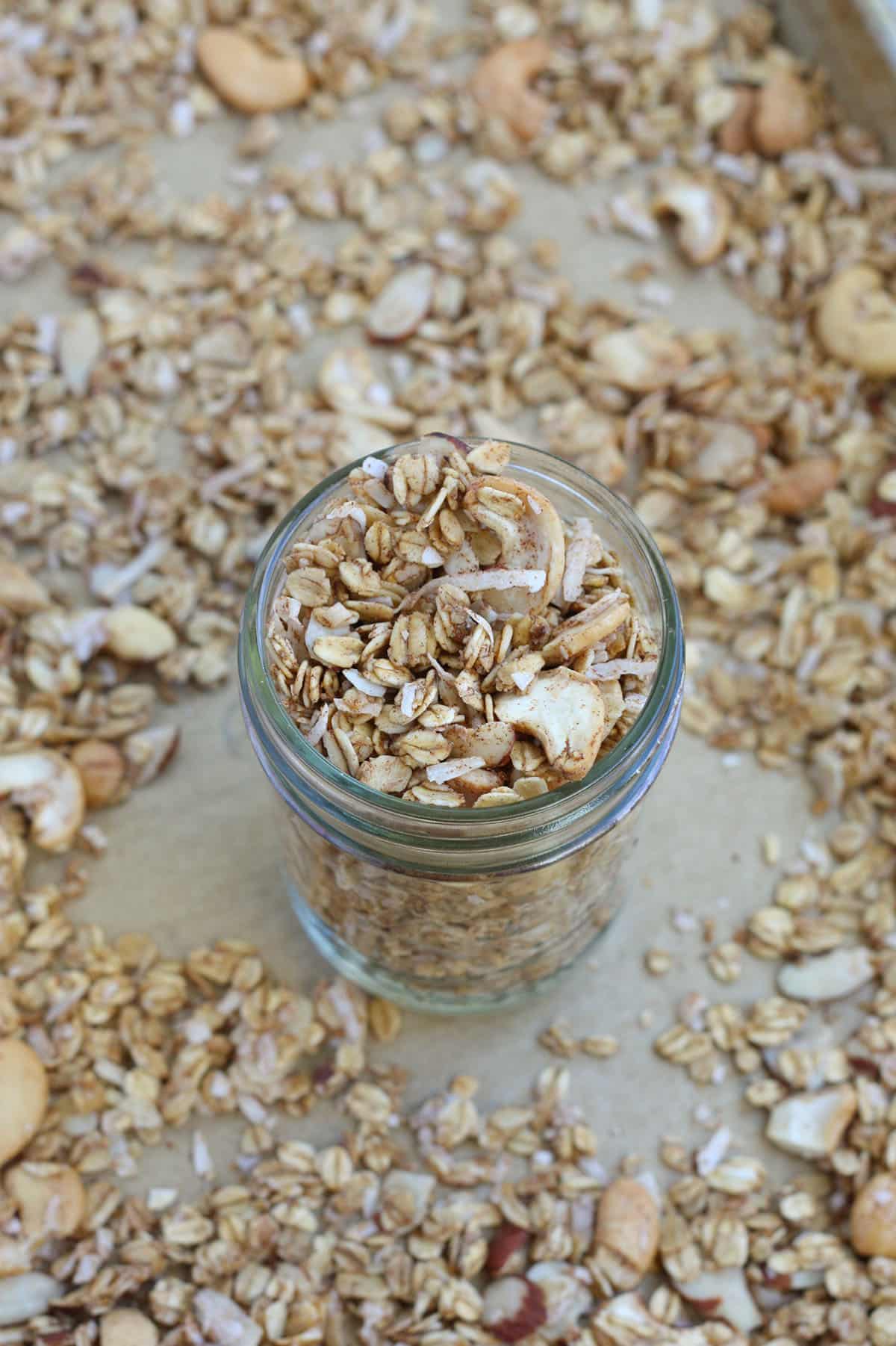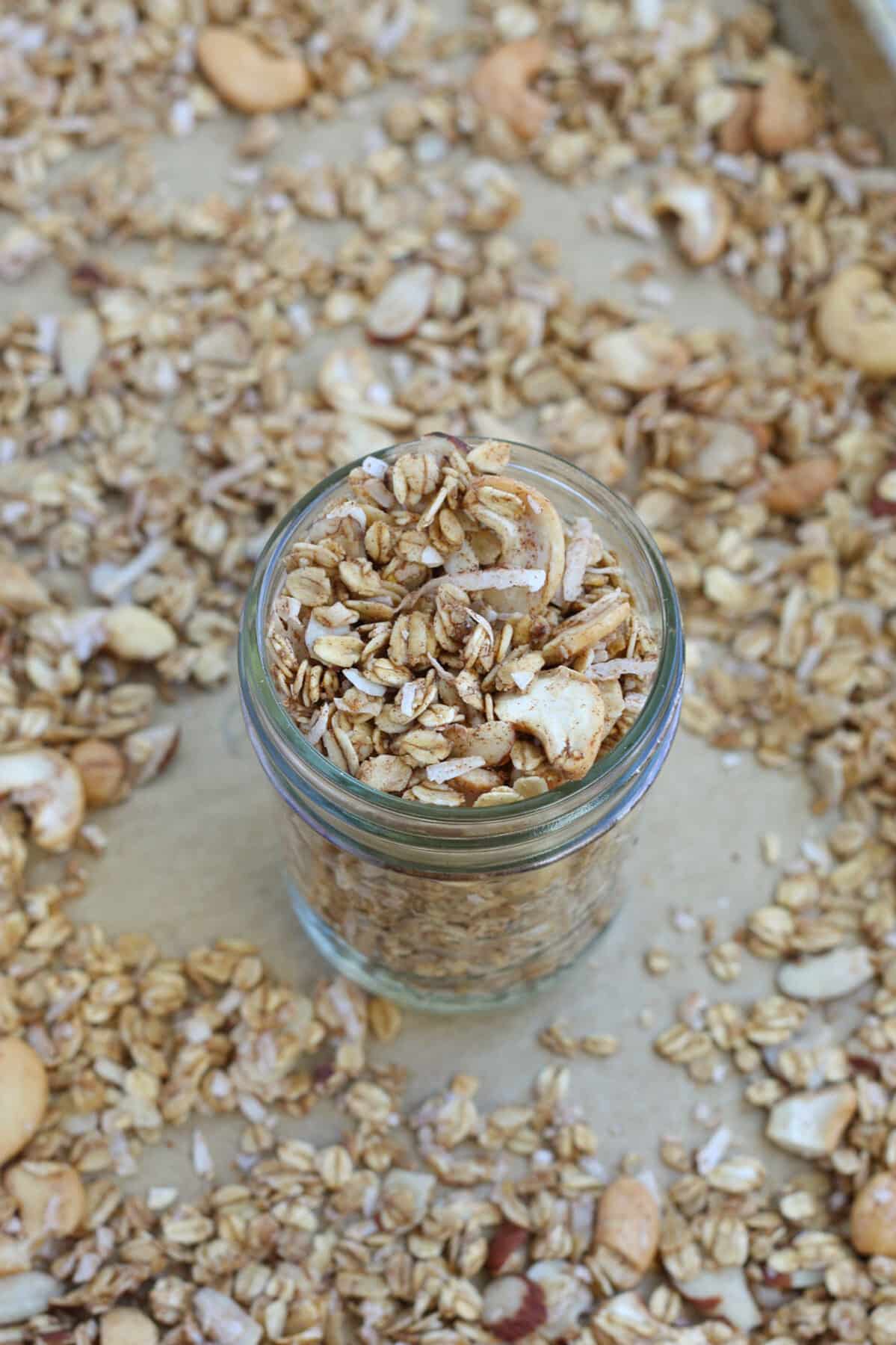 More Low Sugar Recipes
Sugar Free Granola
If you've been looking for a healthy granola recipe with ZERO grams of sugar, this is the one! Instead of sugar, it only has healthy fats, protein, and energy boosting, complex carbs.
Instructions
Preheat oven to 225 degrees F.

In large bowl, combine oats, nuts, coconut and cinnamon.

In a mixing bowl, beat egg whites until soft peaks form.  Fold egg whites into dry oat mixture.  Stir gently until dry mixture is coated.

Melt coconut oil in a microwave safe bowl. Combine with vanilla extract and stir into oat mixture.

Line a baking sheet with parchment paper or a silpat. Pour oat mixture onto the baking sheet.

Bake in pre-heated oven for 60 minutes, stirring every twenty minutes or until it is as crunchy as you like it. The granola will get more crunchy as it cools.

Store in an airtight container for 1-2 weeks.
Nutrition
Serving:
0.5
cups
|
Calories:
282
kcal
|
Carbohydrates:
25
g
|
Protein:
9
g
|
Fat:
18
g
|
Saturated Fat:
9
g
|
Polyunsaturated Fat:
2
g
|
Monounsaturated Fat:
5
g
|
Sodium:
33
mg
|
Potassium:
266
mg
|
Fiber:
5
g
|
Sugar:
2
g
|
Vitamin A:
2
IU
|
Vitamin C:
0.2
mg
|
Calcium:
38
mg
|
Iron:
2
mg
www.superhealthykids.com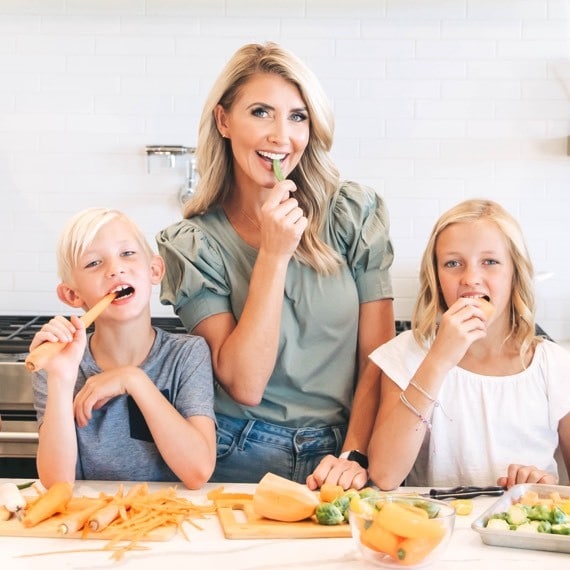 Natalie Monson
I'm a registered dietitian, mom of 4, avid lover of food and strong promoter of healthy habits. Here you will find lots of delicious recipes full of fruits and veggies, tips for getting your kids to eat better and become intuitive eaters and lots of resources for feeding your family.
Learn More about Natalie