Easy Weeknight Stir-Fry Recipe
Stir-fry is one of our go-to recipes for a quick and healthy dinner! We love that this stir-fry recipe uses ingredients you probably have on hand, and it's really versatile so you can tweak it and really make it your own. It's perfect for using up all the random veggies you have when you're waiting for your next grocery trip. Plus, a 5-ingredient easy-as-pie stir-fry sauce!
There are about a zillion stir-fry recipes out there. And they all have something unique and delicious about them. But what I really love about this recipe is that it's bare bones basic! It's super easy, uses ingredients you already have on hand!
The basic ingredients:
A few cups of chopped veggies
Some protein
Rice of your choice
5 ingredient sauce (more on this coming up next!)
It's that simple! And if you've got your rice set in a rice cooker or pre-cooked, it's even better.
How to make stir-fry sauce
You might be surprised how easy this is if you've never done it before. Ok here, we go:
My husband and I love this sauce just as it is, but you can also have fun and add in other flavors for fun. You could add in some fresh ginger, drizzle in a teaspoon of sesame oil, or use rice wine vinegar instead of the regular white wine stuff. The sky's the limit! Maybe have a running family competition to see who can make your favorite?
How to stir-fry
I like to start my stir-fry by sautéing some onions in a bit of oil over medium-high heat. Once those get a little translucent, throw in some minced garlic and chopped veggies. Sauté everything until the veggies are slightly softened (maybe 5 minutes). I found that placing a lid on top helped the veggies steam so the cooking went a bit faster.
Meanwhile, cook up your meat or tofu, if you choose to add a protein (you don't have to). I did this in a separate pan while the veggies were cooking to save on time, but you could easily cook up the meat in the same skillet as the veggies if you want to save on dishes. If you choose this method, simply cook the meat first and then remove it onto a plate until you're ready to add it back in.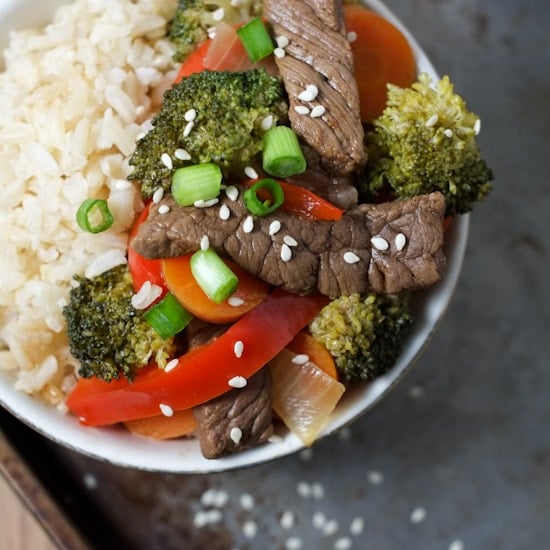 Once your veggies start to soften, add in your protein and pour the sauce over everything. Bring to a slight boil and allow to simmer for 5-10 minutes uncovered, until the sauce thickens a bit. It may not get really thick right away, but it will thicken a bit more once it's removed from the heat.
Serve your stir-fry over rice, or even noodles if that's your kind of thing. As always, we recommend brown rice because it's so nutritionally superior to white rice! But, if brown rice is a battle for you, at least you're getting veggies and healthy protein in for your family!
What are your favorite, easy go-to weeknight meals? We'd love to hear what works for you!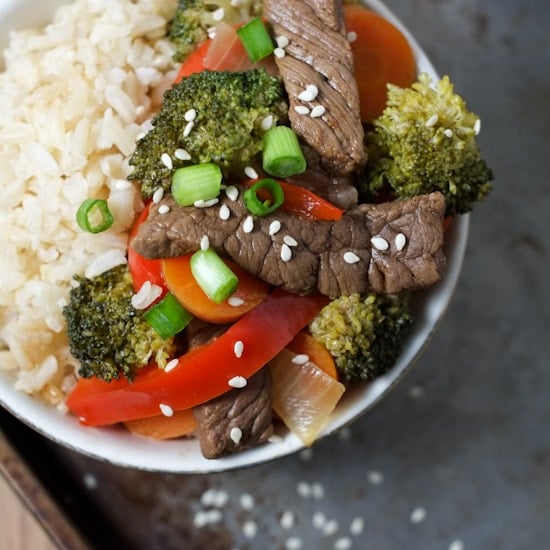 Ingredients
Sauce
1/2

cup

chicken broth, low-sodium

1/4

cup

soy sauce, low sodium

1

tablespoon

vinegar, distilled

1

tablespoon

cornstarch

2

teaspoon

honey
Stir-Fry
1/2

medium

onion

1

bunch

broccoli

2

medium

carrot

1/2

medium

bell pepper, red

2

clove

garlic

1

pound

beef steak, any cut

2

cup

brown rice, raw

1

tablespoon

olive oil
Instructions
Whisk together the 5 sauce ingredients and set aside. Chop all veggies and slice meat, if not already done. Set rice to cook ahead of time.

In a large skillet, heat 1 tablespoon of oil over medium-high heat and add chopped onion. Saute until slightly translucent. Add garlic and veggies and cover, stirring occasionally, for 5 minutes, or until vegetables begin to soften.

Meanwhile, cook beef in a separate skillet until brown, then add to veggies.

Pour sauce over everything and bring to a simmer. Simmer for 5-10 minutes, until veggies are done to liking and sauce has thickened a bit. Sauce will continue to thicken off the heat.

Serve over brown rice and garnish with green onions or sesame seed, if desired.