For extra protein, try this quick and easy taco soup recipe!
There are so many ways to make taco soup, and so many different ingredients to make it with.   For this one, we really incorporated as much protein into the recipe as we could so that each cup boasts over 20 grams of protein!   Although it's not common to be deficient in protein, regardless of a child's diet, healthy sources of protein is important for kids to thrive.  Protein provides the building block for muscles, organs, and tissues, giving structure to kids growth and development.
For the protein in our taco soup recipe:
BEANS– Any taco soup recipe can (and should) include beans!  They are a powerhouse food that are full of protein and fiber.  On average, beans have 15 grams of fiber per cup. More or less depending on the type of bean.  Beans also have between 15-18 grams of protein per cup.  There are so many beans to choose from with different flavors, shapes, and sizes, and they all taste great in taco soup.  Below is a chart of the different beans and their nutritional breakdown.
(source)
In addition to protein and fiber, beans also provide kids with much needed iron and folate! Children ages 4-8 should be getting 200 mcg of folate per day, and 1 cup of beans provides more than 300 mcg!  Folate is a nutrient so essential, that it's been supplemented in our cereals and juices found in grocery stores.  Beans are a natural source of this protective B vitamin, so the more the better.
GROUND TURKEY- Our second source of protein in this taco soup is the ground turkey.  We've made taco soup with chicken, ground beef, and now ground turkey.  They really could be interchangeable, but ground turkey tastes great in this taco soup.   4 ounces of ground turkey contains 27 grams of protein, and this taco soup recipe has 1 pound (108 grams total).
Other ingredients in this taco soup recipe include:
OUR LATEST VIDEOS
Corn– Although it's technically a whole grain, we love corn as a source of fiber!  It can make any soup more filling.  Corn also has 3 grams of protein per 1/2 cup as well as vitamin C and other B vitamins.
Avocado– Mostly we include avocado in taco soup as a good source of healthy fats, but avocado also contains 20 different vitamins and minerals! (source) Avocado also makes a great first food for babies, because it's soft and creamy!
Cheese– Any delicious taco soup recipe can be topped with cheese!  Depending on your source of cheese, cheese can add 7-10 grams of protein per ounce!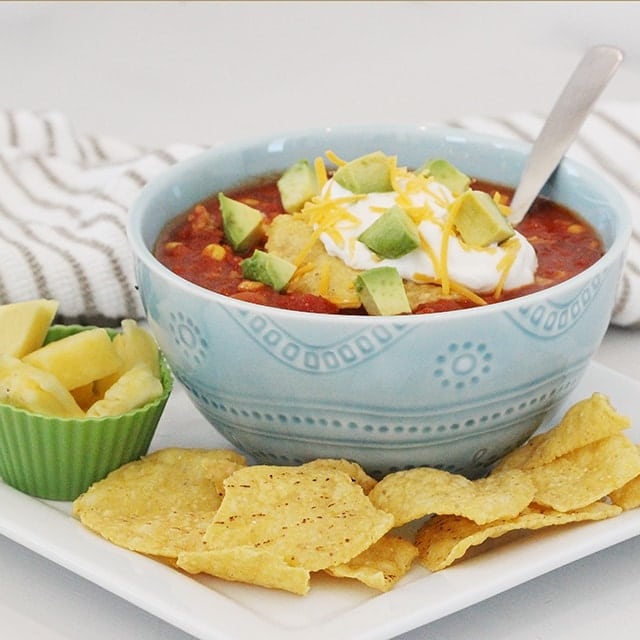 This taco soup recipe would make a quick and easy, high protein, last minute dinner idea for tonight!  But if you want to check out our OTHER taco soup recipes we also have: