This Honey Garlic Salmon recipe is not only the most amazing, flavorful salmon you will ever eat, but it is all cooked in one pan making it super easy to make and clean up!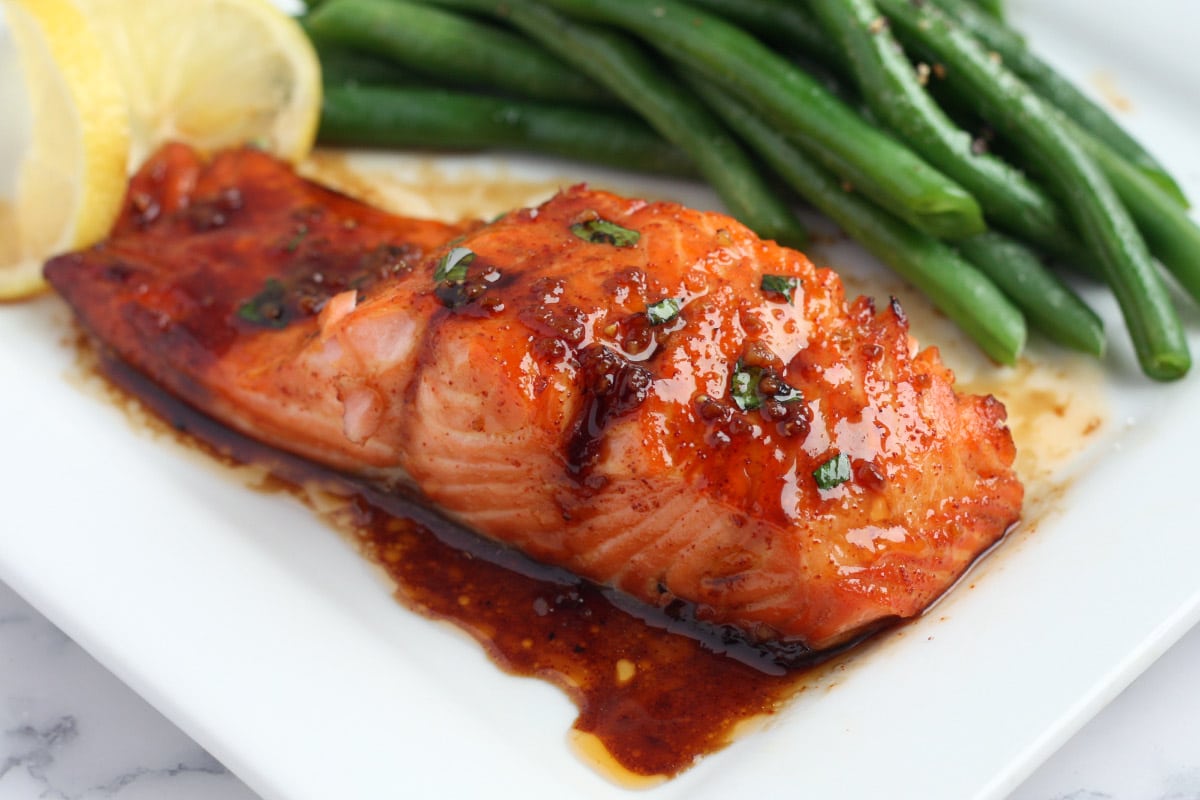 The Most Flavorful Salmon Ever
I have been serving salmon to my family for as long as I have been making dinner. Salmon is a fish with its own unique flavor – I personally think salmon is absolutely delicious and love eating it no matter how it is prepared. Not all people feel this way, which is why I started making this recipe for my family a long time ago. It is amazingly flavorful, and has the perfect texture after spending just a few intimate moments in a hot oven.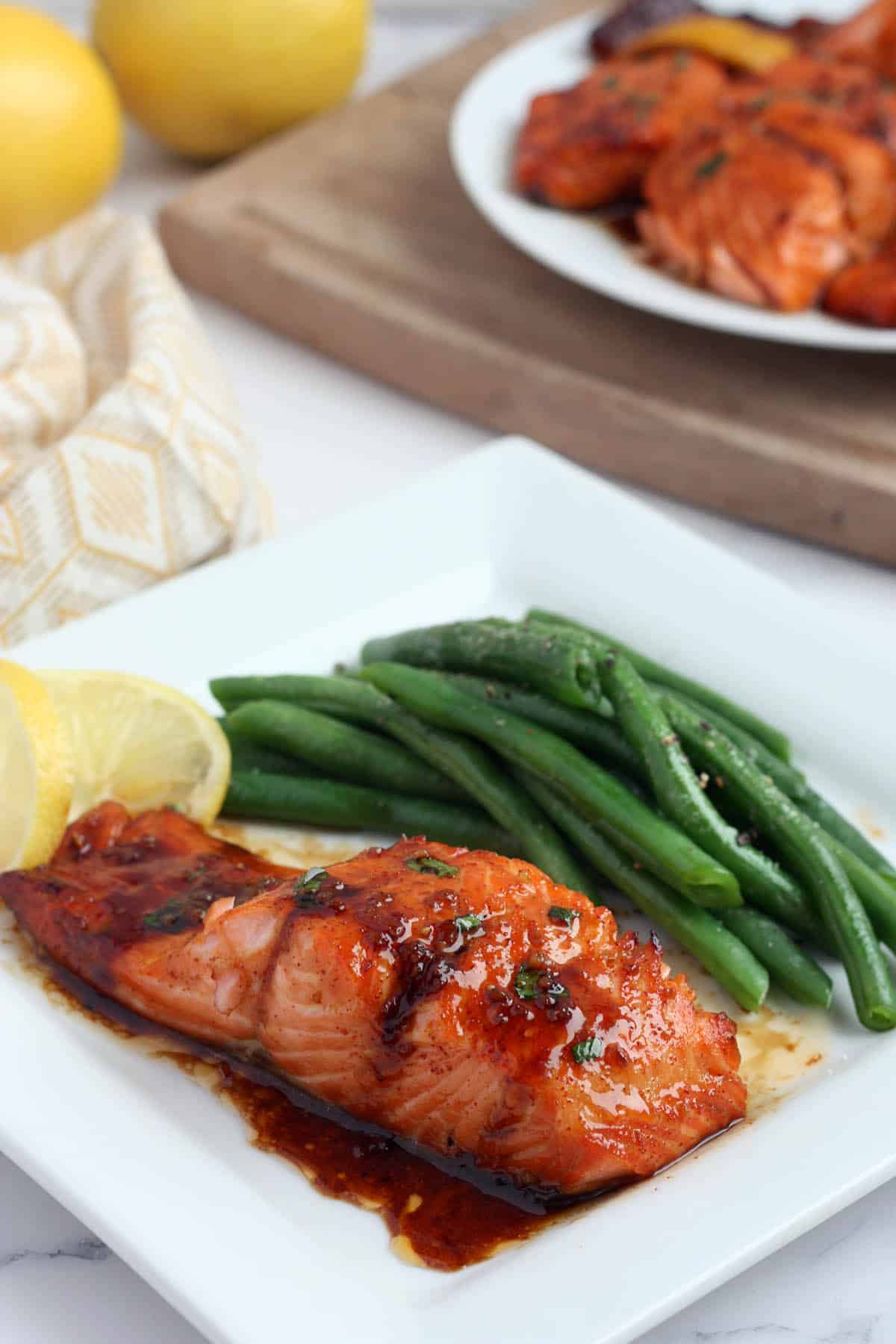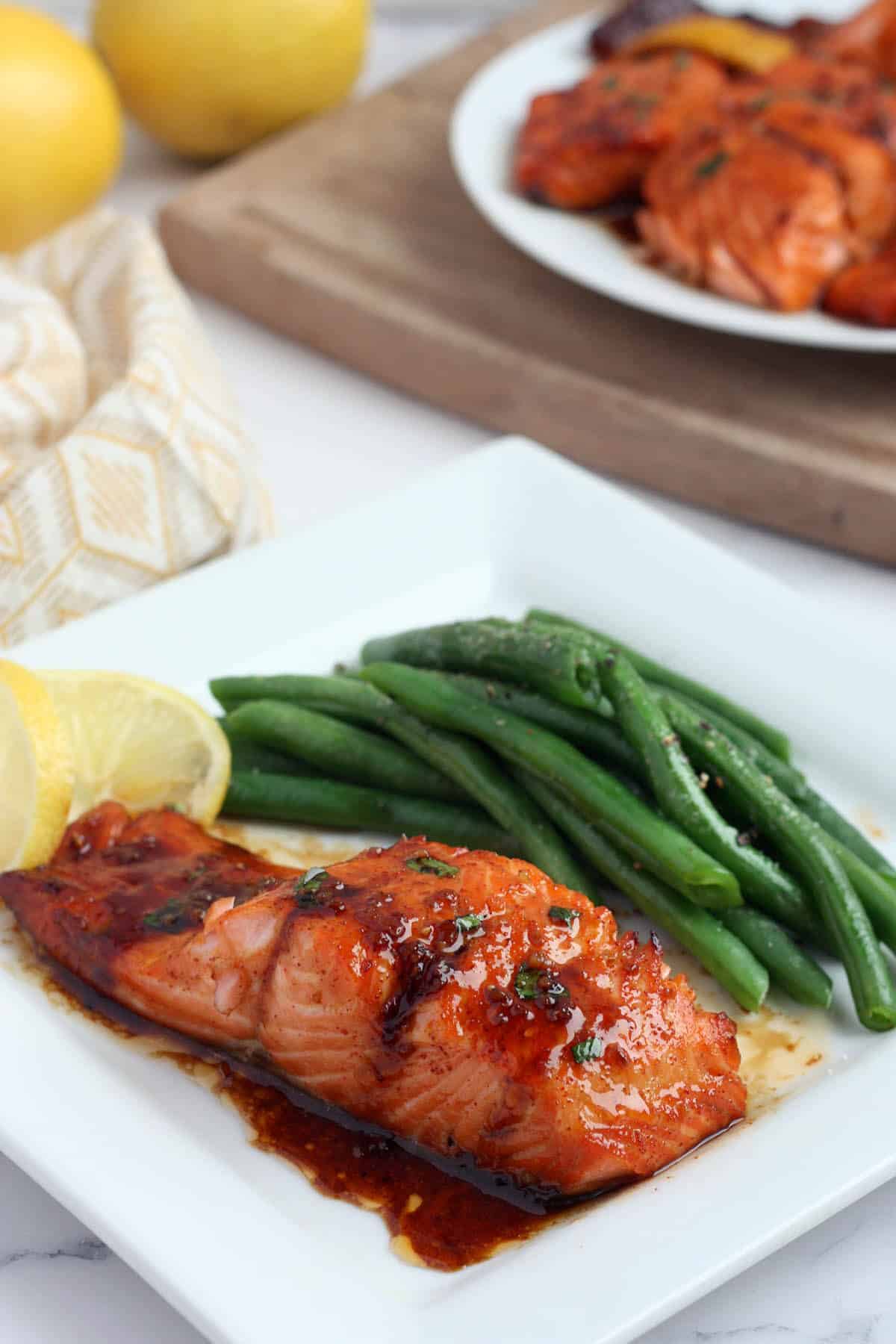 Ingredients for Honey Garlic Salmon
Salmon: The most common is Pink Salmon and can be found in the frozen, refrigerated or butcher section of the grocery store. It has a light pink flesh, mild flavor and lower fat content. King Salmon is considered the best tasting type of salmon – it has a higher fat content and is also typically the most expensive.
Paprika – this recipe is best with justs regular paprika.
Unsalted Butter
Garlic – fresh minced garlic is what is called for.
Soy Sauce – you can use low sodium or regular, but you will want to adjust the amount of salt you add to the recipe based on what you choose.
Lemon Juice – fresh squeezed is the very best, but you can definitely use lemon juice from a bottle.
Honey – gives the glaze a sweet flavor and helps to caramelize the outside of the salmon.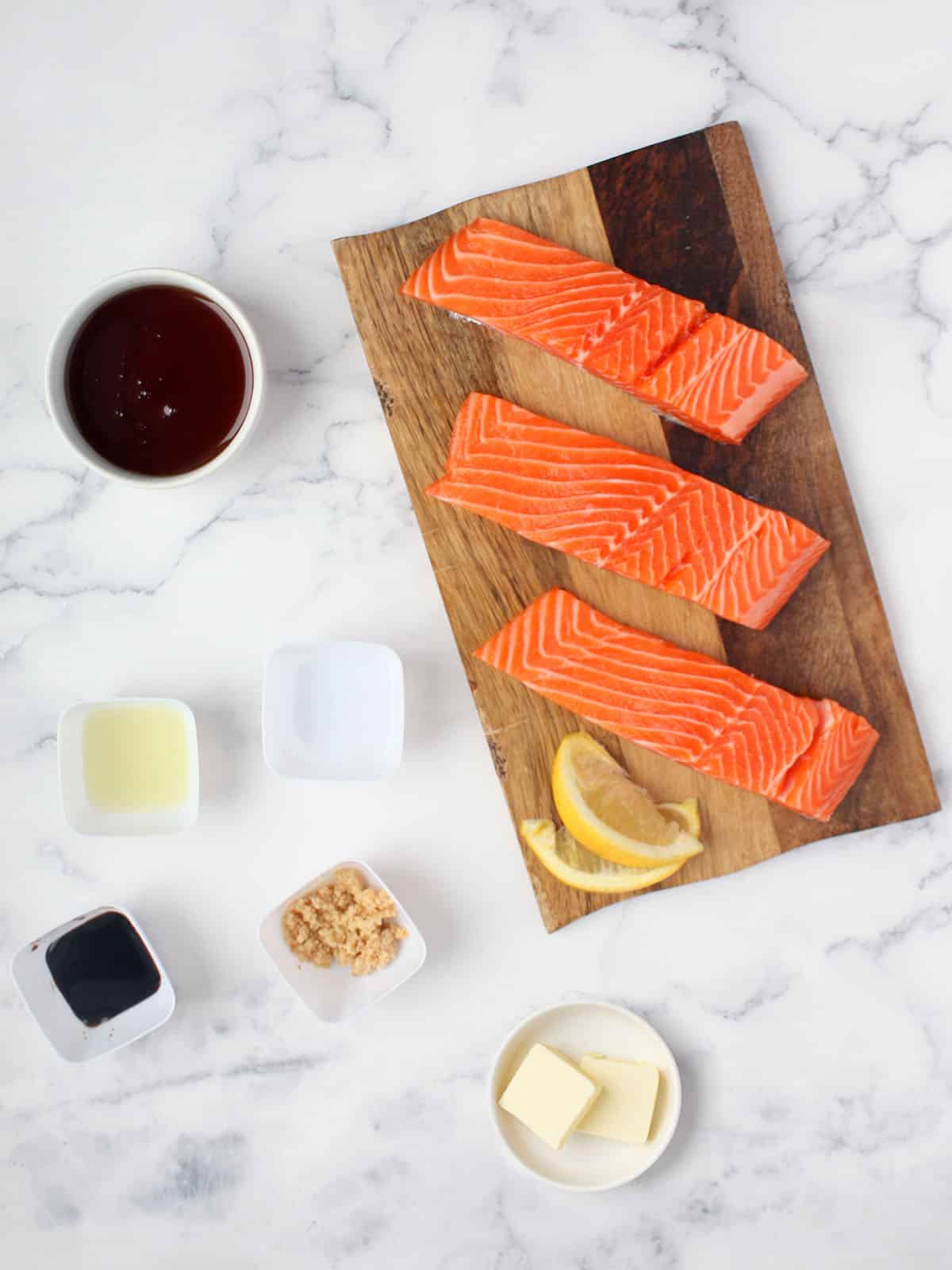 How to Make Honey Garlic Salmon
This salmon recipe is incredibly easy to make and only requires one pan!
Preheat your oven to broil. Season your salmon fillets with paprika, salt and pepper. If you are using regular soy sauce, adjust the salt a bit to taste.
Whisk the sauce ingredients together.
Now begins the fun part! In a large oven safe saute pan, melt your butter over medium high heat. Add garlic and saute for a minute to release the garlic flavor. Add your sauce to the pan and bring to a low boil.
Add the salmon and let them cook on one side for 3-4 minutes, basting with sauce while they cook. Transfer to your hot oven and cook for about 5 minutes or until the tops are a dark golden brown. Baste with more sauce before serving.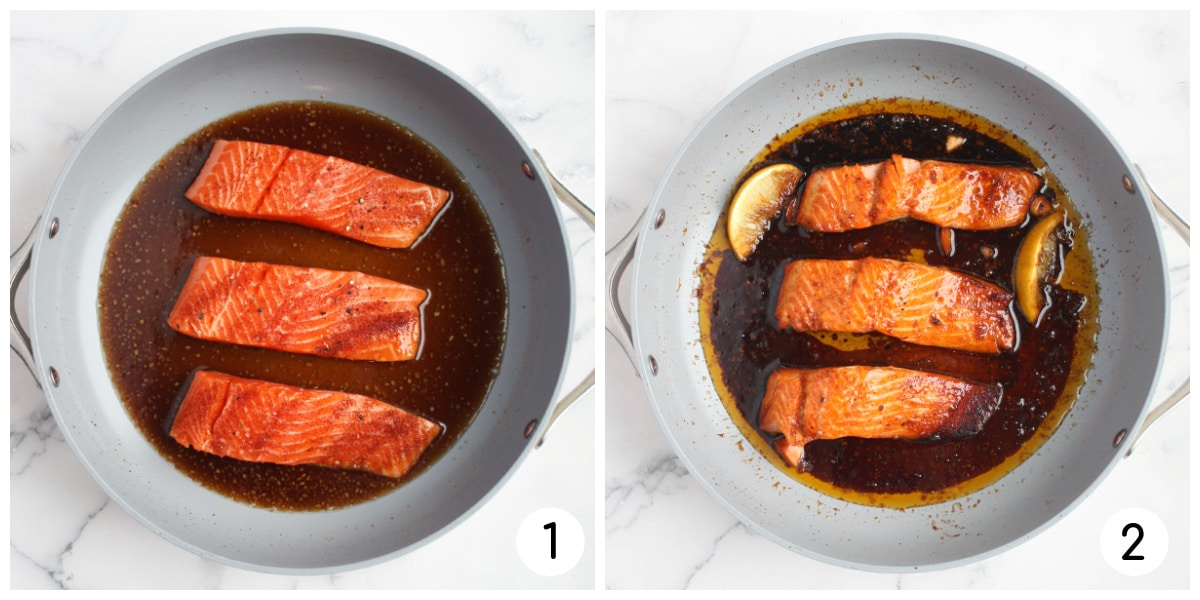 Should I Remove the Skin from Salmon Before Cooking?
No – you should leave the skin on because it creates a barrier between the salmon and the pan that helps with cooking the salmon more evenly and also creates a richer deeper flavor because the skin has more fat.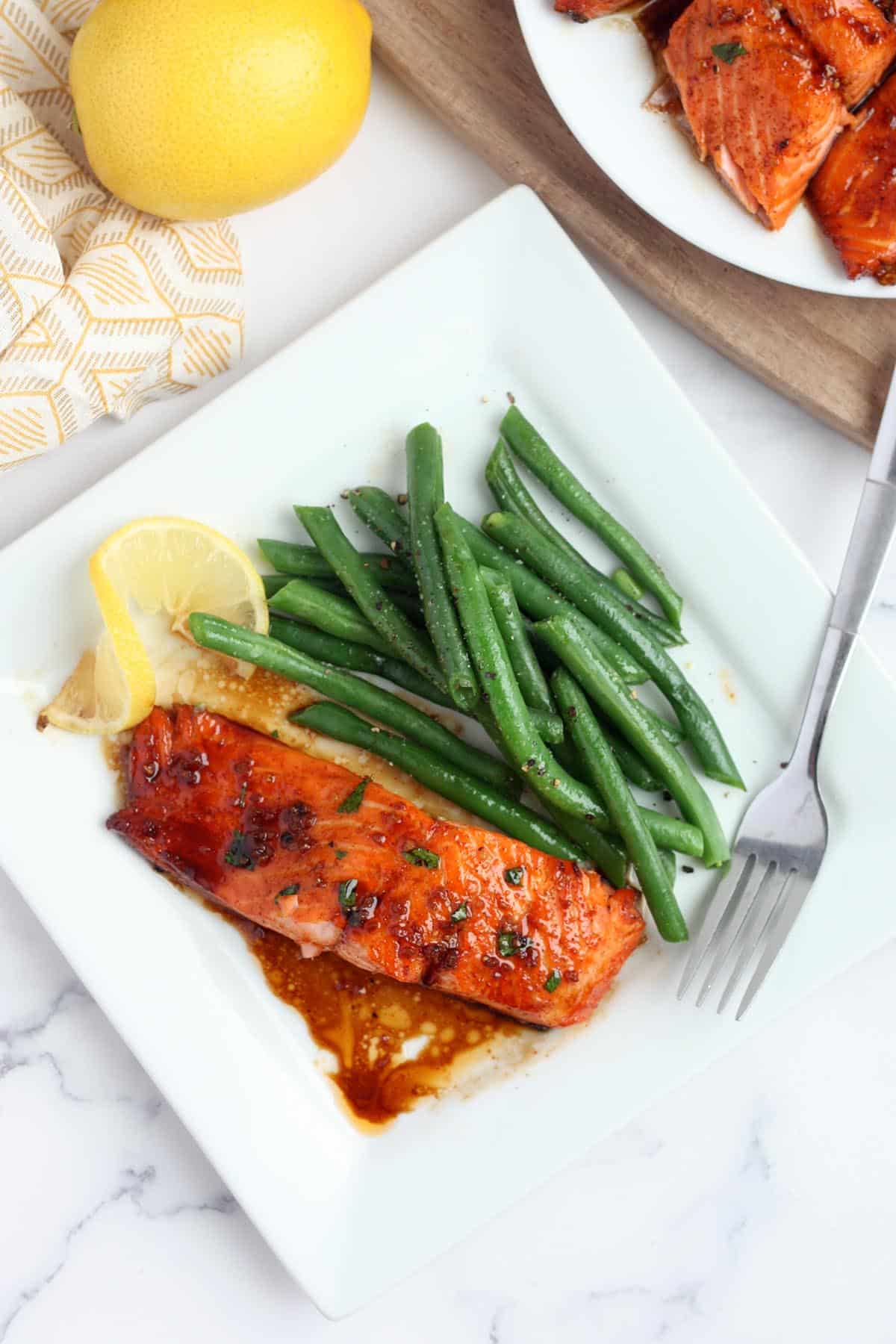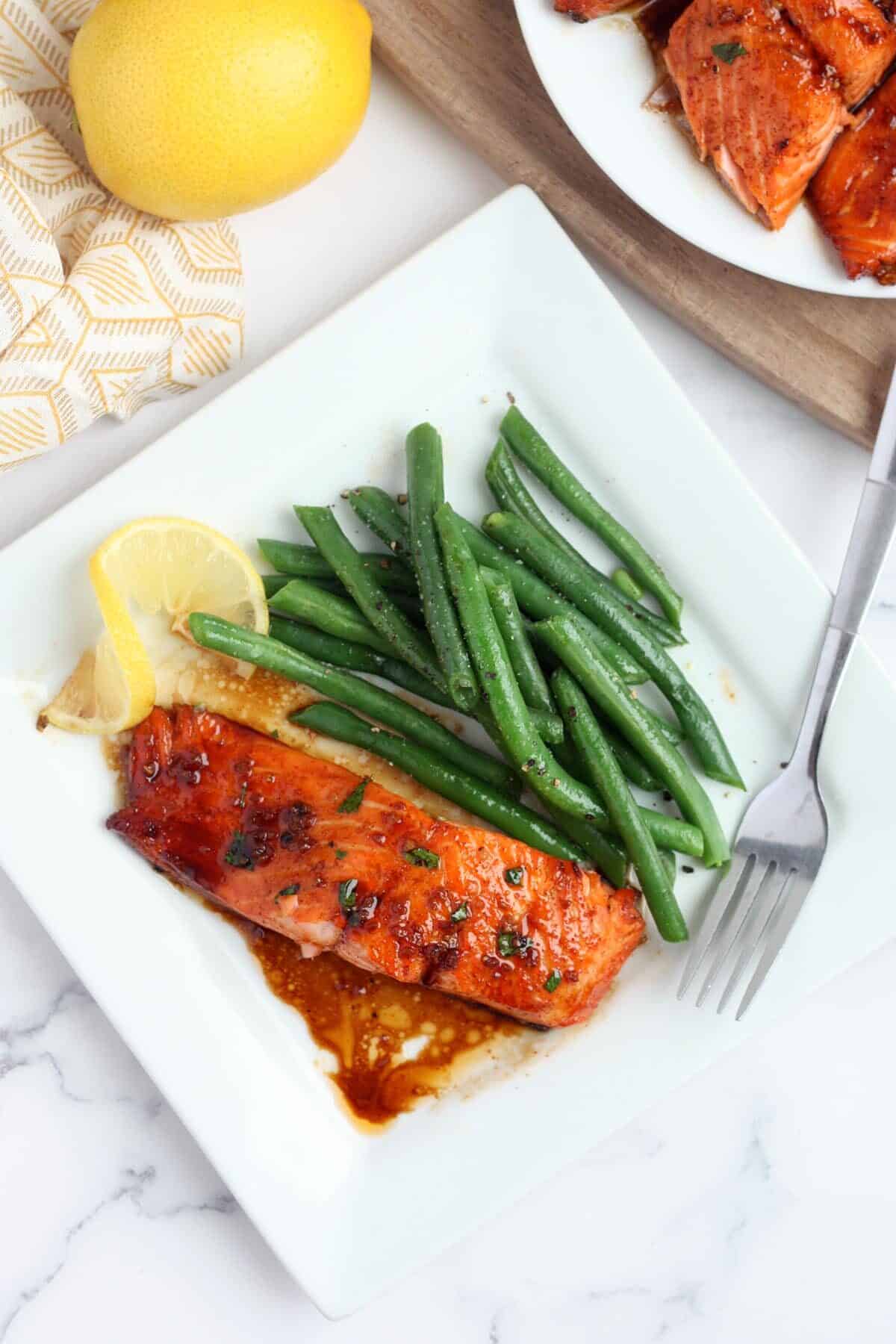 Tips for Cooking Salmon
Should I Cook Salmon in the Oven or Pan?
Both! This recipe starts the salmon in a pan and then finishes in the oven. You can also cook delicious salmon with both methods separately.
Should I Rinse Salmon Before Cooking?
The short answer is no. A lot of people think that rinsing fish will help decrease the fishy smell or bacteria from the salmon. The truth is that rinsing salmon in cold water will do little to remove bacteria from the surface of the fish and can actually spread it. As far as the fishy smell, fresh fish should have very little smell. Rinsing your salmon might reduce the smell, but it's much better to avoid the fishy scent in the first place. You should make sure you are buying and using fresh fish, and not letting it sit in the fridge for too long. If you aren't going to use it up quickly, consider putting it in the freezer instead.
How Do I Know When Salmon is Done?
The easiest way to see if your salmon has finished cooking is to gently press down on the top of the fillet with a fork or your finger. If the flesh of the salmon flakes—meaning, it separates easily along the white lines that run across the fillet, its done!
Is Salmon OK if it's Pink in the Middle?
Salmon will change from a translucent red color (still raw) to an opaque pink color as it cooks. This usually takes 6-8 minutes depending on how thick your salmon is and the method you are cooking it. If the fish is beginning to flake, but still has a little translucency in the middle, it is done and safe to eat.
Should I Flip Salmon When Cooking It?
You can flip salmon depending on how you are cooking it. If you are roasting, baking and even pan frying, there is no need to flip salmon. The rule with fish is if you are going to flip it, only do it once. Since fish is more delicate than other meats, it can fall apart if you turn it frequently.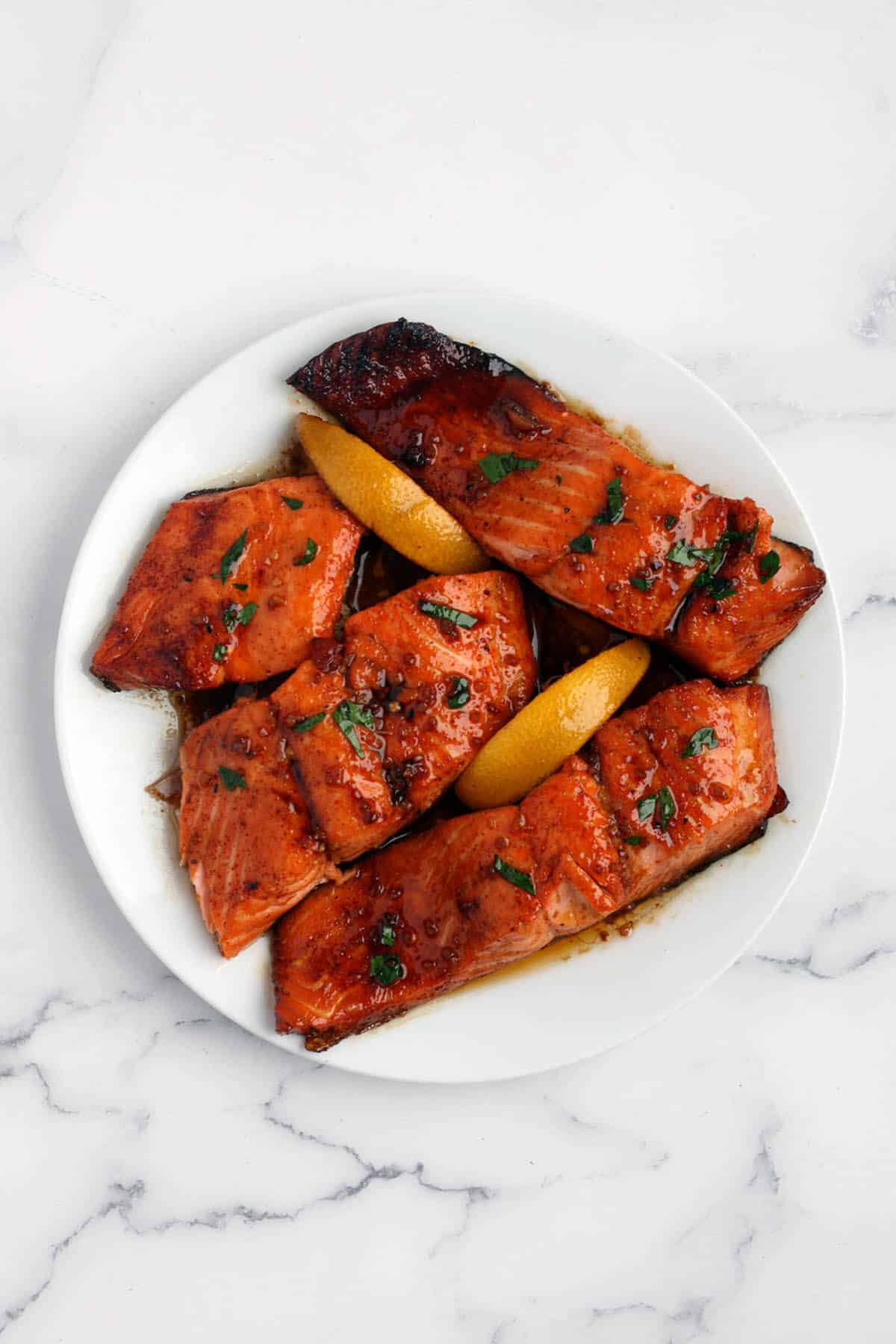 Favorite Fish Recipes
Honey Garlic Salmon
Instructions
Turn your oven on the Broil setting.

Season the salmon fillets with salt, pepper and paprika.

In a small bowl whisk together the water, soy sauce, honey and lemon juice.

In a large oven safe skillet, melt 2 tablespoons of butter over medium-high heat. Add the minced garlic and saute for 1 minute. Add the soy sauce mixture and let it cook for a minute.

Add your seasoned salmon fillets to the pan. Cook for 3-4 minutes and baste the top of each fillet with sauce while they cook, making sure each fillet is coated well.

Transfer your skillet to your preheated oven and cook for 5 more minutes or until the tops of the salmon are a dark brown and the salmon is cooked through to your preference.

Baste the salmon one last time with the sauce. Serve with lemon wedges and green beans or asparagus on the side.
Nutrition
Calories:
722
kcal
|
Carbohydrates:
95
g
|
Protein:
32
g
|
Fat:
25
g
|
Saturated Fat:
8
g
|
Cholesterol:
78
mg
|
Sodium:
368
mg
|
Fiber:
6
g
|
Sugar:
47
g
www.superhealthykids.com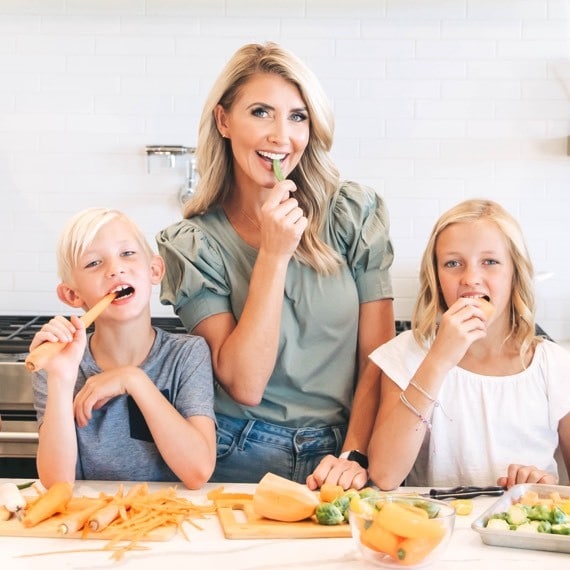 Natalie Monson
I'm a registered dietitian, mom of 4, avid lover of food and strong promoter of healthy habits. Here you will find lots of delicious recipes full of fruits and veggies, tips for getting your kids to eat better and become intuitive eaters and lots of resources for feeding your family.
Learn More about Natalie