Healthy one skillet meal: Summer Veggie Sausage! We included zucchini, sausage, zucchini, mushrooms and red potatoes for the perfect one skillet meal combo!
One skillet meals are so simple. We love the idea of only having to wash one dish, our skillet! And I love our cast iron skillet! A cast iron skillet is a pan that people like to cook with because it retains heat well, and evenly cooks your food. From a health perspective, iron from the skillet is transferred into your food,  increasing the presence of dietary iron in the food you are cooking.  Making cookware from iron metal has been around for centuries. It holds up well to cooking over very high heat such as a fire, inside an oven, and on your stovetop.  In the last few decades many cooks were replacing their cast iron skillets with non-stick replacements, but I still love my cast iron skillet!
Do you need a cast iron skillet?
For this healthy dinner idea, a cast iron skillet isn't necessary.  Any skillet will do. However, using a cast iron skillet will increase the dietary iron in the food, allow your veggies to cook evenly, and you could even put your finished skillet into the oven to keep the meal warm.
Do you have to season a cast iron skillet?
Yes! Seasoning your skillet is a great idea to prevent it from rusting, and creating a non-stick surface, without chemicals or other non-stick substances.  We don't wash our cast iron skillet in a dishwasher, we just wipe it out or rinse it down with some water. Then, with a paper towel, we grease the inside surface down with oil and literally bake the skillet in the oven for about an hour.  (at 350 degrees).
What is the best dinner recipe to make in your cast iron skillet?
This veggie and sausage skillet recipe of course!  I'm adding it to my list of 30 quick last minute dinner ideas.   We sliced our vegetables in large chunks.  Sometimes, using veggies in your skillet meals for picky eaters means to slice things really small, so they either don't notice or so they are easy to eat. But other meals like this skillet meal, the large chunks are actually easier! Kids can either stab one whole chunk, or easily move the veggies aside that they aren't as familiar with, in favor of vegetables they are.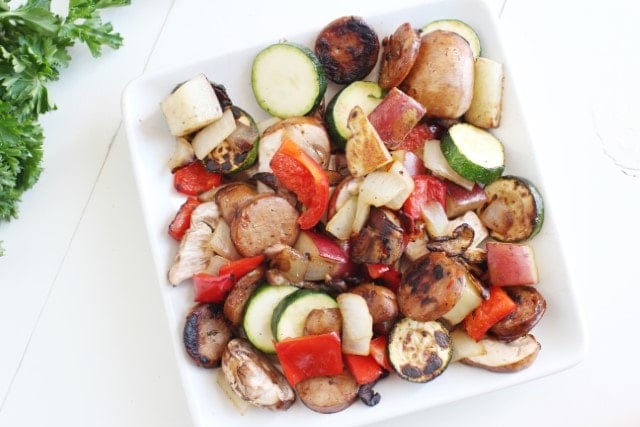 While this recipe really gets it's flavor from the parsley and the apple sausage, the veggies we sliced into large chunks for this one skillet meal were
4 red potatoes
1 onion
1 red bell pepper
2 clove garlic
1 zucchini and
portabella mushrooms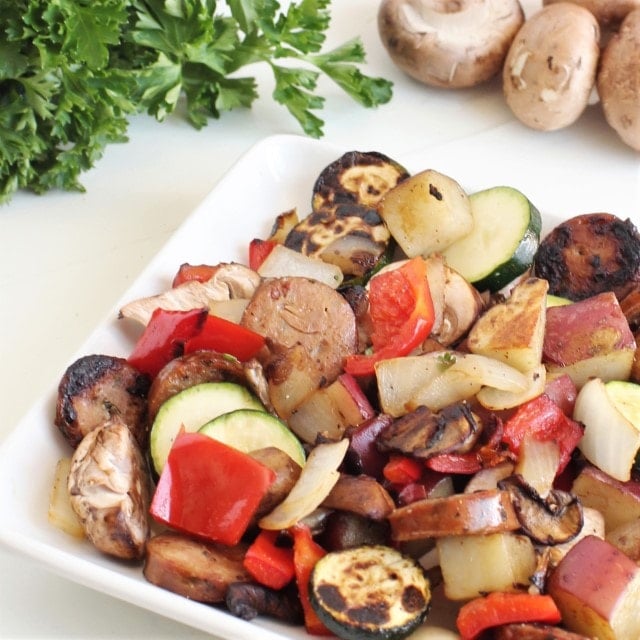 Do you have a cast iron skillet? What is your favorite meal to cook in it? Other one skillet meals we love are:
You can also check out the different cast iron skillets on amazon.  They generally get great reviews, and are super affordable! The three essential types of cast iron cookware to own include: