A deliciously flavored meatball with extra nutrition for your kids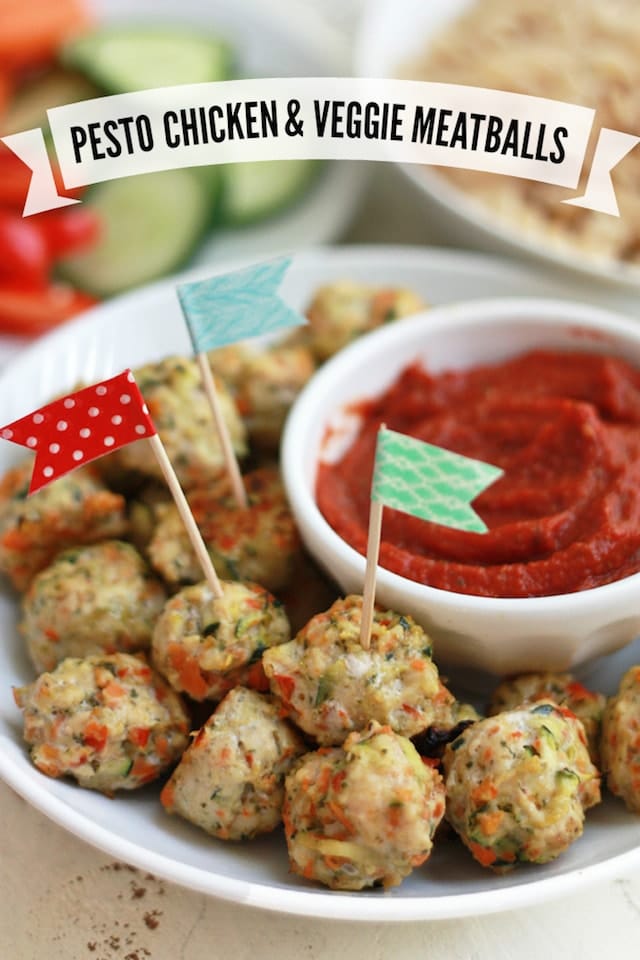 I don't know what it is about tiny food that I love so much. Maybe it's that it's adorable. Maybe it's that it's delicious. Maybe it's because I know my children are 97.8% more likely to eat something that's tiny-sized. Probably that one.
There have been a few strategies we've used as a family to help expand our little ones' palates, and making small or individually-sized portions has been one of the most successful. This Pesto Chicken Veggie Meatballs Recipe is the perfect size for little and grown-up eaters alike.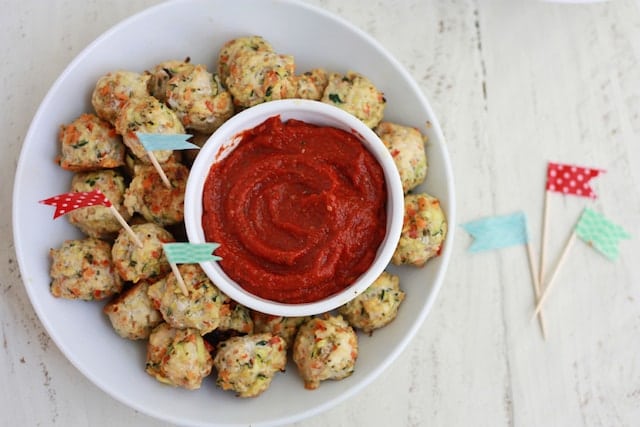 You can certainly serve these atop a steaming pile of pasta (any shape will do) and smothered in your favorite sauce (Alfredo, marinara, pesto–it all works). Our favorite way is to serve them with toothpicks and a dollop of your favorite pizza sauce on the side. This allows our toddlers to explore the new flavors at their own pace. It also helps with our daughter's visual and tactile texture sensitivity. Letting her "mix" new foods as she's ready feels much less overwhelming. She also tends to be more willing to try new foods when she has a sense of control.
If your little ones like helping in the kitchen, this is a great way for them to jump in and help! They can help stir the veggies as you chop them, scoop or roll meatballs and transfer them to your baking sheet or mat, drizzle olive oil, or help mix up the sauce while the meatballs bake.
Recipe tips:
If you can't find ground chicken breast at your local market, you can make your own by pulsing chicken breasts in a food processor fitted with a metal blade until they're quite smooth and no large pieces remain. Ground turkey or beef would also work in this recipe.
If you need a dairy and/or nut free pesto recipe, our favorite is this great recipe. It swaps raw pepitas (pumpkin seeds) for the pine nuts. It's still just as delicious!