Nutrition Activity for Kids
Whether you are teaching one child about the power of good health, or an entire school, this simple nutrition game is an easy lesson to teach. When I taught this mini lesson & game at our elementary school, I had over 600 kids at the school taking a cup of our smoothie, and even trying to come back for seconds!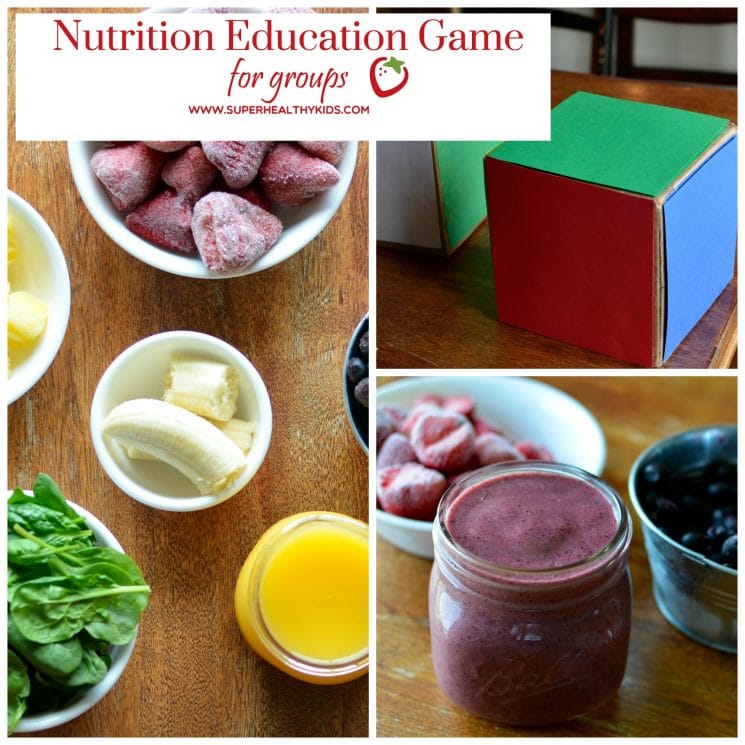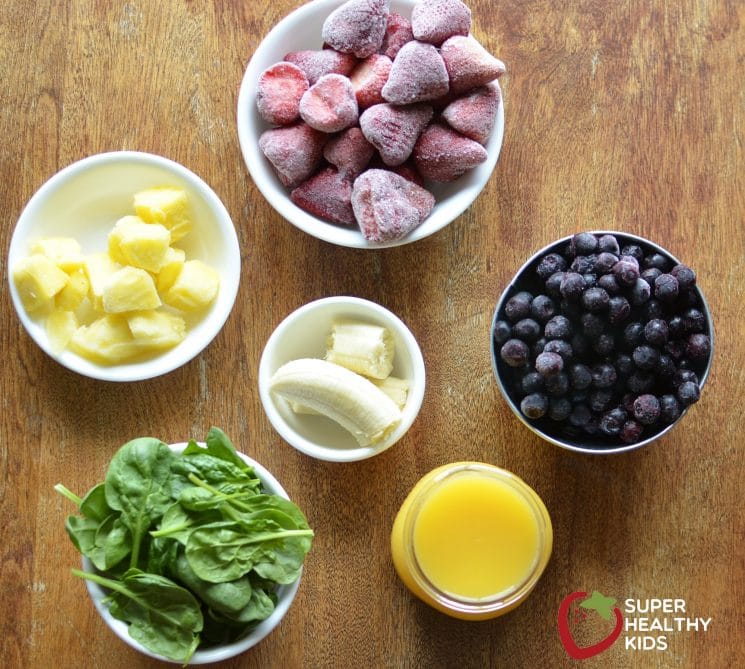 Last week, I was asked by the PTA at our Elementary school to be in charge of a lunchtime station, where kids could stop by my table for a quick nutrition lesson.
The message:
It's important to eat from the rainbow every day. The different colors of fruits and veggies have different nutrients, and we need all of them to grow, be healthy, and strong.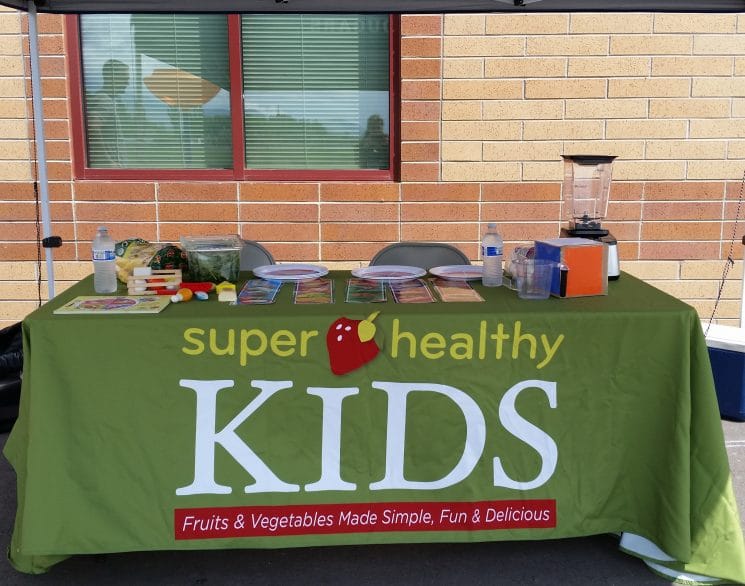 The supplies
I made a "dice" out of a square box (this one is 6X6, but I've also done it with 8X8 boxes. I cut out construction paper to tape to each side. I used red, green, blue, white, yellow, and orange.
I had the ingredients for our rainbow smoothie- one ingredient for each color.
Strawberries for red
Spinach for green
Blueberries for blue.
Banana for white
Pineapple for yellow.
Orange juice for orange.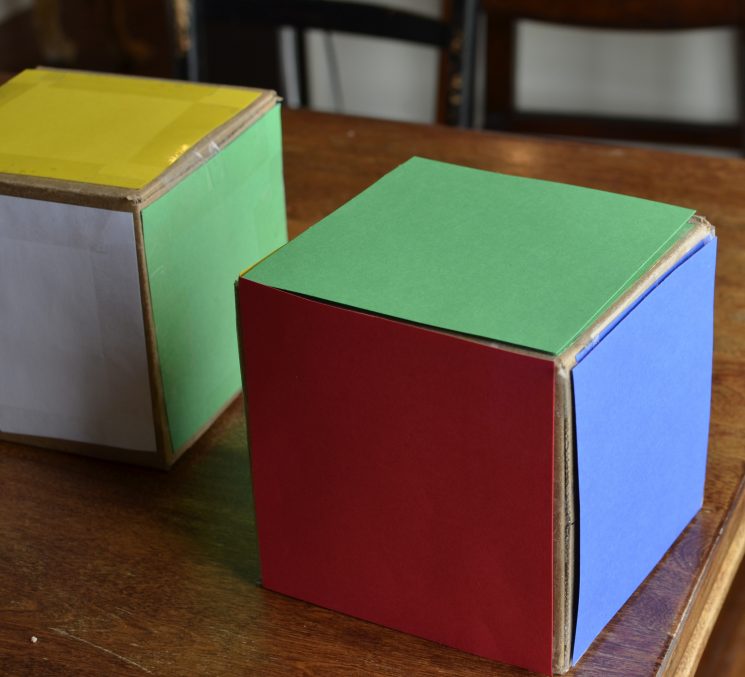 The game:
One kid at the table would roll the dice. When they land on a color, I asked them:
What fruits and veggies can you think of that are that color?  For example, if they rolled red, the answers would include: Strawberries, tomatoes, bell peppers, pomegranates, etc.
I then teach them briefly why that color is important in our diet every day. Then, we add that ingredient to our blender.
The Lesson
When they roll red:
Answers from kids:
Beets, bell peppers, red apples, cherries, tomatoes, strawberries.
Mini lesson
Foods that have red are high in a nutrient called lycopene and Anthocyanin, vitamins A and C. Red foods help by controlling high blood pressure, reducing risk of cancer, and reducing risk of losing your memory!
(then add strawberries to your blender)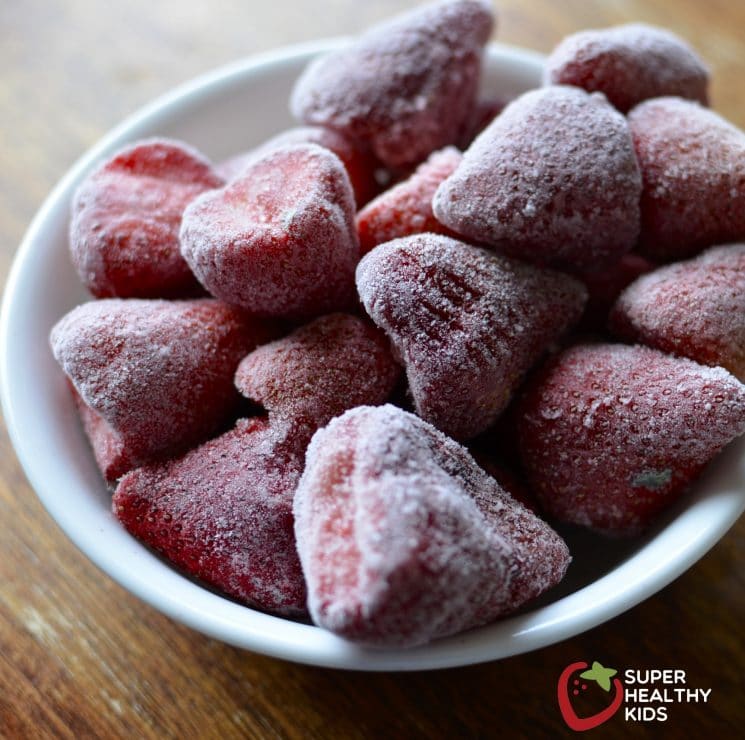 When they roll white:
Answers from kids:
Garlic, potatoes, onions, bananas.
Mini lesson
Foods that have white are high in a nutrient potassium, fiber, and allicin. They can protect our cells from damage.
(then add a banana to your blender)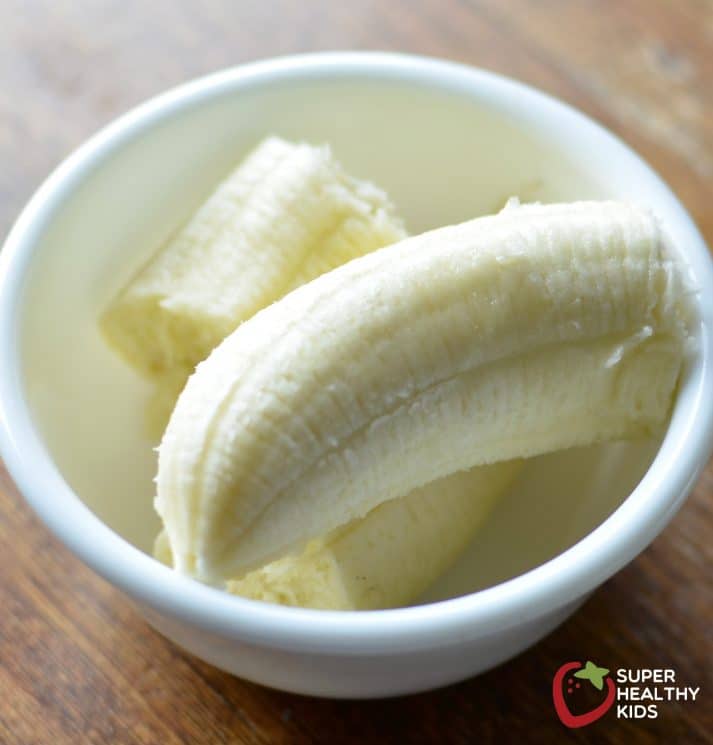 When they roll blue:
Answers from kids:
Blueberries, blackberries, grapes, raisins, plums.
Mini lesson
Blue foods help our brains! They are high in a nutrients called Anthocyanin and phenolics. Eating blueberries every day can make us smarter, control blood pressure and make it so we don't look old so fast.
(then add blueberries to your blender)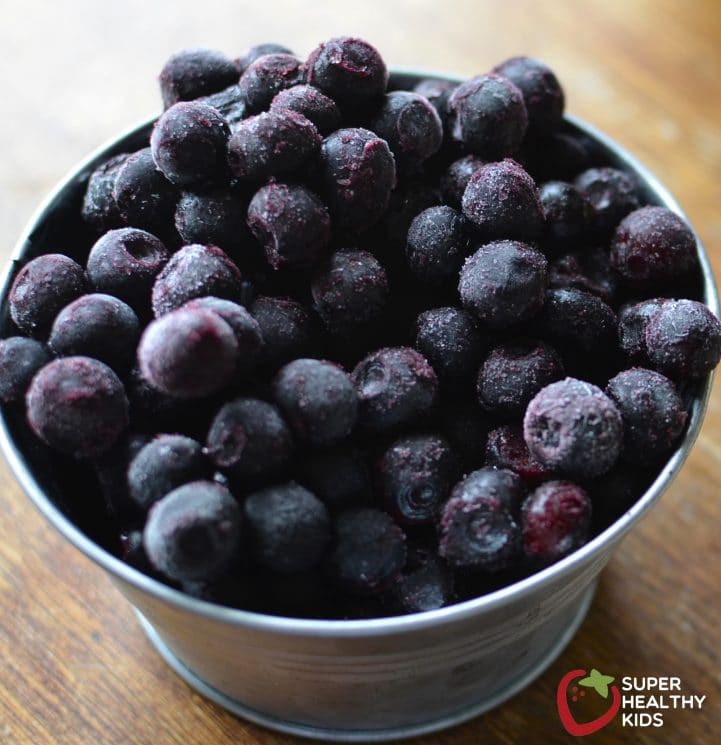 When they roll orange:
Answers from kids:
Carrots, sweet potatoes, pumpkin, apricots, oranges, grapefuruit, pears, pineapple.
Mini lesson
Orange foods are known for being high in Beta-carotene and bioflavonoids, fiber and vitamin A. When you eat orange foods, you boost immunity, reduce heart attack risk, maintain strong bones and teeth, better skin.
(then add orange juice to your blender)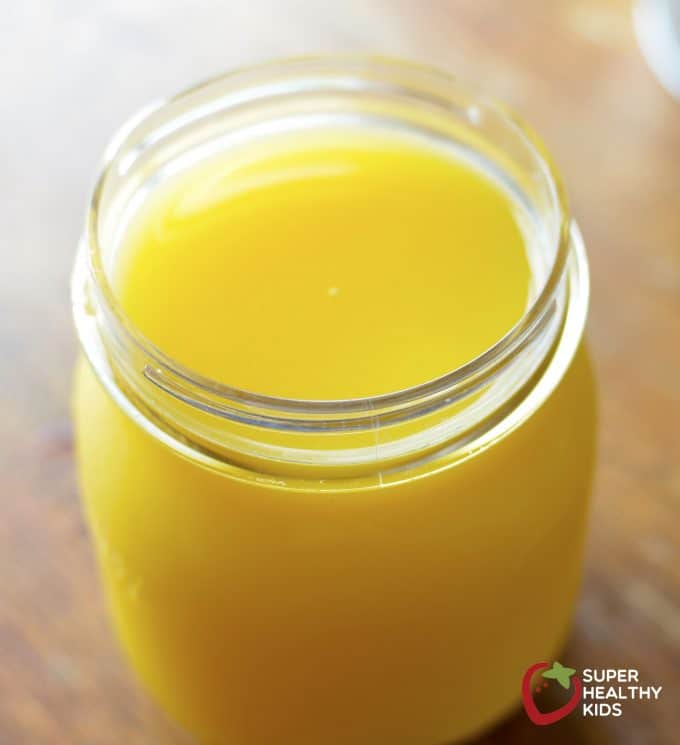 When they roll yellow:
Answers from kids:
(similar answers to orange) Pears, pineapple, yellow bell peppers, squash.
Mini lesson
Yellow foods are known for being high in vitamin c and carotenoids. When you eat yellow foods, you boost don't get sick as often and it helps you have better skin and hair!
(then add pineapple to your blender)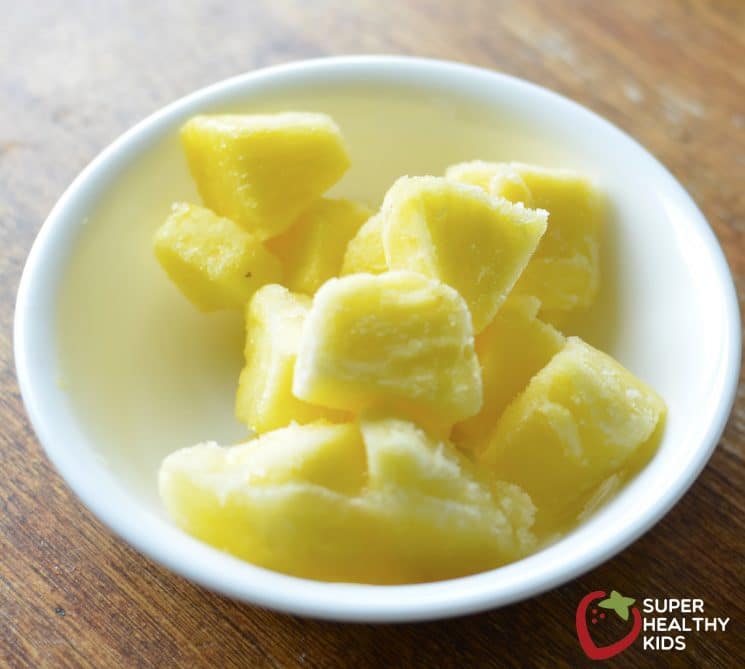 When they roll green:
Answers from kids:
Kale, Spinach, leafy greens, broccoli, Honeydew, peas, kiwi.
Mini lesson
Green foods are strong in Lutein and Indoles, fiber, potassium, folic acid and some B vitamins. Known for maintaining good vision. Spinach especially is a good source of iron, which is important for your blood. Have you ever put spinach in a smoothie before?
(then add spinach to your blender)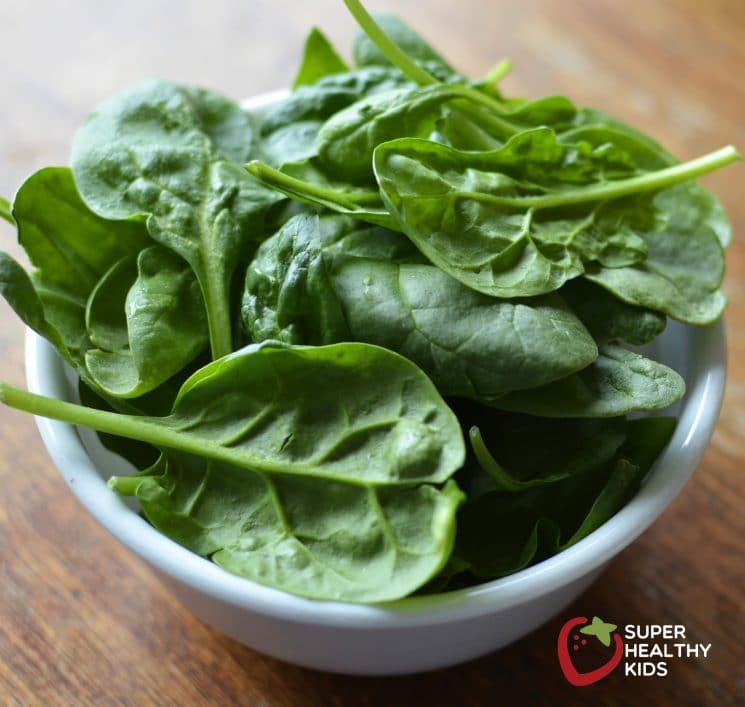 Blend up the smoothie in your blender, and pour mini sample cups for all the kids. Before you let them have a cup, ask them their FAVORITE fruit or veggie!

Results:
I kid you not. The entire school stopped by my booth to the point of chaos! Every kid wanted a sample, and every kids drank their smoothie. Peer pressure definitely helped, but I've also had lots of luck doing the same thing at home without the peer pressure to drink it.
Here's a quick video where I tried to recreate the lesson. I tried to record my husband taking one of the shifts after I had repeated myself 5000 times, but as you can see it was loud and chaotic!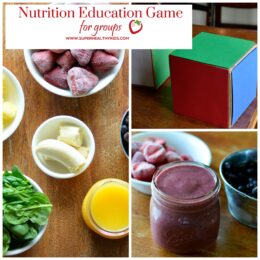 Ingredients
1

cup

strawberries, frozen, unsweetened

1

medium

banana

1

cup

spinach

1

cup

blueberries, frozen

1

cup

pineapple, frozen

3

cup

orange juice
Instructions
Combine all ingredients in a high powered blender and blend until smooth. Makes a lot!
Nutrition
Calories:
188
kcal
|
Carbohydrates:
44
g
|
Protein:
2
g
|
Fat:
1
g
|
Sodium:
9
mg
|
Fiber:
4
g
|
Sugar:
32
g