Just add water or milk to these make ahead freezer smoothie packs for a quick, delicious, and nutritious breakfast or snack anytime!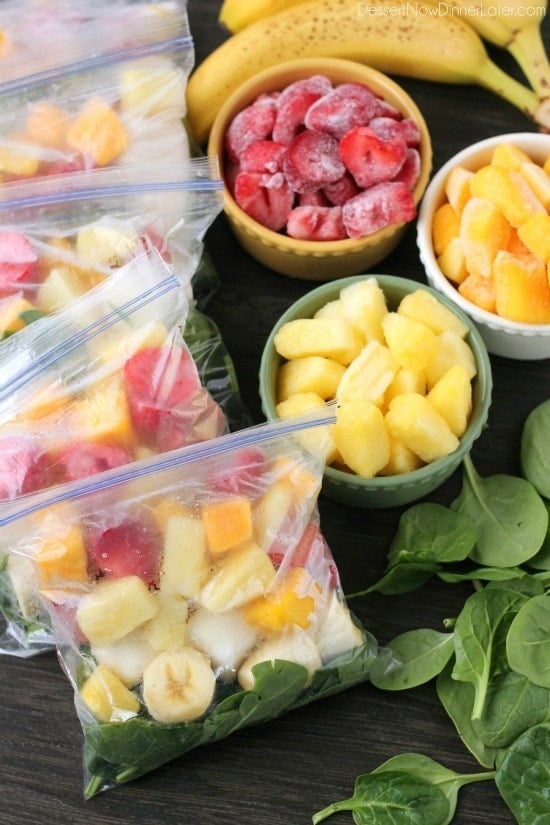 Hello again! It's Amber, from Dessert Now, Dinner Later! I've been participating in a health challenge for the last 5 weeks and I'm just about finished! Final weigh-in is next Monday and I'm feeling great! One thing that has really helped me with my health challenge is being prepared. If I stock up my pantry, fridge, and freezer with healthy things, I can grab something quick that is also healthy.
One of my favorite things for breakfast is a smoothie. I could drink them everyday, and I pretty much do drink one for breakfast every day. The problem, is that I have 3 kids to get up and ready for the day just so I can take my oldest child to school in the morning. Plus I have to get my kids ready by myself, because my husband is already at work by the time we wake up.
Well, prepping and measuring several ingredients for a smoothie takes more time than I always think it will, and I'm almost always taking my smoothie on-the-go, when I would rather have enough time to sit down and enjoy it before running out the door to school. So on the weekends, if I prep my smoothies, the weekday mornings go so much better. My kids always beg me for a sip of my green smoothie, because they love these as much as I do. Sometimes I even make them one to share. 😉
Let me show you how to prep these smoothie packs. I always put spinach in my smoothies. It's a sure fire way of getting some greens in my diet for the day. I do a packed cup of spinach in a sandwich size zip-top bag. It makes the smoothie vibrant green and you don't even taste it with all the different fruits in there.
Next I put in half of a banana because they are cheap and delicious. I cut mine up into 1 to 2-inch pieces so that it mixes easier in the blender.
Next you put in 2 cubes of frozen Greek yogurt to give the smoothie a creamy texture and add protein to help keep you full. Do do this, I put plain, non-fat Greek yogurt in a sandwich bag, cut off the tip, and squeeze it into an ice cube tray to freeze. (**You will have to do this the night before you assemble your smoothie packs.) It's less messy than just spooning it into the tray. Tap the tray on the counter to get rid of any air bubbles before you freeze it. One of my yogurt cubes is equivalent to about 2 Tablespoons of yogurt.
Next you add one cup of frozen fruit. I've been digging mango and strawberries lately, but it's more green if you have mostly light colored fruits, so I did some frozen pineapple too.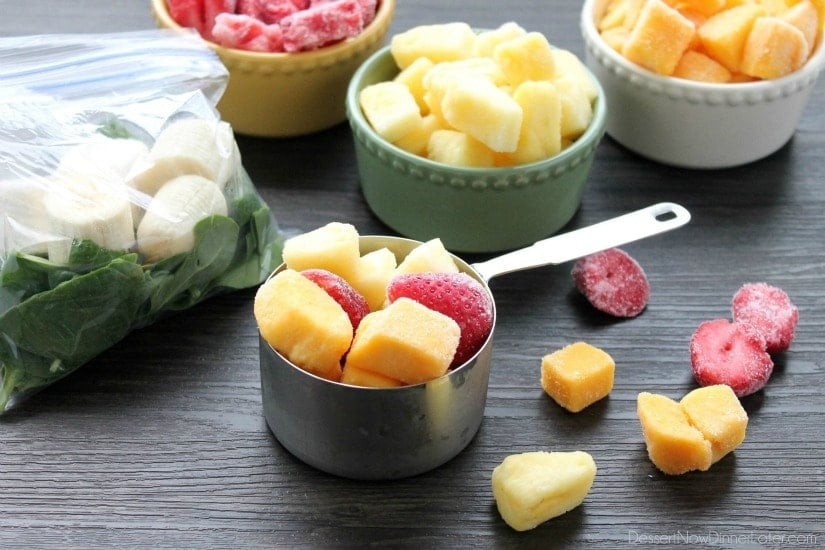 Voila! You are done! Squeeze out the air, zip up the bag, and freeze it. Repeat to make as many bags as you want/need.
To make the smoothie, pour 1 to 1 & 1/4 cups of water or milk (cow, almond, coconut, whatever you want) in a blender. Add one smoothie pack. Blend until smooth, adding more liquid, if needed for desired consistency. One smoothie pack yields about one 2-cup smoothie. Enjoy!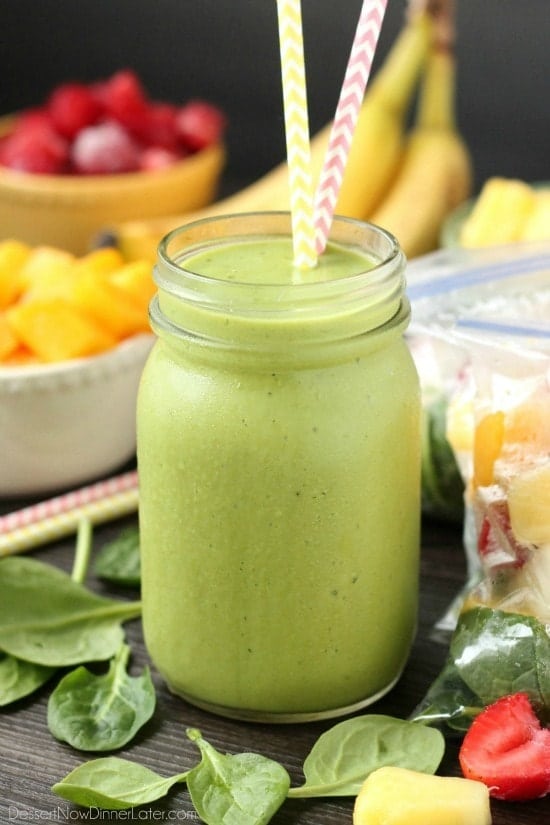 WANT MORE SMOOTHIE IDEAS? TRY THESE TWO:
Pineapple Orange Banana Green Smoothie
There are thousands of smoothie combinations you can make with your frozen fruit to make the ULTIMATE HEALTHY GREEN SMOOTHIE!
Freezer Smoothie Packs
Just add water or milk to these make ahead freezer smoothie packs for a quick, delicious, and nutritious breakfast or snack anytime!
Print
Pin
Rate
Ingredients
1

cup

spinach

1/2

medium

banana

1/4

cup

Greek yogurt, plain

1/3

cup

mango cubes, frozen

1/3

cup

pineapple, frozen

1/3

cup

strawberries, frozen, unsweetened

1

cup

water
Instructions
In a zip-top sandwich bag, add the spinach, banana pieces, frozen yogurt cubes, and mixed frozen fruit. Squeeze out the air and zip the bag shut. Place in freezer. Repeat for additional packs.

To prepare: Pour 1 to 1; 1/4 cup water or milk (cow, almond, coconut, whatever kind you like) in a blender. Add one frozen smoothie pack and blend until smooth, adding extra water or milk if desired to preferred consistency.
Nutrition
Calories:
53
kcal
|
Carbohydrates:
11
g
|
Protein:
2
g
|
Cholesterol:
2
mg
|
Sodium:
14
mg
|
Fiber:
2
g
|
Sugar:
8
g