How To Organize Your Pantry For Allergy Safety
When it comes to food allergies, safety is key! Use these simple tips to organize your pantry, refrigerator and freezer so nobody gets the wrong food or is accidentally exposed to allergens.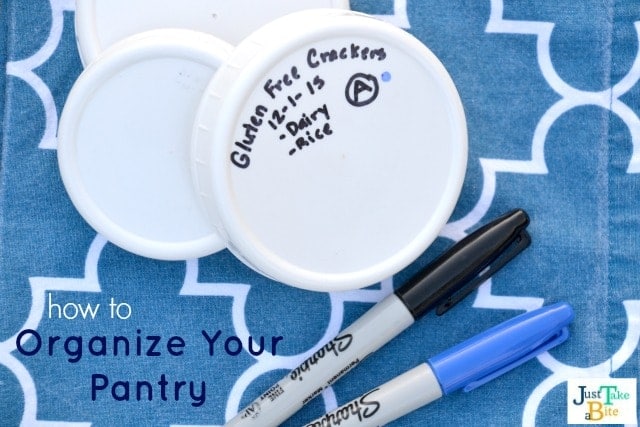 There's no way around it. Living with food allergies is a challenge.
What's worse? When you have multiple family members with different allergies!
If I combine all of my kids' allergies we are pretty much allergic to everything. That is not an exaggeration. Our allergies even include foods like rice, potatoes, apples and chicken. Visit Just Take A Bite to see what a typical week of meals looks like for us and how we manage to all stay well fed.
It goes without saying that I have to be very organized to keep everyone safe. Especially my toddler that will put anything she finds in her mouth.
Whether you have one child allergic to one food or a host of allergies spanning the whole family these tips will help you stay organized and keep everyone safe.
Even if you don't have any allergies these tips will help you keep your pantry organized and easy for kids and baby-sitters to navigate.
Label with plastic lids.
You can buy white plastic lids (wide mouth and regular) for glass jars anywhere you buy canning supplies or online. Using a Sharpie write a detailed label on the lid, including what the food is, ingredients/allergens in the food and who it is for. The glass jar will make it easy to see the food. The label will give you all of the details.
The marker will wash off the lid when you want to use it again. This works especially well with homemade items like graham crackers and cookies. But it works for store-bought food as well. Just move it from the original container to a glass jar. It will stay fresher longer.
I like to add the child's initial to the label as well (use full names or nicknames if your kids' names start with the same letter). You can never be too careful.
Use separate shelves.
If space allows use separate shelves for each person with allergies. This makes it easy for kids to help themselves get food even if they can't read labels. It is also helpful if someone else is watching your kids. There is no guessing. Just be sure any potential allergens are on a shelf high enough that very small children can't reach.
Use a color code.
Assign a color to each child. Any food they can eat will have a mark in that color. This is another way to help young children safely get food for themselves. You can even buy small baskets at the dollar store in different colors. Use one color basket for each child's safe grab 'n' go foods both in the cupboard and in the refrigerator.
Side note – this works for toys, art supplies, school work, etc. as well! Each child has a color and a basket for collecting their things at the end of the day for easy clean up.
Keep a list in the cupboard.
Label refrigerated and frozen items as well.
A good rule is to label anything before it goes into the refrigerator or freezer. Once it's put away you'll forget what it is or what is in it, especially frozen items. They all seem to look the same once they are frozen! You can use the glass jars and plastic lids for refrigerated and frozen items. Writing with a permanent marker on plastic bags works well too.
Using all of these strategies to organize your pantry will help keep everyone safe, even if you have a household with all sorts of allergies.
If your child with allergies is a baby or toddler here are some additional suggestions for safety.
Everyone must wash their hands before and after meals.
Remind older kids to stay at the table for the entire meal and eat over their plates to lessen the chance of problem foods falling on the floor or messy hands touching toys.
Remove shoes and wash hands when you come into the house.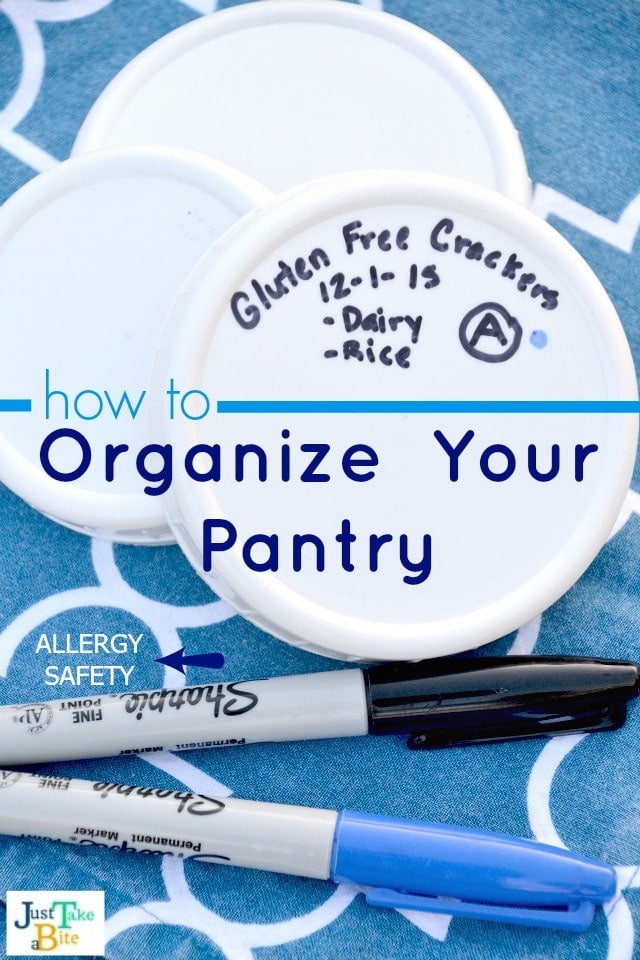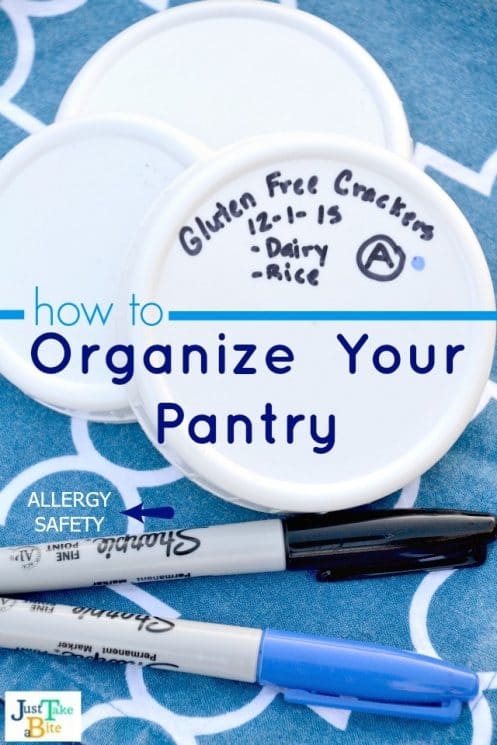 As you start the new year use these simple strategies to stay organized and safe. As an added bonus you'll be inspired to create more homemade snacks and treats once you see how neat your cupboard is filled with well labeled glass jars!
Mary is a Christian, a wife and a mother of three young children. She has a passion for real food and will help you navigate the world of food allergies and feeding challenges such as picky eating, oral SPD and tongue ties. She blogs about meal planning, feeding tips and healthy food at Just Take A Bite.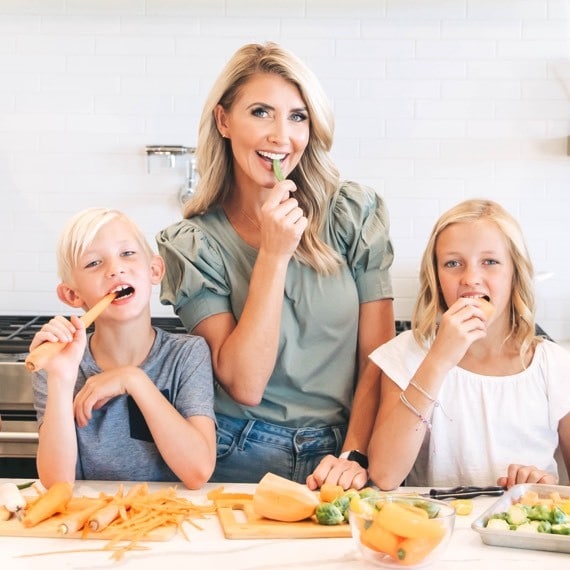 Natalie Monson
I'm a registered dietitian, mom of 4, avid lover of food and strong promoter of healthy habits. Here you will find lots of delicious recipes full of fruits and veggies, tips for getting your kids to eat better and become intuitive eaters and lots of resources for feeding your family.
Learn More about Natalie