Garden Vegetable Seed and Plant Buying Guide
If you are thinking about planting a garden, how do you know which seeds to buy? What about hybrid seeds, or heirloom? Should you buy seeds or plant starts? Don't worry – we have answers for you!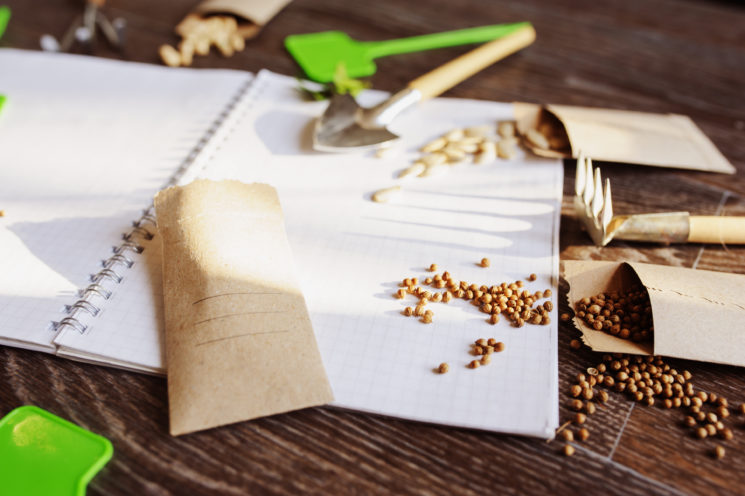 Should I Buy Plants or Seeds?
We definitely believe in eating more fruits and vegetables, and what better way than to grow them right in your own backyard! The first step is deciding if you will buy seeds or plants. These are some things to consider when deciding:
Cost
Seeds cost much less than plants. You can buy a pack of seeds for less than $2 and have over 100 seeds in the pack, as opposed to paying anywhere from $.50 – $5.00 per plant from the nursery. If you plan on planting a lot of one thing (carrots) then seeds are probably the way to go because it will cost you a lot less. If you are only going to plant a few tomato plants, then spending a couple of dollars per plant might be worth it.
Time
Growing plants from seed takes a few weeks (if none of them fail) of daily care before they are big enough to move to your garden. This can be a fun activity to do with your kids, and can teach them responsibility of caring for something. However, you definitely take a chance at killing plants when you raise them from seed. Too much water, too little light, a "helpful" or curious toddler… all of these things can kill a fragile seedling in a single day. If you buy already established plants from a nursery, you have your plants done and planted in one day.
Variety
Nurseries usually only carry a limited number of varieties of plants. You might find three or four types of tomato plants to choose from, but more often than not you won't find any exotic and exciting varieties to play with. However, nurseries usually have plants that they know will do well in your area and that are tried and true. The great thing about buying seeds is that there are TONS of varieties to choose from. Heirloom tomatoes, rainbow carrots, finger radishes, giant pumpkins – so many fun things!
Equipment
If you start plants from seed yourself, you'll need containers to plant them in, potting soil, a spray bottle to water the growing plants, trays to keep the containers in to catch water, and grow lights if you don't have a south facing window, or greenhouse. Purchasing plants only requires a trowel to plant your plants.
I usually buy a combination of plants and seeds. Depending on your zone and growing season, you may not have to start your seeds indoors and can just plant them directly in your garden. These are the things that I buy plants vs seeds for:
Plants: Tomatoes, Peppers, Berries, and Herbs.
Seeds: Peas, Beans, Carrots, Squash, Pumpkins, Beets, Corn, Broccoli, Cauliflower, Cucumbers, and Melons.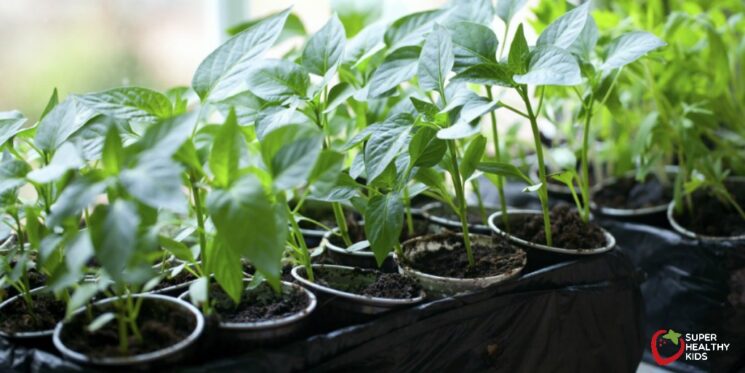 How Do You Choose Seeds to Plant in Your Garden?
There are lots of great seed companies to buy your seeds from. If you are looking through a seeds catalog, you might see a lot of different types of seeds and not have a clue which type to buy! These are some basic definitions of common seeds types you will see:
Organic When a seed is labeled organic, is just means that the original seed-producing plant was grown according to organic standards. If you plant a seed that is not certified organic, the plant you grow will still be considered organic, if you don't use synthetic fertilizers or other chemicals.
Hybrid Hybrid seeds are created by cross-pollinating two or more varieties of a certain plant. It is natural process that occurs within members of the same plant species. Hybrid seeds usually are created to have some of these favorable traits: early maturity, higher yield, improved flavor, specific plant size, and/or better disease resistance.
Heirloom. Heirloom seeds are those that are open-pollinated (which means they're pollinated by insects or wind without human intervention) and passed down from generation to generation. Seeds from heirloom vegetables are true to type, meaning that you can save the seed from a certain plant and expect to get the same thing if you plant those seeds again next season. A lot of gardeners argue that heirloom seeds produce the best tasting produce.
A lot of experienced gardeners recommend planting both hybrid and heirloom seeds to give you the best of both worlds.
Where Should I Buy My Garden Seeds?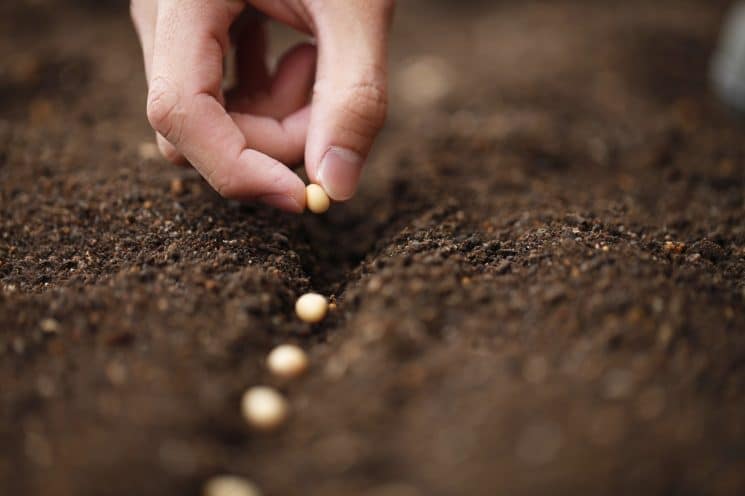 You can find a variety of seeds at your local nursery, grocery store and even hardware store. But if you want to grow a garden that is a 'cut above' you will want to buy from a seed company who specializes in gardening seeds. Whether you're in the market for heirloom vegetables, the biggest sunflower or that perfect shade of tulip for your cutting garden, these shops are where you'll find what you're looking for.
Seed Savers Exchange is a non-profit organization dedicated to saving and sharing heirloom seeds. All varieties offered for sale by Seed Savers Exchange in their catalog and website are untreated varieties. They publish a general catalog, which anyone can order from, but if you become a member, you will get access to the members' yearbook and directory, and have access to literally hundreds more varieties. Great for those adventurous gardeners who are always on the lookout for something unique to grow in their garden.
Burpee is a mainstay in the gardening world. They offer organic, hybrid, and heirloom varieties. It is easy to determine which seeds are which because they publish a list of both their heirloom and organic seeds. The hybrid seeds are labeled and easily identified. They offer a wide variety of vegetable seeds, but also perennial flowers.The full-color photos are always useful and beautiful.
Seeds of Change is dedicated to preserving the heirloom seed varieties. All of their seeds are certified organic, sourced from trusted growers in the United States. 1% of every sale goes towards community projects that help people grow their own food. Each seed variety includes a growing guide on their website to help you know how to grow that type of plant.
Johnny's is a 100% employee owned company and because of this, they have probably the best customer service you can fine. They have a huge variety of seeds and always seem to have great sales going on during planting season. Their website has a Grower's Library with information on every topic you would ever need to know when planting a garden.
Happy Planting!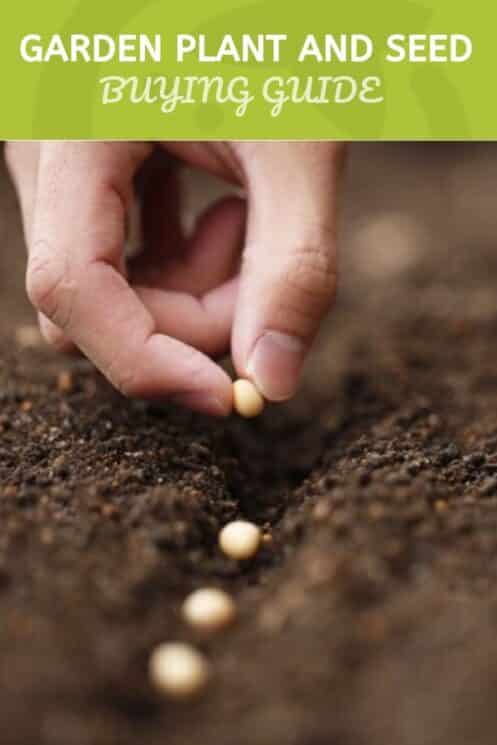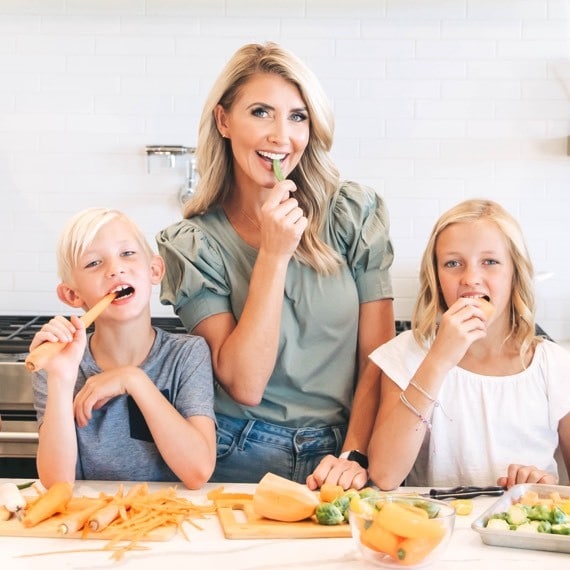 Natalie Monson
I'm a registered dietitian, mom of 4, avid lover of food and strong promoter of healthy habits. Here you will find lots of delicious recipes full of fruits and veggies, tips for getting your kids to eat better and become intuitive eaters and lots of resources for feeding your family.
Learn More about Natalie