Healthy Self-Serve Snack Box for Kids
Learn how to create a healthy self-serve snack box, plus tips for helping kids manage independent snacking.
Help kids develop more independent kitchen skills with 30+ Recipes Kids Can Cook Themselves (By Age!)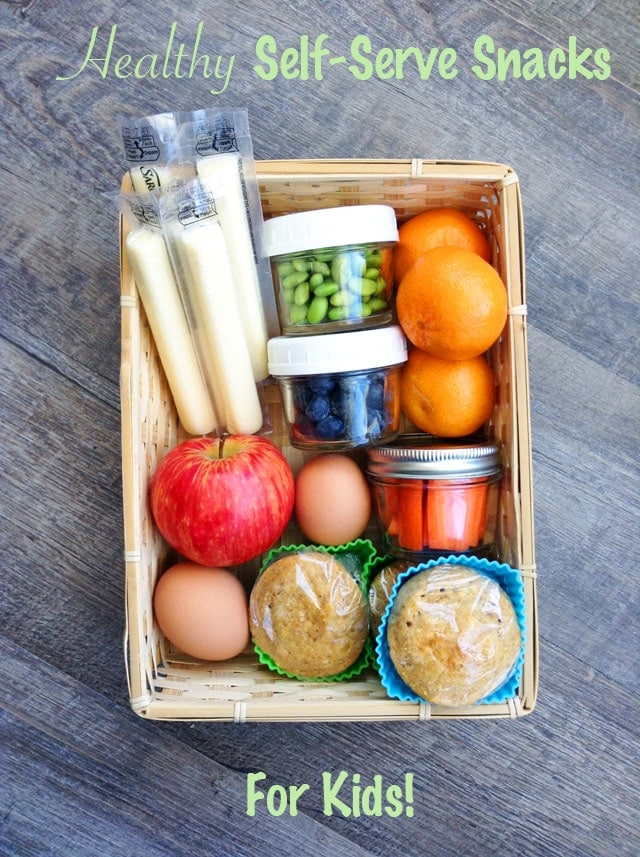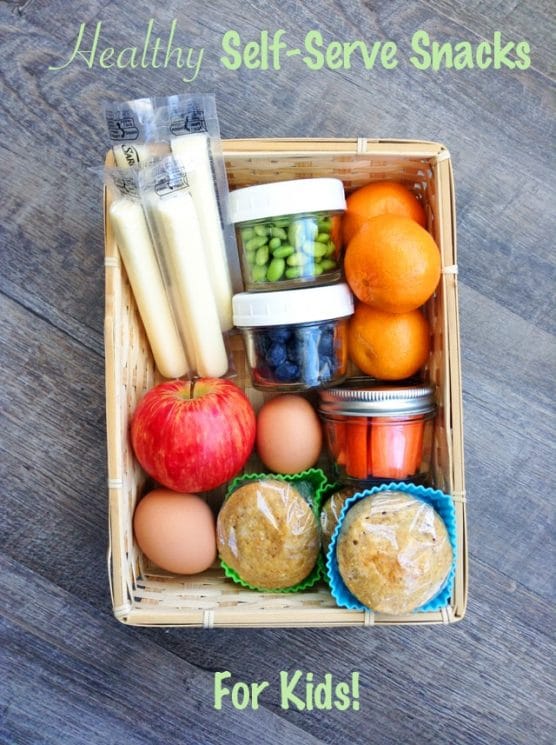 When kids are little, they rely on us to choose which foods will appear at meals and snacks. And as parents, we have to take this charge seriously! Because the more consistently we serve fruits, vegetables, and other healthy foods during our kids' earliest years, the better we set the stage for great eating habits later on.
Plus, let's be honest, young kids just aren't developmentally ready to choose carrots and hummus over chocolate cupcakes; and they have high energy needs, so something sweet and rich will almost always appeal.
This doesn't mean that we have to wield absolute power when it comes to our kids' diets. Nor should we! Because especially as kids grow and mature, they need the chance to make choices, develop preferences, and listen to their bodies.
Enter a great transitional tool for the 4-6 year old and beyond: the self-serve snack box.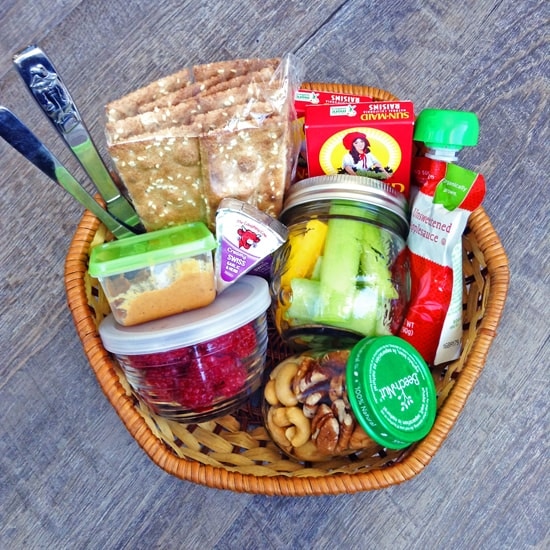 What is a Self-Serve Snack Box?
A self-serve snack box is a box, bin, or basket that you keep stocked with foods your kids can get and eat by themselves.
You can create one in your pantry, but we really like a refrigerator snack box, for the simple reason that lots of healthy foods require refrigeration.
If you think you might like to set up a snack box for your kids, read on. We'll show you how to assemble a snack box, what foods you can stock it with, and how you can help your kids manage snacking independence for the first time! Here we go!

Supplies You'll Need to Make a Snack Box
These simple supplies can help you create a low-waste, easy-access snack box for your kids. You don't need all of these items, but having various sizes and shapes to your containers does make organizing the snacks easier.
A medium-sized box, bin or basket that fits on a shelf in your refrigerator.

4-8 oz. mason jars, with lids.

Empty baby food jars (for dried fruits, trail mixes, or portions of hummus.)

Small plastic containers with lids.

Ziploc snack bags

Plastic forks and spoons to pair with foods like yogurt (we like reusable RePlay Recycled forks and spoons)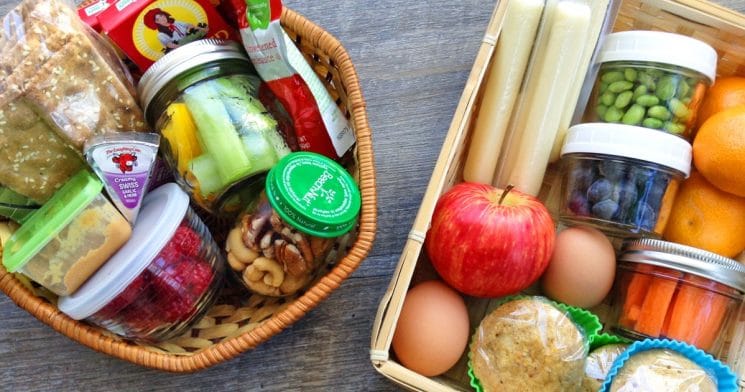 What to Put in Your Snack Box
Ready to fill up those cute containers? Gather your favorite healthy snacks! Here are some ideas:
Protein:
Hummus

Cheese sticks
Hard-boiled eggs
Beef jerky
Nut butter
Yogurt
Leftover cooked chicken, pork, or steak
Veggies:
Carrots

Celery
Baby peppers
Baby cucumbers
Snap peas
Cherry Tomatoes
Edamame
Peas/corn/carrots
Fruits:
Grapes

Clementines

Berries

Apples

Cut cantaloupe, watermelon, or pineapple
Raisin boxes
Grains:

Tips for a Successful Snack Box
After you stock your kids' new snack box for the first time, help them manage it well. Here's how:
Keep the box full of healthy, balanced offerings. Shoot for one or two items from each food group listed above, and make sure fruits and veggies stay fresh.

For younger kids, decide ahead of time when they will get to choose a snack from the box. They might get to pick one or two items after school, or before bedtime… but not a half hour before dinner, for example.

Store snacks in clear containers, so kids can easily see what's available.

If your kids don't reach for a particular item in the snack box on their own, pull it out and include it with a snack that YOU serve them. They might just try it.

Get creative! We put all kinds of leftovers in small jars in the snack box: fried rice, whole grain English muffin pizzas, roasted veggies, you name it.

Lastly, hard as it may be, avoid commenting on your kids' choices. Let them choose what they want (even if they ignore the veggies for a while.) Remind yourself that the process of choosing and learning is just as important as the nutrition they get from their snack.
There's no doubt about it: feeding your family well takes work! But a self-serve snack box can be the humble beginnings of a lifetime of food autonomy for your kids. Celebrate the milestone!
And enjoy the way a well-stocked snack box takes a little pressure of during the week. You've earned it.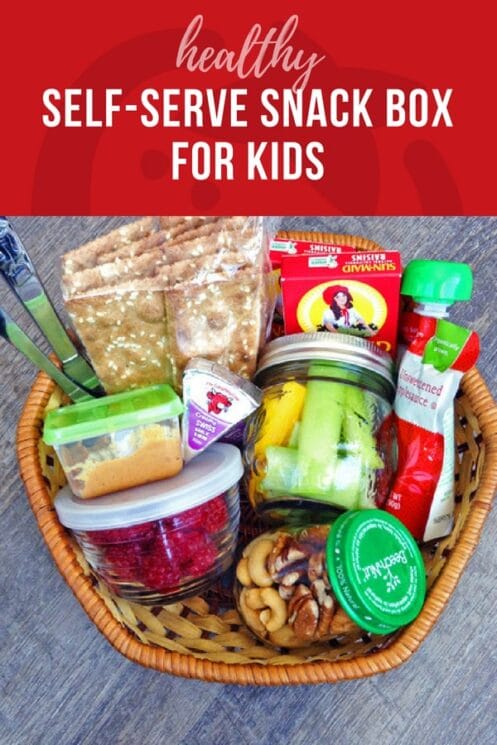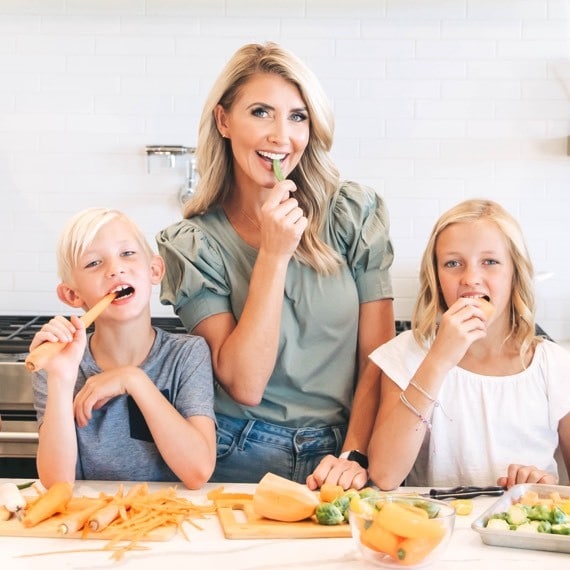 Natalie Monson
I'm a registered dietitian, mom of 4, avid lover of food and strong promoter of healthy habits. Here you will find lots of delicious recipes full of fruits and veggies, tips for getting your kids to eat better and become intuitive eaters and lots of resources for feeding your family.
Learn More about Natalie