Carrot-Berry Lunchbox Applesauce Recipe
Whole fruits and veggies make this quick homemade applesauce fresh and healthy for your little ones! Eat it with a spoon or serve in a reusable squeeze pouch for on-the-go snacking.
Our goal each day is to eat five fruit and vegetables.  It usually isn't too hard, but some days we do better than others. This Carrot-Berry Lunchbox Applesauce Recipe is a super easy way to get three full servings of fruits and veggies, without complaint!
Mixing veggies into applesauce is something that the food industry has caught on to, and with great success. Slurping applesauce out of the disposable pouches has turned into multiple product lines with a variety of different fruit, and now VEGGIES! I actually love seeing these products. The majority of companies I've seen don't add any sugar to the product, so we totally approve.
However, with every good product that catches on with the younger kids, we like to make our own.  So, here is ours!
How to Make Carrot Berry Applesauce
The process is simple! We used:
2 carrots, peeled and chopped
2 apples, peeled and chopped
1 cup blackberries
2/3 cup to 1 cup orange juice (2/3 for thicker applesauce, 1 for a bit thinner)
Place all ingredients in a small saucepan and cooked on medium-low heat for about 20 minutes. The carrots should be soft.
Then, we removed the cooked fruit and blended it up. I used a food processor, but a blender will do.
We like our applesauce thick! If your kids prefer a thinner consistency (more like store bought), you can add more orange juice.
The apple and carrots have absorbed all the juice, and are soft enough to blend up.
Last- add your fruit and veggie sauce to lunch!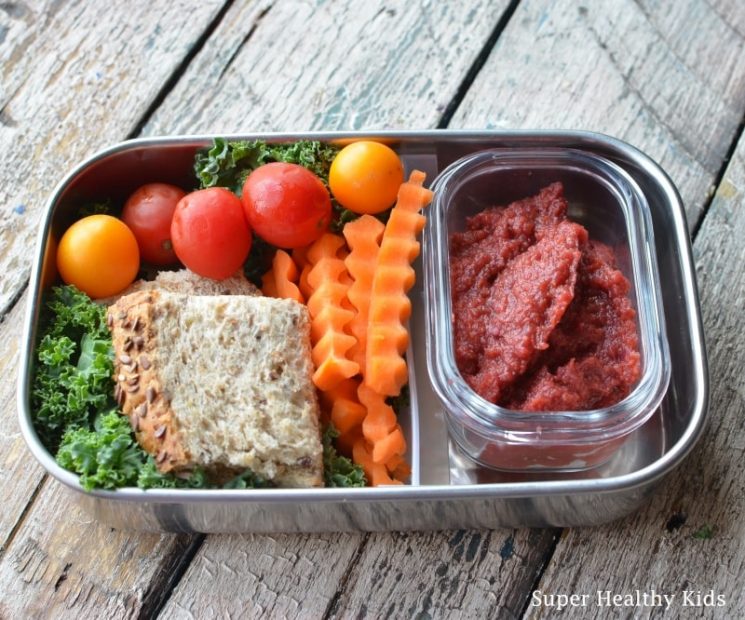 Again, this is a super easy and delicious way to pack those veggies into your kid's day. You can send it to school in containers, or in those fun new reusable pouches.
Ingredients
2

medium

carrot

2

medium

apple

1

cup

blackberries

2/3

cup

orange juice
Instructions
Peel and chop carrots and apples.

Place all ingredients in a small saucepan and cooked on medium-low heat for about 20 minutes, until carrots are soft to the touch.

Remove from heat and blend in a blender or food processor. Makes 1/2 cup!
Nutrition
Calories:
47
kcal
|
Carbohydrates:
12
g
|
Protein:
1
g
|
Sodium:
12
mg
|
Fiber:
3
g
|
Sugar:
8
g