Bacon Avocado Grilled Cheese Dippers
The grilled cheese sandwich reinvented! These Bacon Avocado Grilled Cheese Dippers are perfect for kids to eat with a bowl of tomato soup or on the go! We loved working with Cache Valley Creamery on this post.
Bacon Avocado Grilled Cheese Dippers
A classic grilled cheese sandwich is great, but if you want to kick it up a notch, try making dippers! A grilled cheese sandwich is definitely a familiar food to most kids and one they will eat willingly. You can make them simple with just cheese or you can add in more ingredients like bacon crumbles and mushroom pieces. It is a great way to fuel your family and add more nutrition to something they are eating anyway. Dippers are perfect for kids who won't eat a full grilled cheese sandwich and it's more fun too! I ate two myself and was full! They're even a great option without soup because kids can eat them on the go, in the car, or walking to their friend's house. It's a mini hot sandwich!
So let's get started with these Bacon Avocado Grilled Cheese Dippers!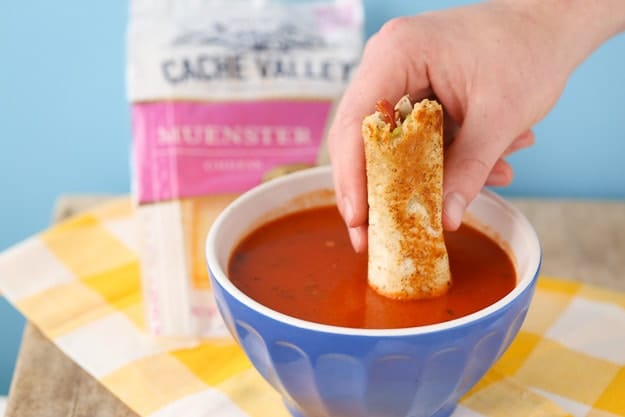 We Choose Cache Valley Creamery Cheese
We love Cache Valley Creamery products! They have a wide range of real and delicious dairy products such as cheese chunks, shreds, slices, and even butter! We used Cache Valley Creamery Muenster Slices for this recipe but also made some dippers using Cache Valley Creamery Havarti Slices and fell in love! The flavor and texture beat other cheese companies and I wouldn't want anything else on my sandwiches. Cheese is a big part of the food we make, and we love the quality and flavor of Cache Valley Creamery Cheese. If you love delicious cheese, check out our Ooey Gooey Apple Nachos recipe, made with Cache Valley Creamery Shredded Cheddar Cheese!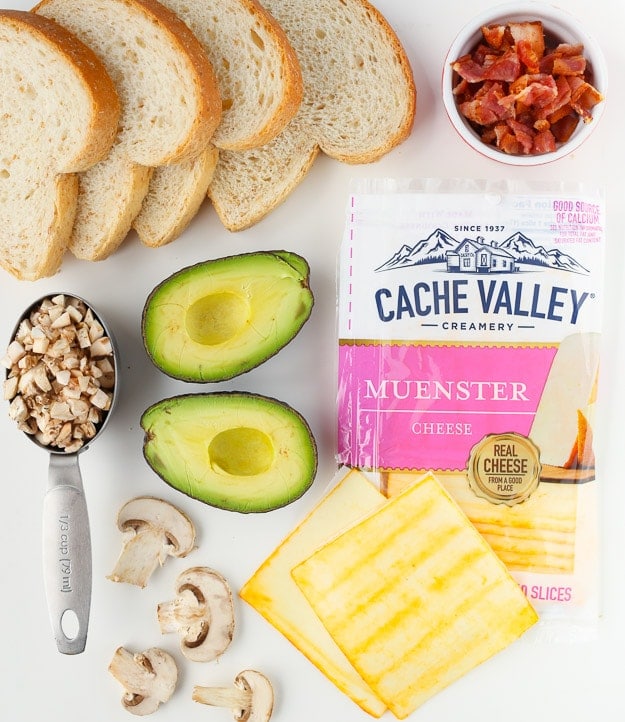 Which Cheese is Best for Grilled Cheese?
The type of cheese you choose for a grilled cheese sandwich really depends on the flavor you are going for. Some types of cheese melt easier than others, so it is a factor to consider. For grilled cheese sandwiches for kids, we tend to like a softer, more mild tasting cheese. The two we recommend (outside of cheddar) are:
Muenster: Muenster is pale in color and smooth in texture with an orange rind. The rind's orange color is from annatto, which is a sweet and nutty seasoning used to add flavor and color to cheese. Muenster usually has a very mild flavor and smooth, soft texture. Because it melts well, it is also often used in dishes such as tuna melts, quesadillas, cheeseburgers, macaroni and cheese, and pizza.
Havarti: Havarti is an interior-ripened cheese that is rindless, smooth, and slightly bright-surfaced with a cream to yellow color depending on type. It has very small and irregular openings all over. Havarti has a buttery aroma and can be somewhat sharp in the stronger varieties, much like Swiss cheese. The taste is buttery, and from somewhat sweet to very sweet, and it is slightly acidic. It is typically aged about three months, though when the cheese is older, it becomes more salty and tastes like hazelnut. When left at room temperature, the cheese tends to soften quickly.
How to Make Bacon Avocado Grilled Cheese Dippers
The first thing you need to do is roll out your bread. Use a rolling pin and roll the slices of bread until they're fairly thin. White bread will compress very easily and stay compressed, but wheat bread holds its shape better, so I had to put a little extra effort into rolling out my slices. Top each slice with some Cache Valley Creamery Cheese and then add avocado, bacon crumbles, and mushroom pieces. Be careful to not overfill your slice or it will be difficult to roll up. Start at one edge and roll. When you're done, you may need to pierce it with a toothpick to keep it together. (Once the cheese starts to melt it will stay together without any help). Brown the dippers and melt the cheese in a frying pan, turning them occasionally to brown all the sides evenly. That's it! Time to dip!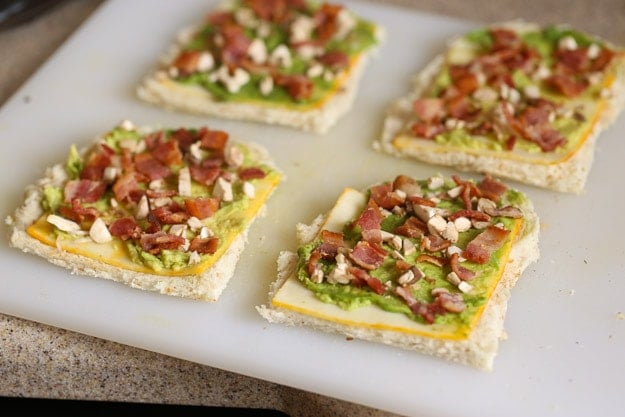 Sometimes a grilled cheese sandwich isn't the easiest to eat for little mouths. Cutting the sandwich in squares does make it easier, but rolling it up like a taquito has been super successful with our little kids since it is simple for them to hold onto. A lot of times, my smaller kids have to eat on the go when I am running my big kids around to different activities. A rolled up grilled cheese has been such a great on-the-go food. And it is definitely easier to dip into soup!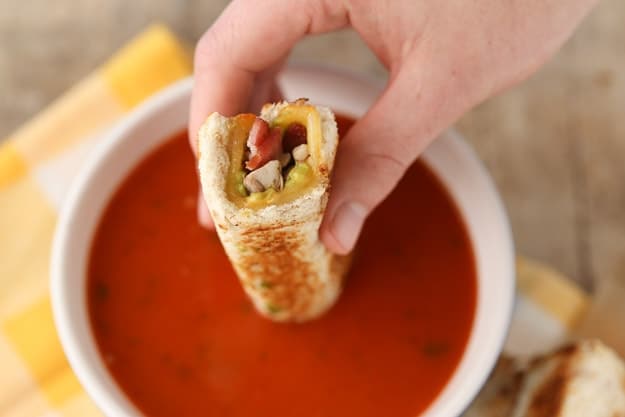 We love supporting local companies and events, and Cache Valley Creamery is local to us here in Utah. They have teamed up with our Real Salt Lake soccer team for a season full of fun. If you are local, check out Carnival Real before the May 24th game and stop by the Cache Valley Creamery booth at the Mini Foot-Golf Course (outside Rio Tinto Stadium), where you can sample some delicious Cache Valley Creamery String Cheese and also have the chance to win some fun prizes!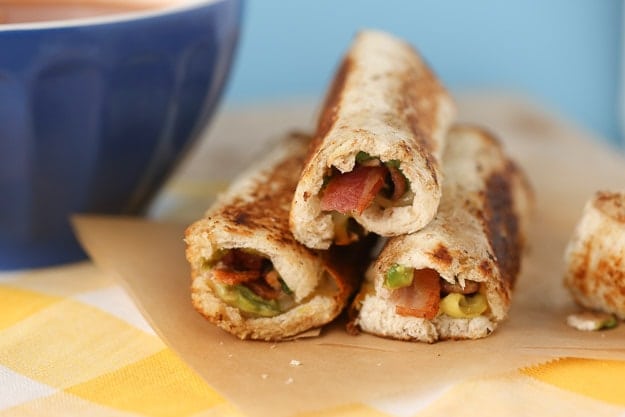 We created this recipe in partnership with Cache Valley Creamery. All of these opinions are our own
Grilled Cheese Avocado Bacon Dippers
The grilled cheese sandwich reinvented! These Bacon Avocado Grilled Cheese Dippers are perfect for kids to eat with a bowl of tomato soup or on the go!  
Ingredients
4

slice

bread, whole wheat

2

slice cooked

bacon

2

small

mushrooms, white

4

slice

Cache Valley Muenster Cheese

1/2

medium

avocado

1

tablespoon

butter, unsalted
Instructions
Roll out each slice of bread using a rolling pin; they should be quite thin.

Crumble the bacon and dice the mushrooms.

Place a slice of Cache Valley Muenster Cheese on each bread slice and top with smashed avocado, bacon, and mushrooms.  Don't add too many toppings or it will be difficult to roll them!

Tightly roll each slice of bread.  Use toothpicks to keep them from unraveling if needed. Once the cheese melts they will hold together without help.

Heat a frying pan over medium heat and add butter.  Once hot, add dippers to the pan and brown each side of the rolls until the cheese is melted in the middle.

Serve with soup!
Nutrition
Calories:
257
kcal
|
Carbohydrates:
15
g
|
Protein:
11
g
|
Fat:
18
g
|
Saturated Fat:
8
g
|
Cholesterol:
39
mg
|
Sodium:
402
mg
|
Fiber:
3
g
|
Sugar:
1
g
www.superhealthykids.com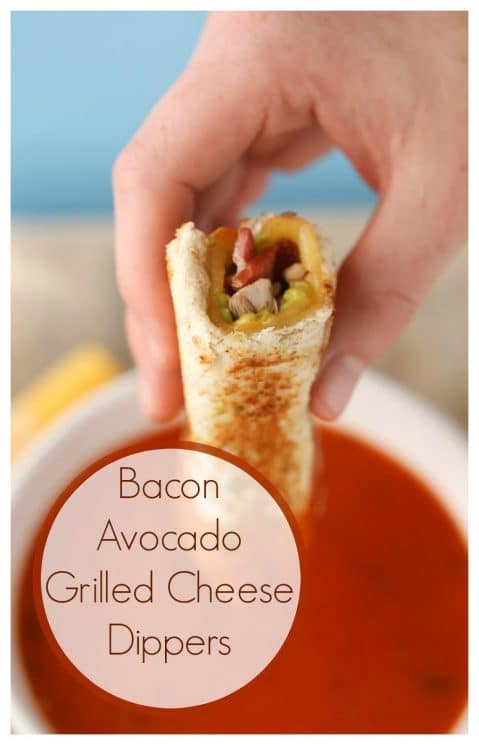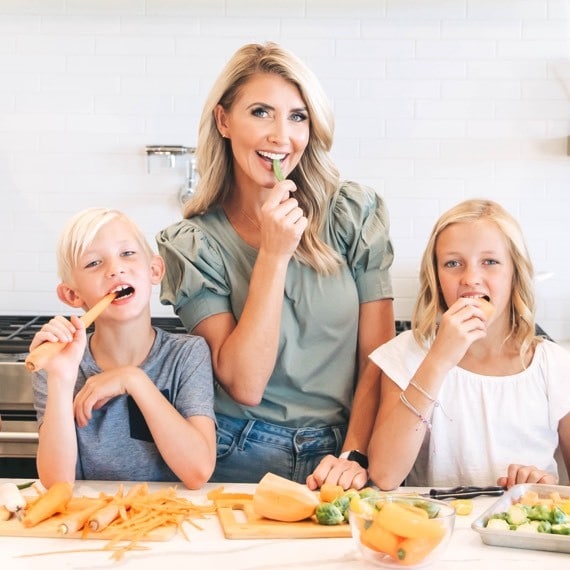 Natalie Monson
I'm a registered dietitian, mom of 4, avid lover of food and strong promoter of healthy habits. Here you will find lots of delicious recipes full of fruits and veggies, tips for getting your kids to eat better and become intuitive eaters and lots of resources for feeding your family.
Learn More about Natalie