23 Spiralized Zucchini Recipes for Summer
Spiralizing your zucchini is a fun and approachable way to enjoy this mild summer veggie! Check out these 23 top spiralized zucchini recipes, and pick up your high-quality spiralizer here.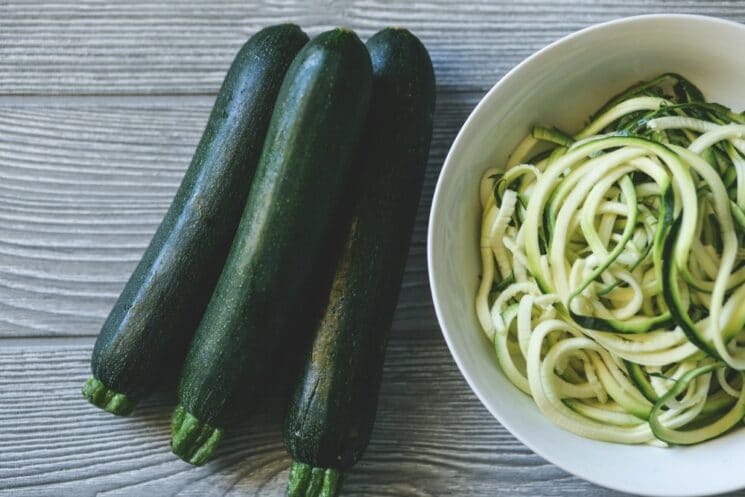 Summer and spiralized zucchini recipes have become regular fare for us. In Utah, zucchini grows effortlessly. Also known as courgette, zucchini is a delicious green veggie found in the squash family.
Some of our neighbors won't plant squash at all because you really have to be diligent about picking it at the perfect size. If you fail to check on your zucchini plant daily, you may discover your 6-inch petite zucchini has grown to the size of a baseball bat! This used to be frustrating for me until I bought a spiralizer!
Last summer was the first summer I owned a good spiralizer (and by good, I mean one that made gorgeous spirals and wasn't going to slice my fingers off). Since I loved my new spiralizer so much, I made zucchini noodles just about daily while my zucchini was in season!
What is a spiralizer?
A spiralizer is a kitchen gadget that can slice your zucchini into long strands, like noodles. You can use the spiralized zucchini raw or cooked in all kinds of recipes.
Because of the shape and often the texture, many people (like us) love to use the veggies in place of noodles when making meals and recipes from wheat flour. You can find these gadgets for as little as $10, but when I had the type of spiralizer pictured below, I never used it! It was clumsy, hard to clean, and difficult to hold.
The first zucchini spiralizer I owned. Very clunky and hard to use.
The second zucchini spiralizer I had for my recipes, was an OXO brand, that suctioned to the counter, and fed the veggies through with a crank on the side. It was so easy to use, that I literally used it every day. You connect the pieces, secure your zucchini to the spiralizer, and crank the wheel. The kids love to do this, and unlike the cheap one, I'm not worried about them slicing their fingers off. It's still very sharp, but this one allows you to keep your fingers out of the way. Plus, the OXO one came with three attachments. Two different sizes of zucchini spiralized noodles (spaghetti and fettuccine size) and then a slicer to make ribbons!
The one I own now and love looks like this one!
What foods can be spiralized?
Any vegetable that can hold it's shape when cut would be a good candidate for the spiralizer. Our favorite vegetable to spiralize is the zucchini. The most common veggies that make for a perfect little vegetable noodle are:
Carrots– These are difficult to feed through the spiralizer unless your carrots are quite large.
Sweet Potatoes We've made several recipes with sweet potatoes,and they hold up very well! (sweet potato sausage soup)
Beets We've only tried one thing with the Beets, FRIES! (curly fries)
and of course squash like zucchini.
Tips for perfect spiralized zucchini
The biggest mistake I made when I first started looking to zucchini noodles for dinner ideas, was boiling them like I would pasta! Zucchini has a lot of water already, and boiling them was unnecessary and made the noodles soggy. You only need a few minutes in a skillet or sautee pan to soften and cook the noodles, and then you can add whatever toppings is in your recipe. Of course, follow the recipes as written, but if one of the recipes you are trying includes boiling, you might want to try it my way first.
Spiralize zucchini into a bowl.
Separate out the amount to cook for that meal, and put the rest in an airtight container in the fridge. You can save extra zoodles for 3-5 days, and then you won't have to dig out the spiralizer again.
Salt the zucchini over a mesh strainer, to draw out the moisture.
Pat the zucchini dry with paper towels.
Lightly spray a skillet with non-stick spray or a small amount of butter.
Add the zucchini.
Saute for 3-5 minute, or until the zucchini softens and gets warm throughout.
The best spiralized recipes for zucchini
I tried the find the cheesiest, most kid friendly recipes for some healthy dinner ideas, and I was so excited by what I found! I can't wait to start cooking them all.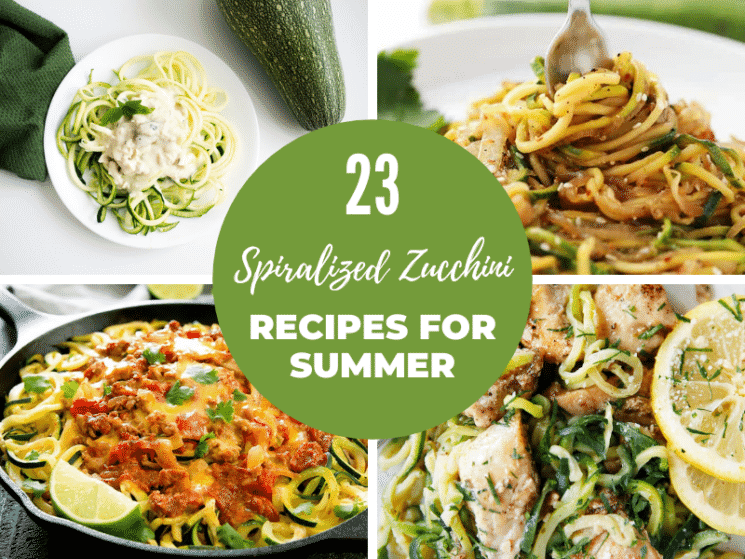 1) Zucchini ricotta meatballs 2) Mac and Cheese 3) Zucchini Fries 4) Zoodle pizza 5) Zucchini Taco Skillet 6) Zucchini noodle lasagna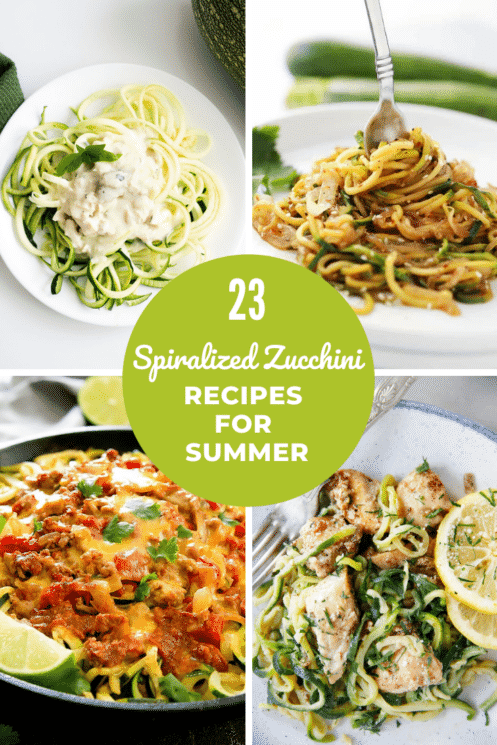 And that's my list!  I'd love to hear the kid-friendly ways you use the spiralizer in the comments below!  Save this list and use all summer!
While zucchini noodles are quick, I also have my list of 30 quick and easy, last minute dinner ideas! These ideas will last you all month long!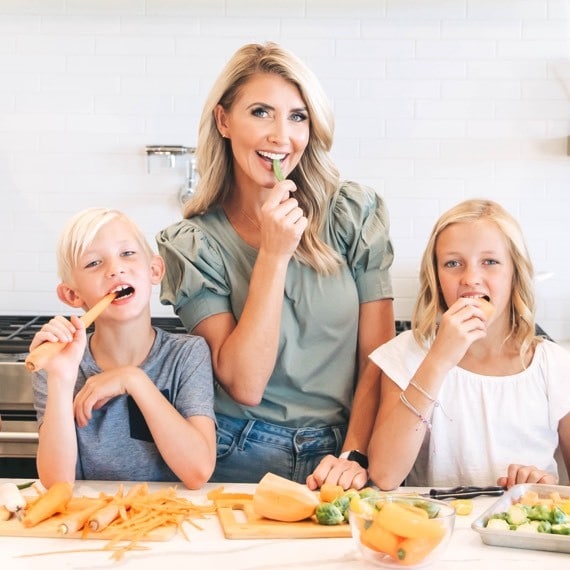 Natalie Monson
I'm a registered dietitian, mom of 4, avid lover of food and strong promoter of healthy habits. Here you will find lots of delicious recipes full of fruits and veggies, tips for getting your kids to eat better and become intuitive eaters and lots of resources for feeding your family.
Learn More about Natalie