Instant Pot Split Pea Soup
This incredibly easy and flavorful soup requires only 3 main ingredients and 10 minutes of prep time! Hearty Instant Pot Split Pea Soup is magically full of deep flavors and creamy textures. Top it with cubes of ham for a comforting and nourishing cool-weather meal.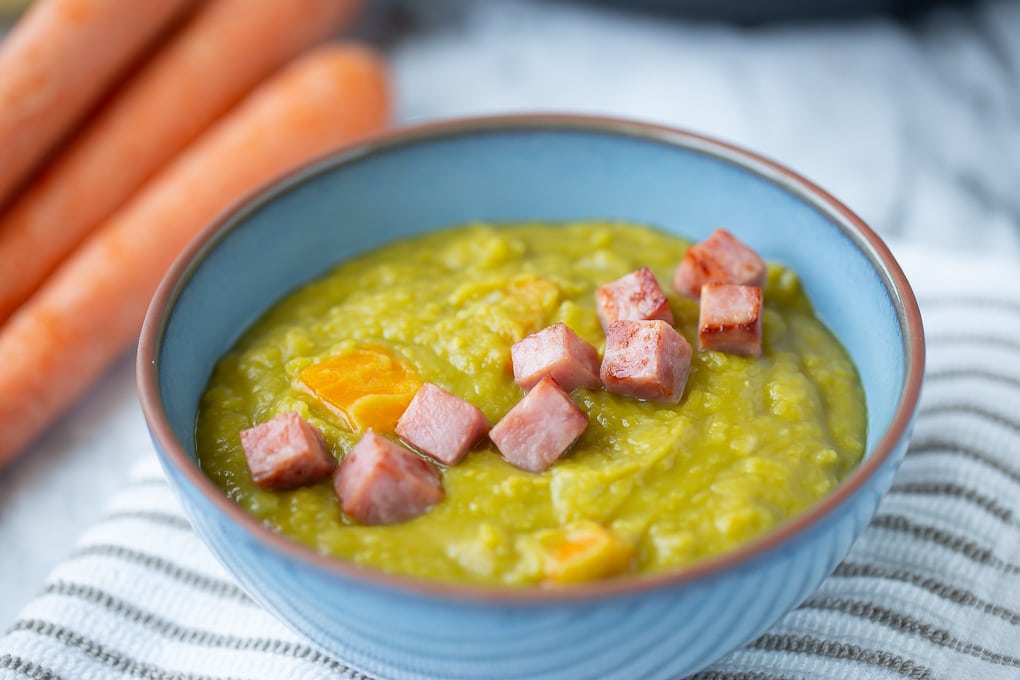 Three basic ingredients. Ten minutes of prep time. That's all you need to make Instant Pot Split Pea Soup!
Of all the tasty and nourishing soups in our wheelhouse, this one wins the title Speediest Soup of All Time. It's so amazingly quick and easy, you'll flip. And that's BEFORE you have a taste.
Because like any good split pea soup, ours is super nutritious, deeply flavorful, and overflowing with rustic charm.
Think your kids won't go for pea soup? Do take the plunge. Though every kid is different, our pickiest eater can put away two bowls of this soup. Keep scrolling for some ideas for silly names you can call this soup to entice your kids.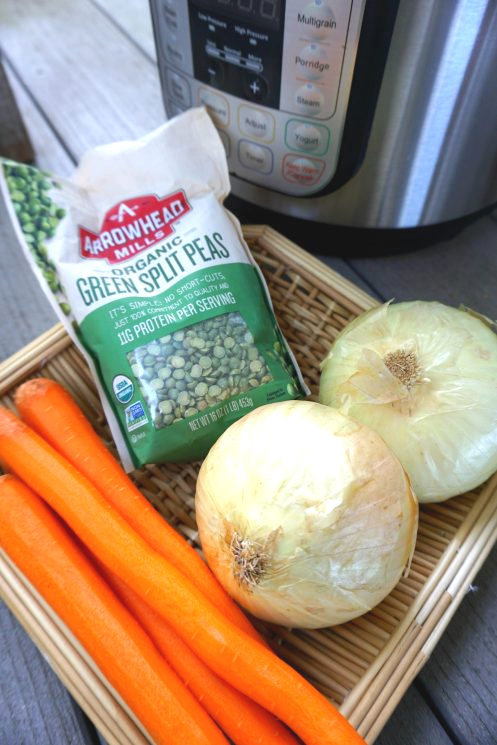 Do Dry Split Peas Need Soaking?
No. Split peas cook quickly and do not need to be soaked first. We do like to give them a rinse before cooking. You should also discard any discolored (dark brown) peas that you find.
How Many Cups of Split Peas are in a Pound?
This recipe calls for one pound of split peas, which is equal to two cups of dried peas. If you buy your peas in bulk, you can always count on this conversion. Remember: 1 pound = 2 cups of dry split peas.
How to Make Instant Pot Split Pea Soup
Making this soup is so easy, it almost feels like a magic trick. Here's how to do it: saute large-cut carrots and onions in the Instant Pot. Pour in dried split peas and water. Lock the lid and set the timer for 15 minutes. Done.
It's that easy! After the timer beeps on the Instant Pot, let it depressurize naturally for about 15 minutes. Then you can release any remaining pressure manually.
Add salt, pepper, and a squeeze of fresh lemon juice, stir it all up, and you're ready to serve. For an extra treat, top your bowl of soup with cubes of pan-fried ham steak.
Despite the ease of cooking, the flavor of this soup is anything but simple. It's earthy, deep, and delicious.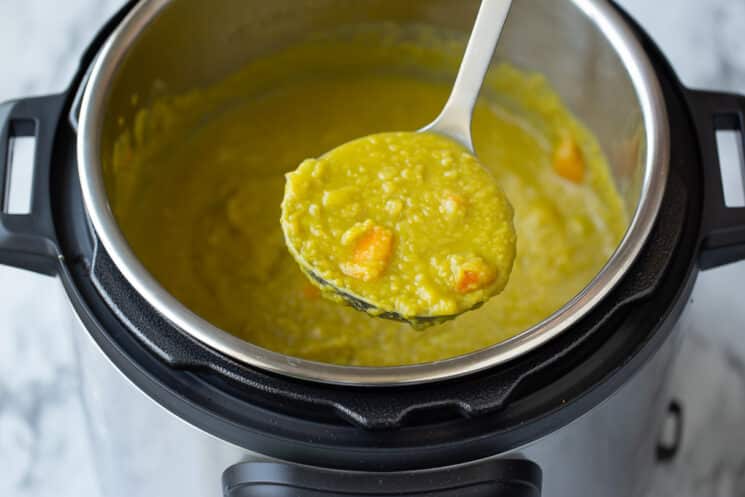 I think the secret ingredient is the two whole onions… It seems like a lot when you're cooking, but they completely fall apart in the pressure cooker, and just create a luscious sort of broth for the creamy peas. (Onion-wary kids won't detect them in the soup at all.)
Leftovers are excellent, and usually require a splash of extra liquid to account for natural thickening that happens overnight.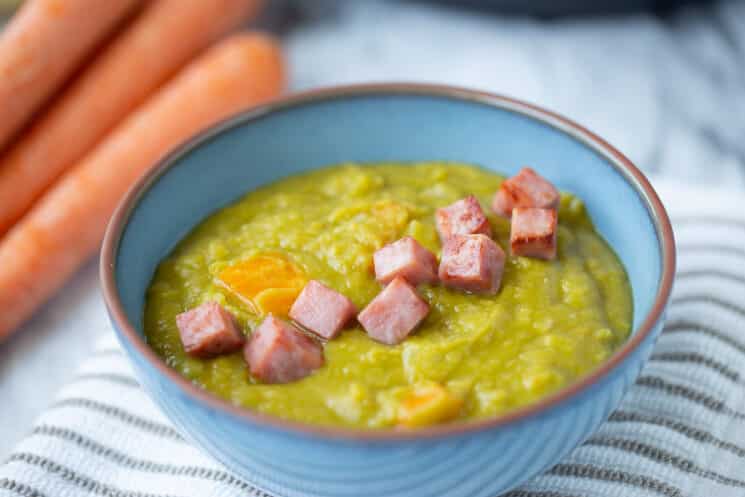 Split Pea Soup: Call it Something Fun
This soup is delicious and healthy and can be enjoyed by absolutely anyone. But utter the words "Split Pea Soup" to young kids and you might be met with a few wrinkled noses. That's not the soup's fault… it just means the name needs your creative touch.
Some of you might remember that we used fun names for our Sweet Spinach Muffins. You've shared so many of your own ideas with us on social media, too. We love them!
The same trick works with this soup. Call it "Witches Brew." Call it "Goblin Stew." Call it "Hulk Power Soup." Whatever you think will get your kids to giggle… and help them feel connected to the family meal.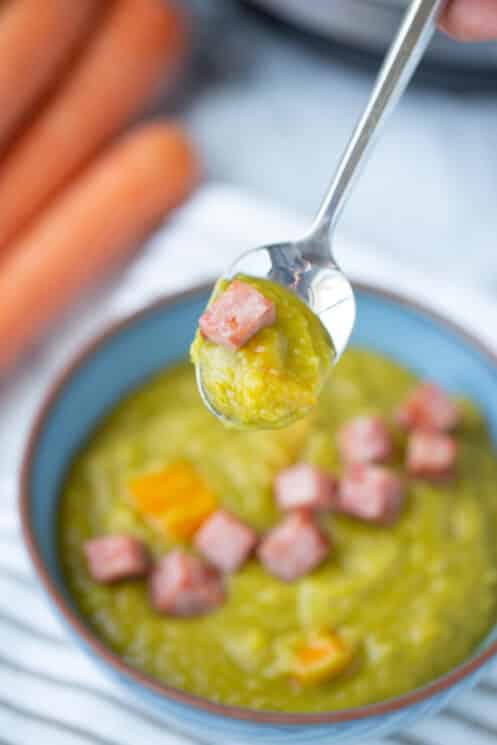 What to Serve with Spit Pea Soup
Rustic, earthy split pea soup pairs wonderfully with super-fresh raw fruits and veggie. A loaf of crusty whole grain bread is also marvelous for dipping.
And of course, cubes of pan-fried ham (or even cold ham in a pinch!) adds a meaty element that a lot of people savor in pea soup.
Here's a complete dinner menu idea to go with Instant Pot Split Pea Soup:
Split pea soup topped with ham cubes
Cheesy toast (put cheese-topped bread in your toaster oven or under the broiler.)
Green salad
Fresh cut fruits
We hope this soup is as popular at your table as it is at ours!
More Popular Instant Pot Recipes
All-in-One Instant Pot Chicken and Brown Rice
10-Minute Instant Pot Salmon (from Frozen!)
Instant Pot Mongolian Beef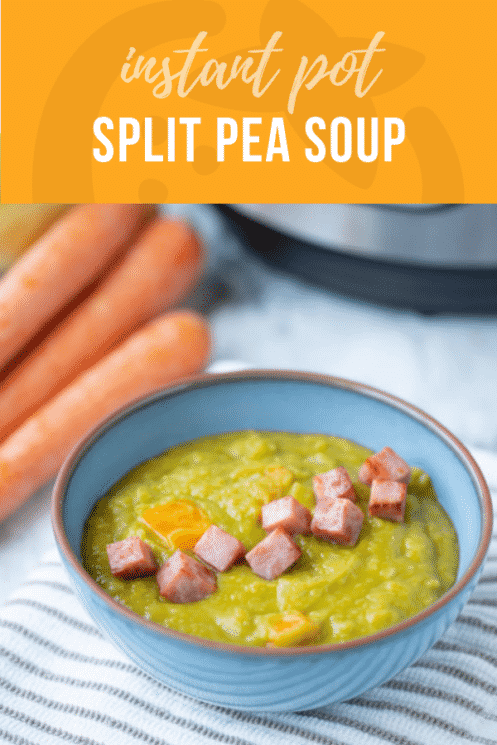 Instant Pot Split Pea Soup
Incredibly simple to make, this hearty Instant Pot Split Pea Soup is magically full of deep flavors and creamy textures.
Ingredients
Instructions
Chop the onions, and peel and roughly chop the carrots. (Don't chop the carrots finely…2-inch chunks are best.)

Add the olive oil to the bottom of the Instant Pot, then add the veggies, and push the "Saute" button.

Cook the veggies, stirring as needed, for about five minutes, until they begin to soften.

Rinse and drain the split peas, then add them to the Instant Pot along with 5 cups of water.

Lock the lid, cancel "Saute," and push the "Manual" button. Set the timer for 15 minutes under pressure.

When the timer beeps, let the pressure come down naturally for 10-15 minutes, then if you like you can release the rest of the pressure manually.

Open the pot carefully, and add the salt and lemon juice. Stir to combine, and serve stopped with optional cubes of ham.
www.superhealthykids.com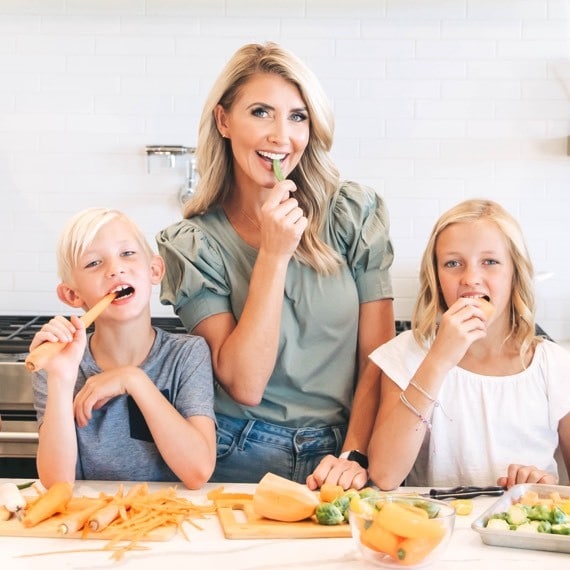 Natalie Monson
I'm a registered dietitian, mom of 4, avid lover of food and strong promoter of healthy habits. Here you will find lots of delicious recipes full of fruits and veggies, tips for getting your kids to eat better and become intuitive eaters and lots of resources for feeding your family.
Learn More about Natalie