10-Minute Instant Pot Salmon (From Frozen!)
The Instant Pot takes all the fuss out of frozen salmon for a healthy, super-quick family dinner.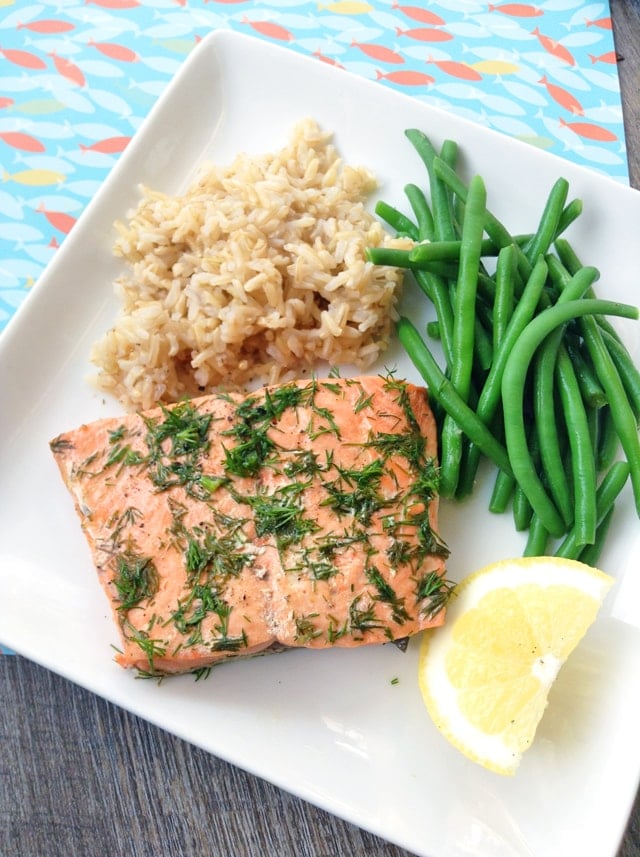 Getting into the habit of serving fish to my family once a week has been one of my new year's resolutions for, um, a few years now. So yes, it's taken me a little while to get to this point.
It's not that my family doesn't find fish tasty; miraculously, everyone seems to like it. For me, the devil is in the prep work. I usually buy fish frozen, so I don't have to rush to cook it right away. But that means, of course, that I have to defrost it before I cook it.
And call me crazy, but on a regular weeknight, I just don't love dealing with half-frozen pouches of raw fish floating in bowls of water on my kitchen table.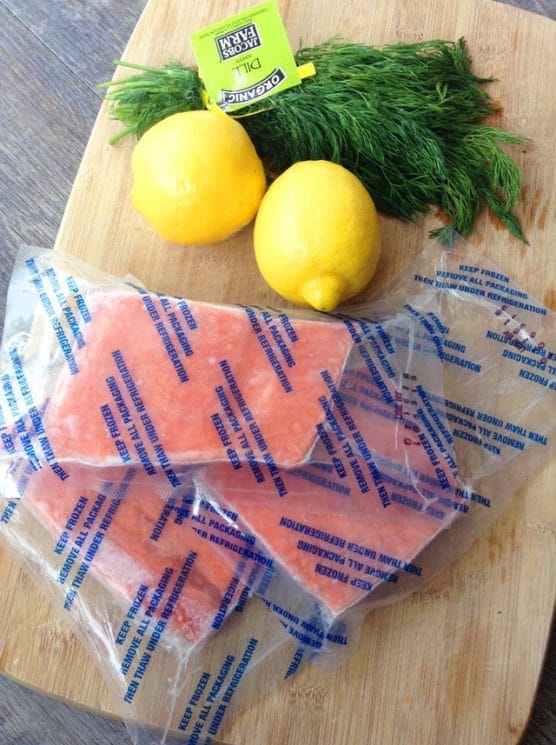 The first time I tried cooking salmon in my Instant Pot from frozen, I was way skeptical. I mean, I know the Instant Pot is amazing, and it can make quick work of all kinds of fabulous recipes. But putting completely iced-over blocks of fish into the cooker and pushing the button for five measly minutes had me imagining less-than edible results.
Lucky for me, I opened the pot to a happy surprise! The salmon turned out moist, flake-tender, and flavorful, cooked through and through and ready for a pat of butter, a fresh sprinkling of dill, and a squeeze of lemon.
Healthy, Fast Salmon Dinner
The whole process was so quick, in fact, that I got caught off-guard when the salmon was ready… I hadn't even cooked a veggie yet. (Quick-cooking frozen green beans save the day!)
The salmon was a big win at the dinner table; the kids gobbled it up. And since it was so ridiculously easy, for the first time in years I found myself inspired to have a fish-for-dinner night two weeks in a row. Yes!
Love getting those brain-healthy omega-3 fatty acids into my family…
Freezer to Table Salmon
Cooking frozen salmon this way couldn't be easier. I pour one cup of liquid (¾ cup water, ¼ cup lemon juice) into the bottom of the Instant Pot, then place the steamer insert above it. In go three frozen salmon fillets, topped with a handful of dill and a slice of lemon on top of each.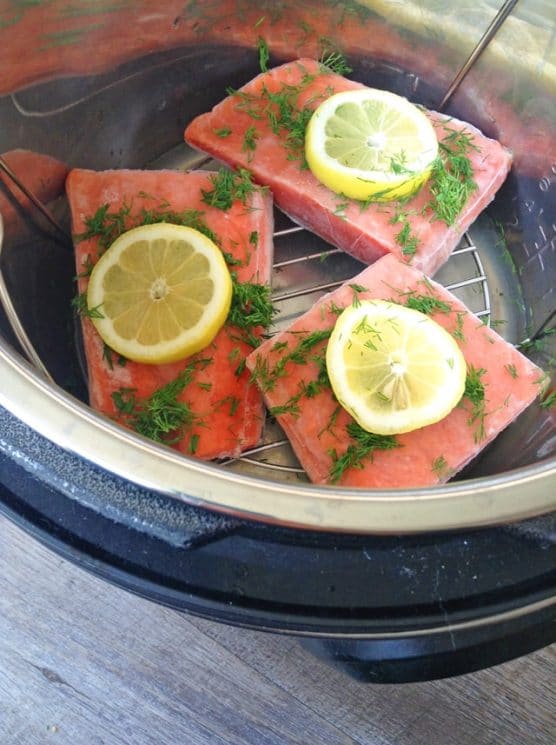 I lock the lid, hit the "Manual" button, and set it for five minutes. As soon as the timer beeps, I use the Quick Release method to let out the pressure. (Make sure you keep your hand out of the way of the steam… it comes out fast!) And that's it!
We like to add extra dill and lemon at the table, and serve the salmon alongside whole grain brown rice cooked in chicken broth for extra richness.
Enjoy!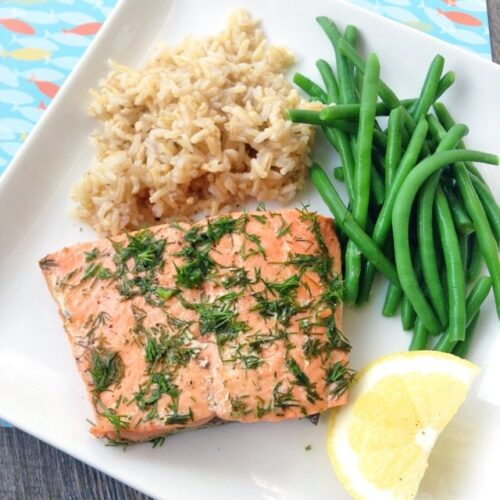 10-Minute Instant Pot Salmon (From Frozen!)
The Instant Pot takes all the fuss out of frozen salmon for a healthy, super-quick family dinner.
Print
Pin
Rate
Ingredients
3

medium

lemon

3/4

cup

water

4

fillet

salmon

1

bunch

dill weed, fresh

1

tablespoon

butter, unsalted

1/4

teaspoon

salt

1/4

teaspoon

black pepper, ground
Optional
1

cup

brown rice, raw

4

cup

green beans
Instructions
Place 1/4 cup fresh lemon juice, plus 3/4 cup water in the bottom of the Instant Pot. Add the metal steamer insert.

Place the (Sockeye) salmon fillets, frozen, on top of the steamer insert.

Sprinkle fresh dill on top of the salmon, then place one slice of fresh lemon on top of each one.

Lock the Instant Pot lid, then set the Manual timer for 5 minutes.

When the timer beeps, press "Cancel" and carefully flip the Quick Release valve to let the pressure out.

Serve immediately with butter, extra dill and lemon, and salt and pepper.