Sweet and Salty Butternut Squash Fries Recipe
Crisp and tender butternut squash fries are super healthy for kids and simple to make! Turn this fall favorite veggie into the ultimate baked fry (and don't forget the ketchup!)
Move over sweet potatoes, there's a new orange fry in town! Kids who flip for french fries will love these crispy and tender sticks hot from the oven with a ketchup dipper on the side.
These healthy baked fries are simply seasoned with a little garlic powder and sea salt, (the sweetness comes from the gorgeous fall squash itself,) and they're super-charged with nutrition your kids need.
Scroll to learn more, including our tip for cutting whole squash, which takes the fuss out of handling this sometimes-intimidating veggie.
Does Butternut Squash Taste Like Sweet Potato?
Are you new to squash fries? Then you might be wondering what exactly is going to come out of your oven.
Butternut squash does taste something like sweet potato. It has a sweet and earthy/floral flavor, and fairly high starch content, much like sweet potatoes and yams.
A good butternut squash is a bit less dense and more moist than a sweet potato. If sweet potato fries sometimes seem "heavy" to you, you might prefer squash fries.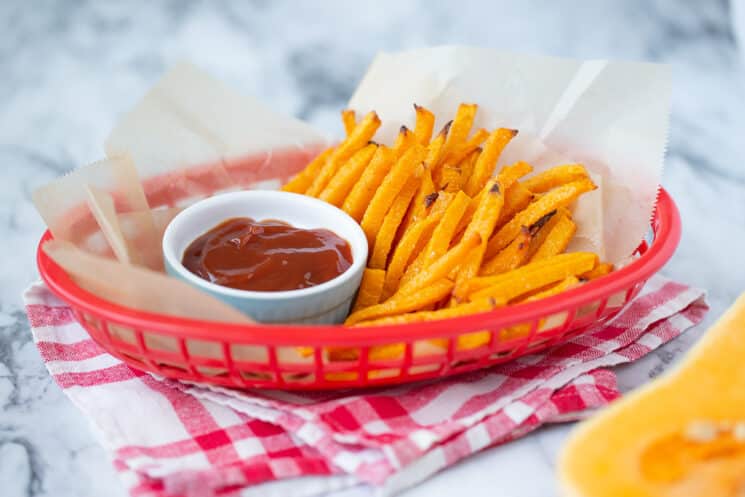 Why Your Kids Should Eat More Squash
For a lot of families, carrots are the go-to orange veggie for lunchboxes, salads, and sides. (This is great! Keep eating those carrots.) But there's also a wide world of orange veggies out there that are fantastically good for your kids.
Orange vegetables like butternut squash. are packed with special nutrients like Vitamin A, potassium, and flavenoids. (These are colorful chemical compounds in plants that carry special health benefits.)
Orange veggies also taste sweet and can be prepared in a lot of different ways. This makes them a great candidate for picky eaters who are still learning to branch out.
Choose squash to add more flavor variety and more of those unique nutrients to your kids' diet… especially during the months of August-November, when squashes are in peak season.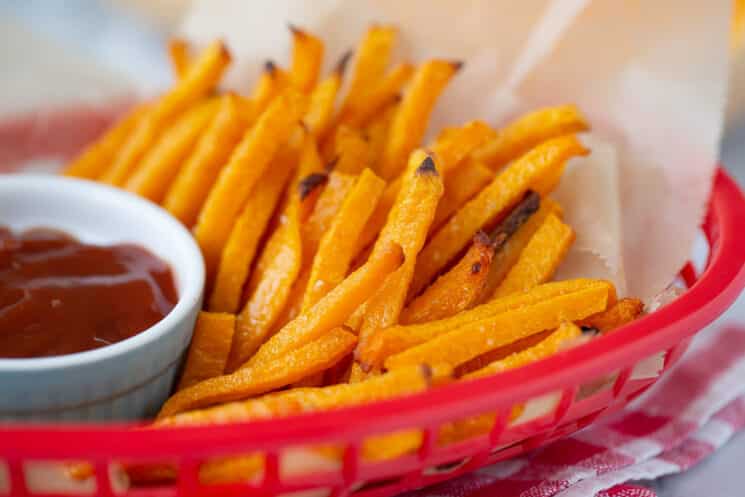 The Trick to Cutting Butternut Squash Easily
Butternut squash is HARD. If you've ever tried to tackle a whole raw squash with a big knife, you know what a pain it can be.
Here's how to make cutting one a breeze: par bake that bad boy. Just pop that whole squash in a 375 F oven for about thirty minutes, and it'll soften up just enough for you to slice it easily… and you'll keep all your fingers too!
This is a great trick you can use any time you need smaller-sized pieces of squash like cubes or fry shapes.
Once your squash is softened and cooled, peel it with a vegetable peeler. Then get a big, sharp knife and slice the squash longways. Scoop out the seeds to compost (or roast them like you would pumpkin seeds.)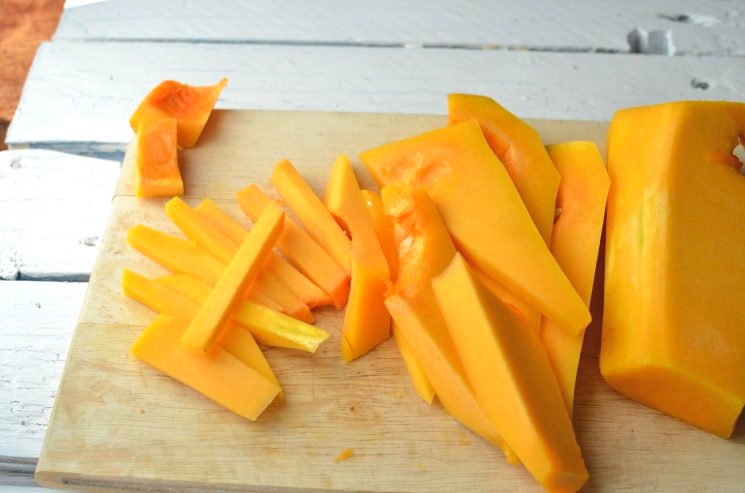 From here you can just slice into fry shapes. We like them fairly thin (keep in mind they'll shrink a little in the oven.) Thinner fries get nice and tender on the inside at the same time the outside gets golden and crisp.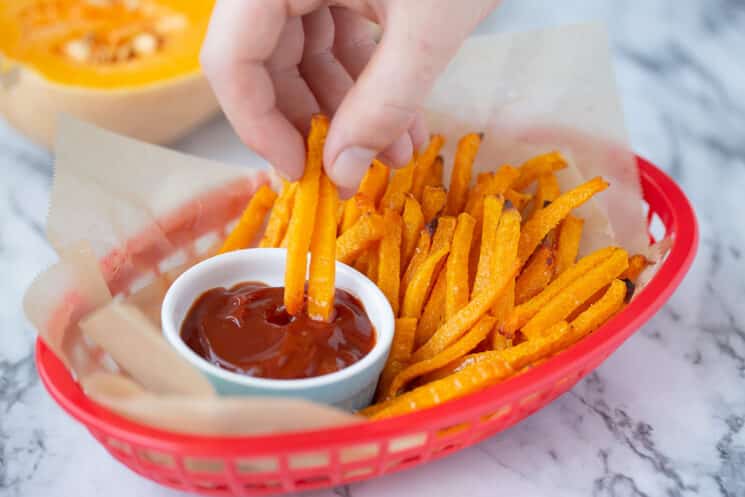 Serving Suggestions for Squash Fries
Whenever there's a french fry shape involved, you can't go wrong with ketchup. You can also dip these fries in a simple garlic mayo sauce, or any creamy salad dressing for a more savory (dare I saw more sophisticated?) dish.
The fries are somewhat delicate (like a thin potato fry) so you'll probably want to avoid a dipper that's too dense.
Finally, butternut squash fries make an awesomely kid-friendly side dish with dinner. Pair them with chicken or beef and eat them with a fork, like you'd eat a side of green beans.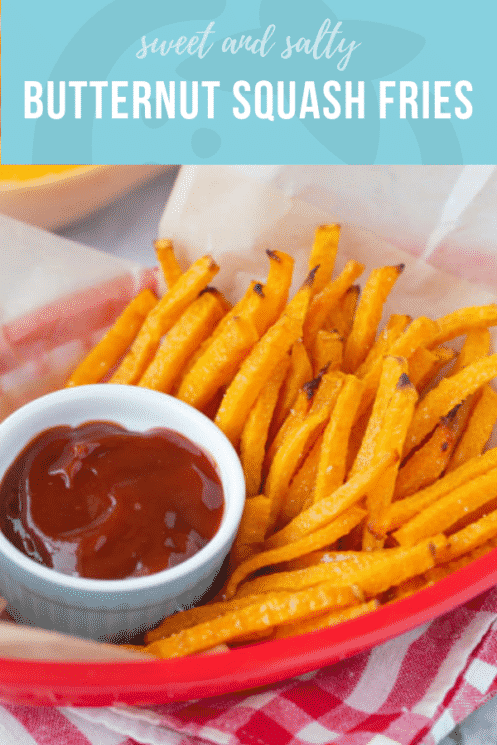 Butternut Squash French Fries
Instructions
First, place butternut squash in it's whole form in the oven at about 350 degrees for 30-45 minutes. This will just soften it up enough to cut it up, while not cooking it.

Once soft, cut in half. Scoop out the seeds, and cut away the skin.

Slice flesh into french fry size sticks.

Arrange in a single layer on a cookie sheet, and drizzle with olive oil. Sprinkle with salt, garlic salt and any other seasonings you choose.

Increase temperature to 425 and cook for about 25 minutes, or until the fries get browned, yet not burned. (time will vary depending on the size of your sticks)
Nutrition
Calories:
181
kcal
|
Carbohydrates:
39
g
|
Protein:
3
g
|
Fat:
4
g
|
Saturated Fat:
1
g
|
Sodium:
321
mg
|
Fiber:
7
g
|
Sugar:
8
g
www.superhealthykids.com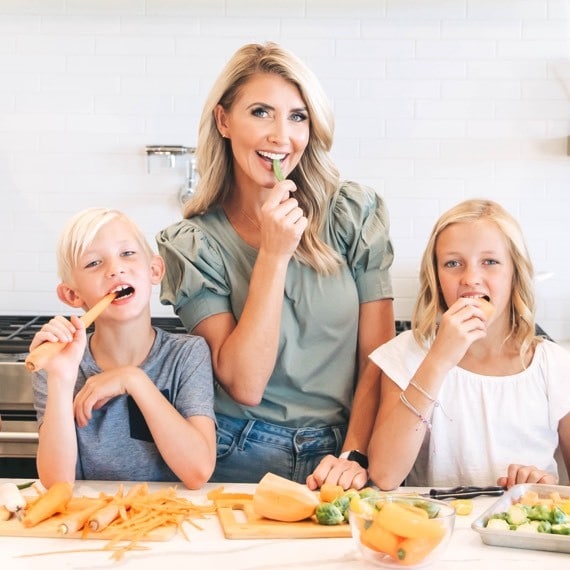 Natalie Monson
I'm a registered dietitian, mom of 4, avid lover of food and strong promoter of healthy habits. Here you will find lots of delicious recipes full of fruits and veggies, tips for getting your kids to eat better and become intuitive eaters and lots of resources for feeding your family.
Learn More about Natalie