All-in-one Instant Pot Chicken and Brown Rice
If you're looking for a great first recipe for your new Instant Pot, this is the one. All-in-one instant pot chicken and brown rice is an easy, balanced one-pot meal for dinner ideas the whole family will love. We love how care-free cooking in the Instant Pot is!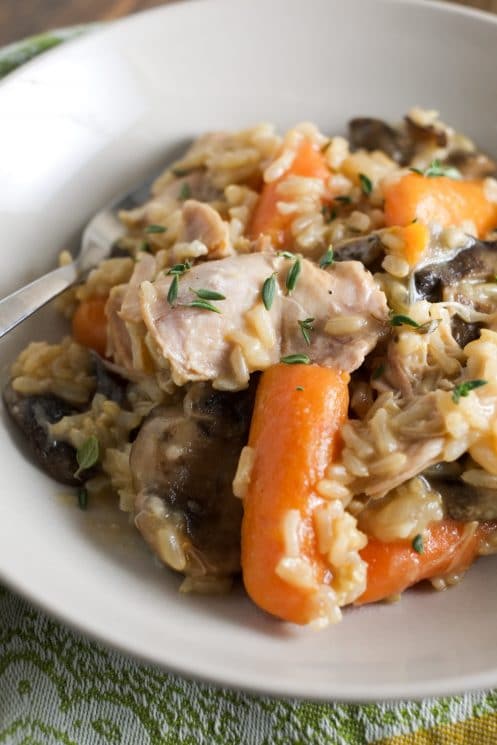 It's easier to carry out your healthy meal plans with an Instant Pot!  I have had my eye on an Instant Pot for a while now. They are kind of magical. You can use one appliance for pressure cooking, slow cooking, rice cooking, yogurt making, steaming, and a few other things I haven't even tried yet. Pressure cooking is my new favorite way to cook!
One thing I'm figuring out is that there is a learning curve for pressure cooking in the Instant Pot. Recipes will say a meal is "30 minutes" but neglect to mention the time it takes for the pot to build pressure or release pressure. So I am including all that for my fellow newbies.
Why we love the Instant Pot and this particular meal
I've spent hours pouring over Instant Pot recipes and my user manual. It's such a new set of techniques to master! But I love this recipe because it uses basic techniques that I've successfully replicated more than once!
We love how low-effort the Instant Pot makes this meal! Chop a couple things, saute the onions (in the pot!), then throw everything in and start it. It's easy like a crockpot, only you never have to stir it like some slow cooker recipes, and it's much faster! I the ease of slow cooker style cooking without the worry of leaving a pot on while you're out during the day.
This particular recipe is also great because it's one-pot. To me, that is a huge win! Since I am probably getting rid of my rice cooker to make room for this appliance, I want to be able to cook everything together when I can. You cook your veggies, brown rice, and chicken all at once!
Speaking of ingredients, we love this recipe because it uses such wholesome ingredients. With brown rice, veggies, and chicken you're getting in three food groups and filling up on fiber, protein, and vitamins.
Step by step Instant Pot chicken and brown rice
Begin by plugging in your Instant Pot and pushing the "Sauté" button. It will then say "30" (meaning it will turn off automatically after 30 minutes), then about 10 seconds later say "ON" which means that it's heating up. Leave it to heat up while you prep your veggies.
Now's your chance to dice your onion and mince your garlic. If you choose to use full carrots instead of baby carrots or have whole mushrooms, chop them now. Rinse and drain your rice.
You'll know the pot is ready to sauté when it says "HOT" and gives a little beep. Now splash in a tablespoon of oil and dump in your onion. Sauté about 3 minutes, then pus the "Keep Warm/Cancel" button to turn off the sauté feature.
Dump in your veggies, garlic, rice, and broth. Stir it up a bit. Now layer your chicken on top. I used chicken thighs because they're tender and provide more iron than white meat, but chicken breasts should work well too. If you do use chicken breasts, just cut them in half if they're really large so they cook more evenly.
UPDATE:
Salt and pepper the chicken, pour your homemade cream of chicken (or mushroom) soup. Here's the recipe I used and love. We definitely recommend homemade over store bought any day!
Pour on Worcestershire sauce and top with 8 to 10 sprigs of fresh thyme. If you don't have fresh thyme, I recommend mixing in about a tablespoon of dried thyme to the rice mixture in the previous step.
Now close and seal the Instant Pot lid and set the valve to closed. Push the "manual" button, then use the "pressure" button to toggle until the "high pressure" light goes on (located just under the display). Now adjust the time to 31 using the +/- buttons.
UPDATE:
Now you can walk away. But know that your pot will take longer than 31 minutes to cook your meal! Mine took between 15-20 minutes to build up pressure, and then it started counting down. So plan on a little under an hour for your meal to cook.
Once the timer goes off, you can either let your pot release pressure naturally or do it manually. Natural release means you don't do anything and wait to open it for about 15-20 minutes when the pressure has naturally decreased. Manual or quick pressure release is done by switching the vent on the top to open. BE CAREFUL when you do this that your hand is not in the way. The steam will be high powered and hot! It takes about 2 minutes with the quick release.
When your pot is open, remove the thyme stems and stir everything up. You may have what looks like excess liquid at the top, but it will mix in nicely. The mixing also helps to shred your chicken. It will be nice and tender, so stirring is all it takes to shred it! The ultimate all-in-one meal!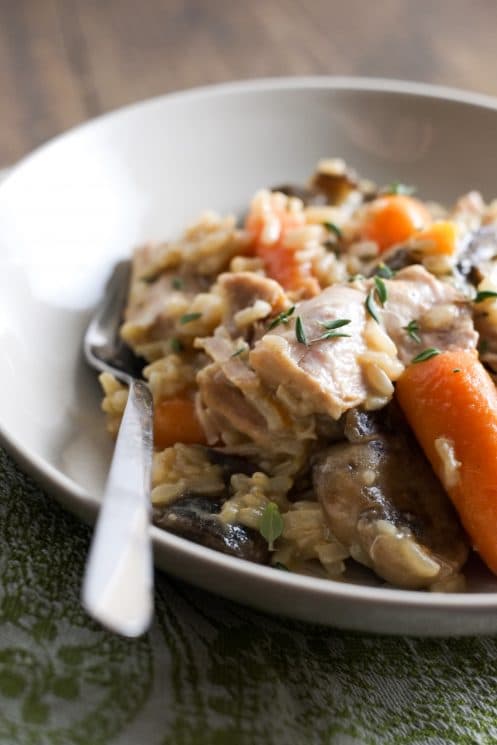 Let us know how you like using your Instant Pot to make Instant Pot chicken and brown rice. We think you're going to love it!
Love the Instant Pot More instant pot recipes:
Ingredients
1

medium

onion

3

clove

garlic

2

cup

carrots, baby

2

cup

mushrooms, brown, Italian, or Crimini

2

cup

brown rice, raw

1

tablespoon

olive oil

2 1/4

cup

chicken broth, low-sodium

2

pound

chicken thigh, boneless, skinless

1/8

teaspoon

salt

1/8

teaspoon

black pepper, ground

1

can (10.75 oz)

soup, cream of chicken, canned, condensed

2

tablespoon

Worcestershire sauce

1

tablespoon

thyme, fresh
Instructions
Push "saute" button on Instant Pot. While it heats, dice onion, mince garlic, and chop veggies. Rinse and drain rice.

When pot says "HOT," add oil to pot and saute onions for 3 minutes. Then press "cancel" to turn the saute setting off.

Mix veggies, garlic, rice, and broth into the pot. Place chicken on top, salt and pepper, then cover with cream of chicken soup (homemade is preferable) and Worchestershire sauce. Place 8-10 small sprigs of thyme on top. NOTE: chicken breasts also work well, just make sure to cut them in half so they're not too thick.

Seal the Instant Pot, close the vent, and press "manual." Use the "pressure" button to toggle to high pressure.  For brown rice: set the time for 25 minutes.  For white rice: set the timer for 20 minutes.  After 10 seconds the pot should register that it has begun the pressurizing process.

Once the pot is done cooking open the vent (keep your hand out of the path of the steam) to quick release the pressure.  This should take about 2 minutes.  Once pressure has released completely (the pin drops) the pot is safe to open.

Remove thyme sprigs (keeping leaves when possible). Stir pot to shred chicken and mix in any extra liquid. Serve warm.