How to Shop Safely to Protect Yourself from Germs
Reduce your risk at the grocery store! Shop safely by taking these steps to protect yourself (and your community) when you need to leave the house to shop for food during COVID-19.
Keep shopping smart! Also see 10 Fresh Produce Items with a Long Shelf Life.
As COVID-19 has spread across the United States, millions of people have been asked to stay home, leaving the house only for essential trips to the grocery store and pharmacy.
With those orders can come a real sense of anxiety about leaving the house at all! It's hard not to wonder if those trips to the store might expose us or our family members to the virus. The truth is, there IS risk in these trips.
But of course, food is essential. And you can take steps to minimize your risk while you get the food your family needs to ride out these days of quarantine. Here's what you can do, starting today:
Tips for Safer Shopping During COVID-19
Space out your shopping trips. Aim to shop once every two weeks to minimize your exposure to others.
Consider picking up items for elderly family members, friends, and neighbors, too. Call and ask if they need anything. You can leave groceries for others on their front steps.
If you have a face mask, wear it. You might feel a little strange wearing a mask in public. But the latest recommendations encourage mask-wearing in public places. They can offer some protection for you and others, too.
Shop at odd hours when the store is less likely to be crowded. Google often shows peak hours for businesses, so look up your local store.
Use disinfecting wipes to clean your shopping cart. Most stores provide near where the carts are stored.
Bring a comprehensive list so you can shop efficiently and limit time "wandering" in the aisles.
Keep your phone stowed while shopping. Avoid answering it, which involves bringing your phone up to your face.
Give space to shoppers and employees in the store. Aim for at least six feet of space. Most people are conscious and courteous about this being the new normal.
Use disposable bags. I know, I know. They're not good for the planet! But it's only temporary, and reusable bags can hold onto germs. (They put grocery baggers at risk, too.)
Keep a small bottle of hand sanitizer in your car. Use it when you get in the car after shopping.
Wash your hands as soon as you get home.
After you unload your groceries, throw away the grocery bags.
Wash your hands one more time. Because it can't hurt!
What NOT to Do
There IS such a thing as going overboard trying to completely eliminate your risk of exposure to the coronavirus. Some things you might think are helpful can actually cause harm in another way entirely! Avoid doing these things:
Don't use soap to wash fresh fruits and vegetables. Soap can penetrate the surface and remain in your produce after rinsing.
Don't leave perishable ingredients outside or in your garage.
Don't rely on gloves to protect you. Gloves can give a false sense of security. And they only work when they're removed and disposed of as soon as they get dirty. Hand-washing is still the best bet.
Don't spray chemical disinfectants on any food items with porous packaging.
Stay safe and stay healthy!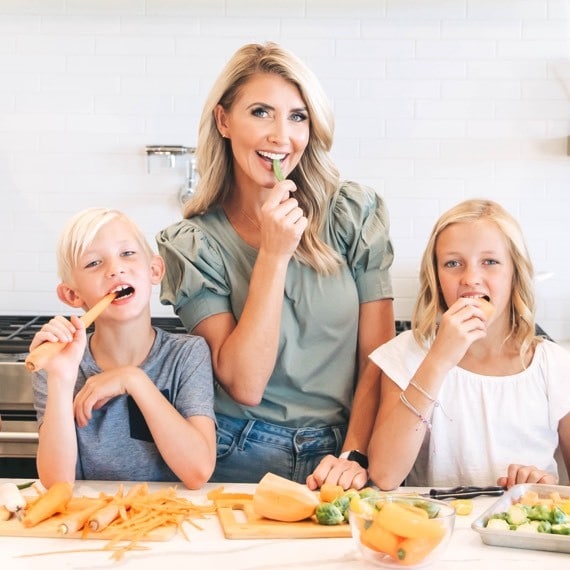 Natalie Monson
I'm a registered dietitian, mom of 4, avid lover of food and strong promoter of healthy habits. Here you will find lots of delicious recipes full of fruits and veggies, tips for getting your kids to eat better and become intuitive eaters and lots of resources for feeding your family.
Learn More about Natalie