How to Build Your Own Garden Boxes
Garden boxes have so many advantages over planting straight in the ground. We have a complete step-by-step guide for you to building your own including all materials needed!
Advantages of Garden Boxes
There aren't many things that I love more than gardening. When February comes I start getting all excited making big plans for my garden. I have planted a garden in the ground for years, but decided to make the switch. These are the advantages that swayed me over to the garden box world:
WAY less weeding. When we built ours, we put newspaper down on the bottom, and then put our soil blend on top. I have a few weeds pop up, but literally probably 1/8 of the weeds with gardening the traditional method.
Saves your back. We built ours pretty high, and there is a lot less bending involved. You can even sit on the edges and reach pretty much the entire bed.
Less messy. We built stone paths in between our boxes (which also cuts WAY down on weeds) and so when I walk out to my garden I never get muddy – even after heavy rain storms. This is a major plus when you have kids and they like to be out in the garden.
Better soil. The soil where is live is definitely not ideal, but the soil in my garden is now ideal because I brought it all in!
Better drainage. When it rains/snows, the moisture is able to drain down instead of puddle on the ground. I never have standing water in my boxes.
Aesthetically appealing. A typical garden is basically just an area of dirt with not much street appeal. But with raised beds, you can design them however you want and they can look really good!
Build Your Own Garden Box Guide
We put together a complete how-to guide for building your own garden boxes from buying the wood to filling them with soil.
Step 1: Draw Plans
The first step in building anything is to draw up thorough plans. For our garden space we drew up our plans in Excel, so we could easily take measurements and calculate the amount of materials we would need to purchase. Our garden plan calls for eight ten foot by six foot garden boxes, some of which have angles to accommodate a circular herb garden in the middle of our garden plot. Here's an example of our garden plan.
Step 2: Decide Which Type of Wood to Use
We decided to use two 2″ by 8″ redwood planks for each side of the garden box with a 2″ by 6″ plank on top of each side wall to make the boxes look better, and make also serve as a bench. The 2′" by 8″ planks are actually 1.5″ by about 7″ resulting in a height of the garden box of about 14″. This is just deep enough to provide plenty of space to fill with dirt, and is a good height to reduce the amount of bending over you have to do while gardening.
Most garden boxes are made out of redwood or cedar. We chose to make our boxes out of redwood, mostly because we could purchase thicker, more durable boards for less money. The 1.5″ thick redwood planks were almost the same price as the .75″ thick cedar planks, so hopefully this helps the boxes last much longer. Here are all of the boards purchased and ready to go.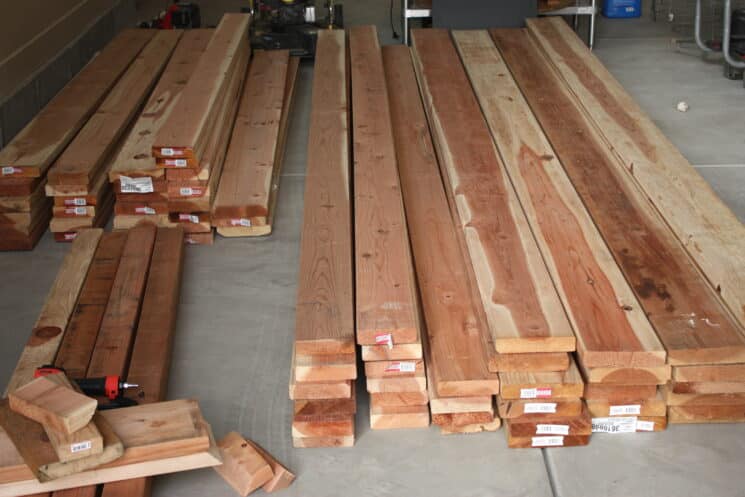 Step 3: Cut Your Boards
After you determine which type of wood you will use, then you will begin cutting the support boards. These boards will be used as the frame of the garden box. I cut each support board 18′" so it would be longer than the box is tall. This allows 4 or 5 inches of the board to extend below the garden box to help hold it in place, and to keep the box from bowing due to the weight of the dirt in it. I used a 4″ x 4″ post for each corner of the box, and a 2″ x 8″ board for extra support for each long (10 foot) side of the box.
Next I gathered the materials for the sidewalls of the box.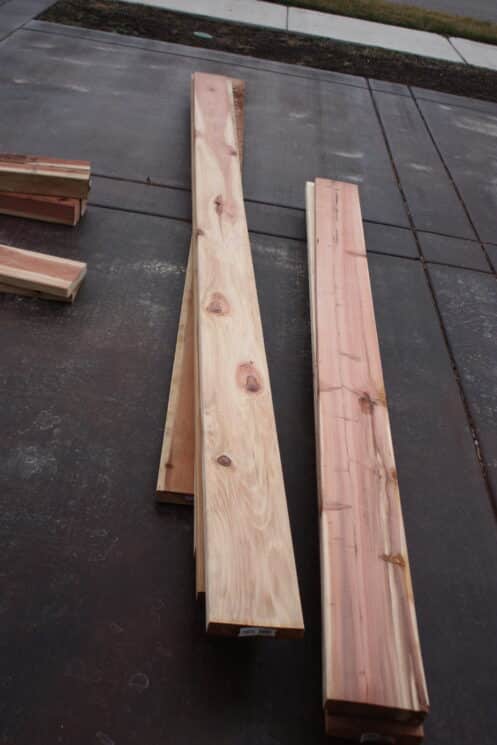 I cut four pieces of 2″ x 8″ redwood to 10 foot lengths, and four pieces of 2″ x 8″ redwood to 6 foot lengths.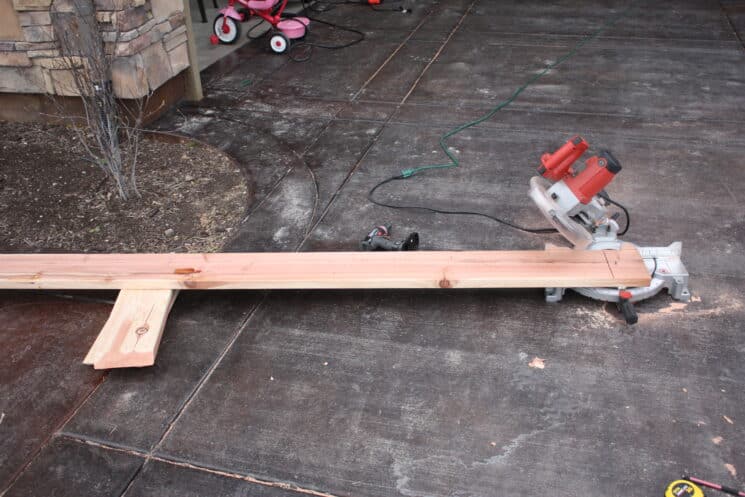 I cut all of the ends of the sidewalls at 45 degree angles using the miter saw so they would fit together nicely at the corners.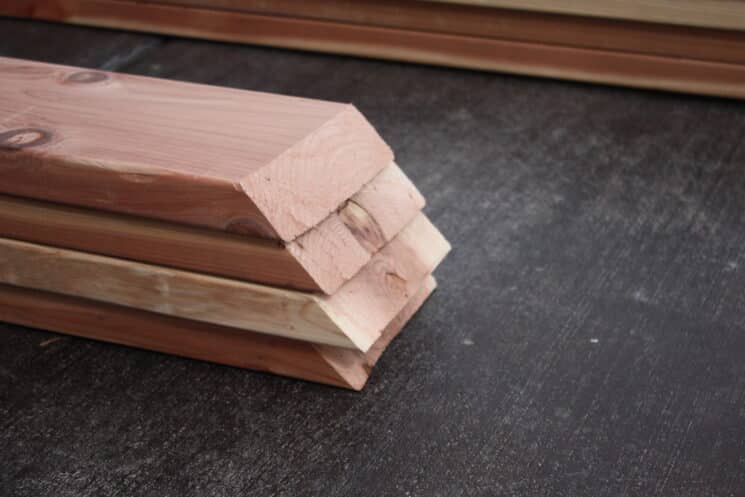 Step 4: Begin Assembling Your Boxes
I began assembly by standing up one of the corner posts and attaching one of the 6 foot lengths of redwood and one of the 10 foot lengths of redwood to the post with a brad nailer. The nailer was just used to hold the boards in place while I put the screws in. I attached each board to each post with two 2.5″ galvanized screws.
Next attach the second layer of boards using the same process described above.
View from inside the box. Notice that the box is being built upside down, so if your box is not a square or a rectangle (some of ours weren't) make sure you put the angles on the opposite side you want them on so when you flip it over they will be on the correct side.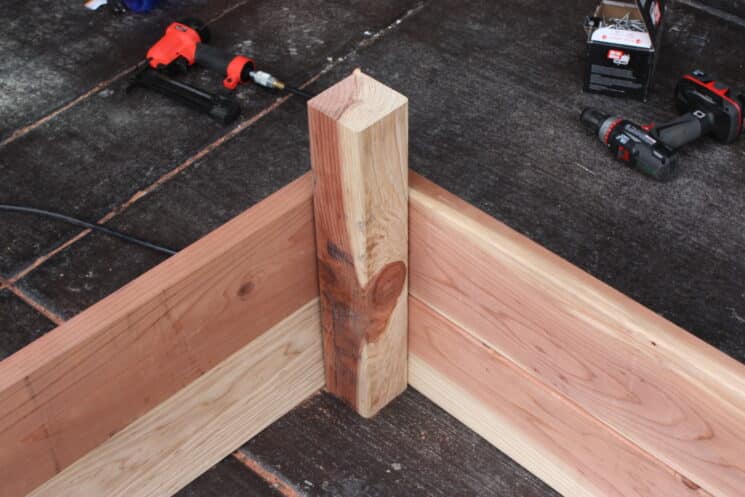 Continue the same process with the second, third, and fourth corner posts.
Last, I screwed in the side supports for the long side of the box.
Next flip the box over to put the top piece of trim on.
Step 5: Add Top Trim Piece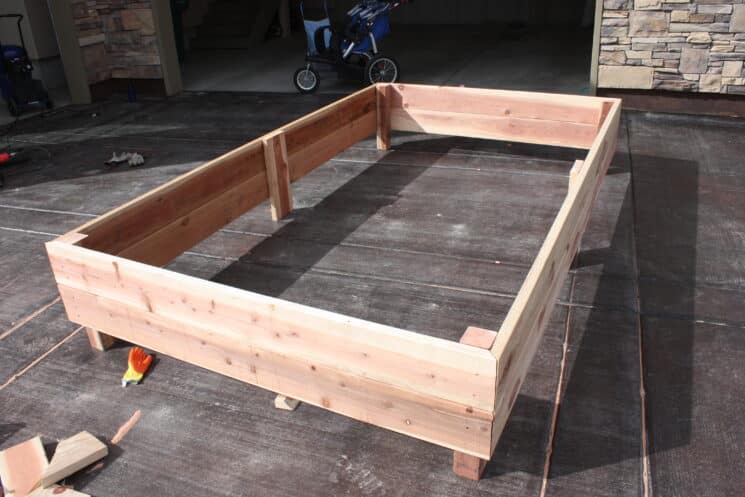 I wanted the trim to overhang the box by about 1.5″, so each piece of 2″ by 6″ trim board has to be cut 3″ longer than the side it's covering. So the trim for the 6 foot side is cut to a length of 6'3″, and the ten foot side is cut to a length of 10'3″. I cut each trim piece to a 45 degree angle using a miter saw.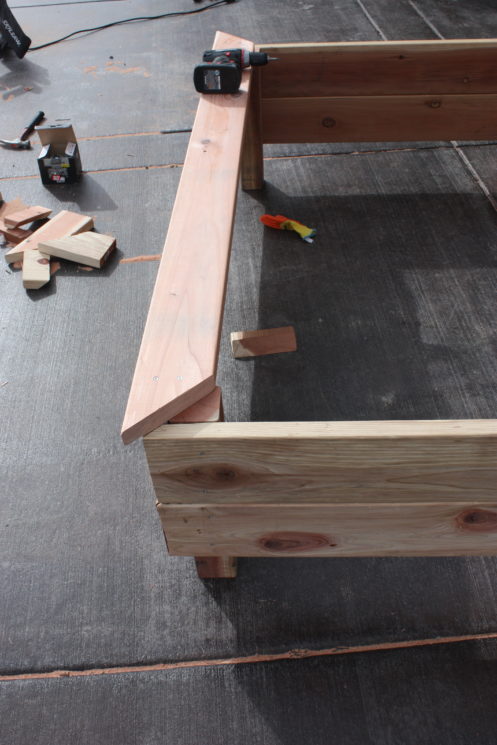 Next, using the same 2.5″ galvanized screws, attach the trim pieces to the box.
Repeat this process for each of the four trim pieces on top of the box. Each of these boxes took me about 2.5 hours to build counting the time I spent showing Amelia and Sophie what their jobs were….
Step 6: Place Boxes and Add Soil
Next we laid out the boxes in the garden. Then we dug holes underneath each of the support boards until they were leveled in the garden.
Once they were all leveled, we filled the boxes about 3/4 of the way full of soil. We brought in a special blend of soil.
1/3 screened top soil
1/3 mushroom compost
1/3 nutrimulch (basically turkey manure).
Most nurseries will carry these soil types.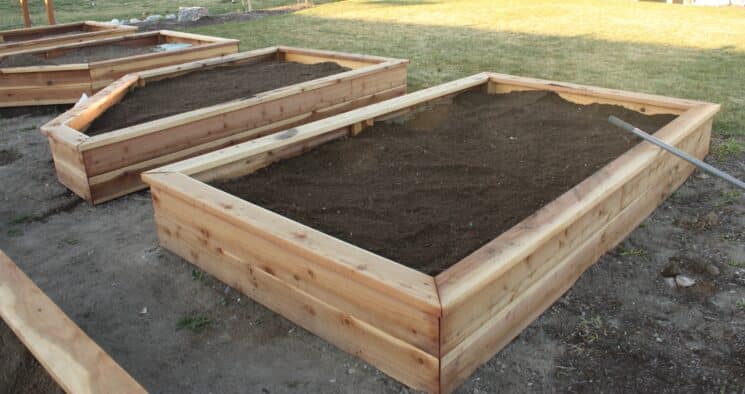 This is how the angled boxes turned out. These are a little more complicated to build than the rectangles, but not too bad once you get the hang of it.
Step 7: Plant Your Garden
Based on what you put in your plan, start planting in your new boxes! This is the fun part and definitely one that your kids will love helping with.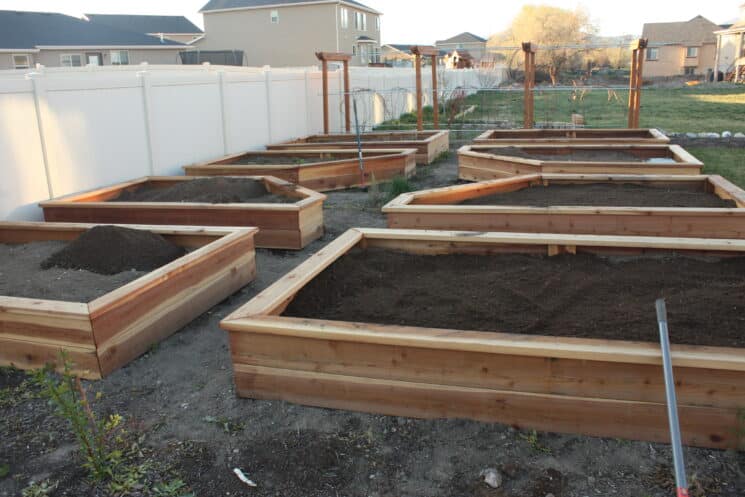 My girls loved helping plant even more than they liked 'helping' build the boxes. It was a big project, but so worth it! Eventually we will lay stone paths around the boxes and so we will have virtually no weed issues! The herb garden will be made out of stone as well and built up (next on the project list…..)
Happy Gardening!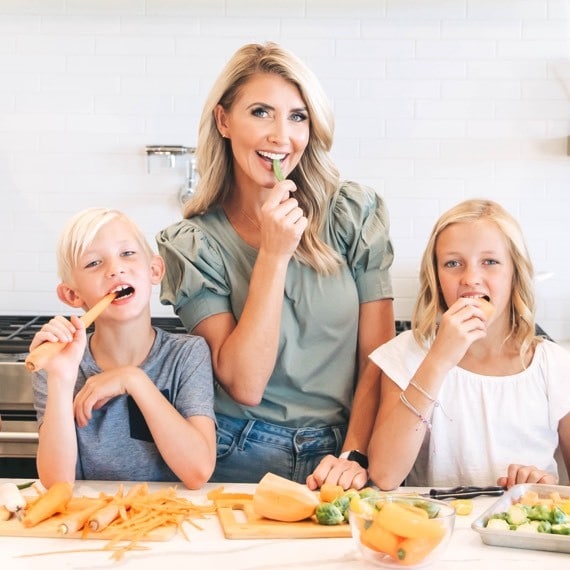 Natalie Monson
I'm a registered dietitian, mom of 4, avid lover of food and strong promoter of healthy habits. Here you will find lots of delicious recipes full of fruits and veggies, tips for getting your kids to eat better and become intuitive eaters and lots of resources for feeding your family.
Learn More about Natalie