How to Make Perfect Chia Pudding
Here's your insider's guide to making tasty, perfect chia pudding every time! Learn the basics and beyond so you and your kids can start enjoying this fiber-rich, omega-3-packed treat for breakfast, snack, or dessert.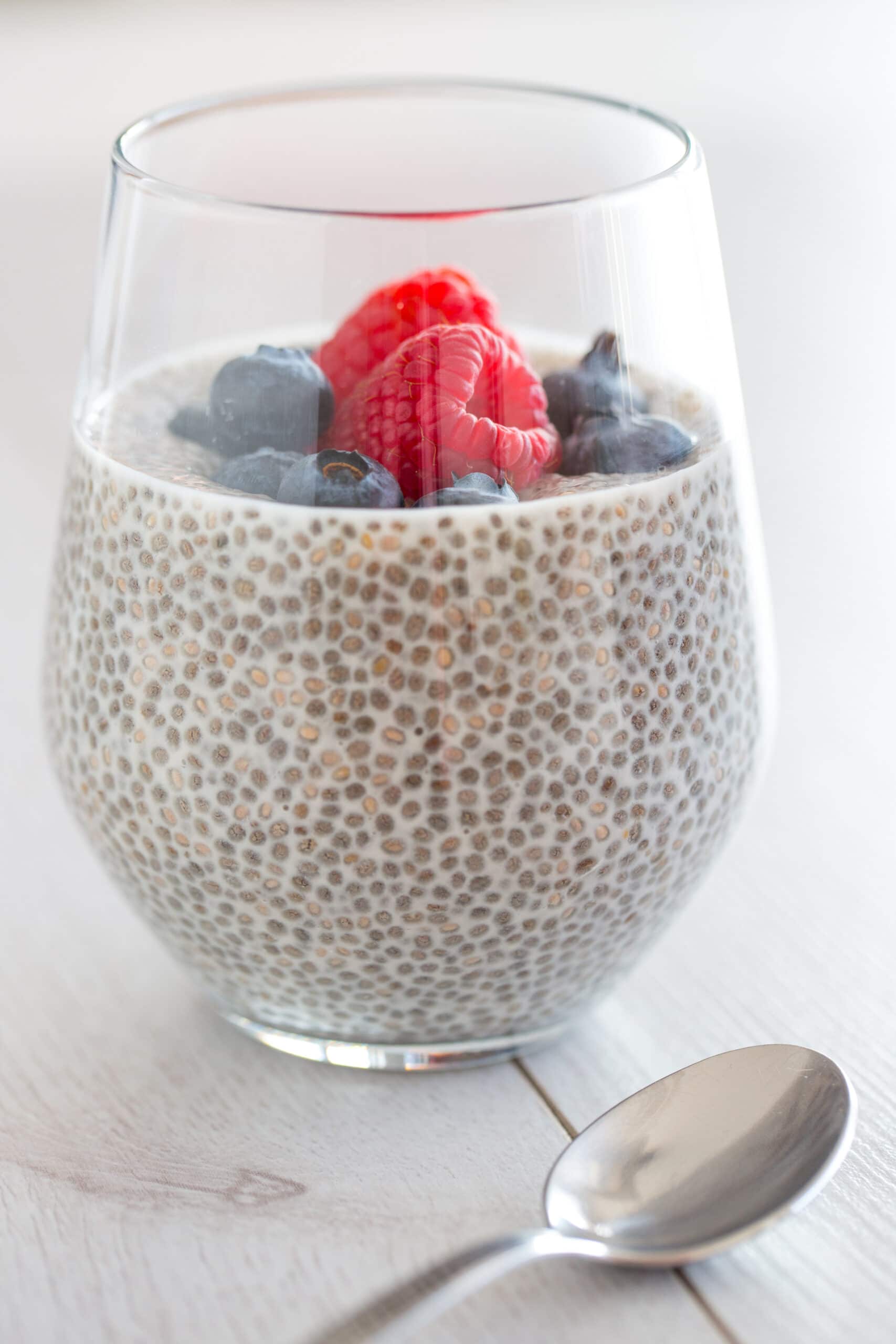 You've heard of chia pudding, and maybe tried it: that creamy/crunchy, sweet treat with the texture of tapioca and the health claims of a superfood.

Now you're ready to try your hand at chia pudding yourself. Great! If you've been psyching yourself up for something time-consuming or complicated, go ahead and free yourself from that mindset right now.
Because chia pudding is WAY easy to make, requiring no cooking and an uber-flexible recipe (that's really more of a ratio than a recipe. More on that later.)
Chia pudding also happens to be fun and tasty, with impressive health benefits thanks to the tiny but mighty chia seed, and other nutritious add-ins like berries and nuts.
So don't wait! Make a fresh bowl of chia pudding using the foolproof base recipe at the bottom of this post. Before we get to the recipe, here's how chia pudding lives up to the super healthy hype: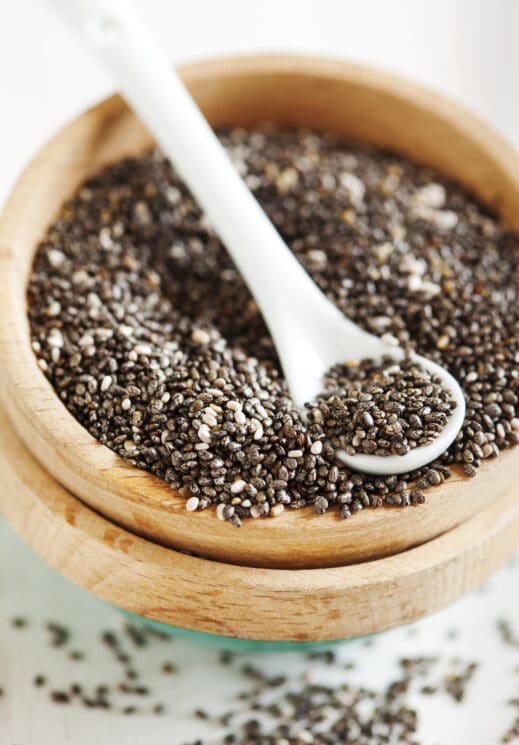 What Makes Chia Pudding Healthy?
Chia pudding contains a few important nutrients that are often lacking in kids' typical diets, so this sweet treat can help bring their nutrient intake into better balance.
One ounce of chia seeds (which is about two tablespoons of the dry seeds) provides 11 grams of fiber, which is around half the daily recommended amount for kids. Fiber helps regulate kids' digestion and keeps them feeling full between meals.
Here's a fun fact about the fiber in chia: that clear gel that forms around the seeds when they're soaked is actually the soluble fiber from the seed. Cool!
Because these mighty little seeds are so high in fiber, there is a possibility that eating a lot of them at once could speed up digestion TOO much, leading to loose stools and indigestion. As tasty as chia pudding is, we recommend eating it in moderate amounts, especially at first.
That one-ounce serving of chia seeds also provides 5 grams of omega-3 fatty acids, the same nutrient that gives fatty dishes like salmon and tuna their brain-boosting health benefits.
Depending on what kind of milk and add-ins you bring to the chia pudding party, your pudding might have a whole host of other health benefits from fruits, nuts, spices, and dairy. Switch it up as often as you like.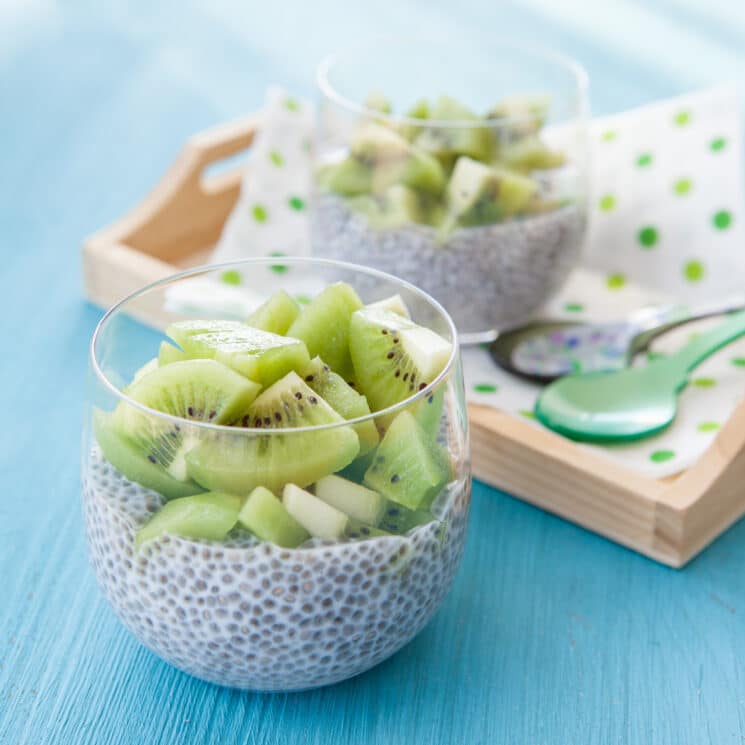 How to Make and Store Chia Pudding
No sweat, chia pudding's easy! Do it just once using the steps below, and you'll likely feel like a pro. Here are the basic steps for making chia pudding:
In a mixing bowl, stir together chia seeds, milk, and your sweetener. For every version of chia pudding you make, you'll want to remember this ratio:
¼ cup seeds to 1 cup milk.
Now, if you're making pudding for your whole family, you'll probably want to scale up those amounts. (For example, ½ cup of seeds to 2 cups of milk will make four servings of pudding.)
If you're making individual ramekins or jars of chia pudding, you might scale the numbers down to 2 tablespoons seeds + ½ cup milk per jar. Get the idea? As long as you stick to the basic ratio, your pudding will turn out.
The amount of sweetener you use is flexible to your tastes. But generally, about a teaspoon of sweetener per serving does the trick. We like maple syrup or honey.
Once you've mixed the three base ingredients together, you need to chill (and chill the pudding 😉 for at least a few hours. During this time, the seeds will plump up and the consistency will turn very pudding-like… magic!
Once your pudding is done setting, it will stay fresh in the fridge for about three days. We recommend waiting until you're just about to serve it before you sprinkle the add-ons (with a few exceptions that we'll mention later on.)
Next, let's talk milk options.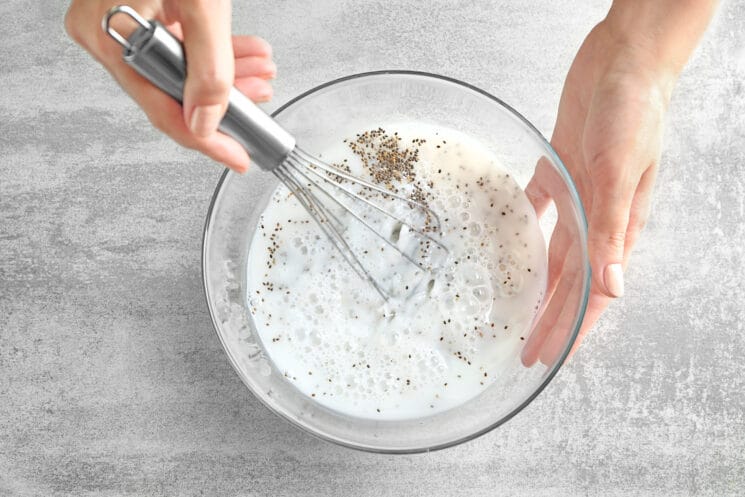 What Kind of Milk Can You Use in Chia Pudding?
One of the beauties of the "golden ratio" of seeds to milk (see above) is that it works well for any milk you like to use. Try your pudding with any of these:
Dairy milk (whole, 2%, or skim)
Almond milk
Soy milk
Cashew milk
Coconut milk (the kind in the carton, not the can)
Keep in mind that if you start with a sweetened milk (like vanilla soy milk) you may prefer to hold back on the added maple syrup.
Best Add-Ins, and When to Add Them

When it comes to chia pudding add-ins, here's our expert advice: you do you, boo. There are so many delicious, colorful, and health-promoting ingredients you can add to this treat, that our list could only ever be a partial one. Nonetheless, we've got TWO lists for you. The first are add-ins that you'll want to sprinkle on just before serving:
blueberries, raspberries, or strawberries
diced peaches
banana slices
grated apple
mango chunks
kiwi slices
coconut flakes
granola
nuts like pecans, pistachios, or sliced almonds
peanut butter or almond butter
raisins, dried cranberries, or date pieces
mini chocolate chips
Here's the second list of add-ins. Add these when you're whisking up the milk/seed/sweetener mixture, so the flavors will blend while the pudding sets:
cocoa powder
cinnamon
vanilla extract
old-fashioned oats (here's a delightful recipe that's like a hybrid of overnight oats and chia pudding)
chopped fresh mint leaves
What else would you like to add? The world is your pudding dish.
Winning Chia Recipes
With this basic recipe, some fruit, and a little bit of creative spirit, you have everything you need to create wonderful chia pudding. If you want to try a few specific flavor combinations, try one of our popular chia pudding recipes, here: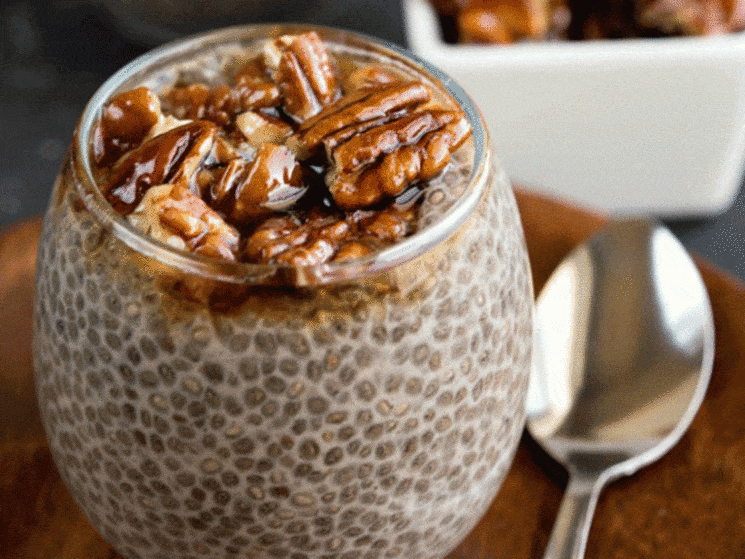 Simple Chia Pudding
Here's your insider's guide to making tasty, perfect chia pudding every time! Learn the basics and beyond so you and your kids can start enjoying this fiber-rich, omega-3-packed treat for breakfast, snack, or dessert.
Instructions
Stir together all three ingredients in a mixing bowl.


Chill for 3 hours or overnight. Add any fruits, nuts, or spices you like before serving.
To Make Four Single Serving Puddings
Into each of four small glass jars, add: two tablespoons of chia seeds, 1/2 cup of milk, and 1 teaspoon syrup.

Chill for 3 hours or overnight. Add any fruits, nuts, or spices you like before serving.
Nutrition
Calories:
208
kcal
|
Carbohydrates:
23
g
|
Protein:
7
g
|
Fat:
10
g
|
Sodium:
57
mg
|
Fiber:
8
g
|
Sugar:
13
g
www.superhealthykids.com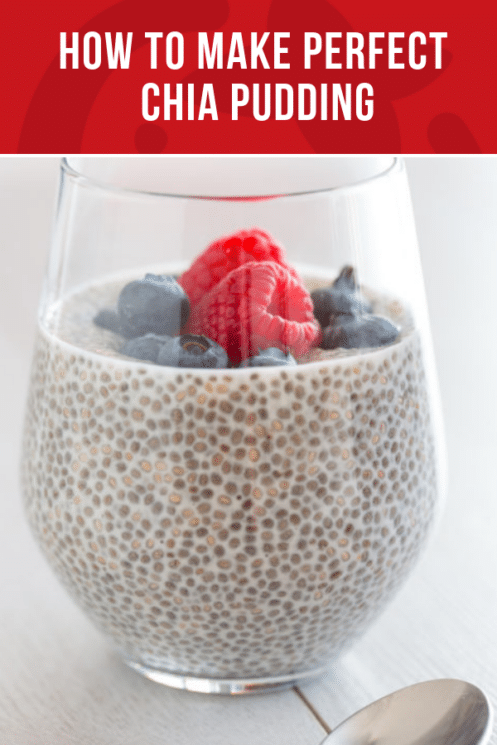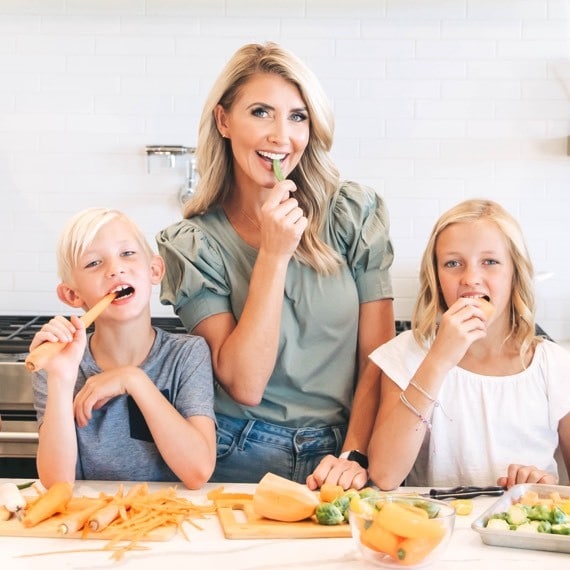 Natalie Monson
I'm a registered dietitian, mom of 4, avid lover of food and strong promoter of healthy habits. Here you will find lots of delicious recipes full of fruits and veggies, tips for getting your kids to eat better and become intuitive eaters and lots of resources for feeding your family.
Learn More about Natalie