Raspberry Peach Chia Bowls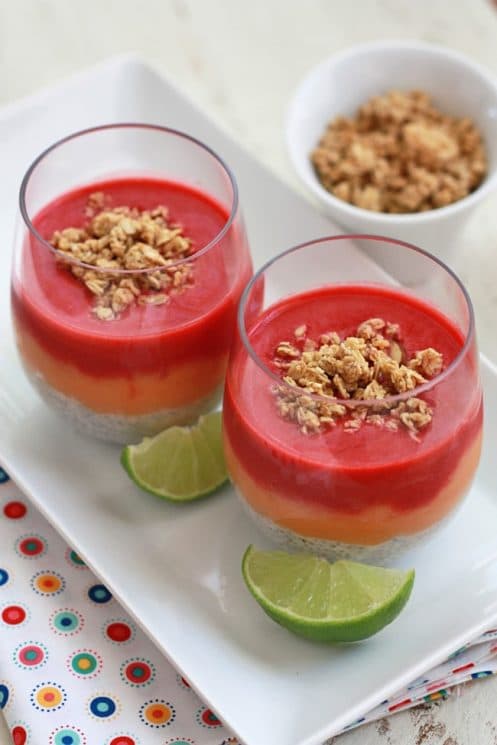 Healthy eating in the summer seems so easy because everything is in season! Plums and pluots, peaches and nectarines, melons, berries, sweet corn, tomatoes, and green beans… it's all so good! Building our meals and snacks around all the gorgeous produce easily serves the double purpose of creating delicious meals and reaping the nutritional benefits of seasonal fruits and veggies.
My little boy loves oatmeal, and while we can think of plenty of ways to change up a morning bowl of oats, we love trading in our trusty oatmeal for something a bit lighter and fresher every once in a while. These raspberry peach chia bowls are a wonderful example. The vibrant mix of purees is beautiful, and this make-ahead recipe makes an equally good breakfast, snack, or dessert. We love them!
The chia base is delicious on its own and serves as a great starting point for all sorts of variations:
Strawberry or mango puree
A mix of kiwi and blackberries
Toasted coconut and macadamia nuts
A bit of fresh jam.
Whatever sounds good!
It's a great way to expand your palate and change things up a bit. Chia seed puddings work best when you make them ahead because the chia seeds gel over time. After 20-30 minutes, the chia layer will have thickened into a more pudding-like texture. After 2-3 hours, it will be even better. I usually make these the night before I plan to eat them, then top them with something crunchy like nuts or granola right before serving. They're a great make-ahead breakfast!
A few notes on the recipe:
We prefer a blend of coconut and almond milk. The coconut milk lends a wonderful richness and healthy fats. The almond milk tames the coconut flavor a bit and helps thin things out just a touch. If you don't tolerate coconut or nuts well, you can substitute another kind of milk (dairy or nondairy) in its place with no trouble.
For clearly defined layers (like the ones pictured), you'll want to spoon the smoothie layers into the cups.
I don't bother rinsing out the blender between the the peach layer and the raspberry layer. Fewer dishes, and an undetectable impact on flavor. Win-win!
Fresh or frozen fruit will work for this recipe. I've found that the citrus in the purees keeps them looking vibrant, even after chilling in the refrigerator all night.
Ingredients
1 1/2

cup

coconut milk

1/2

cup

almond milk, unsweetened

1/2

cup

chia seeds

1

tablespoon

maple syrup, pure

1/4

teaspoon

vanilla extract
Layer
2

cup slices

peach

1/4

cup

orange juice
Layer
2

cup

raspberries

1/2

fruit (2″ dia)

lime

3

tablespoon

water

1

teaspoon

honey
Instructions
In a large bowl, whisk together coconut milk, chia seeds, syrup, and vanilla. Continue whisking until mixture begins to thicken slightly. (It will continue to thicken as it sets and the chia seeds begin to gel.)

Pour into 4 glasses or small mason jars and refrigerate while you make the other layers.

Puree peaches and juice in a blender or food processor until completely smooth. Pour or spoon over chia layer.

Puree raspberries, lime juice, and sweetener (if needed) until completely smooth.

Taste and adjust sweetness as desired.

For best texture, strain the seeds out of the mixture by pressing it through a sieve with a spatula. Discard seeds.

Pour or spoon over peach layer.

Refrigerate at least 20-30 minutes before serving for best results, as chia layer will continue to thicken.

If desired, top with something crunchy, like nuts or granola, before serving.
Emily lives, loves, and cooks over at One Lovely Life, where she shares healthy recipe ideas, book recommendations, and activity suggestions for families.