How to Cook Alternative Grains in Your Rice Cooker
Lately we have been on a brown rice kick! It got me thinking – I wonder what other grains I can cook up in my rice cooker? I love using my rice cooker because you just put everything in, push on and your done! You don't have to check it, or use different bowls, pots, or pans. It is just so easy!
Cooking Quinoa in a Rice Cooker:
1. Using a fine mesh sieve
rinse 1 cup of quinoa in cold water (unless it states on the box that you don't need to rinse).
2. Pour rinsed quinoa
into your rice cooker.
3. Add 2 cups water. (You may need to add 1/4 – 1/2 cup more water if you live at a higher altitude, or depending on the type of quinoa you use – just play around with it until you get nice fluffy quinoa)
4. Turn on your rice cooker
.
That is it! It will only take about 15 minutes!
Cooking Oats in a Rice Cooker:
1 part steel cut or old-fashioned oats 3 parts water
1) Pour oats and water in your rice cooker.
2) Don't fill it more than half-way because oats tend to bubble up more than other grains and you don't want an oat volcano!
3) Turn on your rice cooker.
Oats will be done in about 20-25 minutes.
Cooking Buckwheat in a Rice Cooker:
1 part buckwheat
2 parts water
1) Place the buckwheat and water n your rice cooker.
2) Turn on your rice cooker.
3) Let the buckwheat sit and steam for about 15 minutes after the cycle ends.
Cooking Wheat Berries in a Rice Cooker:
1 cup soft white wheat berries 2 cups water
1) Soak the wheat berries for 1 hour in water.
2) Drain the water and then pour wheat berries and 2 cups water in your rice cooker.
3 Turn it on.
This will take about 30-35 minutes.
These grains are all great to have for breakfast!! You can even make them the night before with dinner and then have the leftovers for breakfast.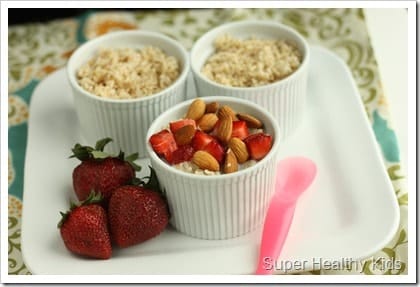 Our favorite toppings for our breakfast bar are:
Almonds
Diced Apples
Dried Mango
Raisins
Chopped Strawberries
Greek Yogurt
Honey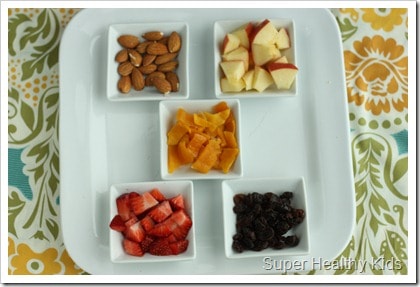 This would even be good for dessert……..yum. Add a dash of cinnamon and nutmeg. What toppings do you like for your grains?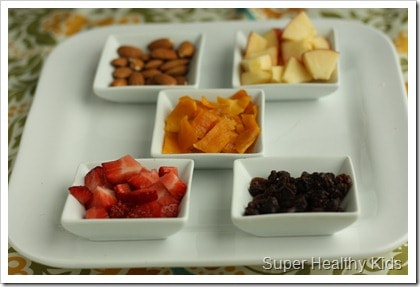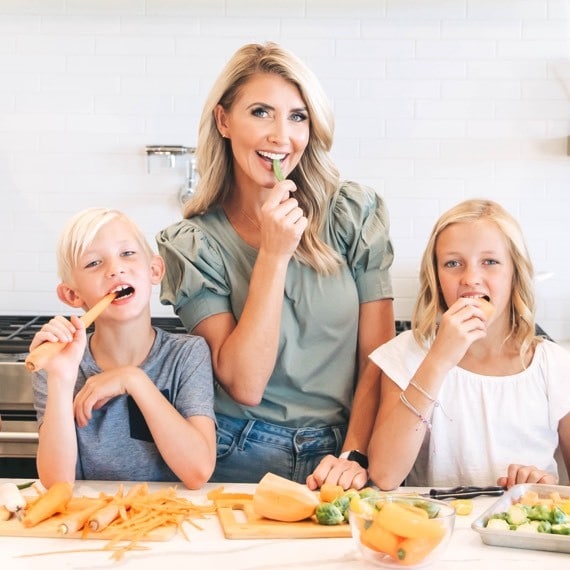 Natalie Monson
I'm a registered dietitian, mom of 4, avid lover of food and strong promoter of healthy habits. Here you will find lots of delicious recipes full of fruits and veggies, tips for getting your kids to eat better and become intuitive eaters and lots of resources for feeding your family.
Learn More about Natalie