Flying with Kids: 20 Best Plane Snacks and Tips for Happy Travel
You're about to be confined to an airplane seat with your small children, and you're hoping for cheerful moods and good behavior all around. Can the right snacks help? YES. A little bit of planning can go a long way in making your airplane experience soar.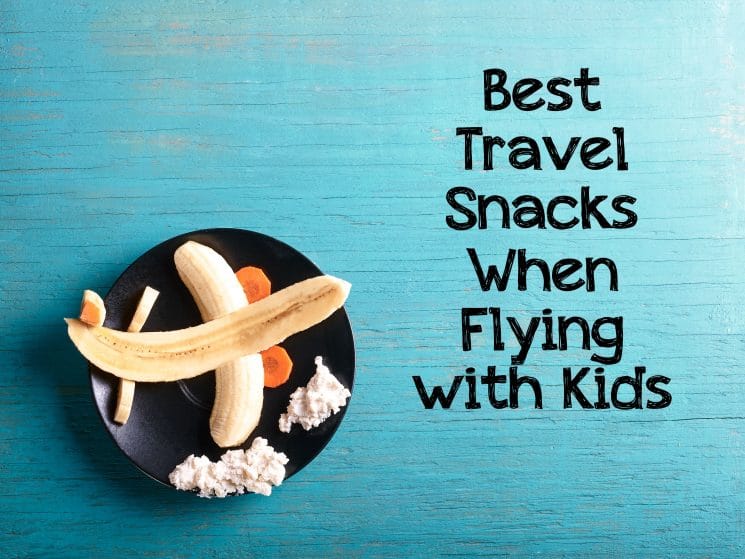 When you travel by plane, everybody wants your kids to be content during air time: you, your kids, and maybe especially, the person sitting right next to your kids. (Hah!)
While plane travel always comes with uncertainty, you can fly in the pilot's seat when it comes to the snacks you bring along. And if you choose well (and remember to pack your kids' headphones!) you just might earn yourself a peaceful, tantrum-free flight.
Check out our list of healthy snack ideas that you can pack and serve mid-flight. Then keep scrolling for some snack-packing tips, and a run-down of those sometimes-pesky TSA food rules.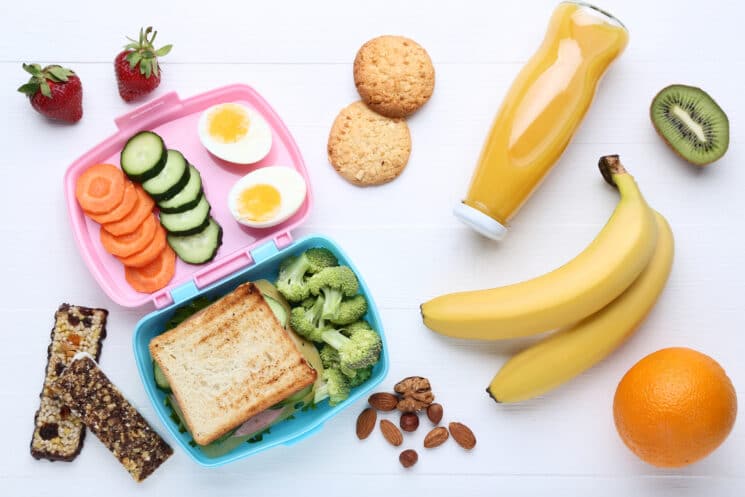 20 Healthy Snacks to Bring on an Airplane
Homemade muffins. Is there anything muffins can't do? Muffins are easy to eat on the go, low-mess, energy-dense, and you can pack them full of fruits and veggies. Be the envy of other passengers with Sweet Spinach Muffins, Power Packed Fruit and Veggie Muffins, or Chunky Monkey Muffins.
Homemade snack/granola bars. This is another kid-pleasing snack that you can pack full of healthy ingredients like whole grains, nuts, and seeds. Grab-and-Go Granola Bars or Blueberry Date Snack Cakes with Oats fit the bill.
Fruit pouches. Even though these are a liquid, fruit pouches are 100% allowed on planes. They fall under the "baby food" category, which you have the green light to bring.
Dried cereals or granola.
Lara bars
Dried fruit. A plane ride is a perfect time for those cute and classic raisin boxes.
Cheese sticks or other single serving cheeses, like Babybel and Laughing Cow
Nuts/seeds, or trail mix
Hard-boiled eggs. Peel them ahead of time so you don't have to deal with the shells.
Popcorn
Whole or cut fruit. Choose fruits that aren't super juicy to minimize mess. We like grapes, apples, and bananas.
Single serving containers of hummus or nut butter. Let kids dip their crackers, fruit or veggies, then toss it.
Whole grain crackers or pretzels
Raw veggies like baby carrots, sugar snap peas, and bell pepper strips.
Sandwiches or wraps
Seaweed snacks. More and more kids are coming to love these savory sheets made from nori seaweed.
Sugar Free Cookies sweetened with banana and raisins.
Beef jerky
Frozen yogurt tubes. You can even make your own with these cool Zipzicles pouches.
Baby food and finger foods. Puffs and other baby food products, like fruit and veggie pouches, can be a fun addition to your airplane snack stash.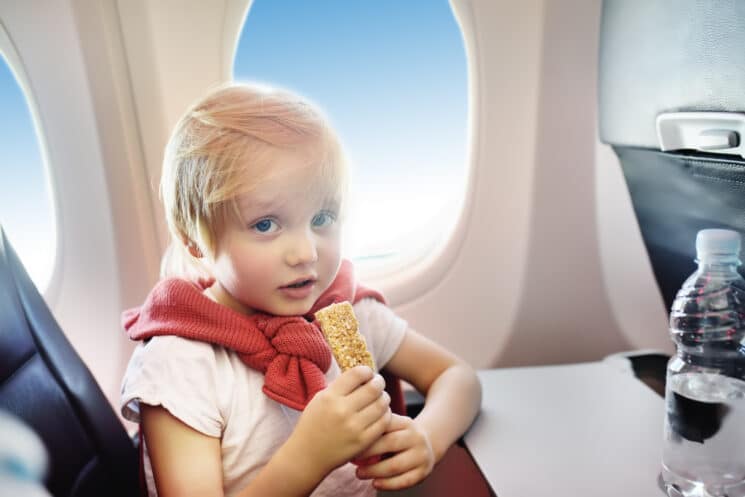 ---
---
Snack-Packing Tips for Successful Travel
Keep snacks in zippered plastic bags. As much as we love reusable packaging, dealing with reusables during travel is a huge pain. Pack snacks in individual portions that are easy to get and hand to kids one at a time. Then hand the empty baggies to the flight attendant when he comes down the aisle. Feel free to take yogurt tubes, fruit pouches and peanut butter packets less than 3.4 ounces through security.
Pack your kids' favorite cups. Flights don't commonly offer milk, so if you plan to serve some mid-flight, buy it after going through security, and add it to your child's thermos. We like to buy a water bottle or two for the same purpose.
Bring spoons, forks, straws, and napkins. Especially napkins.
Pack a small backpack for your kids with a few things they love. Include one or two books, some snacks, and a cup. Kids love this independence; even toddlers love to be in charge of their own "stuff." And you won't have to carry as much.
For breast-fed infants, nurse with confidence. A crowded plane probably isn't your favorite place to feed your baby, but your fellow passengers will appreciate a calm, happy baby who's allowed to nurse as he pleases. Nursing can also help relieve pressure buildup in baby's ears during takeoff and landing.
For bottle-fed infants, pre-measure formula or buy single-serving packets. Bring your own water to use. Make sure NOT to use water from the tap in the passenger bathroom for any any part of preparing or cleaning your baby's bottles.
TSA Rules about Packing Food
If you've flown in the last decade, you know The TSA enforces fairly strict rules about what you can bring on the plane and what you can't. Here are some of the specifics, in the words of the TSA, so you can know what to expect. (This info comes straight from the source at the TSA website.)
"Formula, breast milk and juice are allowed in reasonable quantities in carry-on bags. Remove these items from your carry-on bag to be screened separately from the rest of your belongings. You do not need to travel with your child to bring breast milk."

"Baby food is allowed in reasonable quantities in carry-on bags. Remove these items from your carry-on bag to be screened separately from the rest of your belongings. "
"Solid food items (not liquids or gels) can be transported in either your carry-on or checked bags. Liquid or gel food items larger than 3.4 oz are not allowed in carry-on bags and should be placed in your checked bags if possible."
"Ice packs, freezer packs, frozen gel packs and other accessories required to cool formula, breast milk and juice are allowed in carry-on. If these accessories are partially frozen or slushy, they are subject to the same screening as described above. You may also bring gel or liquid-filled teethers, canned, jarred and processed baby food in carry-on baggage. These items may be subject to additional screening."
"You may purchase beverages after the security checkpoint and take them on the plane, as they have been previously screened. Empty drink containers can also be taken through the checkpoint and fill them afterward."
Special Considerations Before Air Travel
If you or your child has specific needs or questions about what you can pack, just call your airline or the TSA. Ironing out the kinks before you get to the airport, rather than after, helps your travel day go as smoothly as possible. Bon Voyage!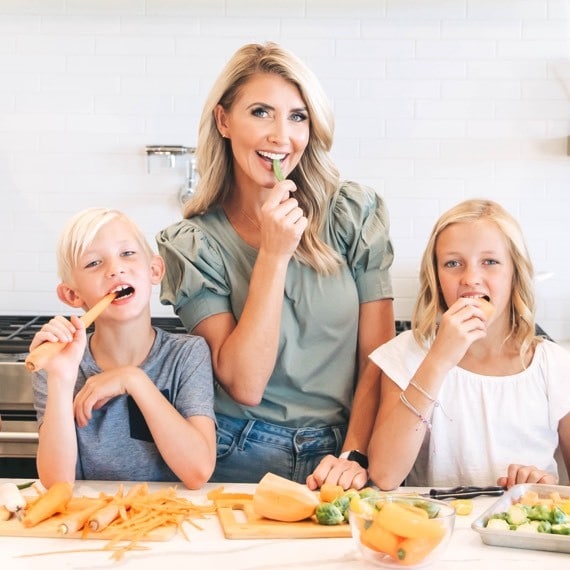 Natalie Monson
I'm a registered dietitian, mom of 4, avid lover of food and strong promoter of healthy habits. Here you will find lots of delicious recipes full of fruits and veggies, tips for getting your kids to eat better and become intuitive eaters and lots of resources for feeding your family.
Learn More about Natalie