I can't believe how busy we have been this summer. Which is why this tip is so important! When you have too much produce, freeze it!
My mom gave us a HUGE bowlful of cherries from her neighbors tree that they needed to pick right away. They were all ripe, and I knew we wouldn't eat them all before they went bad. Immediately, I kept a bowlful out for snacking, and the rest I washed and spread onto a cookie sheet for the freezer. I put the cookie sheet in the freezer for a few hours, and then bagged the cherries (pit and all) into freezer bags. Freezing on a cookie sheet first, prevents clumping that would occur if you threw all the cherries into a bag at once, and then froze.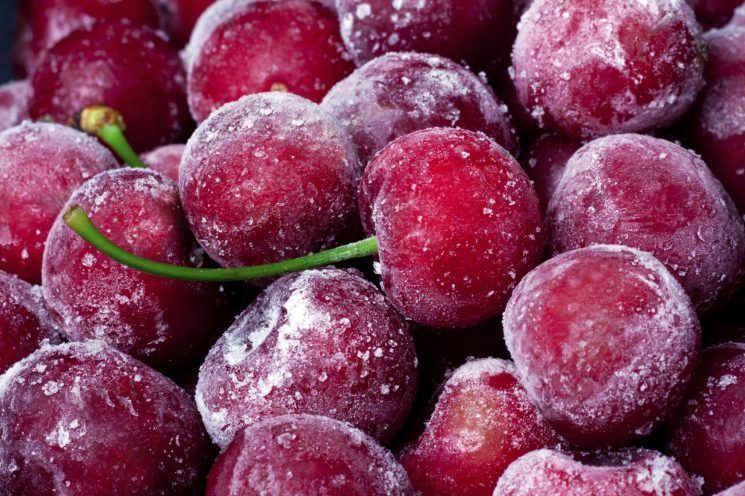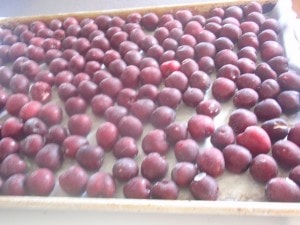 The frozen cherries, EVEN though pit is still in tact, have been a perfect snack. They are not rock solid. They are kind of like grapes. We can take one cherry out of the bag and eat it immediately, and its this slushy, delicious, refreshing snack.
Other things I have been doing with the frozen cherries:
Chopping for smoothies.
Topping on salads
Mixed in with plain yogurt.
And taught my kids how to have a cherry spitting contest. Truly a lost art! Even the kids who were, not so interested in having a cherry, ate several just so they could spit the seed.
Freezing is so much faster than canning or other methods of preserving. I probably will never can something again! Other things we have frozen when there was a great sale, our garden produced it faster than we could eat it, or a neighbors tree was overflowing:
Zucchini (I store this shredded and used in bread)
Summer squash ( I puree and then freeze to add to baked goods, macaroni and cheese, or soups)
Onions (chopped first and then frozen)
Strawberries (usually because there is a great sale)
Other berries (We have a blackberry bush and this is our first year of getting a real good amount).
Celery! (only because I forget to use it out of my fridge and its about to go bad…but it works)
bananas! (for smoothies, because fresh ones go REALLY FAST at my house.)
Corn
Broccoli
WHAT PRODUCE DOES YOUR FAMILY FREEZE?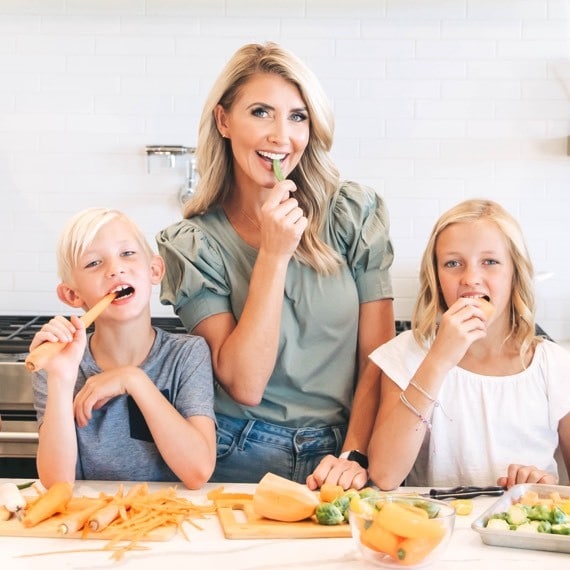 Natalie Monson
I'm a registered dietitian, mom of 4, avid lover of food and strong promoter of healthy habits. Here you will find lots of delicious recipes full of fruits and veggies, tips for getting your kids to eat better and become intuitive eaters and lots of resources for feeding your family.
Learn More about Natalie