Breakfast -Is It Really the Most Important Meal?
When I typed the word breakfast in my search bar, I did not know what was going to pop up. Essentially, a lot of recipe sites and (not surprisingly) photos of eggs over-easy, toast, bacon and some form of potatoes. One photo did have a tomato slice and another one a teeny, tiny slice of a cantaloupe but it wasn't until I began looking at the sites of the health and wellness industry that the colors of breakfast began to shine through.
I sit and wonder if this could be one of our obstacles in defeating obesity. We all know that breakfast is an important part of our daily food intake. We also know many Americans are running a rat race (so-to-speak). So is this slop of a fast-food-type breakfast what people are eating? Sure, there are places such as Starbucks who are trying to offer "better" food choices on the run but I certainly favor an at-home "fast-food" breakfast. Lets say, a smoothie with a veggie, a fruit, almond milk or water, yogurt or a protein powder, flax or hemp seeds, followed by blending and tossing in a cup with a straw! Since I know how we moms love to multi-task, you can do this all while tossing the kids lunches into their backpacks and putting on your mascara! (Well, maybe not all at the same time, but you get the point). As a busy mompreneur myself, I can attest that without my morning nutritional boost through smoothies, I would be empty well before my lunch hour.
Recently while searching the internet I was plagued with diet phrases, articles and book titles. One particular author says breakfast is not necessary since it "weighs us down". Then I had read about a study on skipping breakfast. And yet, of course, in the fitness industry there is a large group who say to avoid eating before exercising in the morning so we can utilize our fat stores (now, this is another giant topic that needs a post on its own, so we will not be going there today). I personally stand firm on the subject of breakfast: It is essential and as with all meals, should consist of clean, nutrient dense foods. Will there be circumstances when breakfast may be put off? Yes, but for this particular moment, we are talking about our typical day of heading off to school or work, running a home-based business, taking care of the baby while keeping a busy household in order.
Benefits of eating breakfast in general:
you are likely to be more active throughout the day
many people report lowered body fat when adding a nutritious breakfast
it may ensure proper fiber intake when better food choices are selected
people report being in a better mood
you are more likely to choose more nutrient dense foods the rest of the day
Benefits of sending our kids to school after a nutrient rich breakfast:
more energy
better academics
they are more likely to choose healthier foods throughout the day
research shows less anxiety or irritability
fewer trips to nurse due to stomach cramping from hunger pangs
Is breakfast the most important meal of the day? All meals are important since we are essentially made up of what we eat. When should you eat breakfast? Its up to you to decide but there is surely more evidence that says to eat breakfast before starting off on your day. My kids always go to school with something in their stomachs. Its not the second they wake up, naturally, since 90% of the time I am making it for them and not grabbing it from a box. What's offered for breakfast in my household is a fruit, a veggie, some form of whole grain, a lean protein and water. As in all things food, they choose how much to eat. They are aware that they will not be offered food until lunchtime, (or mid AM snack if its my daughter whose lunch is later in the day) and they are fully aware of their internal signals that say when they have eaten enough energy to get them through the first few hours of their busy day.
What about you? Do you feel a need to offer breakfast before school and if so, what is put on yours and your child's plate?
A few great resources: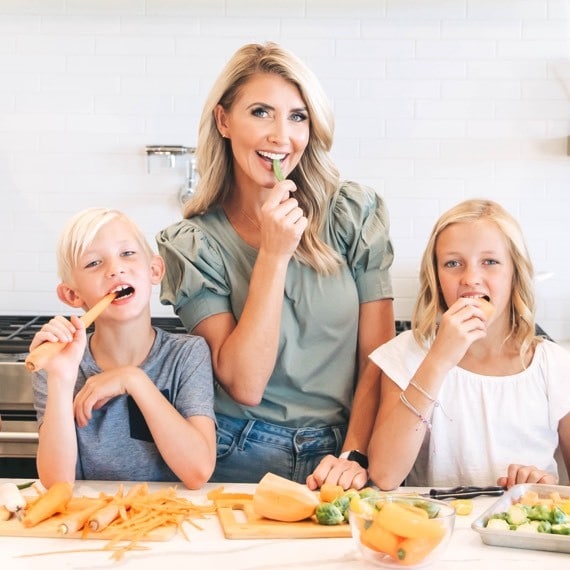 Natalie Monson
I'm a registered dietitian, mom of 4, avid lover of food and strong promoter of healthy habits. Here you will find lots of delicious recipes full of fruits and veggies, tips for getting your kids to eat better and become intuitive eaters and lots of resources for feeding your family.
Learn More about Natalie