Introducing Our Free Connected Cooking App: A New Way to Cook at Home
Connected cooking is a new way of organizing family mealtime. And Prepear is the app that lets you do it! Save your recipes, plan meals, shop for groceries, and cook simply. All in one great place. Download Prepear for free today.
At Super Healthy Kids, we're not afraid to dream big. It's why we started our business: we believed we could reach millions of busy families with our message of health and inspiration. We wanted you to know that your kids WILL learn to enjoy fruits and veggies. And that the work you do to feed your family right truly matters!
We've been so blessed to have so much support over the years, and so much feedback from our readers about your personal struggles and successes with home cooking.
It's what's driven us to do even more… to do something truly huge. We built an app that connects all the pieces of your home cooking process in a way that finally makes sense.
The Free Connected Cooking App is Here
Introducing Prepear, the first free connected cooking app that coaches you through your ENTIRE mealtime process, from recipe discovery, to meal planning, to shopping, prepping, and cooking.
It's amazing, it's free, and it's finally here! Download it now:

Here's how Prepear helps you organize your home cooking process better than ever before:
Save and Organize ALL Your Recipes
With Prepear, you can save and store any recipe from your friends, your favorite food bloggers, or your own family recipes. Collect them in your own digital, shareable Cookbook, and organize them into collections so you can find what you're looking for, fast.
The best part? Not having to Google recipes, search through your email, or try to remember where you wrote it down on a piece of paper.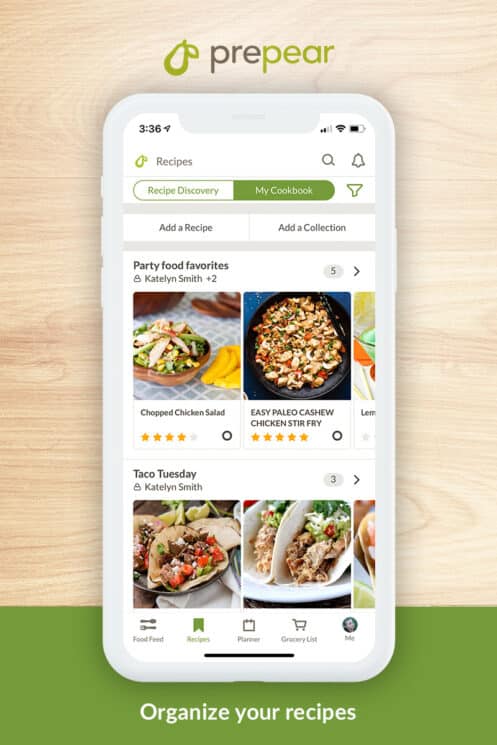 Meal Planning
Prepear's intuitive Meal Planner lets you create a weekly menu in minutes. Customize and share with a tap. Plan just dinners, or plan a full menu, including snacks!
Smart Grocery Lists
Create a grocery list in two seconds that automatically matches your plan. No time for a meal plan? Add ingredients to a grocery list directly from a recipe screen. Quick-add any extra items (don't forget the napkins!) and then you're ready to shop.
Prepear lets you get your groceries delivered, or have them ready for pickup at the store, so you don't have to take your kids into the store. (Hallelujah!)
If you like shopping in person, just take your list into the store and check off ingredients while you shop.
Cook Your Recipes, Simply
Cooking is easier with the recipe screens in Prepear. The display is SO thoughtfully-designed. As if it's created by people who actually cook a lot at home. Because it is. 😉
Move the slider up and down to reveal more or less of the ingredients list and directions. Check off ingredients and steps as you go to keep track of where you are in the recipe. No more missed ingredients!
Your phone stays awake and so you don't have to constantly touch your screen (with dough on your hands, ugh) to wake it up.
Add your own recipes and food pics right into your Cookbook to use anytime, and share with our cool community of home cooks.
And More, and More, and More
Come explore the Prepear app to see more of what you can do, like organize you pantry, (WHAT? Yes!) see what your friends are cooking, and share your recipe reviews with other home cooks!
Have questions or thoughts about the app? Leave 'em in the comments! And thanks for being part of the connected cooking revolution.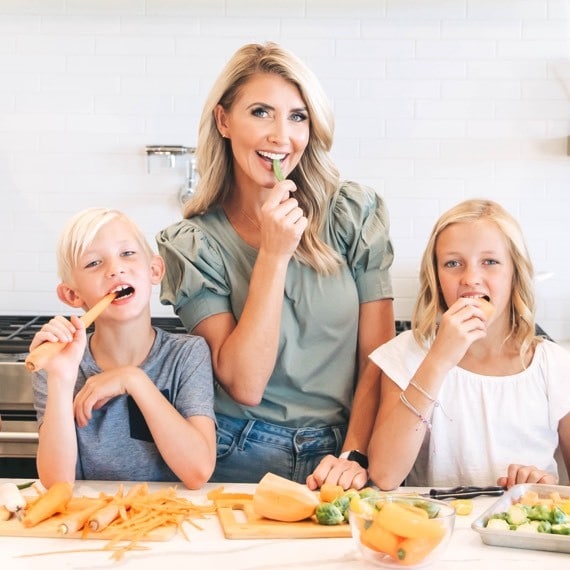 Natalie Monson
I'm a registered dietitian, mom of 4, avid lover of food and strong promoter of healthy habits. Here you will find lots of delicious recipes full of fruits and veggies, tips for getting your kids to eat better and become intuitive eaters and lots of resources for feeding your family.
Learn More about Natalie