It's Crock Pot time! Slow Cooker Cider Braised Pot Roast with carrots and potatoes will be your family's new favorite fall meal!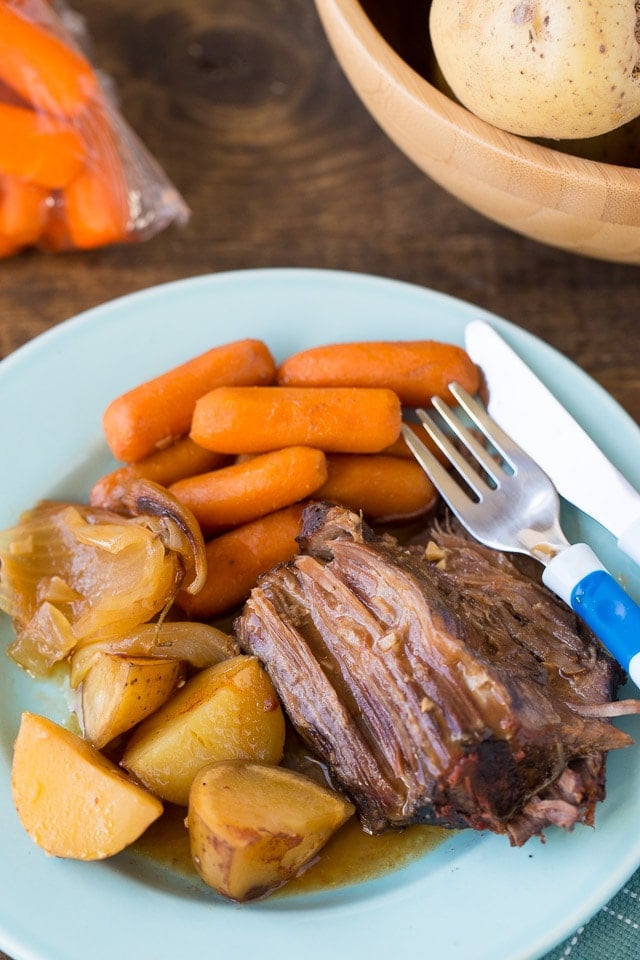 The classic Sunday night dinner just got even better! Nothing screams fall quite like cider, so why not add it to one of your favorite meals? It works perfectly with roast and will make your house smell amazing!  The sweetness of the cider is the perfect balance to the savory pot roast.  We like to scoop the roast out of the slow cooker and then drizzle the apply sweet juices over it right on the plate to get the maximum flavor.
Is the slow cooker too slow for you? If you have an InstantPot check out our post on how to make any slow cooker recipe into an InstantPot recipe!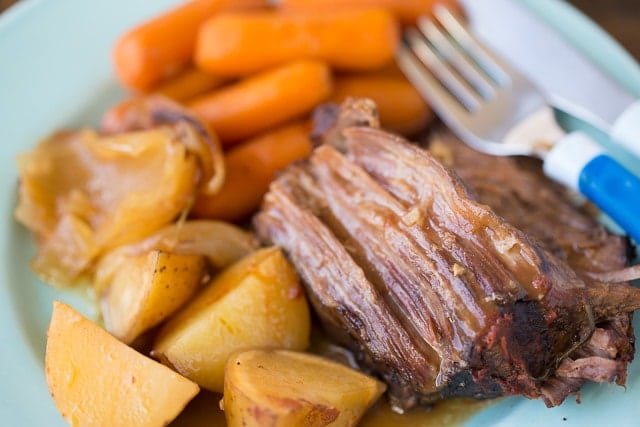 Sizing Up your Veggies
When you cut up your vegetables for a roast, keep two things in mind. First, how dense the veggie is and second, how soft you want it to be after cooking.  I wanted my onions to still have a little body to them after cooking, so I left them big.  But if you want them to almost disappear into your sauce then dice them!  But you don't want to make your carrots too small, or they'll get soggy!  I love using the baby carrots because they come in the perfect size!
I bought my first slow cooker after I graduated from college and wow I didn't know what I was missing!  Perfect pulled pork, soups, mashed potatoes, even cakes! This invention in miraculous and a total life saver.  There are days when I know I'll be gone all afternoon and I want to come home to a homemade meal, and the slow cooker is the way to make it happen!
Kid's Pick
From one pot you have roast, potatoes, carrots and onions.  We would love for our kids to eat everything put in front of them, but that's not always the case.  They have 4 nutritious options in front of them for dinner tonight, so no matter what they eat, you win Mom! The meat is tender, flakes apart easily and isn't dry. The veggies are also all very soft and easy on kid's teeth.  And that sauce is just sweet enough to make them come back for seconds!
Enjoy our Slow Cooker Cider Braised Pot Roast!