Berry Brainy Blizzard Recipe – A Smoothie For Kids
It's smoothie week at Super Healthy Kids! Smoothies are a great way to make sure your kids are getting enough of the nutrients they need each day to thrive. We think of our smoothies like a daily vitamin, with a whole lot of extra benefits. We are careful to make sure not only do our smoothies taste great (so the kids will drink them), but also serve a purpose. Today's smoothie was created to support brain health!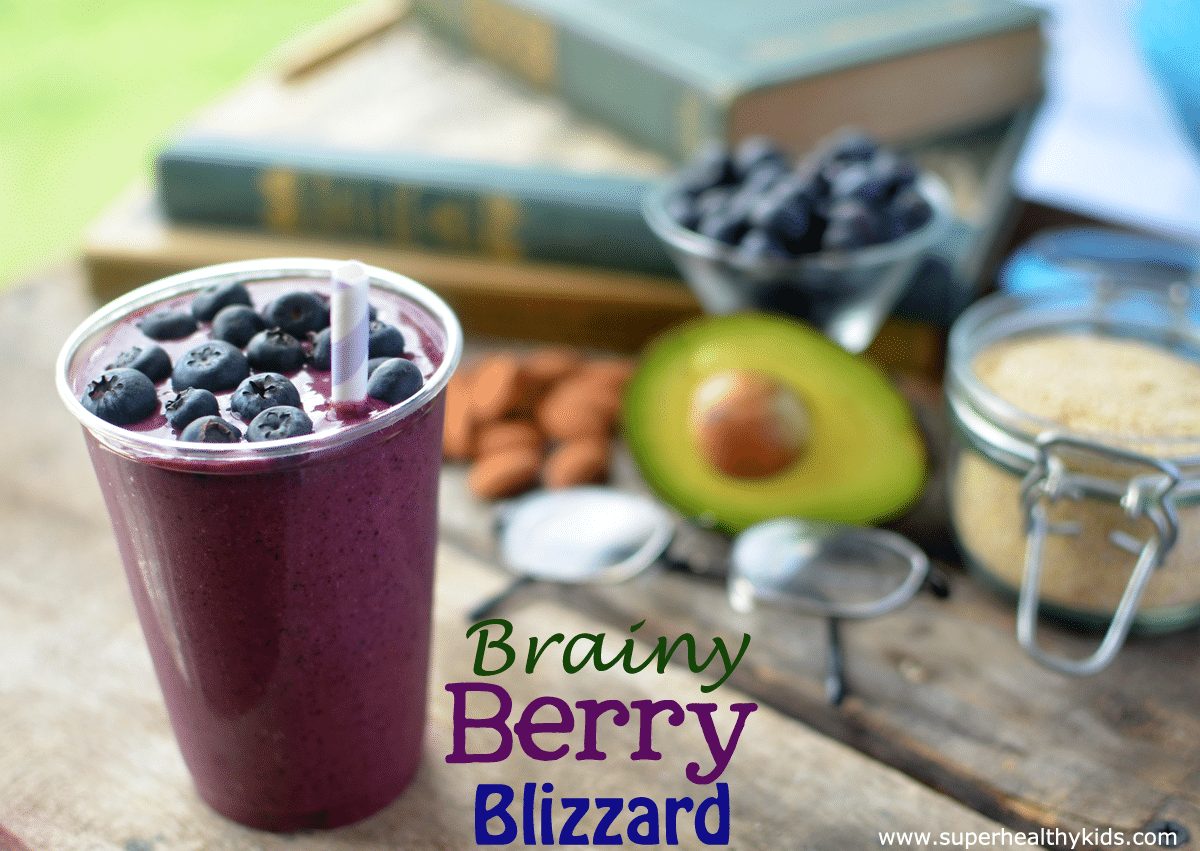 The ingredients in our brain smoothie include blueberries, avocado, wheat germ and almonds. Each one has been shown to have mental benefits.
Blueberries
I first learned about the mental benefits of blueberries a few months ago at a seminar for brain health. After the seminar, I went straight to Costco and bought a HUGE bag of blueberries as I was determined to eat some blueberries every single day! From WebMD:
"Brainberries" is what Steven Pratt, MD, author of Superfoods Rx: Fourteen Foods Proven to Change Your Life, calls these tasty fruits. Pratt, who is also on staff at Scripps Memorial Hospital in La Jolla, Calif., says that in animal studies researchers have found that blueberries help protect the brain from oxidative stress and may reduce the effects of age-related conditions such as Alzheimer's disease or dementia. Studies have also shown that diets rich in blueberries significantly improved both the learning capacity and motor skills of aging rats, making them mentally equivalent to much younger rats.
Avocado
The healthy fats in avocado make them a great brain food. The monounsaturated fat improves blood flow to the brain. Also, oleic acid in avocados help our brains process information FASTER! From Healthy Brain for Life:
They are rich in a fatty acid called oleic acid, which helps to build the coating of insulation, known as myelin (found in white matter of the brain.) Myelin helps information travel at speeds of up to 200 miles per hour. Neurons without myelin (gray matter) process information at slower speeds. We can make some oleic acid on our own if we have other good fats in our diet, but avocados are a tasty way to include it in our diet. Oleic acid makes up over a third of the fat in myelin. Thus, avocados are helpful for speedy messaging within your brain.
Wheat Germ
This one might surprise you. We use wheat germ a lot in our meal plans, as it is the most nutrient rich part of wheat. Wheat germ a vegetarian source of choline, a neurotransmitter that boosts memory (source), and it also contains vitamin E and some omega 3s.
When rat pups received choline supplements, their brain function is changed, resulting in lifelong memory enhancement. This change in memory function appears to be due to changes in the development of the memory center (hippocampus) in brain. These changes are so important that investigators can pick out the groups of animals whose mothers had extra choline even when these animals are elderly. (source)
Almonds
And of course, no surprise for brain development, we have almonds!
Almonds can be considered "brain food." Healthy levels of vitamin E have been shown to prevent cognitive decline, boost alertness and preserve memory longer. (source)
So, with our 4 super foods chosen, we put them altogether in a blender and made one powerhouse of a smoothie! Adding some pomegranate juice for flavor, as well as it's antioxidant benefits, my kids agreed that this smoothie was the best!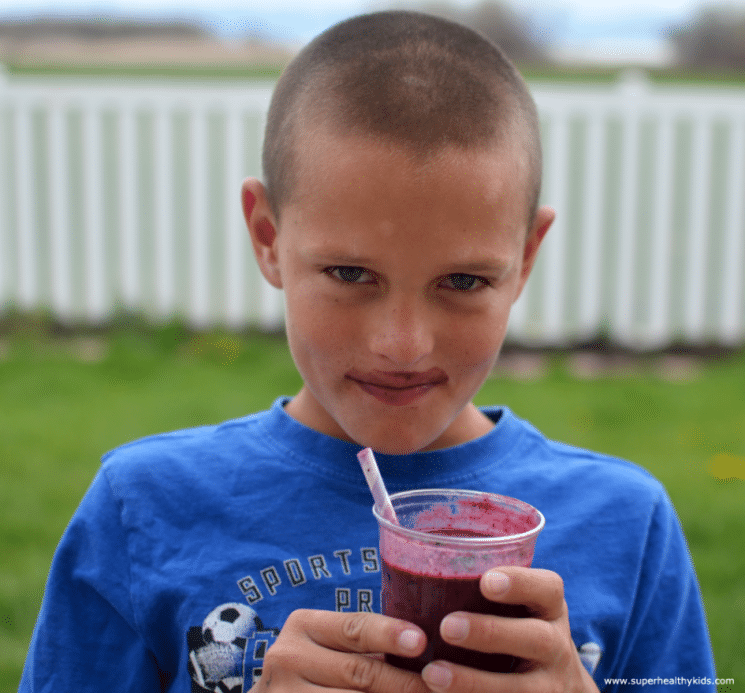 (full recipe below).
Berry Brainy Blizzard Recipe – A Smoothie For Kids
Ingredients
1

cup

frozen blueberries

1

cup

pomegranate juice

2

tablespoons

wheat germ

1/4

cup

almonds

1

avocado, pitted and peeled
Instructions
Blend in a high powered blender and serve. Makes about 12 ounces, which could serve two little ones, or one adult.
Nutrition
Calories:
465
kcal
|
Carbohydrates:
45
g
|
Protein:
11
g
|
Fat:
31
g
|
Sodium:
20
mg
|
Fiber:
13
g
|
Sugar:
25
g
www.superhealthykids.com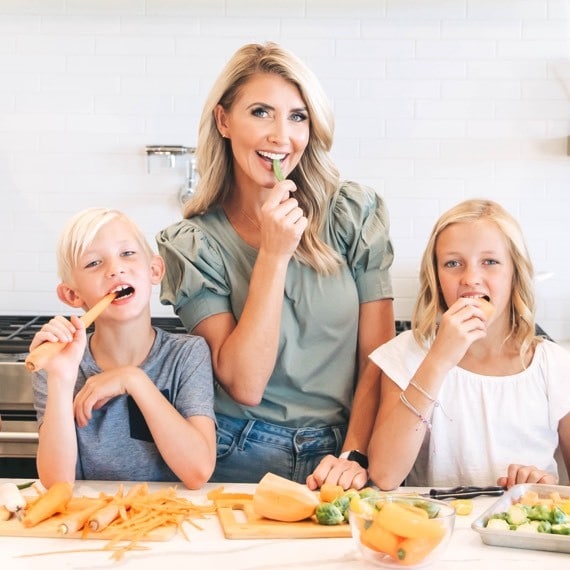 Natalie Monson
I'm a registered dietitian, mom of 4, avid lover of food and strong promoter of healthy habits. Here you will find lots of delicious recipes full of fruits and veggies, tips for getting your kids to eat better and become intuitive eaters and lots of resources for feeding your family.
Learn More about Natalie