5 Tips for 5 A Day + Free Fruit and Veggie Printable
"5 A Day" has always been my favorite campaign. Although, it has now moved on to "Fruits and Vegetables, More Matters", I simply can not move on. 5 a day is easy to remember. It's simple for kids to understand, and it's truly a great goal! Yeah, more is better, but 5 is pretty fab!
So, here are my 5 tips for getting your kids to eat Five a day!
Track it!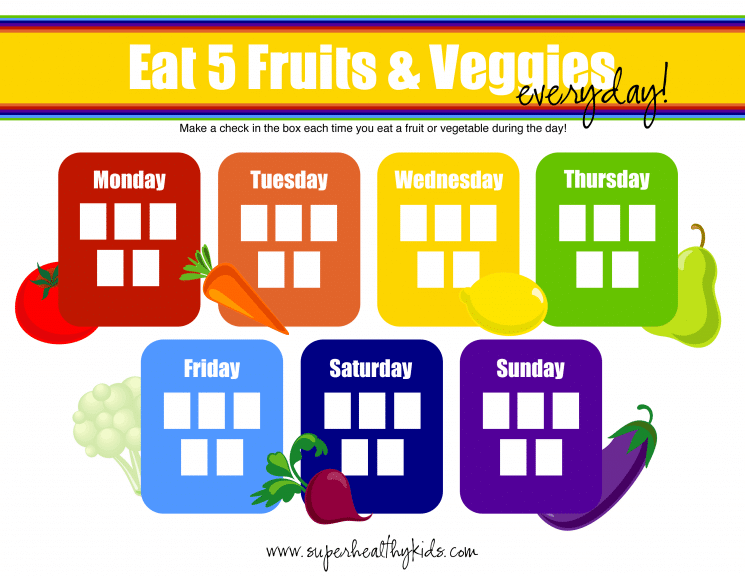 5 tips for 5 a day!
Make fruits and vegetables accessible.

I always keep my fruit basket on the counter where the kids can reach it themselves. Not only can they reach it, but when they are on the hunt for a snack, it's the first thing they see. When they see it, they want it. Part of being accessible is being able to eat it. Have you ever sent an orange to school, and they didn't eat it because they couldn't peel it? Peel, wash, cut, and chop so it's even more accessible!

Dress it up!

Plain and raw get old pretty quickly. but salads with a fruity dressing, broccoli- roasted with parmesan cheese, or sliced peppers with some dip are much more appealing to eat.

Enlist the forces:

I decided to let TJ help prepare dinner, because he doesn't cook with me very often. I first let him make choices. What should we put on top of our salad tonight? Cucumbers and tomatoes, or apples and oranges?" "None of it," was his reply. "Well, we're making a salad anyway, so I'm letting you decide what we'll put on it." He comes back with,"O.K., apples and oranges."

Repeat, reoffer, retry, and reask!

Never give up! They will eat your delicious fruits and vegetables… some day. I promise!
Our bonus tip is to getting the most fruits and vegetables in, is to plan your meals!
If you want more, you can get a printable meal plans complete with pictures of every meal, shopping list, and recipes in the member center. Print the one with images and hang it up for your kids on the fridge so they know what's coming up for each meal, even if they can't read yet!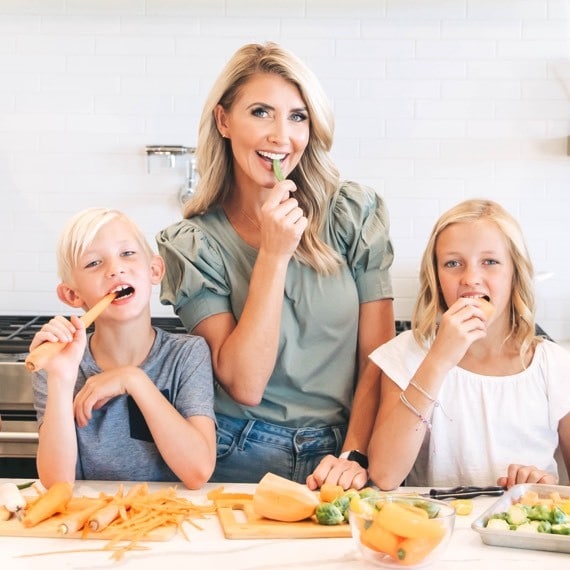 Natalie Monson
I'm a registered dietitian, mom of 4, avid lover of food and strong promoter of healthy habits. Here you will find lots of delicious recipes full of fruits and veggies, tips for getting your kids to eat better and become intuitive eaters and lots of resources for feeding your family.
Learn More about Natalie