Tiny Teriyaki Meatball Bowls
Everything is better when it's small! Tiny teriyaki meatball bowls are a hit with kids and adults alike. Lean protein, veggies, and whole grains!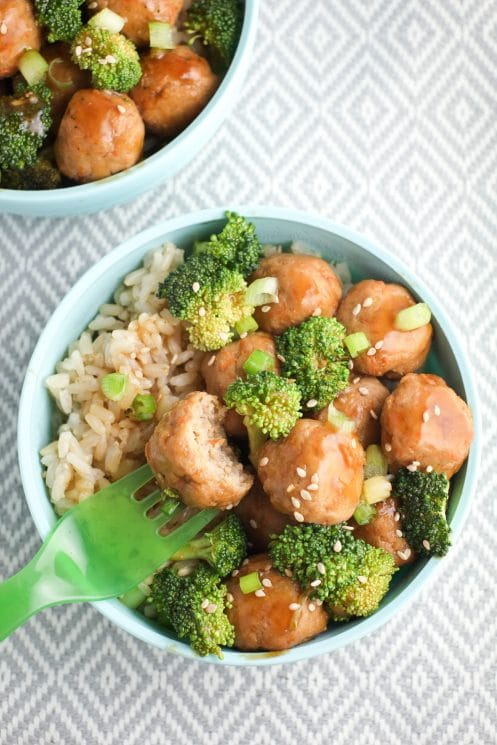 We love teriyaki! So we decided to make tiny turkey meatballs and itty bitty broccoli and smother them in teriyaki sauce. Serve on top of rice and you have tiny teriyaki meatball bowls.
Tiny Teriyaki Meatball Bowls for Kids
Why so small? Kids love it! When they might otherwise turn their nose up at broccoli, this mini meal with tiny trees might just get them excited. It's all about the presentation sometimes!
And you don't have to tell them, but we also snuck some carrots into these meatballs for a little nutrition boost. If you're mixing together lots of ingredients anyway, you may as well throw in a veggie!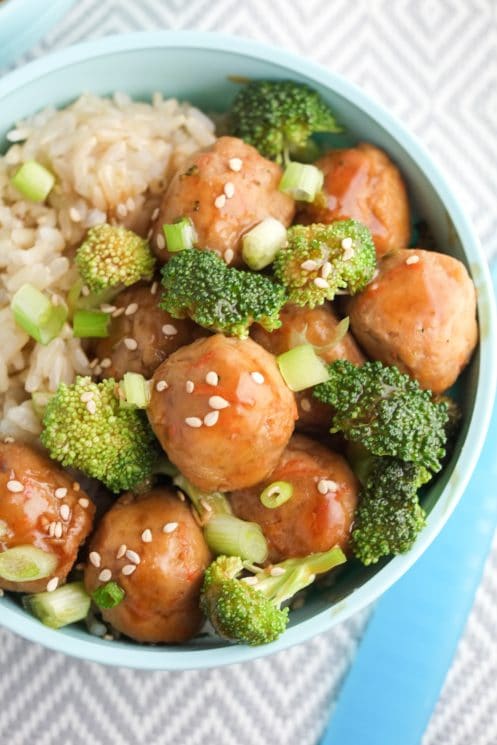 We used ground turkey for a leaner meatball. It's still delicious and full of flavor! Our homemade teriyaki sauce is full of flavor and ingredients you probably have on hand already.
Easy Homemade Teriyaki Sauce
Teriyaki sauce is super easy to make, so there's no need to buy it. Homemade sauce tastes great and is made without all the extra ingredients you can't pronounce.
To make homemade teriyaki sauce, simply combine the following in a small bowl and whisk.
1/2 cup soy sauce (low-sodium!)
1/2 teaspoon garlic powder
1/2 teaspoon fresh grated ginger (or 1/8 teaspoon powdered)
1/4 cup water
1 tablespoon cornstarch
2 tablespoons honey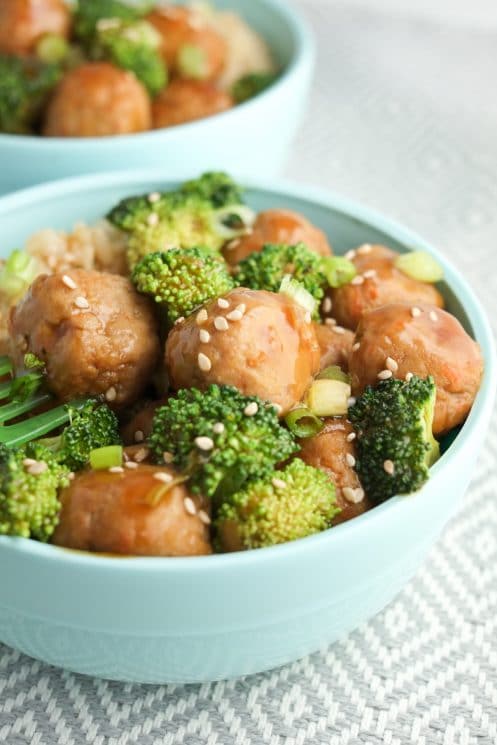 Tip: to avoid clumping, add the honey after whisking all the other ingredients first. Honey is so sticky and thick that it can cause clumping otherwise, and you really don't want it clumping the cornstarch.
Then just throw it into whatever you're stir-frying. It thickens right up after a few minutes on the heat!
It also lasts for up to a week in the fridge, so you can make it ahead.
How to Make Teriyaki Meatballs and Broccoli Bowls
First, get some brown rice cooking. We love using the Instant Pot for perfect brown rice every time! You'll need about 3-4 or so cups of cooked rice, depending on how much rice-to-toppings ratios your family likes.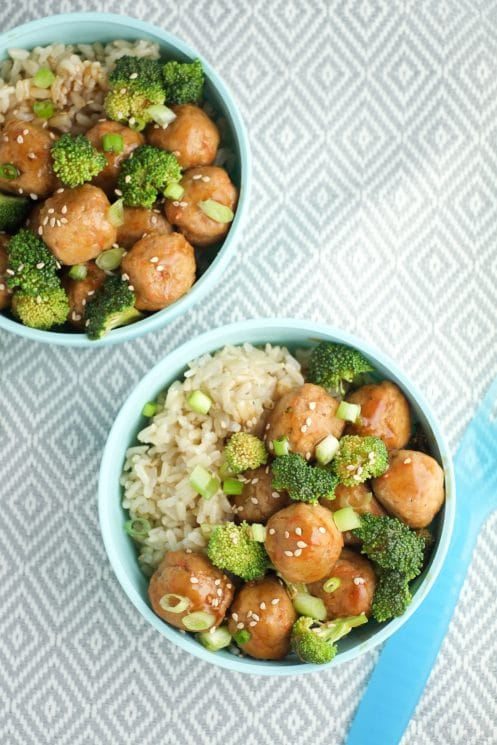 Next, cut two broccoli crowns into small pieces of broccoli. I measured mine out to about 4 cups or so. Finely grate a carrot or two to get 1/2 cup worth of grated carrot. Mix up the teriyaki sauce if not done already (instructions above).
To make the meatballs, simply combine the following:
1 pound ground turkey
a large egg
1/2 cup bread crumbs
1 teaspoon onion powder
1 teaspoon garlic powder
1 teaspoon fresh grated ginger (or 1/4 teaspoon powdered)
1/2 cup finely grated carrot
1/2 teaspoon salt
(That's right, sneaky mom putting carrots in the meatballs.)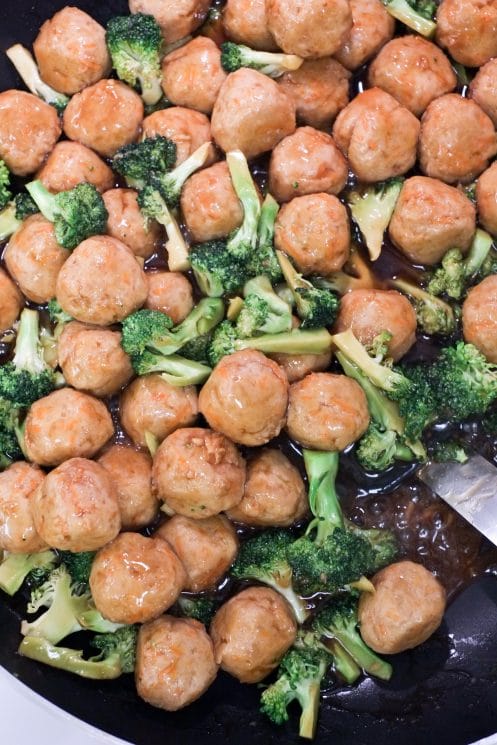 Once combined, form small meatballs with a melon baller or your hands. I used maybe 1.5 teaspoons of mix for each meatball, but make them whatever size you like. Place them on a large dish as you go.
In a large skillet over medium high heat, add 1 tablespoon of olive oil and then your meatballs. Allow them to cook for a minute or two and then mix them around to try and cook around the meatballs. Do this for about 5-6 minutes, until most of the sides are seared.
Add the broccoli and continue to cook for a few minutes, until the outside of the meatballs are no longer raw. Add the teriyaki sauce.
Bring everything to a simmer, stirring occasionally. Cook for about 5 more minutes, until the broccoli is softened, sauce is thickened, and the meatballs are cooked all the way through.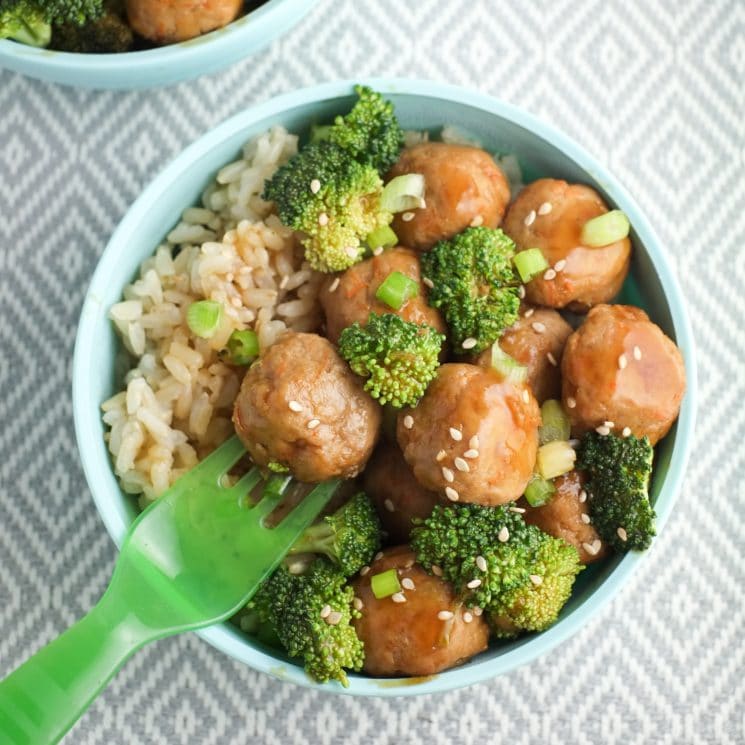 Scoop a few spoonfuls of meatballs and broccoli over small bowls of rice. Garnish with green onions and/or sesame seeds if desired.
Now watch your family devour "tiny trees" and mini meatballs!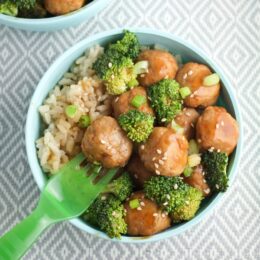 Ingredients
4

cup

broccoli

1/2

cup grated

carrot

1 1/2

teaspoon

ginger root, fresh

1

pound

turkey, ground

1

large

egg

1/2

cup

bread crumbs, plain

1

teaspoon

onion powder

1

teaspoon

garlic powder

1/2

teaspoon

salt

1

tablespoon

olive oil
Teriyaki Sauce
1/2

cup

soy sauce, low sodium

1/2

teaspoon

garlic powder

1/2

teaspoon

ginger root, fresh

1/4

cup

water

1

tablespoon

cornstarch

2

tablespoon

honey
Instructions
Mix the teriyaki sauce: combine all ingredients but the honey and whisk until combined. Whisk in the honey until dissolved.

Cut 2 heads of broccoli (about 4 cups) into really small pieces. Grate 1/2 cup worth of carrot (really finely grated is best). Peel and grate a small piece of ginger (you need 1.5 teaspoons total).

Make the meatballs: mix together ground turkey, egg, bread crumbs, onion powder, garlic powder, 1 teaspoon ginger, salt, and grated carrot. Form into small balls (about 1.5 teaspoons of the mix works well).

In a large pan, heat 1 tablespoon of olive oil over medium high heat. Add the meatballs and brown the sides for 5-6 minutes. Add broccoli and continue to stir regularly.

Once the outsides of the meatballs are cooked, add the teriyaki sauce. Bring to a simmer and cook everything for a few more minutes, until the meatballs cooked through, the broccoli is soft, and the sauce is thickened.

Serve over brown rice. Garnish with sesame seeds and/or green onions if desired (totally optional).