These little veggie flatbread pizzas will be so irresistible on that party platter or as a special snacktime treat!
It's been a while since I have let myself get sucked up into the bliss that is getting lost in Pinterest…
But one night my husband got caught up in a movie that I wasn't super interested in, and I stepped into the endless Pinterest scroll! I came across some fun veggie appetizers, and was inspired to get into the kitchen and make something similar in a real food way (but without spending all day in the kitchen!). Not only was I sure my girls would love them, but I thought they might make a cute preschool birthday snack as well as serve as a fun birthday appetizer for my oldest's birthday this spring.
Since the pizza crust I typically use feels a lot like a flatbread, I thought it would be the perfect base. I dressed up the crust with flavorful herbs, and you can use whatever your family loves to season with. Then spread it onto a Silpat or parchment paper. You can also use whatever pizza crust your family loves to make – I used my simple and quick gluten free pizza crust.
I carried the herbed flavor into the spread making it taste like a rich and creamy Ranch dressing – very kid friendly! The triangles were very simple to cut out with a pizza cutter, though it would also work to just make squares and top with the veggies too.
I love the idea of getting kids in on the food making going on in the kitchen. Set up a few bowls of finely chopped veggies and let them make their own creations! The sky is the limit really. And you can slice the little flatbreads into whatever shape you wish. My 4 year old (who I am pretty sure has made it her goal in life to go against anything I say or suggest) thought her circles were *much* prettier than the triangles. Make them however you want! What a fun way to serve a veggie snack for the afternoon or serve at a party for an appetizer!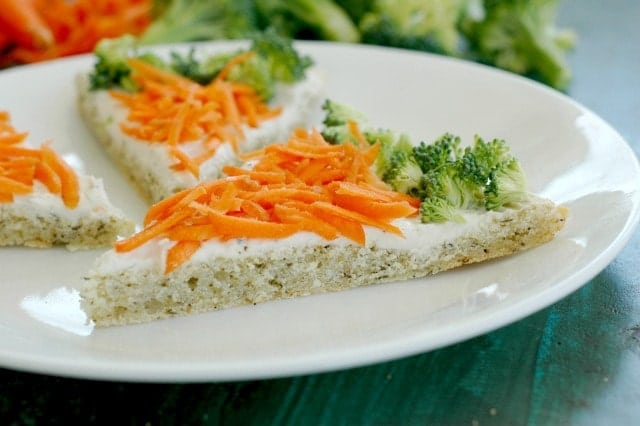 Renee blogs at Raising Generation Nourished, and with 3 girls ages 6 and under, she is passionate about raising the next generation of kids with a better understanding where their food comes from and how food affects their bodies.