Creative Ideas for Kids to Stay Active in Winter
In the warmer states, it can be easy to stay active in the winter. The outdoor activities don't change all that much with the seasons! However, there are some of us who understand all too well the real effects of winter. While snow offers its own enchantment and fun- there are definitely some downsides to long, cold winters. It can place some limitations on staying active, especially once January and February roll around!
From October to December, there are so many activities, celebrations and holidays to keep everyone busy and entertained. But January?… kind of boring. Vacations are over, the gifts have lost some of their original appeal, kids are back in school- and everyone can tend to get a little grumpy. And gray skies and cold temperatures certainly don't help!
Since we can't change the weather, what if we harness the energy and excitement of the holidays and use it to be more active? What if we turned January into a holiday for active kids? Not just coming up with New Years resolutions to get in shape, but actually celebrating physical activity. Here are a few of my favorite ways of doing just that, getting kids up, moving and motivated in the cold of January.
Have an Exercise Dance Party
Did you spend $50 on a halloween costume that was only worn once and definitely won't fit your kids next year? Break out the costumes and have them dress up (maybe minus the face paint) for an exercise party!
Have each child come up with one or more exercise they think their character would like to do! For example: jumping jacks for T-Rex.. downward dog for Elsa.. or somersaults for Harry Potter. The exercises can be traditional movements like squats or sit-ups, or even better, prompt your kids to use their imagination to come up with moves of their own.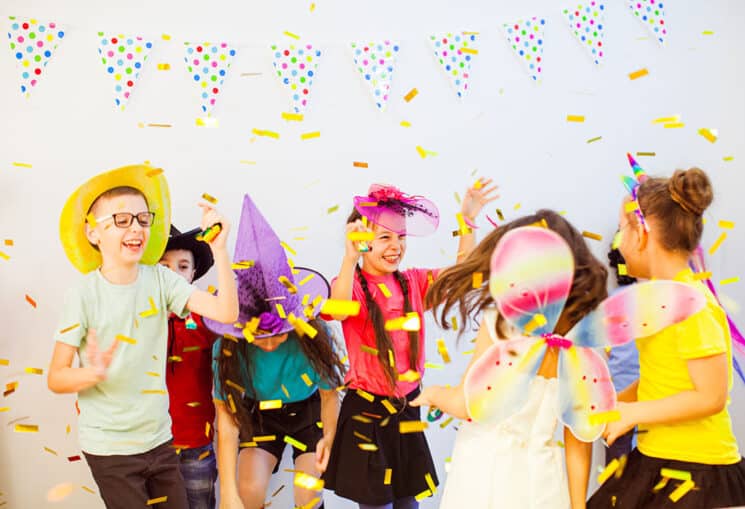 As a family, take turns demonstrating each exercise. Kids love the opportunity to be in charge and will have a blast watching everyone else follow along. Putting a timer on each move- usually a minute works well- means that the game moves quickly and no fighting ensues.
Don't be shy putting on your costume too! So what if the delivery guy thinks you're all a little crazy?
Plan an Activity 'Feast'
It's hard to argue that Thanksgiving food isn't amazing, but the best part of the holiday is getting everyone together. And, the idea of the gigantic feast is often more exciting than what ends up your plate.
So recreate the experience without the same cooking and cleaning and stress that accompanies major productions. Instead of focusing on the food, make the celebration about being active and kids will be excited to move.
Invite friends or just keep it within the family. Let the kids help you decide healthy, easy to prepare snacks to serve. Then move on to the good stuff- the activities.
Make an indoor obstacle course, have a dance off, practice some yoga. Let your kids help create a plan for how to make it an active, festive occasion for everyone involved. Besides, what better way to get rid of winter blues than to have a party?
Activity Advent Calendar
Do your kids love their advent calendars? Make a similar looking calendar (or even reuse the shell) to count down the active days in January. Instead of putting candy or toys in each day, write out a quick activity for everyday- e.g. Jumping jacks, plank hold. This make your own advent calendar is perfect for this activity! You can get as creative as you want with the exercise ideas, but they don't have to be anything special. While moves like jumping jacks may not seem that exciting, kids really do like them, especially when you present them in a novel way.
Create Friendly Competition
Activity trackers are becoming more and more popular among kids and adults. Whether it's a Nike FuelBand, FitBit, a $5 pedometer, or even a stop watch, kids love measuring their activity, and activity trackers can be used a great motivating tools.
Given the time of year, there's a good chance someone in the family just got one as a gift, or already has one. Put the trackers to use!
Set step count goals for the day, week or month. As a family make it a competition, or even better, a shared goal. For example- if your entire family combines for 1 million steps in January (that number isn't as crazy as it sounds), you'll all go on a predetermined fun outing on February first. No matter how you approach it, activity trackers are awesome tools for active kids.
What are your favorite ways to stay active in the Winter? We'd love to hear your ideas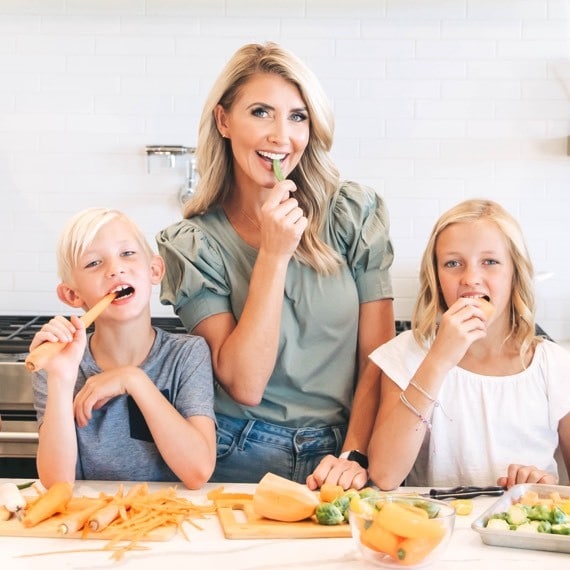 Natalie Monson
I'm a registered dietitian, mom of 4, avid lover of food and strong promoter of healthy habits. Here you will find lots of delicious recipes full of fruits and veggies, tips for getting your kids to eat better and become intuitive eaters and lots of resources for feeding your family.
Learn More about Natalie